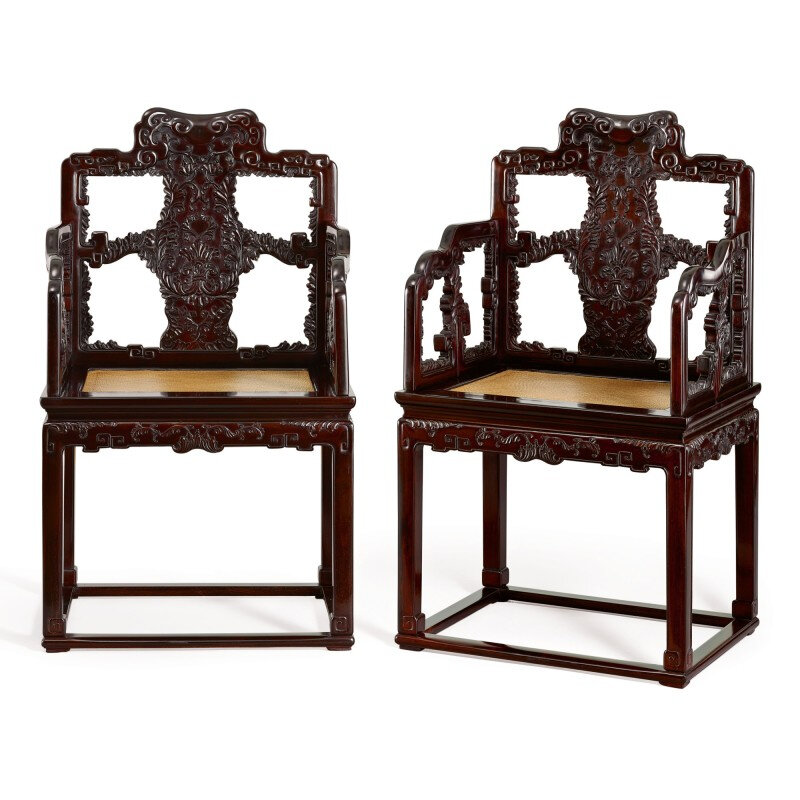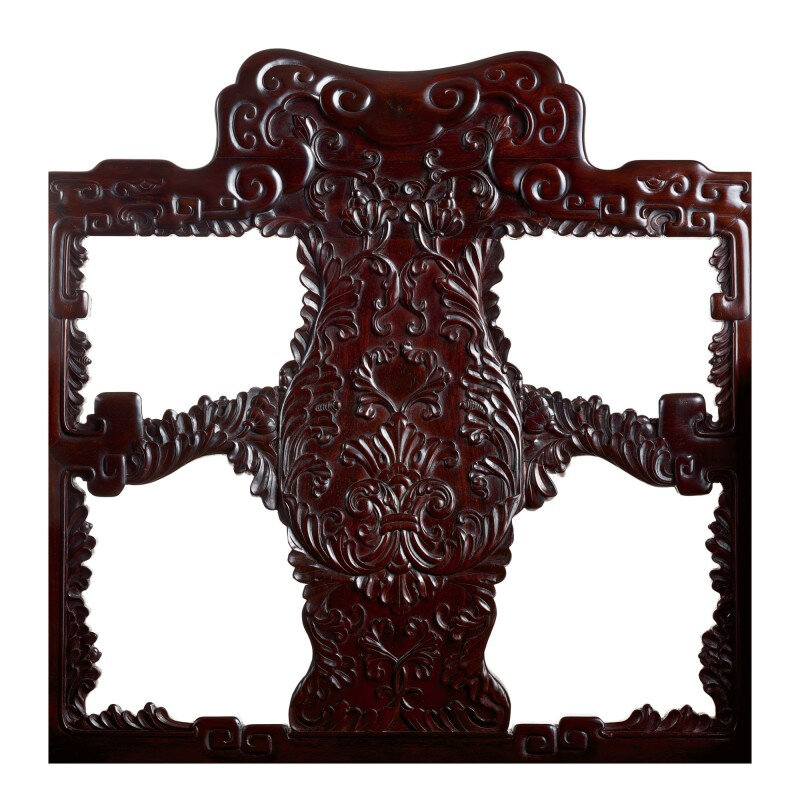 Lot 108. A rare pair of zitan master's armchairs, taishiyi, Qing dynasty, Qianlong period (1736-1795); 64 by 51.5 by h. 109.5 cm, 21 ⅛ by 20 ¼ by h. 43 ⅛ in. Estimate: 3,000,000 - 4,000,000 HKD. Lot sold 6,709,000 HKD. Courtesy Sotheby's.
each masterfully carved in relief in European Rococo style with acanthus and foliate trails, the S-curved backsplat terminating in a ruyi-shaped crestrail flanked by curvilinear armrests, the soft-mat seat encircled by a rectangular frame surmounting a recessed waist above shaped aprons, resting on straight legs ending in scrolling feet, all supported on a rectangular floor stretcher on bracket feet.
Provenance: Peter Lai Antiques, Hong Kong, 10th April 1990.
Note: Made from dark and fine-grained zitan, these armchairs have an imposing and stately appearance. Their elaborately carved design of acanthus leaves on the back splats and side posts unmistakably draws from European decorative arts, thus displaying the cultural and artistic exchange between China and Europe in the Qing dynasty.
While the imitation of Chinese styles, known as 'chinoiserie' was popular at the courts of Europe in the 18th century, a vogue for European objects and fine works art in a European style, known as 'européenerie', emerged at the imperial court in Beijing. Cultural and artistic exchange took place mainly through Jesuit missionaries, who presented the court with objects made in Europe. Fascinated by Western technology, some Jesuits were invited to live in the Forbidden City and under the orders of successive Qing emperors they founded specialised workshops. Here they worked alongside skilled Chinese craftsmen and created some of the most iconic works of art of the Qing dynasty. The Jesuit missionaries' involvement at court peaked during the reign of the Qianlong Emperor, whose love for opulence and desire to display his imperial supremacy naturally resulted in the adoption of European decorative motifs. These designs were widely employed in the decoration of the Qianlong emperor's magnificent European-style palaces, which were built in the northern part of the Yuanmingyuan and were designed to resemble the Trianon at Versailles.
Cultural and artistic exchange also occurred through commercial trade in Guangzhou, Guangdong province. The city was the main commercial port in China and the first landing place for many Jesuit missionaries. Guangzhou craftsmen were thus, the first to observe and absorb Western designs and technology, which they quickly adapted to suit Chinese taste. Workshops in Guangzhou were commissioned furniture for the newly built European-style palaces in the Yuamingyuan, and some craftsmen were directly invited to work in Beijing. Guangzhou craftsmen often combined elements from European rococo motifs with designs and construction techniques they were acquainted with. These chairs are a fine example of this artistic syncretism, as their frame was borrowed from classic Chinese furniture designs, and the cloud design on their headrests recalls the guri (in Chinese tixi) design found on carved lacquerware of the Song (960-1279) and Ming (1368-1644) dynasties.
Armchairs of this design are rare and no other closely related example appears to have been published. An armchair carved in a similar style, from the Qing Court collection and still in Beijing, is illustrated in The 200 Objects You Should Know. Red Sandalwood Furniture, Beijing, 2008, pl. 42, together with one with cabriole legs, pl. 34; another with the splat carved in openwork from the collection of Lt. Col. Robert Gray Peck, was sold in our New York rooms, 18th/19th March 2014, lot 400; a pair was sold at Christie's Hong Kong, 3rd December 2008, lot 2503; and a further chair was sold at iGavel Auctions in 2012