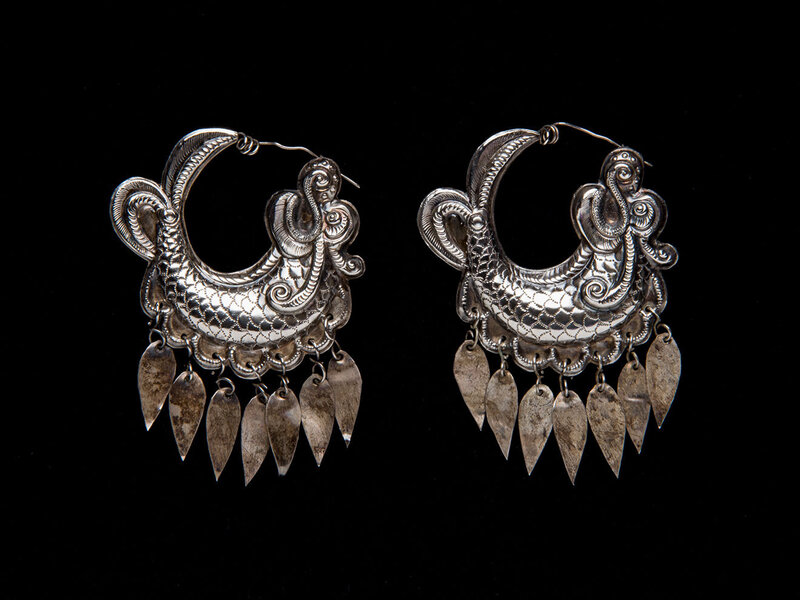 Pair of Earrings, China (Miao), first half of the 20th century, Silver, each 1 7/8 in. (4.8 cm), Promised gift from Elizabeth and Robert Lende, L.2020.23.34.a-b, Photo by Seale Studios
AN ANTONIO, TX.- The San Antonio Museum of Art is presenting an exhibition of approximately 120 works from Elizabeth and Robert Lende's Collection, including headdresses, earrings, bracelets, and pendants, among other objects. Exquisite Adornment: Turkmen and Miao Jewelry from the Elizabeth and Robert Lende Collection explores the extraordinary aesthetic quality of these works, as well as the intricate techniques used by the Turkmen, Miao, and Hill Tribes people to produce them. The exhibition also delves into the objects' social functions and importance to certain rites of passage. Exquisite Adornment will be on view through January 3, 2021.

"For centuries, the ethnic groups represented by works in the Elizabeth and Robert Lende collection and our forthcoming exhibition were subjugated by other dominating peoples and pushed to the most inaccessible and marginal areas. As a result, their artistry and craftsmanship have not been as well studied as that of other cultures, especially in the Western world. Exquisite Adornment offers an incredible opportunity to experience the technical mastery, diversity of approaches, and beauty inherent to these objects and to gain newfound understanding of their significance to Turkmen, Miao, and Hill Tribe cultures," said Shawn Yuan, SAMA's Associate Curator of Asian Art and the exhibition curator. "We are thrilled to engage our audiences with this work and grateful to Elizabeth and Robert Lende for entrusting us with their collection, which will greatly enrich SAMA's own holdings and allow for the ongoing scholarly and public exploration of this jewelry."
Earrings (Gulk Chalka), Turkmenistan (Yomud), late 19th to early 20th century, Silver and carnelian, each 4 15/16 in. (12.5 cm), Promised gift from Elizabeth and Robert Lende, L.2020.23.83.a-b, Photo by Seale Studios
Turkmen, Miao, and Hill Tribe people are all migratory. The term "Turkmen" refers to several ethnic groups living in the vast steppe land stretching from the Caspian Sea to the west and the Chinese border to the east. The Miao people are one of over fifteen ethnic groups living in the remote and mountainous southwest region of China. The exhibition also presents the jewelry of the Hill Tribes from the neighboring region of Myanmar, Thailand, and Laos. Presented across three distinct sections dedicated to each culture, Exquisite Adornment highlights the visual range of these objects, capturing important contrasts and similarities. For example, Turkmen jewelry is often adorned with abstract and geometric forms and perforations. The Miao and Hill Tribes' silver jewelry, on the other hand, usually displays an array of flora and fauna motifs derived from local beliefs. Where Miao and Hill Tribe works do embrace geometry in their designs, the approach tends to be far more minimalistic than seen in Turkmen pieces.
Jewelry from across these three populations is also distinguished in type. While headdresses, earrings, necklaces, and bracelets are shared by the Turkmen, the Miao, and the Hill Tribes, other objects are unique to each group. In particular, amulet bags, braid adornments, and temple pendants are specific to Turkmen people, and neck rings, combs, and back hooks are found more actively among the Miao and the Hill Tribes. Exquisite Adornment captures this wide breadth and range, providing audiences with a singular view into the creative worlds of these under-represented populations. Yuan worked closely with the Lendes to select objects that reflect both common approaches and also some of the most intricate and complex stylings and pieces.
Bracelet, Thailand (Yao), first half of the 20th century, Silver, 3 5/16 in. (8.4 cm), Promised gift from Elizabeth and Robert Lende, L.2020.23.72, Photo by Seale Studios
Exquisite Adornment also explores the jewelries' functions, materials, techniques, and rich symbolism. Similarities in these areas frequently outweigh differences. This suggests a social and cultural dimension shared by the peoples from these distinct regions. Crafted mostly for women, Turkmen, Miao, and Hill Tribe jewelry provides a great deal of information about the wearer, including family wealth, age, and marital status. Silver was valued in these cultures as an auspicious material capable of protecting the wearer, and silversmiths employed surprisingly common craftsmanship vocabularies, including repoussé, filigree, and granulation, among others. Most importantly, Turkmen, Miao, and Hill Tribe jewelry bears layers of hidden meanings, symbolizing happiness, progeny, and feminine virtues. The exhibition takes time to invite viewers into these important aspects, ensuring understanding that the jewelry holds more power and meaning than mere adornment.
Over the past forty years, the Lendes have assembled their collection from diverse cultures in the Middle East, Asia, North Africa, and the Americas. Traveling often and frequently to both populous and remote regions, they developed relationships with tribal and group leaders that provided them with windows into a spectrum of cultures and allowed them to assemble a collection of tremendous depth and breadth. In celebration of SAMA's 40th anniversary in 2021, the Lendes have promised the collection to the Museum. The Lendes are long standing and ardent supporters of the Museum and have been involved with the institution since its earliest days.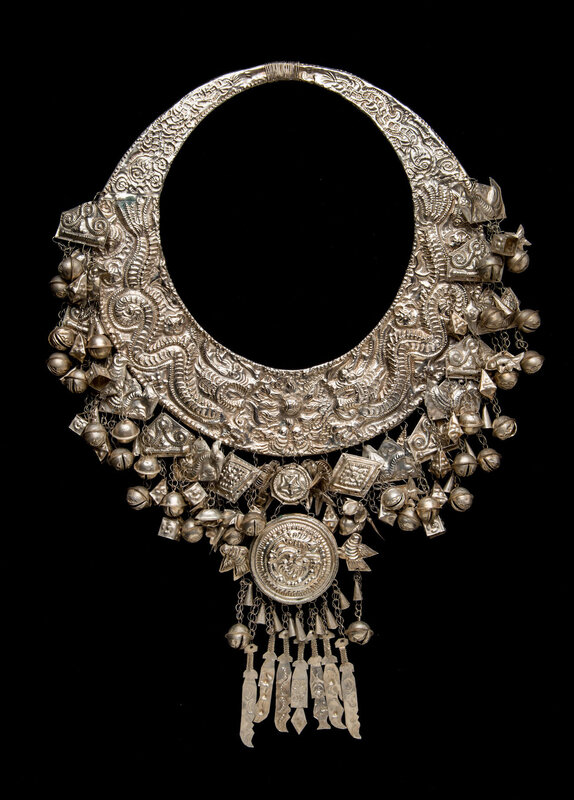 Necklace, China, (Miao), 20th century, Silver, 19 5/16 × 11 1/4 in. (49 × 28.5 cm), Promised gift from Elizabeth and Robert Lende, L.2020.23.95, Photo by Seale Studios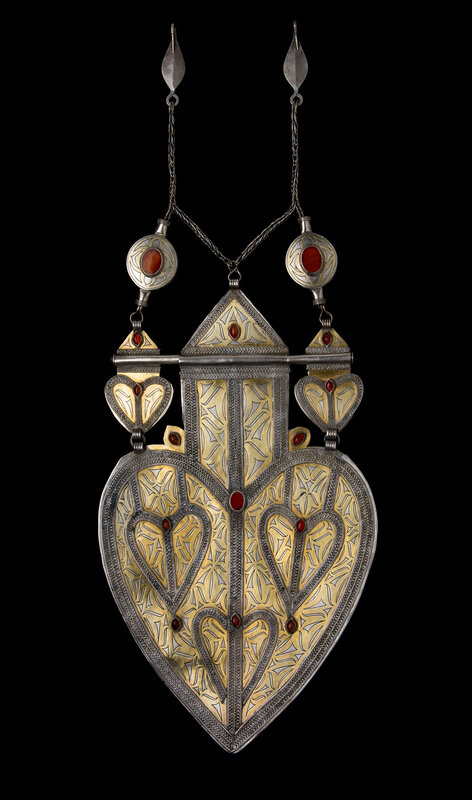 Dorsal Ornament, Turkmenistan (Teke), late 19th to early 20th century, Gilt silver inlaid with carnelian, 6 5/16 × 5 11/16 in. (16 × 14.5 cm), Promised gift from Elizabeth and Robert Lende, L.2020.23.24, Photo by Seale Studios.