© Christie's Images Ltd 2020.
NEW YORK, NY.- Christie's sale Dalva Brothers: Parisian Taste In New York achieved a total of $5,855,500 and was 81% sold by lot and 85% sold by value. The top lot of the sale was the exquisite late Louis XVI pietra dura and ormolu-mounted ebony secrétaire en cabinet by Adam Weisweiler circa 1785-1790, which sold for $1,134,000, exceeding its estimate of $600,000-1,000,000. Additional top lots include a Charles X birds eye maple, amaranth, coloured strass and silver exhibition panel, made for the Exposition des Produits de L'Industrie of 1827, which totaled $187,500 and a matched pair of Louis XVI ormolu-mounted citronnier, fruitwood and marquetry secretaries by Roger Vandercruse, known as Lacroix, circa 1775, which realized $162,500.

Jody Wilkie, Co-Chairman of Decorative Arts, and International Specialist Head for European Ceramics & Glass comments: "For almost 100 years Dalva Brothers has been a de rigueur destination for museum curators, connoisseur collectors and interior designers who have come to marvel at the remarkable array of furniture, porcelain and sculpture in the gallery, every piece handpicked for its quality and rarity and with a special story to tell."

Will Strafford, Senior International Specialist, European Furniture & Decorative Arts, remarks: "Today's sale Dalva Brothers Parisian Taste in New York was met with tremendous enthusiasm from buyers all over the world who competed for the many treasures on offer. The sale demonstrated the continued strength of the masterpiece market for 18th century French furniture, with Wesiweiler's superb pietra dura secretaire selling for over $1 million after a prolonged bidding duel between two buyers. Dalva has always been renowned for having outstanding clocks and we were particularly pleased that the rare Louis XVI clock with globe movement by Lepaute exceeded its estimate to sell for $137,500."

NOTABLE RESULTS: DALVA BROTHERS: PARISIAN TASTE IN NEW YORK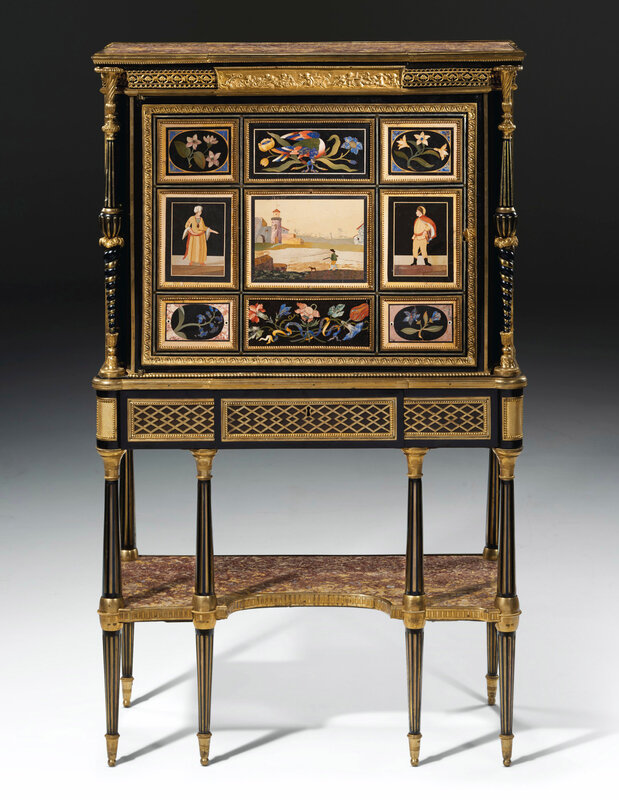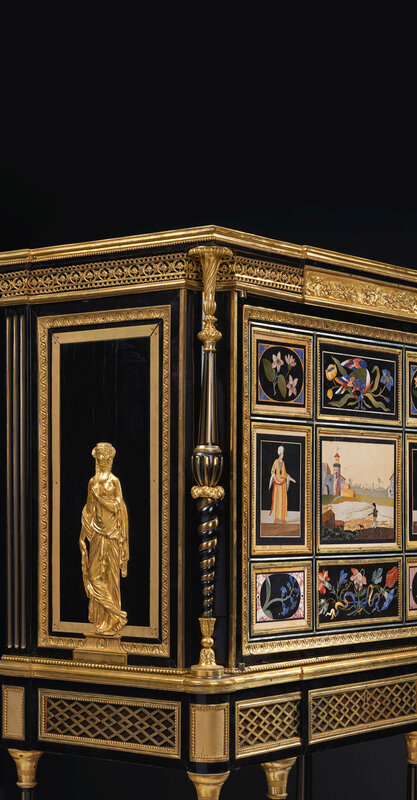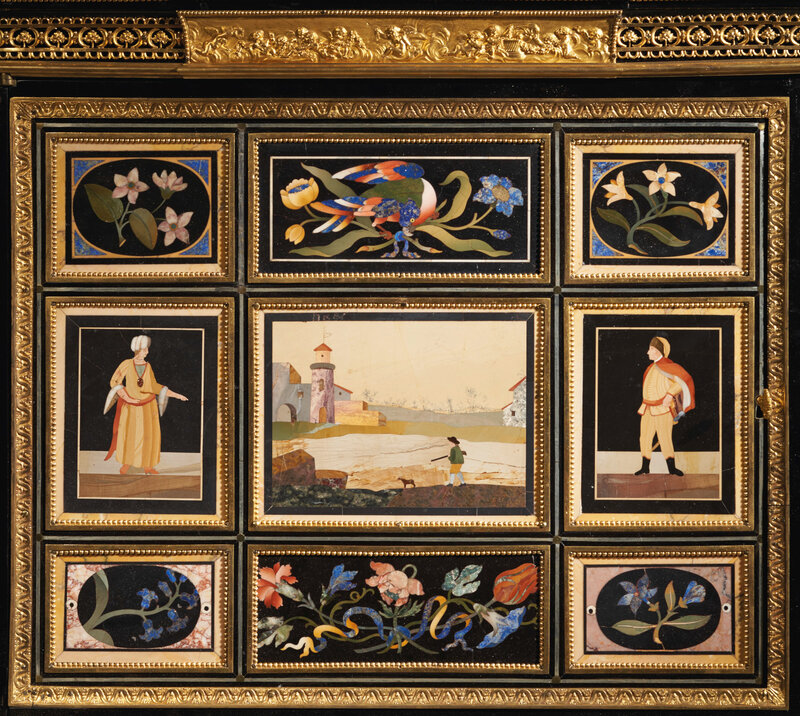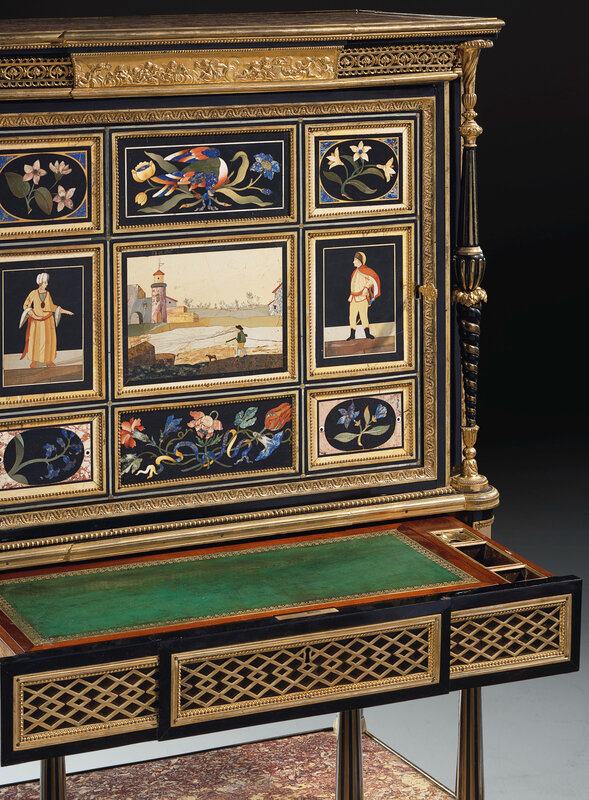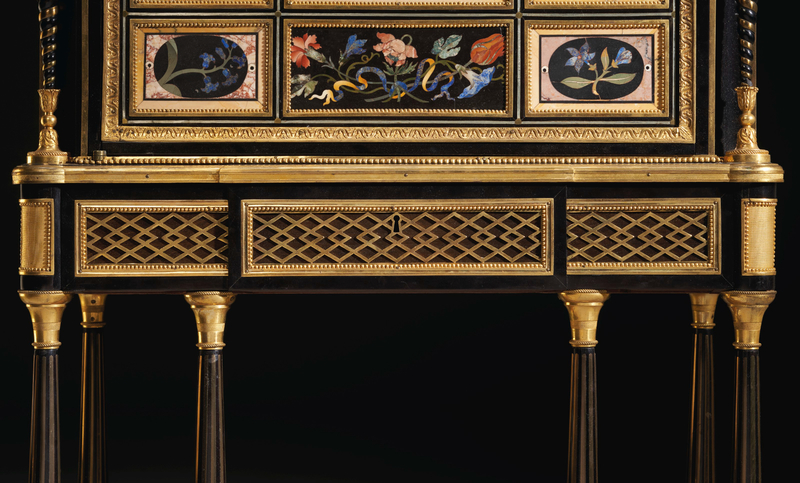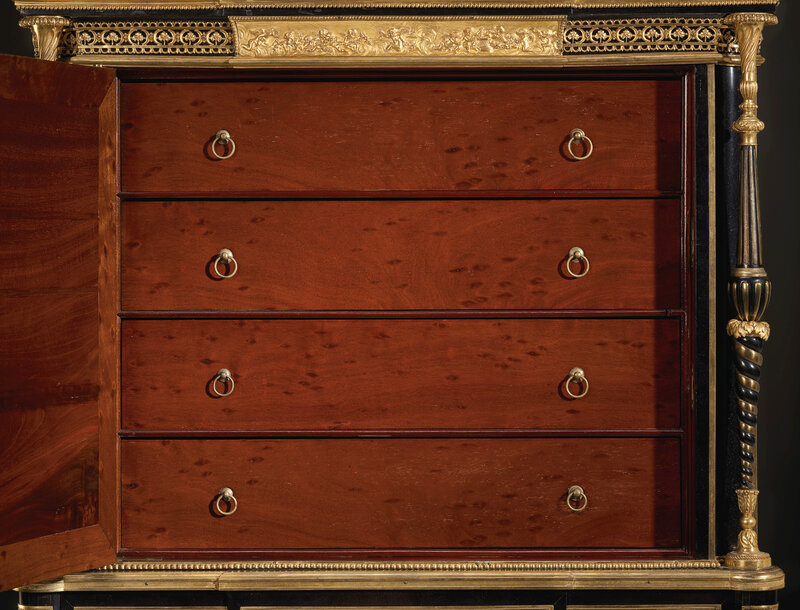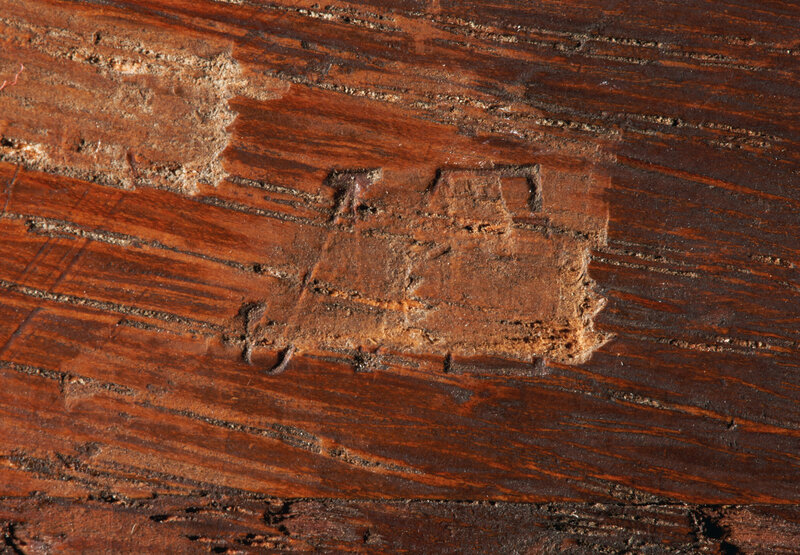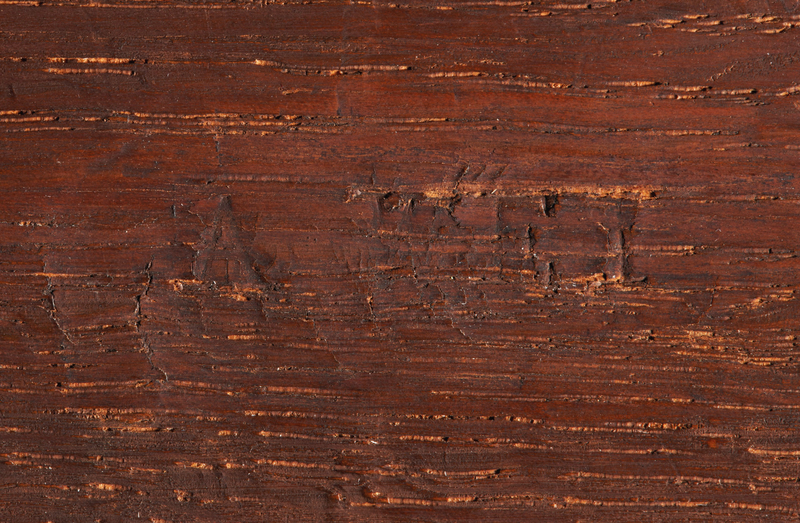 Lot 65. A late Louis XVI pietra dura and ormolu-mounted ebony secrétaire en cabinet, by Adam Weisweiler and almost certainly supplied by Dominique Daguerre, circa 1785-1790, the ormolu possibly by François Remond, The pietra dura plaques attributed to the Grand Ducal Workshops, Florence, late 17th century (the floral and landscape plaques) and second half 18th century (the figural plaques); 52 in. (132 cm.) high, 31 in. (79 cm.) wide, 16 ¼ in. (41 cm.) deep. Estimate USD 600,000 - USD 1,000,000. Price realised USD 1,134,000. © Christie's Images Ltd 2020.
With a rectangular Spanish brocatelle marble top above a scalloped foliate rosette frieze centered with a plaque of putti holding floral garlands in the clouds over a cabinet door flanked by engaged fluted and turned columns and with a central pietra paesina plaque depicting a huntsman and dog beside a tower surrounded by pietra dura plaques of turbanned gentleman, floral sprays and ribbon-tied floral sprays, one with a bird, all within beaded borders and opening to four acajou moucheté drawers, the sides with female caryatids in ormolu, resting on a stand with a breakfronted frieze drawer inset with latticework panels and opening to a tooled leather writing surface flanked by ormolu-mounted inkwell and two niches raised on brass-inlaid engaged columns joined by a Spanish brocatelle marble medial shelf continuing to brass-inlaid circular tapering legs terminating in ormolu caps, with partial stamp A WEI..., one effaced stamp and JME
Provenance: Possibly Dominique Daguerre; his sale, Christie's, 25 March 1791, lot 42.
Possibly in the inventory of the dealer Rocheux (active 1790-1820) and described in his July 1820 estate inventory as item 163.
Literature: P. Lemonnier, Weisweiler, Paris, 1983, p. 69, cat. 69
S. Bennett and C. Sargentson ed., French Art of the Eighteenth Century at the Huntington, New Haven, 2008, pp.112-3
W. Koeppe ed., Art of the Royal Court, Metropolitan Museum of Art exh. cat., New Haven, 2008, pp. 91-2, figs. 100-101
Note: This magnificent secrétaire en cabinet is a masterpiece of French cabinetry and is the perfect synthesis between Adam Weisweiler, an incredibly talented ébéniste at the height of his powers, and one of the era's most creative and influential marchands-merciers, Dominique Daguerre. Richly mounted and utilizing distinctive precious materials such as 17th century Florentine plaques and Spanish brocatelle marble, the cabinet can possibly be identified with lot 42 of the sale of Daguerre's stock on 25 March 1791 at Christie's. It is described as 'a superbe and singularly elegant ebony cabinet the front curiously and beautifully inlaid with gems, comprised of precious stones from Florence, and Brocadella marble top, superbly mounted in ormoulu' and was sold for 105 gns. with the annotation in the auctioneer's book '105 John' (reproduced here).
THE TASTE FOR PRECIOUS STONES
The combination of pietra dura and pietra paesina plaques on the cabinet door of the secretaire, with their remarkably life-like depictions of birds, flowers and a Florentine landscape are a perfect evocation of paintings in stone. Enlightened connoisseurs regarded stonecutting as one of the greatest manifestations of ancient Roman art, and its revival was a key tenet of the Renaissance. In 1588 Ferdinando de' Medici founded the Grand Ducal Workshops in Florence, and the fame of their exquisite creations soon spread throughout Europe. The various dates of the plaques on the present lot illustrate a revival of interest as aristocratic connoisseurs such as the duc d'Aumont sought objects that employed precious hardstones for their collections. Daguerre would have taken plaques from earlier works and incorporated them into more au courant styles. The present lot is one such example with its late 17th century floral and landscape plaques from the famed Florentine Grand Ducal workshops, a mid-18th century pietra paesina plaque and the two fashionable single figures essentially imported soon after they were made.
THE PROVENANCE
The cabinet also possibly formed part of the stock of the dealer Rocheux (active 1790-1820) as it could be identified as that described in the inventory of his estate after his death in 1820 as item 163. 'Un secrétaire à abattant avec quatre tiroirs en dedans, pilastres sur les côtés à figures caryatides en bronze doré au mat, décoré au milieu d'un tableau en pierres fines, fleurs, fruits, ouvrage de Florence, le fond en ébène avec pieds tournés.' Rocheux was prosperous and had considerable financial means at his disposal as well as a shop with a grand address at 8 rue Royale. He was recorded as a purchaser during the sales of the contents of Versailles in 1793 and delivered some modern mahogany furniture to the château de Fontainebleau during the Napoleonic era. His rich stock was valued at 48,000 livres at his death and included several Weisweiler models supplied to Daguerre in addition to Boulle furniture, porcelain, works of art and Renaissance enamels. Rocheux's clientele was equally grand and included Talleyrand as well as a number of English clients, including George IV's agent, 'M. Benoist de Londres.' In 1816, he is recorded as the purchaser of a console by Weisweiler with pietra dura plaques which was originally placed in the Blue Velvet Ante Room at Carlton House and is now at Buckingham Palace (RCIN 2602). After Rocheux's death, his son did not continue the business and the stock was sold on 29 January 1821.
THE DESIGN
The form and ornament of this secretaire is one of the most sophisticated interpretations of the many elements seen in Weisweiler's commissions for Daguerre towards the end of the ancien régime. Daguerre had an enormous stock of luxurious materials including 17th century Japanese lacquer, Florentine hardstone panels and rare porcelains. His designs, which would break up and combine these materials in a seemingly endless variety of ways, created a luxurious and instantly desirable new aesthetic. However, it was Daguerre's extensive network of highly skilled bronziers and ébénistes that turned his designs into a finished product. Weisweiler's talent as an ébéniste is clearly evident in his execution of the highly sophisticated design of the columns flanking the paneled door. The remarkable skill required to achieve the spreading spirally-turned lower section intertwined seamlessly with ormolu and the fluted baluster above demonstrates the outstanding level of precision and finesse that Weisweiler had reached at this point in his career. He was working almost exclusively for Daguerre and had succeeded the ébéniste Martin Carlin in that role.
This secrétaire en cabinet achieves the perfect balance between sobriety and luxury. The deceptively simple form is offset by the judicious use of luxurious Florentine hardstone plaques and restrained, beautifully chased ormolu mounts, almost certainly by the bronzier François Rémond. Although he worked independently with some of the leading Parisian ébénistes, Rémond had an extensive relationship with Daguerre and was his principal supplier; he is recorded to have supplied work valued at the staggering sum of 920,000 livres between 1778 and 1792. The link to Rémond is supported by a pair of candelabra made by Rémond and supplied by Daguerre to the Princess Kinsky now in the Château de Versailles. They have bases with almost identical mounts to the frieze of this secretaire (C. Baulez, 'La Luminaire de la Princesse Kinsky', Estampille/L'Object D'Art, May 1991, p. 97). Weisweiler also made a virtually identical secrétaire en cabinet now in in the Huntington Library and Art Collections, Pasadena (reproduced here). The only differences are the model of ormolu figures on the sides, the door features nine panels of Japanese lacquer and opens on the opposite side. It could potentially be identified as Nº 45 in the Daguerre sale, "a small curious cabinet of the fine old raised Japan with brocadella top and ormoulu mountings (25£).
WEISWEILER'S OEUVRE
Both pieces have features that appear repeatedly on other furniture either attributed to or stamped by Adam Weisweiler. The distinctive columns and the same frieze appear on another secrétaire en cabinet mounted with Sèvres plaques at the James A. de Rothschild Collection at Waddesdon Manor (P. Lemonnier, Weisweiler, Paris, 1983, p.66) and the columns are also on a pair of meubles d'appui formerly in the Grog Carven collection and now in the Louvre (Ibid. p.100). A pair of meubles d'appui attributed to Weisweiler in the Wallace collection share the same large scale ormolu figures on the sides (F395). Pietra dura plaques also feature on a commode in the Royal Collection at Buckingham Palace where they are surrounded by Boulle marquetry panels (RCIN 2593); It has since been identified as lot 59 in the Daguerre sale, which was annotated in the auctioneer's book 'GW', which has tentatively been identified by Colin Streeter as being George, Prince of Wales. Another example with pietra dura plaques stamped by both Adam Weisweiler and Martin Carlin also shares the same frieze mount. It was sold from the collection of Akram Ojjeh, Christie's, Monaco, 11-12 December 1999, lot 30. The presence of the stamps by both makers provides an intriguing link to a pair of side cabinets in the White Drawing room at Buckingham Palace which were part of the collection of the Prince Regent, later George IV. They are illustrated in Charles Wilde's circa 1816 watercolor of the Blue Velvet Room at Carlton House(W. H. Pyne History of the Royal Residences, 1816, vol III) and display spiral and fluted columns, a closely related arrangement of plaques (with figural panels flanking a pietra paesina panel) as well as large scale ormolu figures to the sides. They were extended in width to contain side shelves around 1834 when they were transferred to Buckingham Palace where they remain today in the White Drawing Room (RCIN 2425). Attributed to Martin Carlin, they provide another intriguing link to these two makers as it illustrates how Daguerre reused certain combinations in different forms and also employed two of the era's most talented ébénistes to execute his designs.
WEISWEILER AND DAGUERRE
Born in Neuwied, Weisweiler is believed to have studied with David Roentgen (1743-1807) before emigrating to Paris, where he was established as an artisan libre – a foreign worker protected by the medieval right of refuge – by 1777, the year of his marriage. The following year he became a maître-ébéniste, and established his workshop on the rue du Faubourg Saint-Antoine, joining Reisener and the elite group of German artisans providing pieces for the French royal family. While he is recorded to have worked with the marchand-mercier Julliot, the luxury pieces for which he is best known were almost exclusively sold directly through Dominique Daguerre. He provided the designs for many of Weisweiler's most important commissions and together they supplied the most influential and esteemed patrons of their day: Louis XVI and Marie Antoinette, George, Prince of Wales (later King George IV), and Grand Duchess Maria Feodorovna and Grand Duke Paul of Russia.
The heir to Simon-Philippe Poirier's atelier, Daguerre was the foremost Parisian marchand-mercier of the last decades of the ancien régime. From the 1770s onward, he was the prevailing tastemaker in Paris and subsequently London where he opened a second atelier in 1778 to meet the demands of his growing clientele. He specialized in supplying objets de luxe to the French court and, increasingly during the 1780s, to the English and foreign nobility. He supplied the furniture to George, Prince of Wales for Carlton House as well as Brighton Pavilion. In 1787 alone, Daguerre's bill to the Prince of Wales was a staggering £14,565 13s 6d. Daguerre also worked for the Prince's circle and provided furniture to Duke of Bedford for Woburn Abbey and Earl Spencer for Althorp. By 1791, financial constraints and current events necessitated the sale of his stock at Christie's which was enough to fill an entire catalogue and among many illustrious items likely included this very sécretaire en cabinet.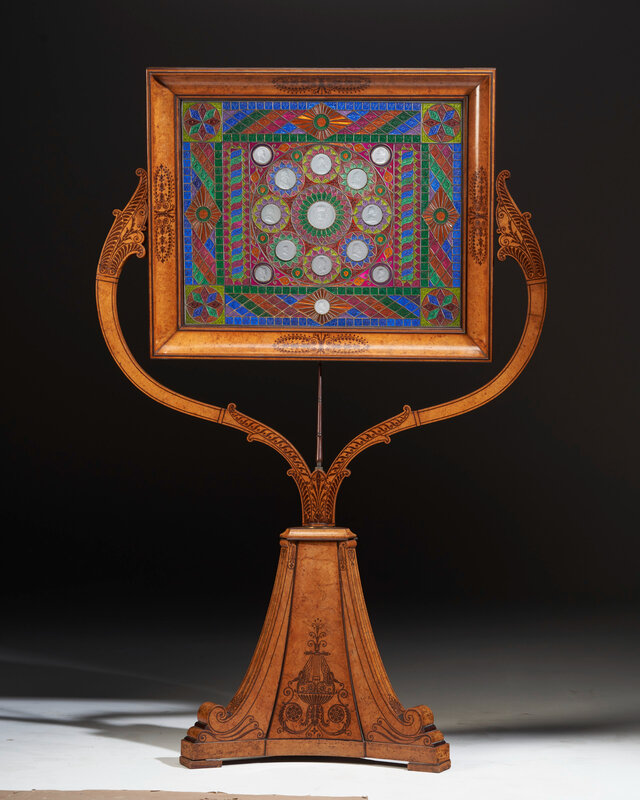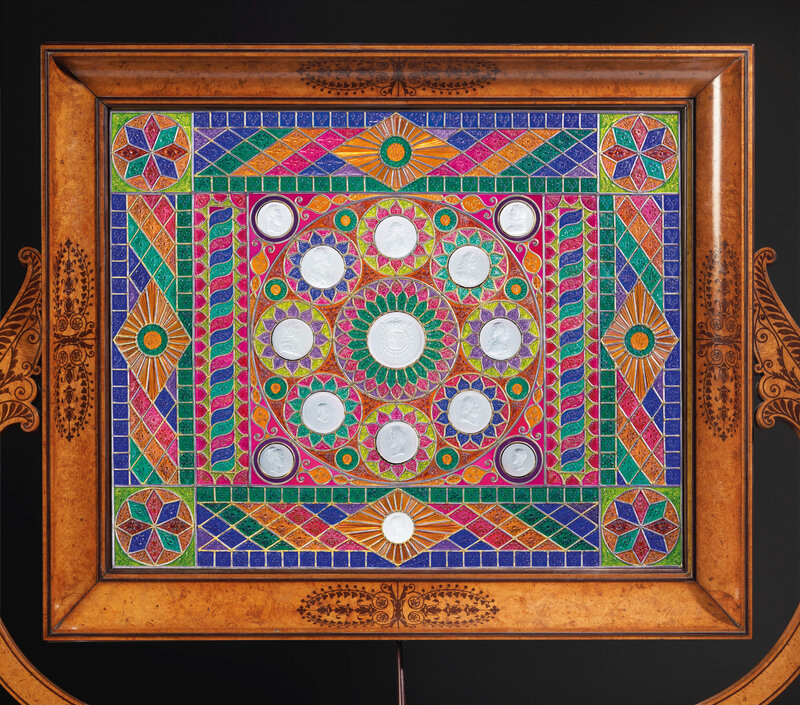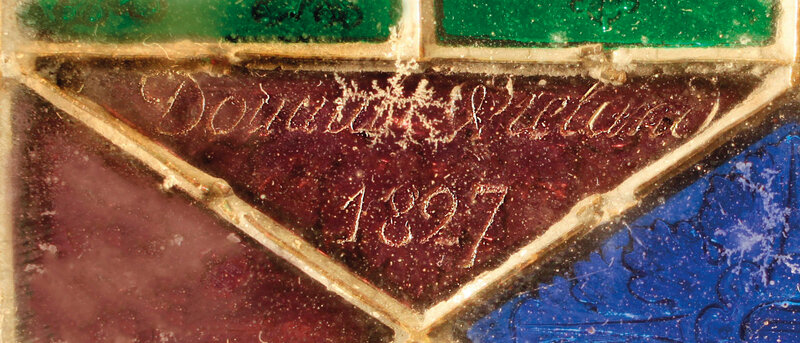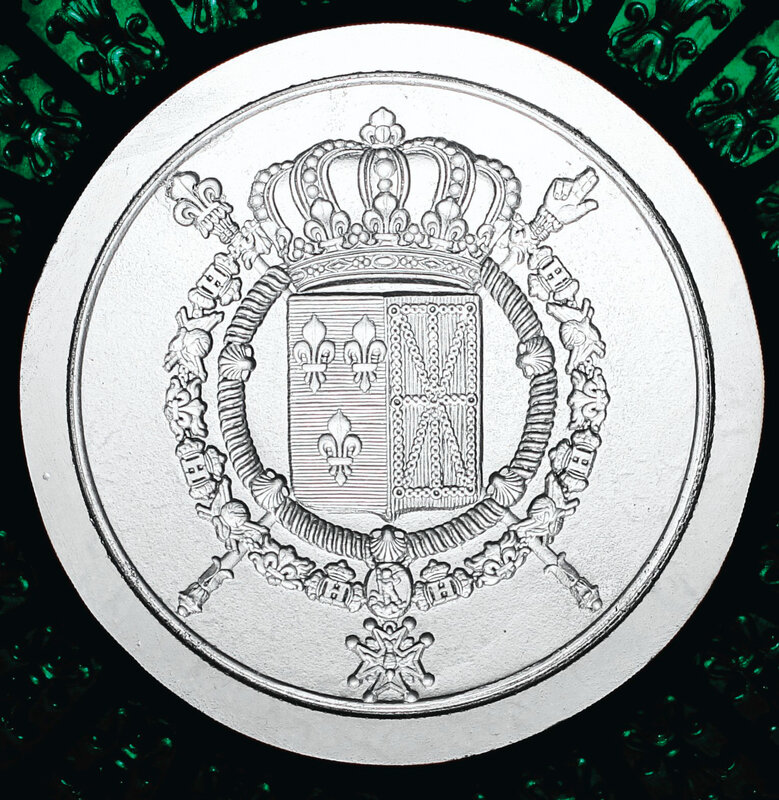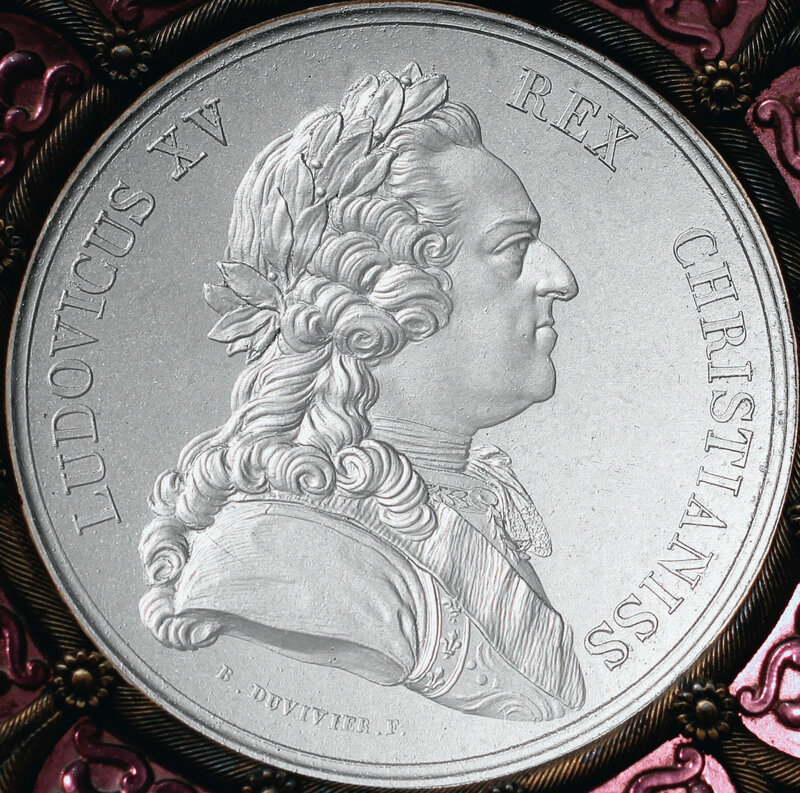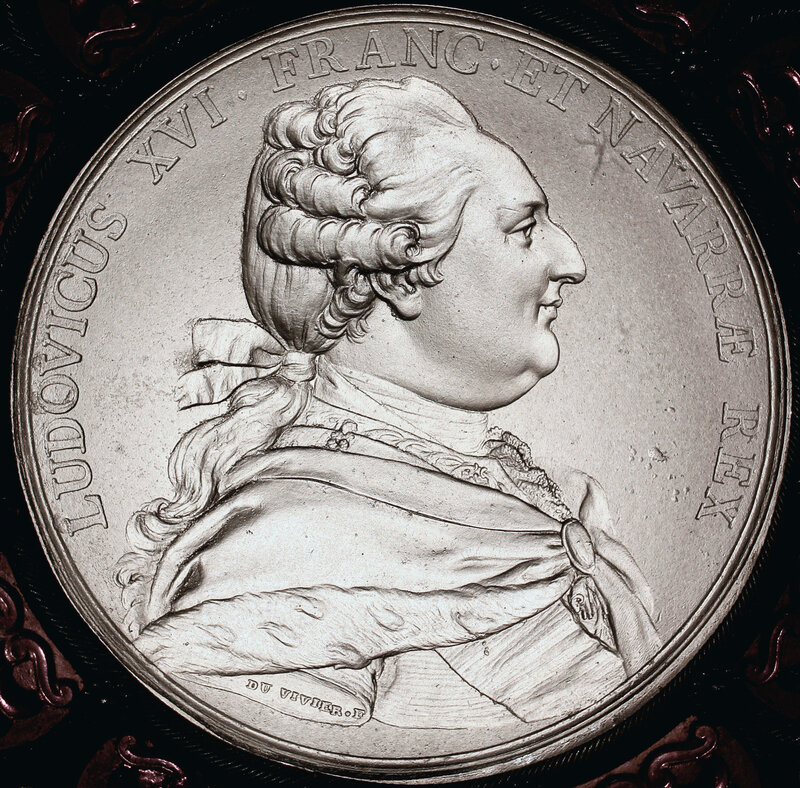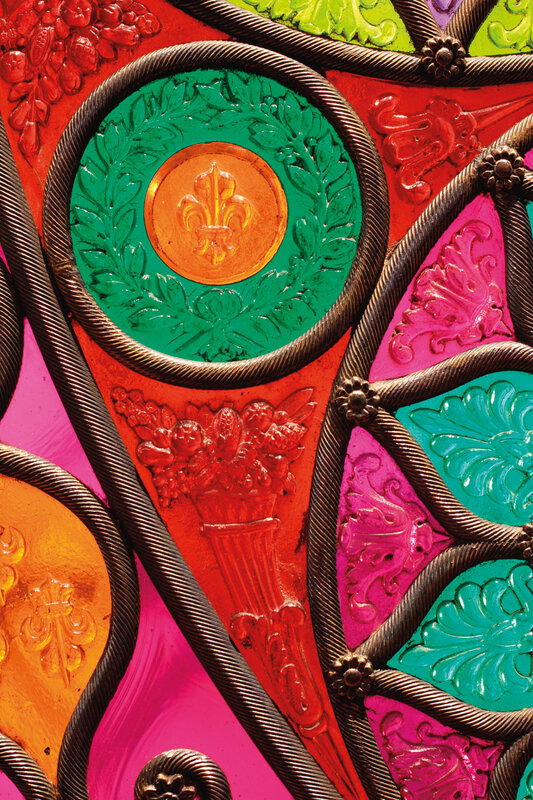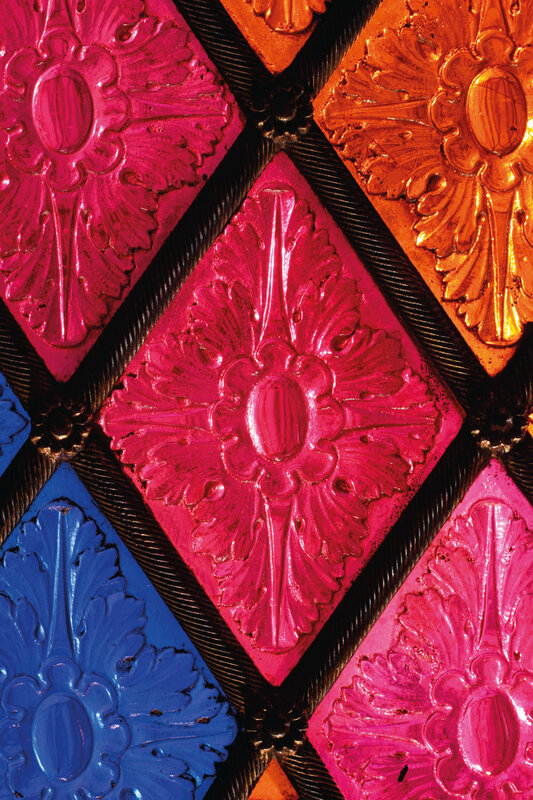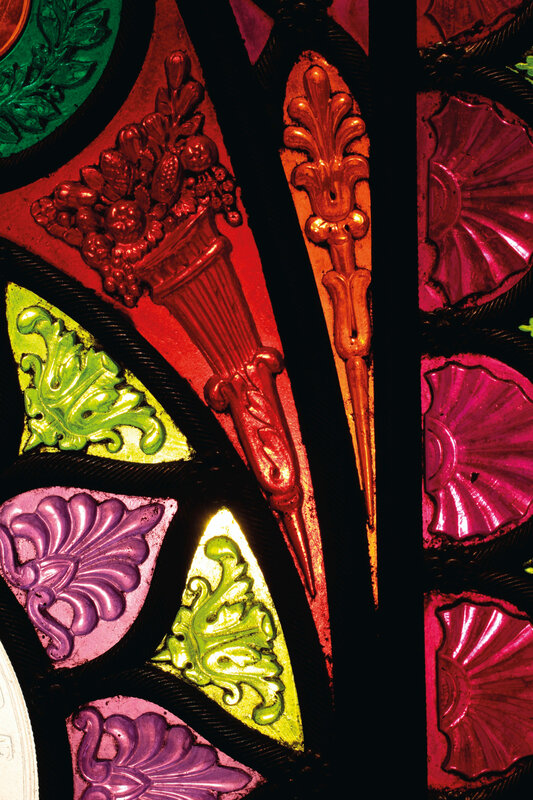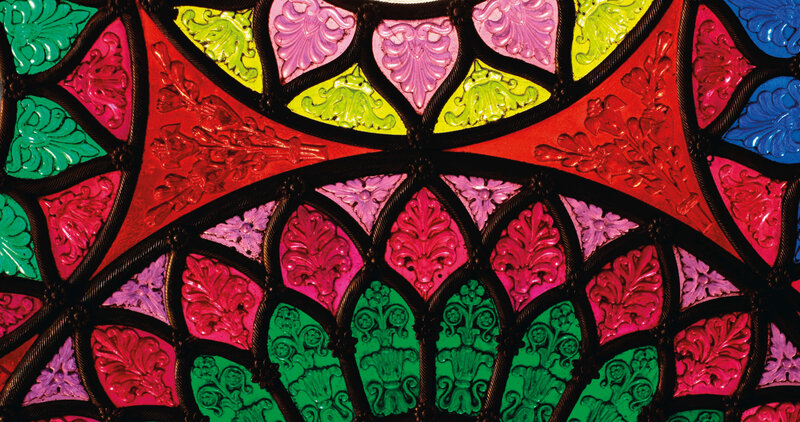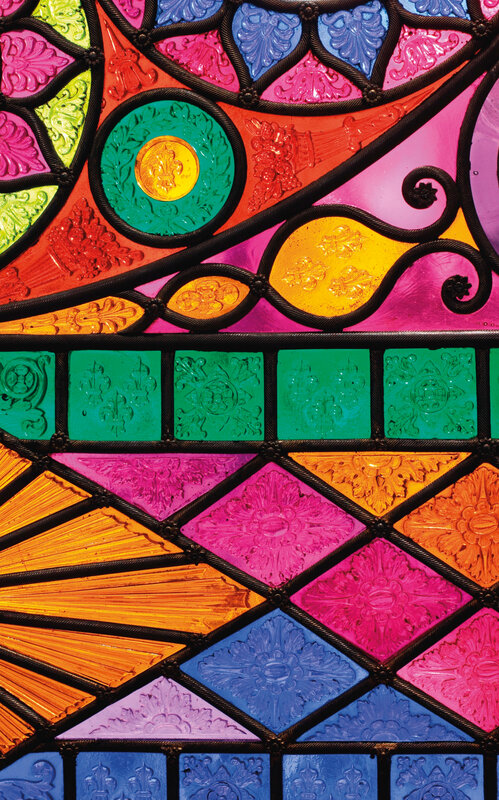 Lot 136. A Charles X birds eye maple, amaranth, coloured strass and silver exhibition panel, made for the Exposition des Produits de l'Industrie of 1827, signed and dated Douault-Weiland, 1827, the silver marked with the poinçon of J.D. Douault; 6 ft. 10 in. (208.5 cm.) high, 53 in. (134.5 cm.) wide. Estimate USD 150,000 - USD 300,000. Price realised USD 187,500. © Christie's Images Ltd 2020.
Provenance: Anonymous sale; Palais d'Orsay, Paris, 5 December 1979, lot 102.
Anonymous sale; Hôtel Drouot, Paris, 19 March 1982, lot 84.
Literature: Rapport du jury central. 1827.
Voyage dans la cour du Louvre. 1827. Page 286.
Adolphe Blanqui, Histoire de l'Exposition des Produits de l'industrie Française en 1827, Paris, 1827, p. 192.
Travaux de la Commission Française sur l'industrie des Nations. Paris, 1854, XXIIIe Jury, p. 217.
A. Dion-Tennenbaum, D. Alcouffe and P. Ennès ed., Un'Age d'Or des Arts Décoratifs 1814-1848, Paris, 1991, pp. 216-7, cat. 98.
L'Art de Vivre, New York, 1989, p. 46, fig. 66.
Exhibited: Exposition des Produits de l'industrie, Paris, 1827.
L'Art de Vivre, Cooper-Hewitt Museum, New York, 1989.
Un Age d'Or des Arts Décoratifs 1814-1848, Grand Palais, Paris, 1991, cat. 98.
Note: This spectacular and unique exhibition panel is an extraordinary tour de force, uniting the latest forward-thinking technology of dazzling imitation hardstones with a romantic celebration of the Bourbon monarchy in the guise of a high Gothic stained glass rose window rivaling the glories of Notre Dame and Chartres cathedrals.
DOUAULT-WIELAND
Jean-Baptiste-Pierre-Laurent Douault-Wieland (1786-1834) trained originally as a sculptor and chaser but is now best known as a jeweler who took the medium of paste jewelry to unparalleled heights. He was probably introduced to this craft as a result of his marriage to Colombe Thérèse Wieland, the daughter of an established manufacturer of strass. His father-in-law Monsieur Aviéland exhibited at the 1806 Exposition des Produits de l'industrie, according to exhibition records, the fourth iteration of the fair and the last of the Napoleonic era.
Paste jewelry became popular in the mid-18th century as a means of creating an affordable alternative to hardstones and semi-precious stones. Georg Friedrich Strasse was an 18th century Alsatian jeweler, and is widely considered to be the father of imitation gemstones. He invented the rhinestone, also known as strass, in the 1730s. He was appointed the King's jeweler in 1734, and was in great demand at Louis XV's court.
While Douault-Wieland was not the only Parisian jeweler working in this medium, he certainly should be credited for advancing production with his extensive research in the field. In 1820, he wrote a report detailing the chemistry and his technique for producing various types of strass. Certain minerals were combined to create the appearance of topaz, ruby, emerald, sapphire and aquamarine. The levels of purity in the minerals leant themselves to the distinctive sheen and sparkle found in these stones. Furthermore, his technique for the production of the glass was revealed in great detail, highlighting further the incredible advances his works represented. The mémoire was circulated and published throughout Europe.
In 1819, he created a replica of the 140-carat diamond, Le Régent, considered then as well as now to be one of the most beautiful and purest diamonds in the world. This feat impressed the French public and nobility alike, and became a great source of pride as the French worked to surpass Germany as the leaders in artificial stone production. That year, he received awards from various exhibitions, including the fifth Exposition des Produits de l'industrie in which he won a silver medal for a ruby, topaz, and emerald strass vase.
THE EXPOSITIONS DES PRODUITS DE L'INDUSTRIE
Between 1798 and 1849, the Exposition des Produits de l'industrie was held eleven times. The purpose of the exposition was to promote the various branches of French industry and highlight the technical advancements being made. With nationalism on the rise, after the first iteration of the fair only French products could be exhibited.
Douault-Wieland exhibited in the sixth exposition in 1823, and caught the eye of King Louis XVIII who requested a private demonstration of his craft. Louis XVIII also purchased a vermeil monstrance with strass rays from Douault-Wieland for an incredible 15,000 francs, which he donated to the Treasury of Notre Dame Cathedral. Sadly, that work - one of the only other known examples of a strass worked signed by Douault Wieland - was stolen. His manufactory supplied France, Spain, Portugal, Germany and Russia. Reportedly, Czar Alexander I asked Douault Wieland to open a factory in Russia but he declined, conceivably due to his allegiance to his country.
THE 1827 EXPOSITION AT THE LOUVRE
In 1827, at the seventh, and last exposition under the Bourbon monarchy, Douault-Wieland unveiled this dazzling piece on the first floor of the Louvre, which throughout was a spectacle of French innovation and advancement. Composed of 1108 pieces of strass connected by thin bands of silver, which are marked by Douault-Wieland's poinçon, this exhibition panel is a striking homage to the Bourbon kings and its design emblematic of the gothic revival, so fashionable in France in the 1820s. The portraits are after medals, some signed by the artists: Barre (Louis Antoine), Caqué (Charles X, duc du Berri), Dubois (duchesse du Berri, Mademoiselle, duc de Bordeaux), Du Vivier (Louis XVI), B. Duvivier (Henri IV [Winner of the Prize of the Academy of La Rochelle, 1768], Louis XV), Gayrard (Louis XVIII), and Puymaurin (Charles X, Louis Antoine, duchesse du Berri). Puymaurin's name appears alongside the name of another sculptor, either as a collaborator or because of his position as Master of the Paris mint from 1816-1830.
DESIGN SOURCES
As he had in previous exhibitions, Douault-Wieland was hopeful his submission would catch the attention of the sovereign, Charles X, whose son was on the jury. The report of the jury was gushing in its praise of the panel, describing it as a '…magnifique composition' and emphasizing how Douault-Wieland '..continue à occupier le permier rang dans la fabrication du strass' while referring to the '…immenses progress de cette industrie'. However, while the Duc d'Angoulême was impressed, awarding Douault-Wieland a silver medal, the monarch did not purchase the screen, which in the wake of the Duc du Berry's murder and the imminent conflict may have been considered an imprudent extravagance.
The execution of the present lot is only matched by its scale. Douault-Wieland's experience as a sculptor likely allowed him to manipulate the strass to produce such an impressive piece over such a wide expanse.
It is evident that Douault Wieland was inspired by medieval and gothic architecture, as featured in the emerging troubadour style of design which was particular theme of the 1827 exposition. The central medallions and the four corner rosettes call to mind the rose windows of France's great cathedrals, while this panel is also perhaps directly inspired by the famous 'Chosroès' cup (also known as the 'Tasse de Salomon'), an Iranian treasure in rock crystal and coloured glass from the 6th-7th century with the same radiating pattern of medallions, originally part of the Treasury of the Abbey of St. Denis and now in the collection of the Bibliothèque Nationale de France (illustrated here). The exuberant troubadour style, famously championed by the Duchesse du Berry, emerged in response to the sober, rigorous neo-classical taste popular under the rule of Napoleon Bonaparte, as French liberals worked to strengthen the constitutional monarchy and preserve the Bourbon regime.
ATTRIBUTION OF THE EBENISTERIE
The 1827 exhibition also served to illustrate the feats in furniture design and production. The use of lighter wood with veins, burls and speckled surfaces combined with intricately designed bronze or dark wood inlay, and characteristically curvilinear forms become synonymous with the reign of Charles X, and was another favorite style of the Duchesse du Barry. The cabinet-maker François Baudry (1791-1859) exhibited several pieces, including a heart-shaped back chair and the 'Nacelle' bed which earned him a bronze model, both now in the collection of the Musée des Arts Décoratifs. While the designer of the stand is still unknown, it is obvious by the delicate arms and beautifully executed inlay that this was accomplished by someone with great technical skill. Another possibility could be Jean-Jacques Werner (1791-1849), one of the most important ébénistes of the Restauration period who made a particular speciality of using indigenous French woods, for instance on the celebrated cabinet made by him in 1819 with bronzes by Denière, eventually acquired by Charles X and now in the Grand Trianon (for other works with related inlay by Werner, see D. Ledoux-Lebard: Le Mobilier Français du XIXe Siècle, Paris, 1989, pp. 630-631).
This panel was produced at the height of Douault-Wieland's career. If not for his untimely death in 1834 at the age of 48, he likely would have continued to excel, and to further his perfection in the art of artificial hardstones. Very few examples of his work are preserved, and none compare to the present lot in its scale and ingenuity. It serves to illustrate a peak of progress, ingenuity and nationalism.
Lot 182. A matched pair of Louis XVI ormolu-mounted citronnier, fruitwood and marquetry secretaries by Roger Vandercruse, known as Lacroix, circa 1775; 50 in. (127 cm.) high, 34 in. (86.5 cm.) wide, 14 in. (35.5 cm.) deep. Estimate USD 100,000 - USD 150,000. Price realised USD 162,500. © Christie's Images Ltd 2020.
Each with white and grey veined marble top above a scrolling foliate frieze fitted with a central drawer over a fall front opening to a fitted interior and flanked by serpentine shelves over a central drawer, square tapering legs ending in sabots, one with blue-painted 294S to underside of the frame, the other with partial CHENUE label to the back, variations in construction and marquetry, both stamped LACROIX.
Provenance: Mrs. Hamilton Rice (Mrs. George Widener), New York and Rhode Island; Parke Bernet Galleries, New York, 3 October 1970, lots 146-7.
Literature: M. Kathrens, American Splendor, The Residential Architecture of Horace Trumbauer, pp. 197 and 257.
Note: Roger Vandercruse known as Lacroix, maître in 1755.
These elegant secrétaires à encoignure epitomize the ingenuity of Parisian ébénisterie in the latter part of the eighteenth century and particularly the oeuvre of Lacroix, who had specialized in the production of small, costly items of furniture, often embellished with intricate marquetry and sophisticated mechanical devices. On numerous occasions he collaborated with the celebrated marchand-mercier Simon-Philippe Poirier, who supplied precious materials such as Sèvres porcelain and oriental lacquer to be incorporated in these pieces. A closely related secrétaire with almost identical mounts and inlay and with a Sèvres porcelain plaque to the fall-front is at Waddesdon Manor, see G. de Bellaigue, The James A. de Rothschild collection at Waddesdon Manor, Furniture, Clocks and Gilt Bronze, Fribourg 1974, pp. 337-341, cat 67; while another is at the Metropolitan Museum of Art, New York, see C. Roinet, Roger Vandercruse dit La Croix, Paris, 2000, p. 57. A comparable secrétaire by RVLC with marquetry decoration to the fall-front sold Christie's, London, 9 December, 2010, lot 261 (£145,250).
MRS. HAMILTON RICE
A Gilded Age philanthropist, who famously lost her first husband George D. Widener in the Titanic, Mrs. Hamilton Rice (née Eleanore Elkins and also known as Eleanor Elkins Widener, 1862-1937) commissioned Horace Trumbauer in the early 1920s to build a townhouse in New York that was then filled with French furniture and decorations. The interiors were executed in a restrained Louis XVI manner typical of the taste for recreating French interiors among American collectors during the first quarter of this century. Several of the rooms originated from various Parisian hôtels and Joseph Duveen was responsible for the interior decoration and furnishing of the residence. Much of her collection is now in the Philadelphia Museum of Art. This pair of secrétaires à encoignure are recorded in the second floor hall of this New York residence. However, interestingly, they also appear in the Grand Salon at Miramar, Mrs. Hamilton Rice's Newport summer residence also designed by Trumbauer. It is possible that these pieces work moved seasonally from one location to another, suggesting that Mrs. Hamilton Rice was particularly fond of them.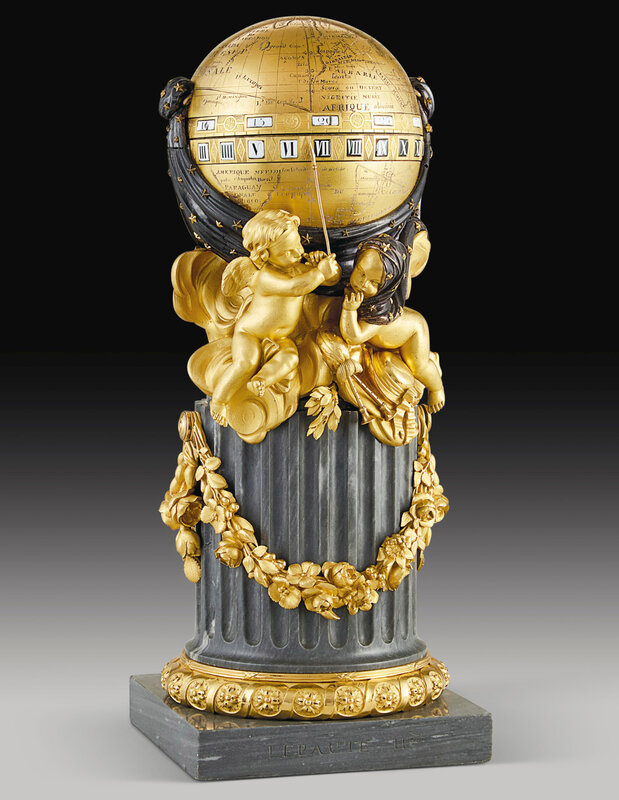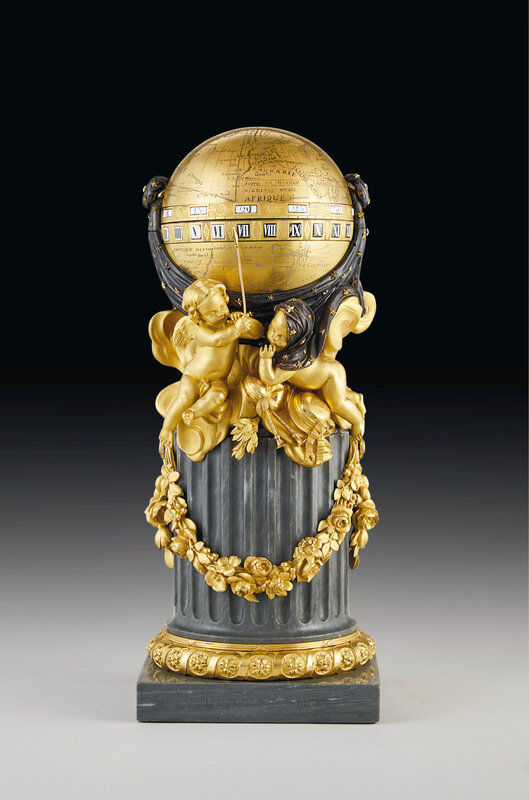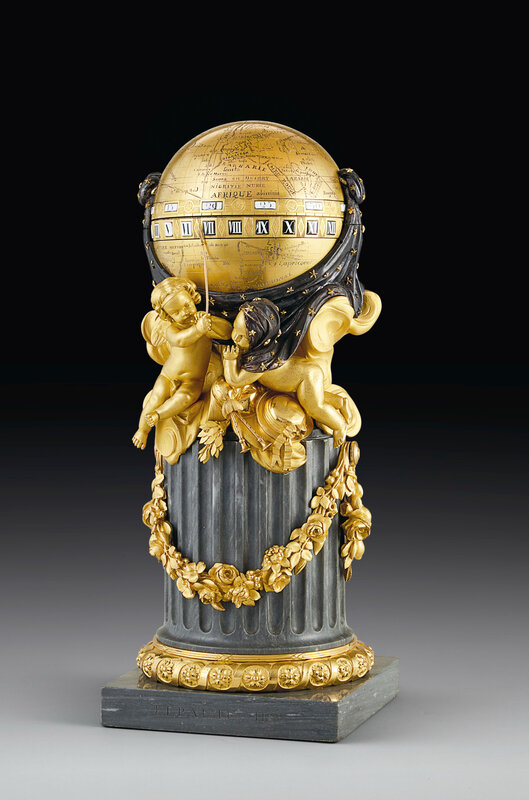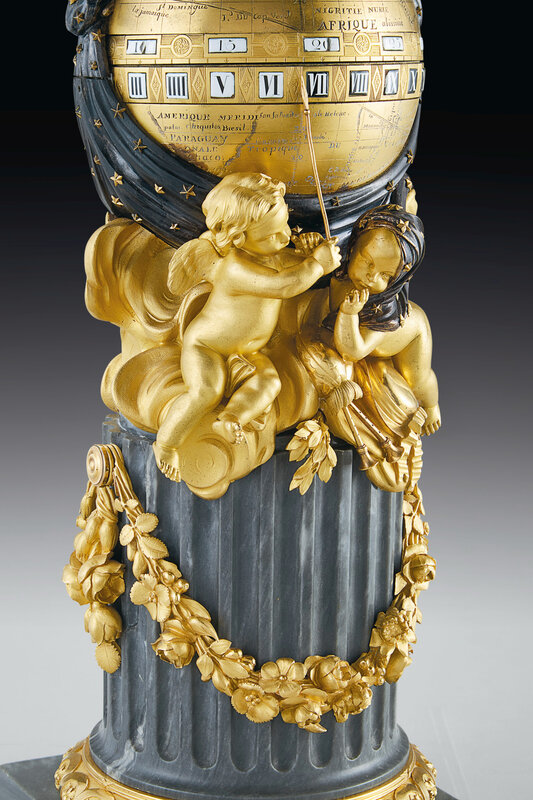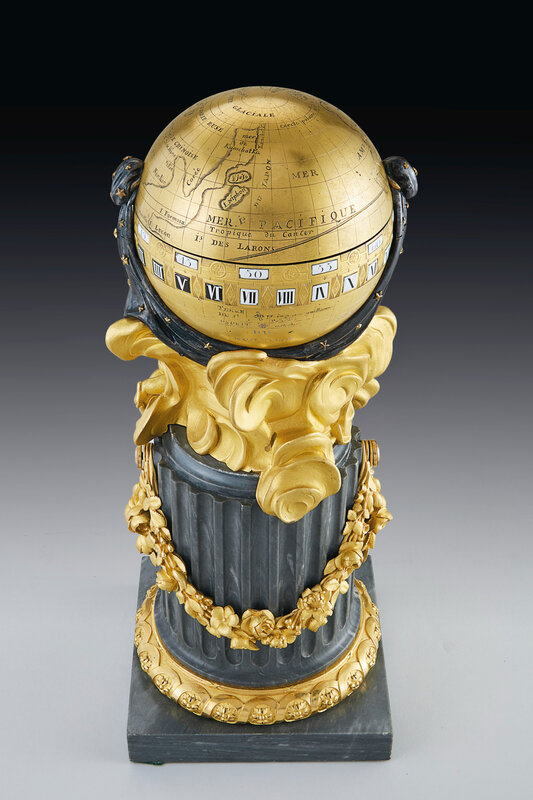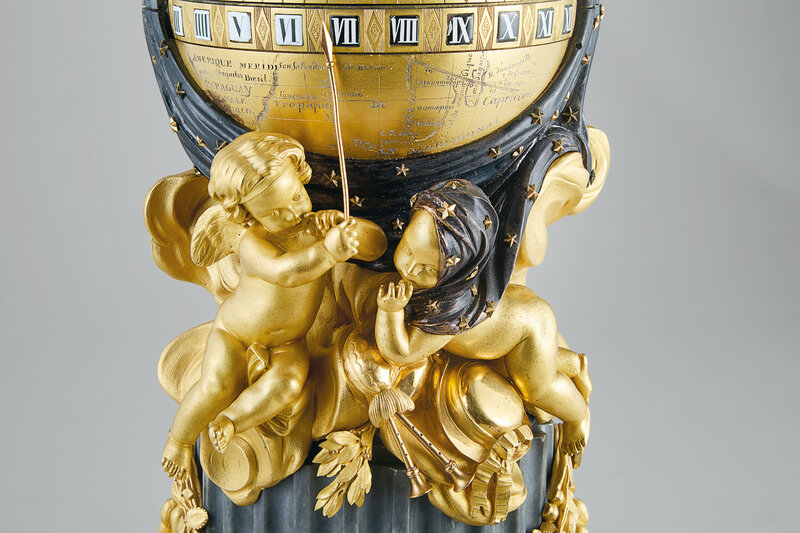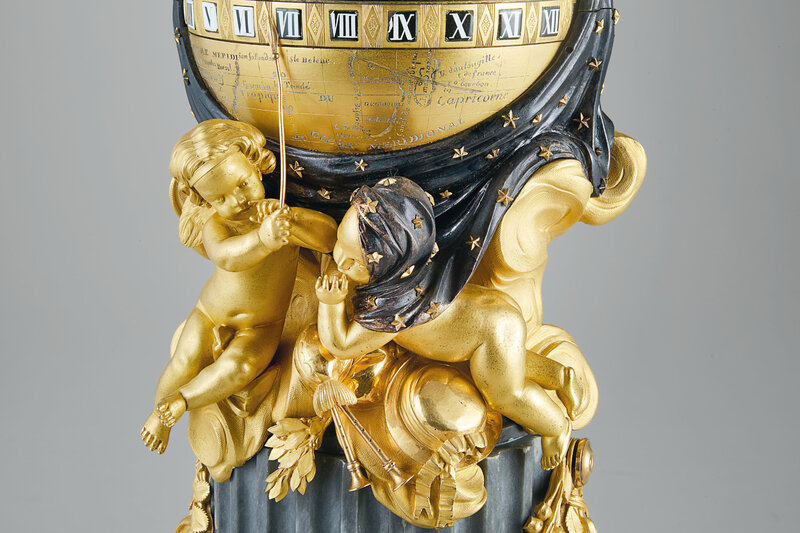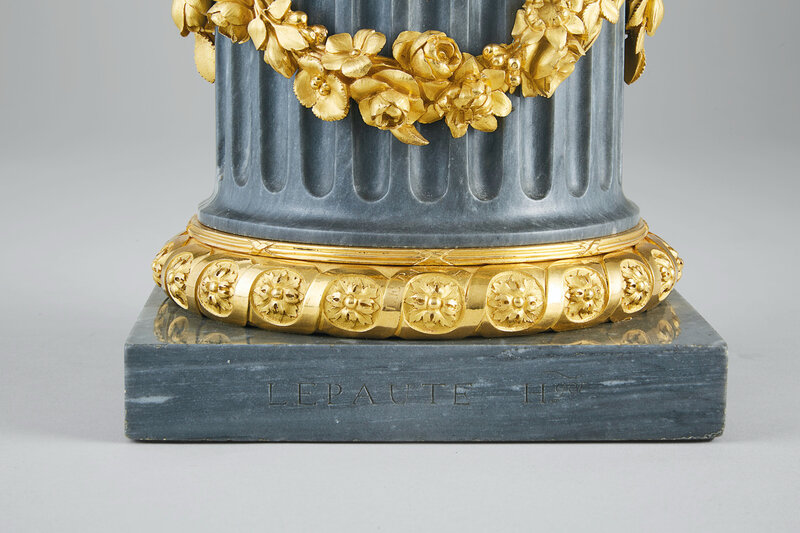 Lot 171. A Louis XVI ormolu, blued and silvered metal and bleu turquin marble pendule à cercles tournants, by Lepaute, Paris, dated 1780; 14 ¼ in. (36.5 cm.) high, 5 ¾ in. (14.5 cm.) diameter. Estimate USD 100,000 - USD 150,000. Price realised USD 162,500. © Christie's Images Ltd 2020.
With an engraved terrestrial globe, with revolving equator set with enameled Roman numerals and Arabic seconds and held within starred drapery swags and clouds supported by two putti emblematic of Day and Night, one holding a pointer to the diaI resting on a fluted column with floral garlands, square plinth with guilloche border inscribed LEPAUTE, the marble signed LEPAUTE HGR, the movement signed LEPAUTE HGR DU ROI 1780.
Provenance: Property from the Collection of James Seligman; Christie's, New York, 21 October 2005, lot 383.
Exhibited: The Frick Collection, New York, French Clocks in North American Collections, 1982, cat. 72, p. 81.
Note: The Lepaute (or Le Paute) family was one of the most celebrated firms of 18th century French clockmakers and gained Royal favor by 1751. Besides Louis XV, Louis XVI, the comtes de Provence and d'Artois and other members of the Royal family and the court, Le Paute supplied clocks to the courts of Parma, Spain and Sweden. They collaborated with some of the most celebrated sculptors of the period, notably Clodion, Houdon and Augustin Pajou (1730-1809), who may have supplied the design for the present model.
Working closely with the bronziers François Vion and Robert and Jean-Baptiste Osmond, Jean-André Lepaute (1720-1789) perfected his designs for clocks with rotating dials, cadrans tournants, in about 1765. It was a technological achievement which reflected the scientifc advancements in the age of englightenment and one which cleverly masked the winding hole under a hinged garland. The Lepaute signature or stamp is found on several related models, most with a handled vase and serpent pointer based on a design by Gilles-Paul Cauvet (1731-1788) and described by Lepaute in his 1766 Description de plusieurs ouvrages d'horlogerie as a 'Pendule verte à cercles tournants, l'heure est indiquée par un serpent. Ce modèle est de Cauvet, 1300 livres.'
An identical clock in white marble and entirely gilded with a movement by Roque is in the Musée des Beaux-Arts, Lyon. D, Áugarde, Les Ouvriers du Témps, Geneva, 1996, p. 27). It is almost certainly the one sold from the collection of Baron von Horn on 29 November 1809, lot 80 which is described as 'une pendule représentant le globe terrestre, soutenu par un groupe de nuages dorés, & traversé par un cadran circulaire, orné & le tout élevé sur un cipe cannelé en marbre blanc de Carrare, avec tore : rosaces, guirlandes & autres ornements en bronze doré d'or mat. Haut. 13 po., larg. 9' (A. Pradère, 'Baron van Horn: an amateur of Boulle, Antiquity, and the Middle Ages under the Empire', Furniture History, 2007, pp.210-11, fig. 5, and note 22). A second model, from a revolutionary confiscation, was sent on 28 Ventôse an 4 (18 March 1796) to the Ministry of Finance. (Archives Nationales, O2 445). A further example in white marble (possibly the Van Horn clock) was supplied to the Comte d'Artois, a significant client of Lepaute's. A well-known version, also by Lepaute and after a Pajou design, includes a less precise celestial globe - with only stars rather than the extremely detailed globe of the present lot, two putti in a slightly different arrangement and the figure of Father Time leaning over the composition - and is in the Wallace Collection, London (P. Hughes. The Wallace Collection: Catalogue of Furniture, London, 1996, no. 110). A further more simplified model by Lepaute, featuring ram's masks and lacking putti, was offered anonymously at Christie's, London, 6 July 2012, lot 172.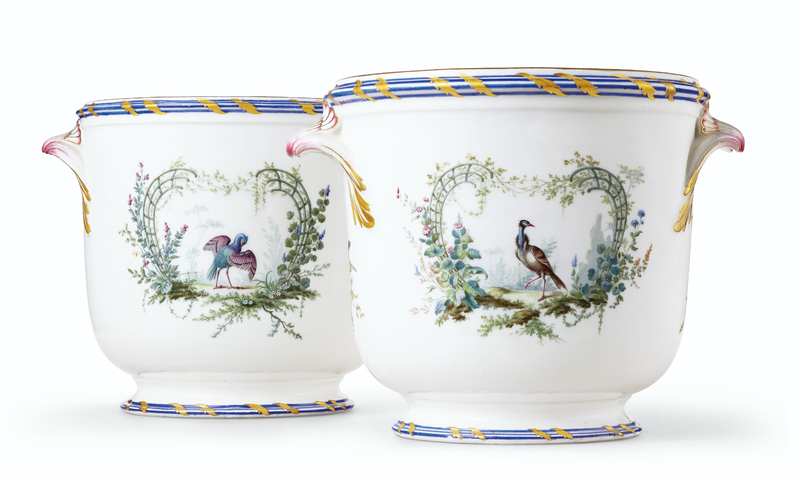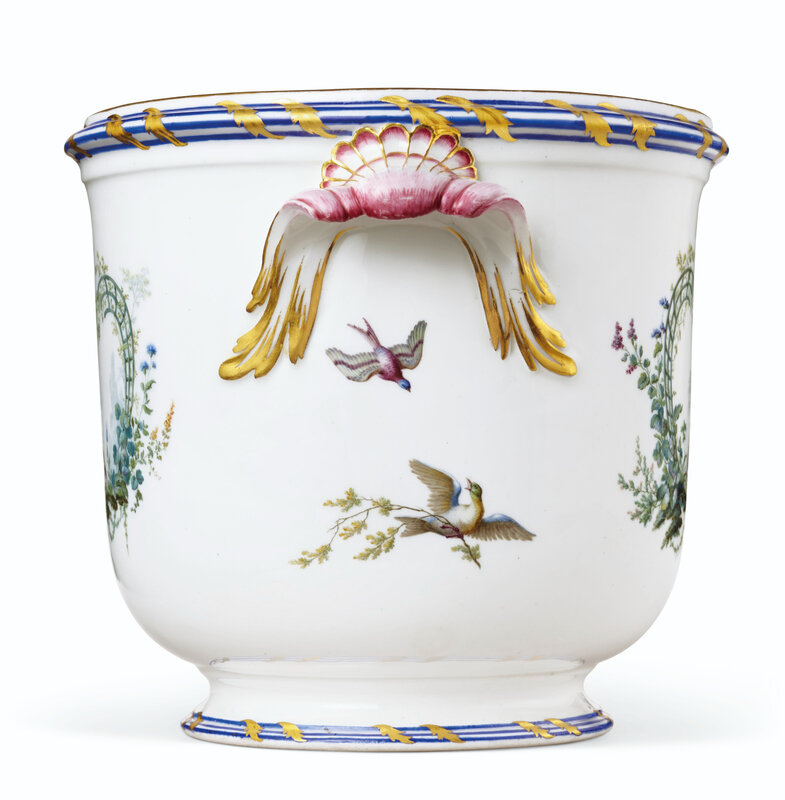 Lot 93. A pair of Vincennnes porcelain bottle coolers (seaux à bouteille 'ordinaire') circa 1752, Elaborate blue interlaced L'S marks for the painter Armand L'Aîné; 8 in. (20.3 cm.) high; 8 in. (20.3 cm.) high. Estimate USD 20,000 - USD 30,000. Price realised USD 125,000. © Christie's Images Ltd 2020.
Each finely painted with long-necked exotic birds in landscapes below curved trellis, the sides with paired birds in flight, one of each pair with a branch in its claws, below the puce and gilt enriched handles, the rims with either three or four blue concentric bands with double gilt foliate dashes.
Provenance: Charles Mannheim Collection, circa 1892.
Literature: Édouard Garnier, The Soft Porcelain of Sevres, London, 1892, plate XVI.
Note: One of this pair is almost certainly the Vincennes seau illustrated in Édouard Garnier, The Soft Porcelain of Sevres, London, 1892, plate XVI, here noted as belonging to 'M. Ch. Mannheim'.

Louis-Denis Armand l'aîné, is recorded as a painter of animals and landscapes at the manufactory in 1752 and from 1754-57.