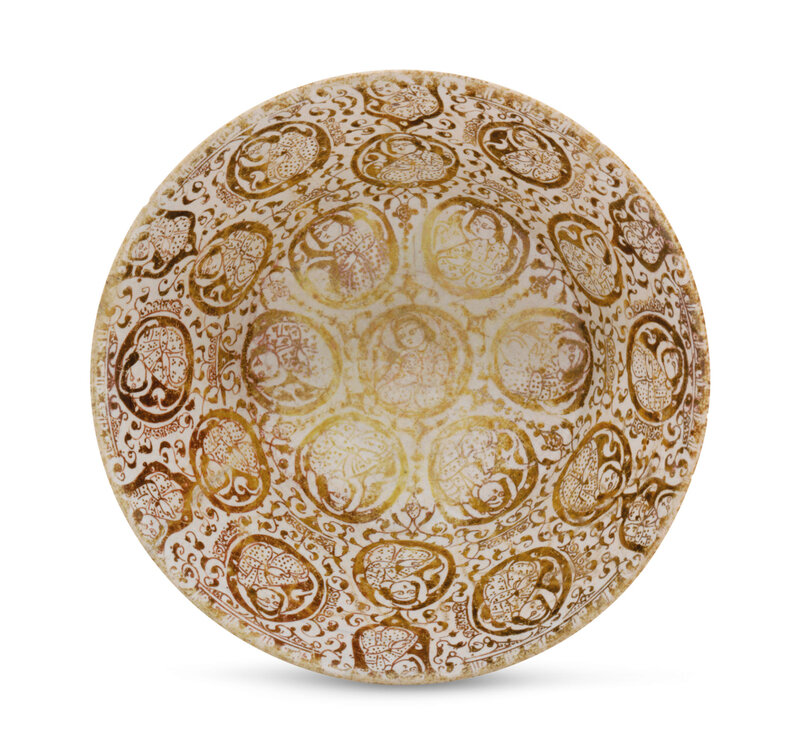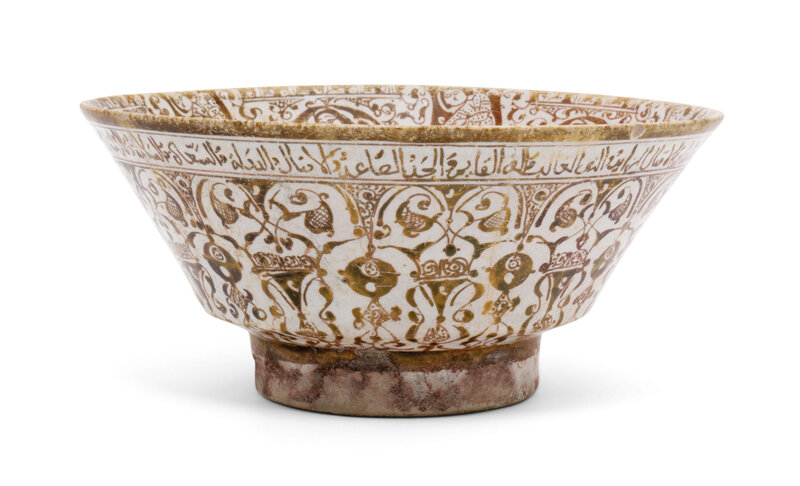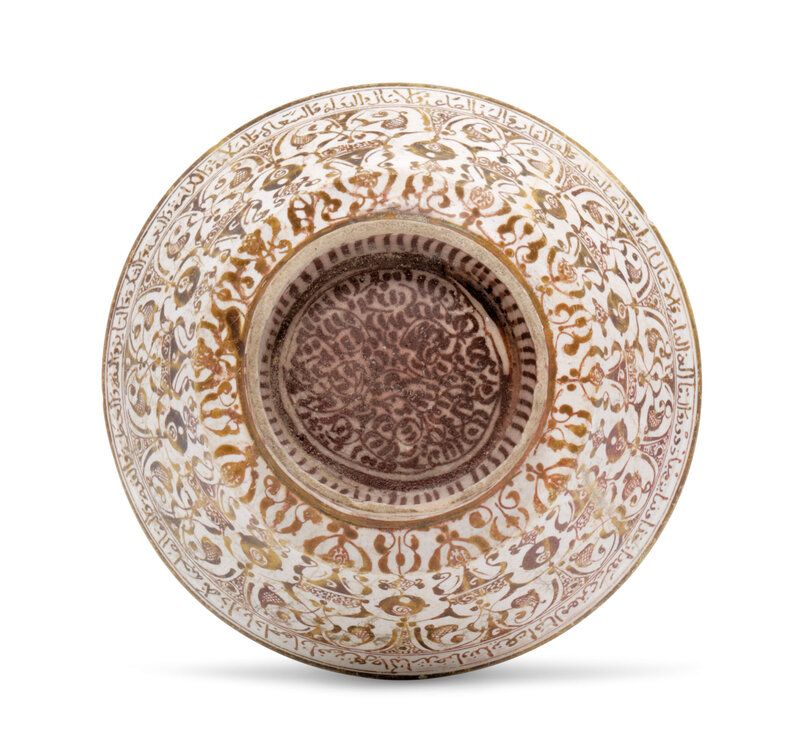 Lot 13. A Kashan lustre pottery bowl, Iran, circa 1200; 8 3/8in. (21.2cm.) diam. Estimate GBP 25,000 - GBP 35,000 (USD 32,500 - USD 45,500). Price realised GBP 30,000 Courtesy Sotheby's.
Of conical form, the interior decorated with roundels each containing seated figures in a golden-brown lustre on a scrolling ground, the exterior with a calligraphic band above repeated scrolling stylised palmette motifs, the base with a dark lustre dense scrolling vegetal diaper, two hairline cracks, otherwise intact.
Provenance: Private Japanese collection by 1970 (by repute), from whom purchased by Japanese trade in 1980.
Note: Oliver Watson in his revolutionary study Persian Lustre Ware (1985, pp.37-44) argues that stylistic differences seen among the surviving examples of pre-Mongol Iranian lustre wares should be seen, not as indications of different sites of manufacture, but as the result of three separate stylistic approaches of lustre decoration created at Kashan between the 1170s and early 1220s. These include the 'monumental', 'miniature' and the 'Kashan' style.

Our dish belong to Watson's second category of lustre decoration attributed to Kashan workshops, the "miniature style," which had developed by AH 575/1179-80 AD. Here twenty-five beautifully drawn single figures are clustered within round medallions and carefully arranged in the interior of the bowl. Each figure is holding out his left hand, as though in conversation with the figure in front.

In both painting and form the lustreware decorated in this manner has much in common with enamelled ("mina'i") wares of approximately the same period, leading to the suggestion that the "miniature style" was first developed for enamelled wares on which the detailing would have appeared more legible (Watson, 1985, p.70). At the same time, several authors have noted the very close relationship between the "miniature style," with its fixed ground planes and small, dynamic figures, and book illustration (Graves, Encyclopaedia Iranica online, 2014).

For a lustre decorated sweetmeat dish and a bottle with similar figural decoration see Khalili, 1994, fig.247, pp.224-225.
Sotheby's. Art of the Islamic and Indian Worlds Including Oriental Rugs and Carpets, 28 October 2020