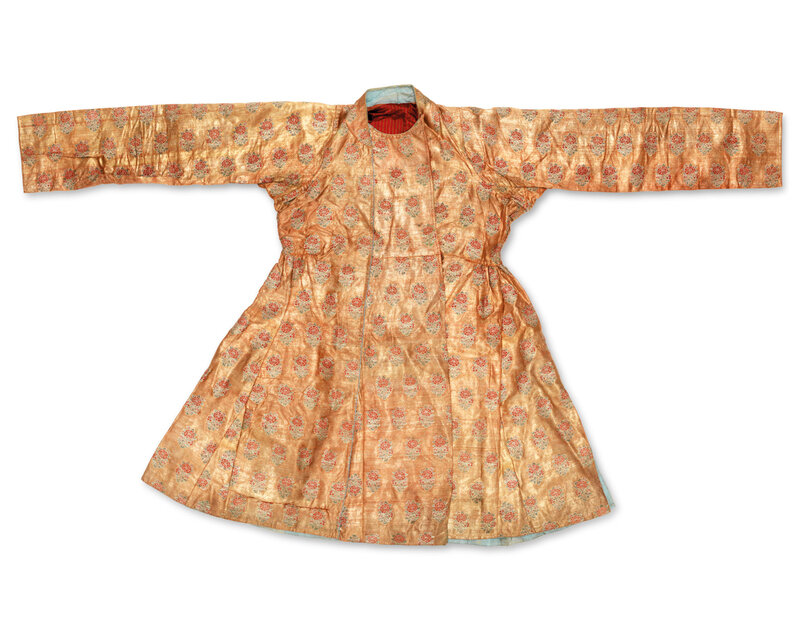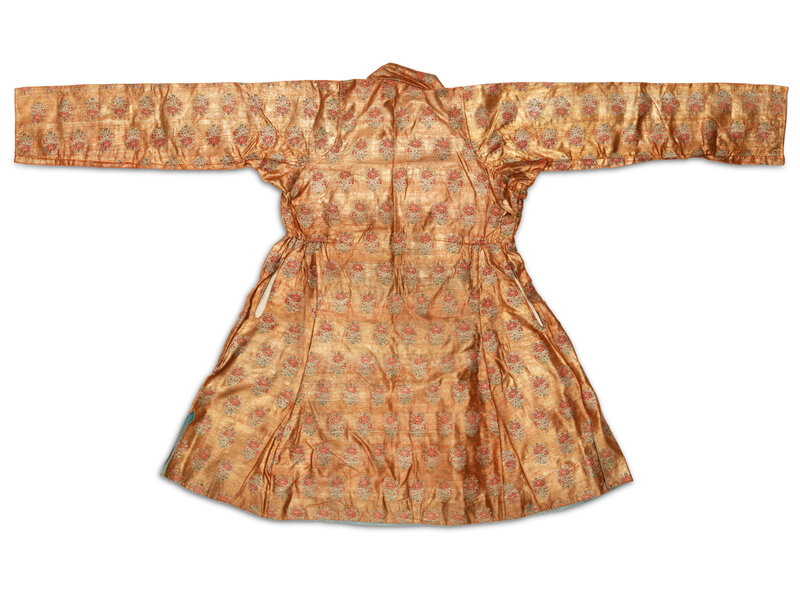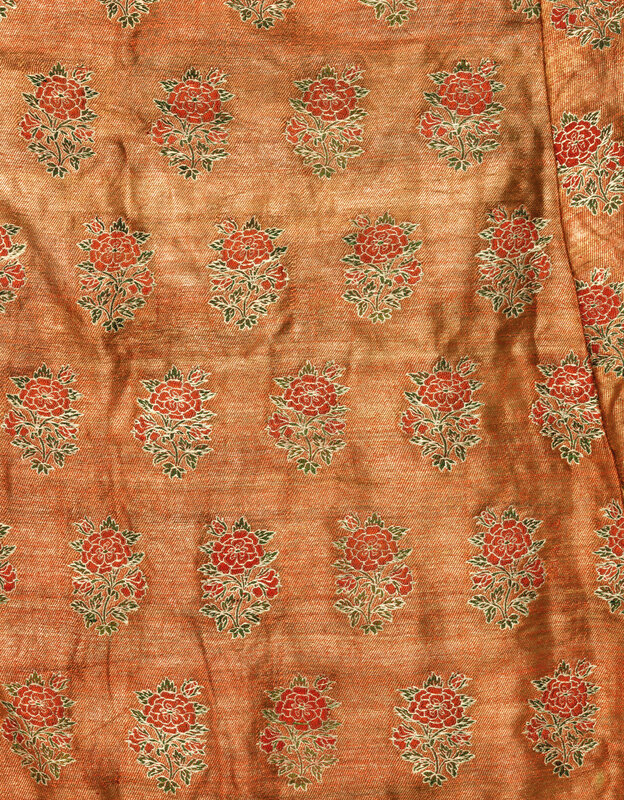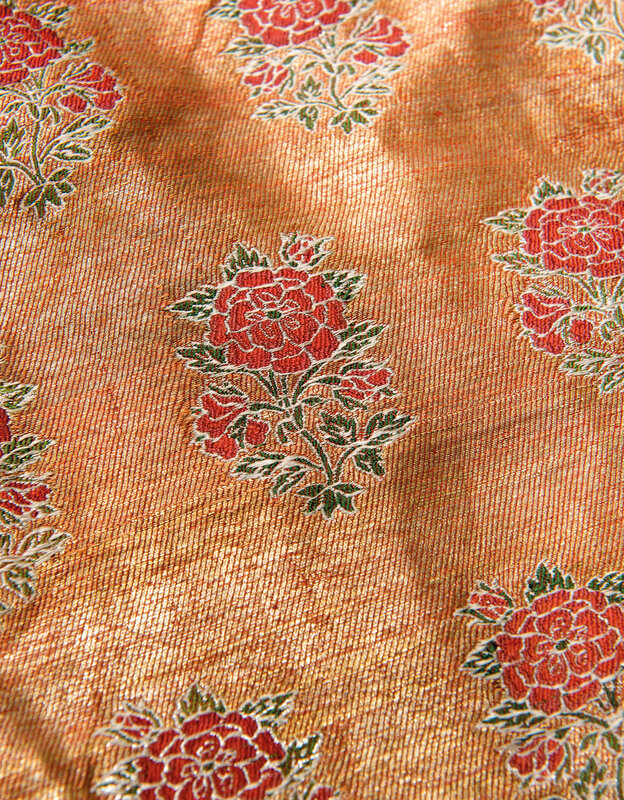 Lot 75. A rare gold brocade robe, Mughal India, circa 1700; 38in. (96.5cm.) long. Estimate GBP 30,000 - GBP 40,000 (USD 39,000 - USD 52,000). Courtesy Sotheby's.
Gold and silk threads, brocaded, the gold ground decorated with a repeating design of red floral sprays, red and blue silk lining.
Provenance: Possibly Henry Vansittart (1732-1770) when Governor of Bengal from 1759 to 1764 or his brother George Vansittart (1745-1825 when in Bengal from 1761 to 1776
Thence by descent to the late Sir John and Lady Smith.
Note: This magnificent metal-thread brocade garment is a rare survival of the Mughal silk ateliers, and would have been worn by a courtier. The textile is decorated with gilt-metal thread interwoven with coloured silk. The Persian-style rose bushes seen here are a decorative motif widely found in Mughal textiles, from carpets to shawls and velvets. Contemporaneous Mughal paintings provide accurate visual references in to the fashion of the time and the type of garments and textile designs used at the courts. An example of such is a folio from The Late Shah Jahan album sold in these Rooms (26 October 2017, lot 180), which depicts Mirza Raja Jai Singh Kachhwaha of Amber (r.1621-67), a Mughal courtier dressed in a jama constructed from a gold brocade very similar to our example (image below).
The shape of this robe classifies it as an angarkhi, which is a shorter form of an angarkha. An angarkha (from a Sanskrit term meaning 'body protector') is a type of robe characterised by an inserted panel over the chest. Angarkhis are less commonly depicted in painting than angarkhas. The V&A has two paintings from the 1760s which depict angarkhis worn by the main subject (inv. no. D.1180-1903 and IM.24-1917).
The use of precious material such as silver and gold and the expensive and lengthy procedures involved in creating brocade textiles made them highly valued and valuable. As a result, we come across garments, such as ours, such as ours, where an older brocade has been re-used and re-fashioned into a newer style of courtly attire..
The provenance of this robe is noteworthy for it is believed to have belonged to either Henry Vansittart (1732-1770) who was the Governor of Bengal from 1759 to 1764 or his brother George Vansittart (1745-1825), who was in Bengal from 1761 to 1776. Henry was preceded by Robert Clive, also known as Clive of India. Both Henry and George collected many objects during their time in Bengal. A painting of Nadir Shah Afshar was amongst one of the noteworthy purchases made by Henry Vansittart which was later presented to the East India Company by his son Rt. Hon. Nicholas Vansittart.
The existence of the rather large body of portraits of English officials in Indian attire, particularly those associated with the East India Company illustrates the fascination of the European visitors with the Indian style and traditions of the time. A great example of such a practice is the painting of John Foote, Captain of the British East India Company, painted by Sir Joshua Reynolds in 1761 housed in the York Museum, along with the actual Mughal garment that he is depicted wearing (inv. no. YORAG:2003.4.a).
Sir Joshua Reynolds, Portrait of Captain John Foote, 1761. Oil on canvas, YORAG : 216. © York Museums and Gallery Trust 2020
Sotheby's. Art of the Islamic and Indian Worlds Including Oriental Rugs and Carpets, 28 October 2020