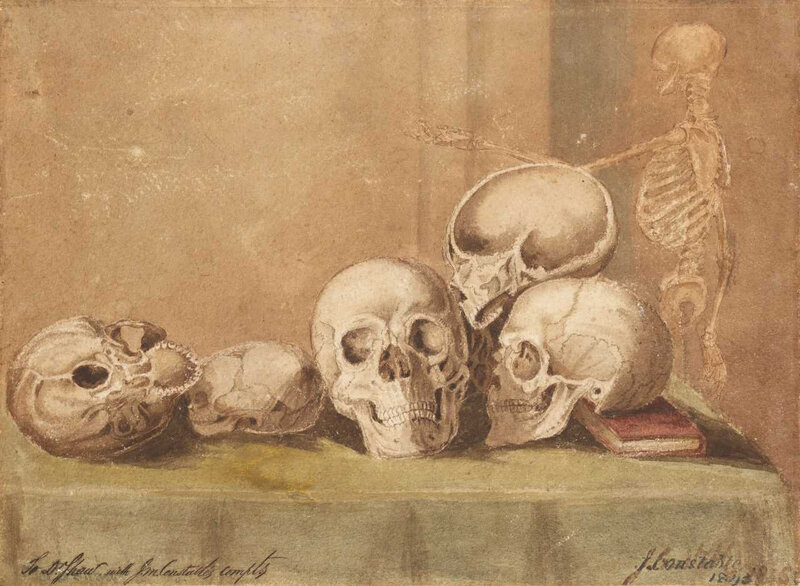 Lot 9. An anatomical study of five human skulls on a table with a book and a skeleton behind, English School, 1845; with inscription 'J. Constable/ 1845' (lower right) and inscribed 'To Dr. Shaw with J.M. Constable's compts' (lower left), pencil, pen and brown ink and watercolour on paper, 93⁄4 x 131⁄2 in. (25 x 34.5 cm.)l. Estimate: GBP 1,500 - GBP 2,500 (USD 1,008 - USD 1,512). © Christie's Images Ltd 2020.
Provenance
:
The Scottish Surgeon Alexander Shaw (1804-1890) was the brother-in-law of Sir Charles Bell, who in 1806 published 'Bells Essays on the Anatomy of the Expression in Painting'. He had a distinguished medical career in London and was noted for discovering the difference between sensory nerves and motor nerves in the spinal cord, and for describing the condition now known as 'Bell's Palsy'. In 1836 he returned to Edinburgh and died six years later while working on a new edition of his book with his former Middlesex Hospital colleague and brother-in-law Mr Shaw, who edited the third enlarged edition in 1844. After the death of her husband Sir Charles Bell in 1842, Lady Marion lived in Edinburgh with her brother, and their house became a centre for the literary, artistic and scientific society of the period.
Plate I of the Essays shows an engraving which is a variant of this watercolour. The book illustration is an etching after an anatomical drawing by Sir Charles Bell produced in the early 19th century. It has only four skulls and shows no skeleton in the background. The watercolour shows five skulls and the skeleton behind. As it is dated 1845, it was possibly the gift of a Scottish anatomical artist to Shaw and Bell's widow in remembrance of a friend, Sir Charles Bell.
Christie's. Finch and Co's Cabinet of Curiosities. Online, 14 October - 4 November.