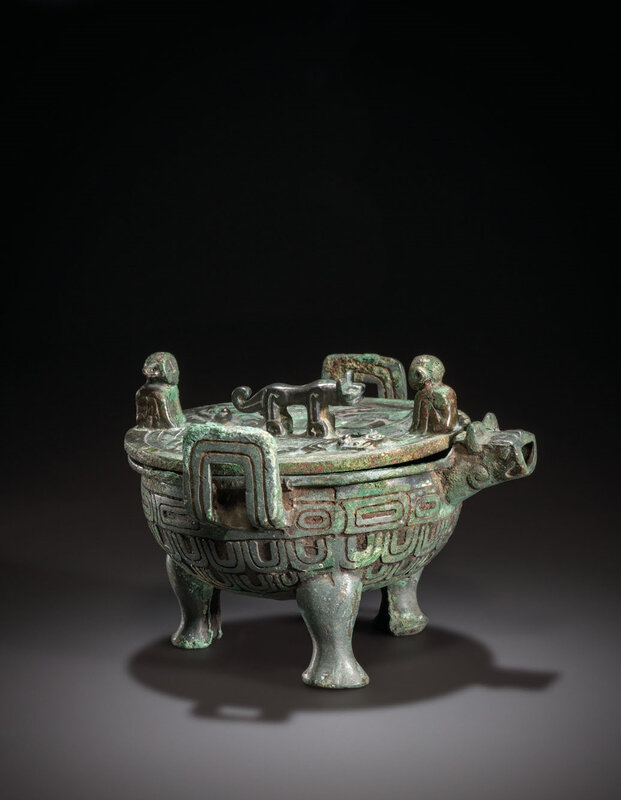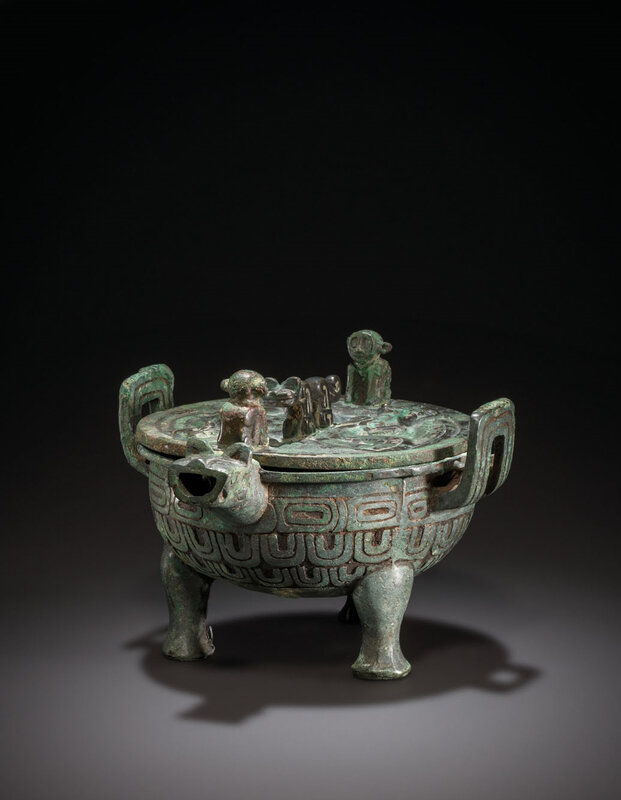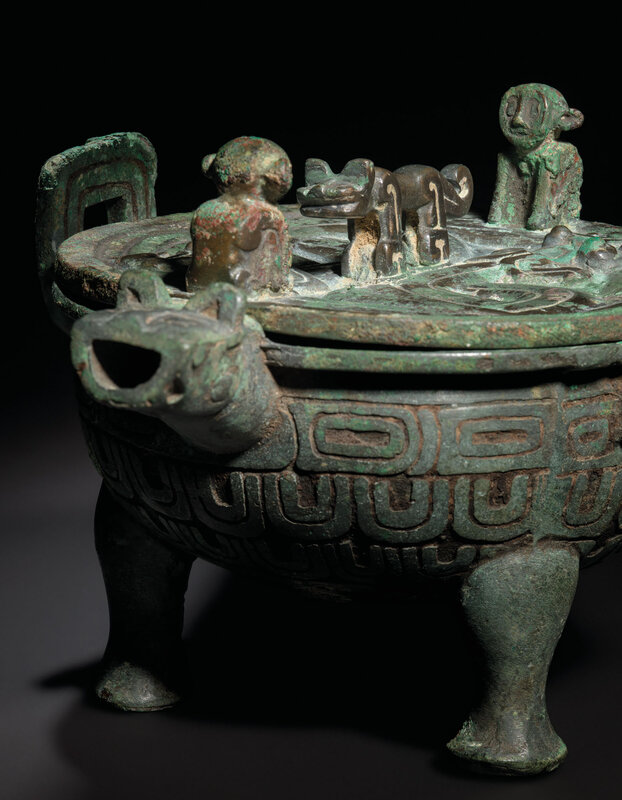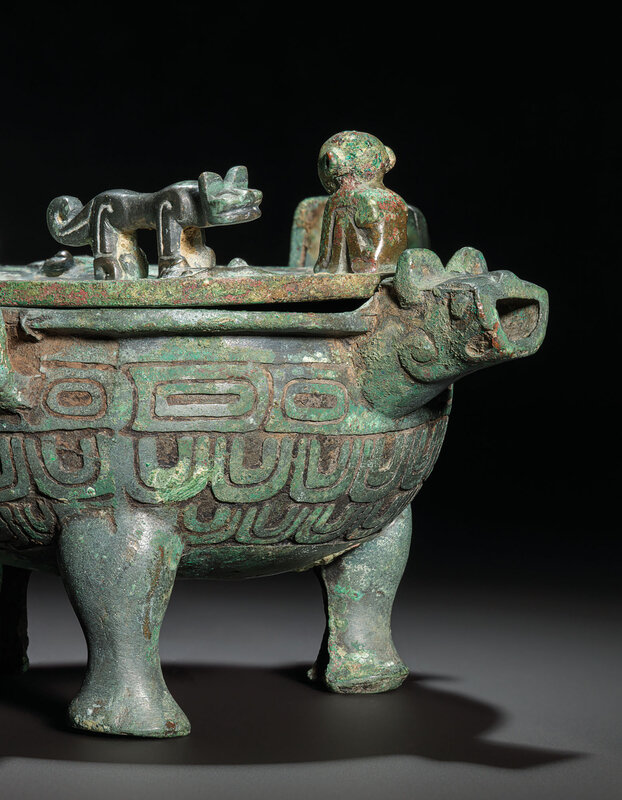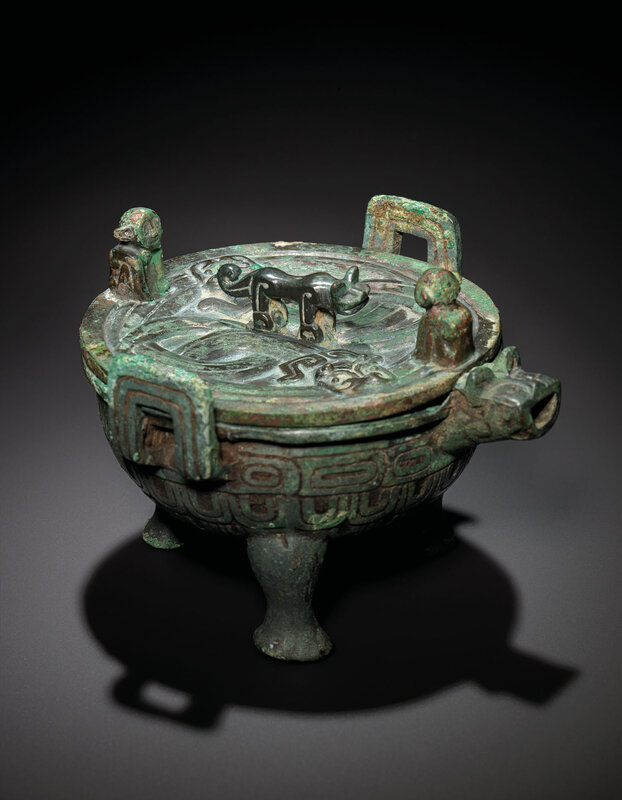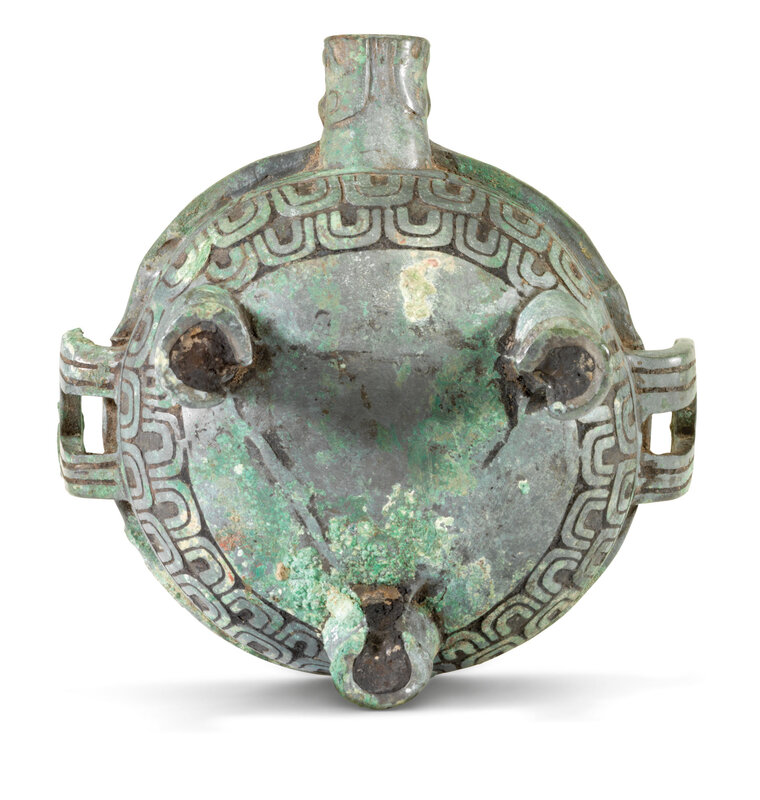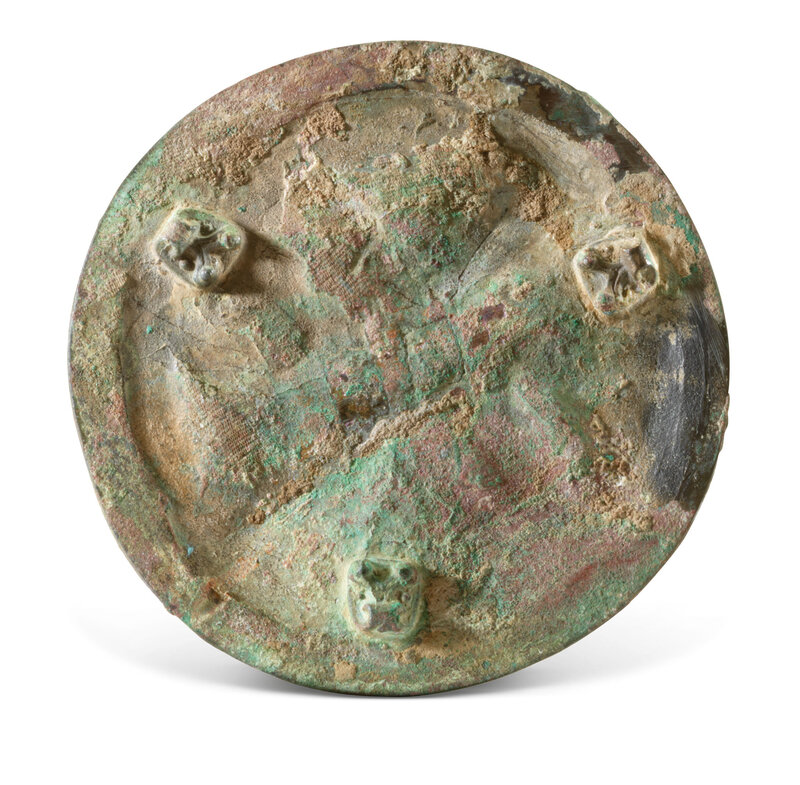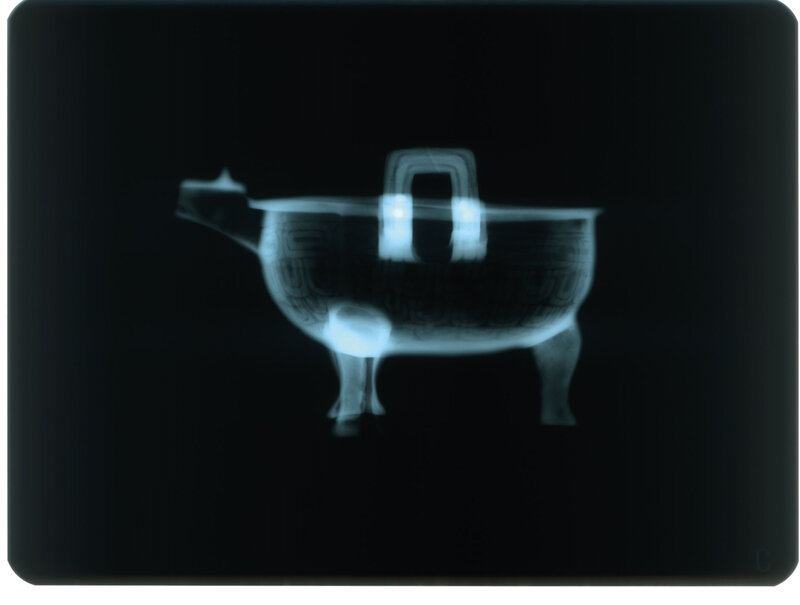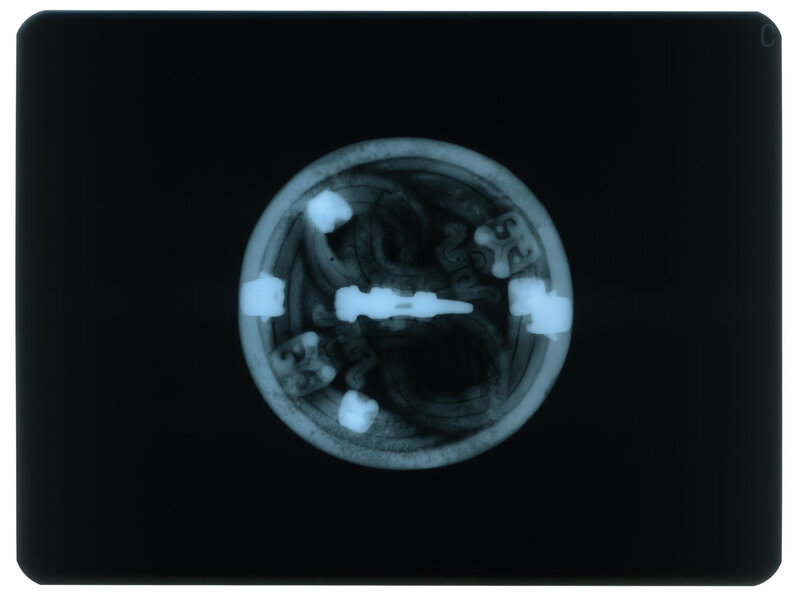 Lot 10. A rare bronze tripod pouring vessel and a cover, Xiaoliuding, Late Western Zhou dynasty, 8th - 7th century B.C.; 4 7/8 in. (12.4cm.) wide across handles. Estimate GBP 250,000 - GBP 350,000. Price realised GBP 325,000. © Christie's Images Ltd 2020.
The pouring vessel is cast with rounded sides supported by three cabriole legs. The body is decorated in flat relief with frieze scales in two horizontal bands, all below a border of double-ring pattern under an everted rim. The short spout is cast in the shape of a tiger head with pointed triangled ears and the two upright looped handles are jointed by struts to the rim. The cover is cast in relief with a pair of symmetrically entwined serpent-like dragons, their heads emerging from opposite sides of the rim and enclosing the tier-form handle. The edge of the rim is decorated with two crouching monkeys aligned with the central handle. The underside of the cover is decorated with three further small serpent-like dragon masks to serve as a stop to hold the cover in place.
Provenance: The Collection of Walter Hochstadter (1914-2007), acquired prior to 1997.
Christie's New York, 18-19 March 2009, lot 520.
J.J. Lally & Co., New York, 2011.
The Collection of Julius Eberhardt (1936-2012).
Sotheby's New York, Magnificent Ritual Bronzes: Property from the
Collection of Julius Eberhardt, 17 September 2013, lot 6.
Property from a Princely Collection.
Literature: J. J. Lally & Co., Ancient Chinese Bronzes, New York, Spring 2011, no. 6.
Miniature Liuding Vessel with Scale Décor and a

Cover
Robert D. Mowry, Senior Consultant, Christie's
Alan J. Dworsky Curator of Chinese Art Emeritus, Harvard Art Museums
Its plump circular form, cabriole legs, and animalhead spout combining to suggest a small, rotund animal, this beguiling vessel belongs to a rare group of bronzes that has only recently commanded scholarly attention: miniature vessels known as nongqi. Made as early as the Shang dynasty (c. 1600 BC–c. 1050 BC) and continuing through the Zhou dynasty (c. 1050 BC–256 BC), a few such miniature vessels bear inscriptions that include the character nong the origin of the name used today to designate such miniatures. Although it can mean "play" in modern Chinese, that character's exact meaning in the context of those Bronze-Age inscriptions remains uncertain; thus, although we have an ancient name for such miniature vessels, the meaning of and reason for their small size remains uncertain. Even so, the placement of such miniatures in an area of the tomb separate from the conventional ritual vessels suggests a special meaning or function, as does their occasional placement within a separate container. As such vessels often contained exotic items—which suggests that they might have functioned as references to or mementoes of customs and objects belonging to peoples who lived beyond the range of the Chinese—a few scholars have speculated that these miniatures might have been made for women who came from outside the main Zhou states and married into the Zhou nobility.
As vessels of the present type are not self-named in inscriptions, several different names have been used in modern times to characterize them. Sometimes termed yi (an ovoid, legged, pouring vessel with a handle opposite the spout), occasionally labeled xiyi (an animal-shaped yi), at times described as ding (a legged cooking vessel), and often termed yiding (a combined yi and ding), vessels of this shape now are usually characterized as lauding, or spoutedding vessels (the name sometimes modified as xiaoliuding, meaning a small spouted-ding). Although miniature vessels occur in a range of shapes and often mimic the form and decorative motifs of contemporaneous, full-size vessels, the majority of vessels occur as miniatures, like the present example, rather than as conventional vessels of standard size.
Bronze vessels with descending-scale decoration, called linwen in Chinese, had appeared at least as early as the Western Zhou period (c. 1050 BC–771BC), as evinced by a tall, attenuated hu jar in the collection of the Shanghai Museum. And circular ding vessels with a single register of horizontally oriented scales immediately below the lip, with cabriole legs, and with a pair of large handles that spring horizontally from just below frieze of scales and then turn to rise vertically were frequently produced by the late Western Zhou period, as witnessed by a vessel in the Shanghai Museum. As ding vessels with a band of horizontally oriented scales below the lip and vertically set scales on the belly were commonplace by the late Western Zhou and early Spring and Autumn periods, the decoration on the present liuding is consistent with that on wellknown, contemporaneous vessels, indicating that this miniature liuding dates to the eighth to seventh century BC. The meaning of such decoration, if any, remains unknown; in fact, it likely is simply a repeating, abstract, geometric motif.
Currently in the collection of the Institute of Archaeology of Shanxi Province, in Taiyuan a virtually identical miniature liuding was excavated at Shangguocun, Wenxi county, in southwestern Shanxi province in 1989. That site is roughly fifty-six kilometers, or thirty five miles, from Houma where a famous bronze foundry was active in antiquity and where both the present vessel and the Shanxi Institute of Archaeology bronze likely were cast.
Although both old and contemporaneous with the vessel itself, the cover associated with the present liuding is a recent match—a substitute for the nowlost original cover. Both the present cover and that of the Shanxi Institute of Archaeology liuding feature a swirling pattern of two intertwined dragons, their opposed heads facing outward and biting the rim, along with two opposed human figures that kneel along the cover's outer edge, that face each other across the cover, and that appear at a measured rotation from the dragon heads. The only difference between the covers is that a small animal—likely a feline and perhaps a handle—stands in the center of the present cover; it faces one of the kneeling figures while its curling tail points toward the other one. In fact, ceramic molds for casting bronze covers—or visually related bronze mirrors—that depict intertwined dragons have been excavated at Houma, as have molds for casting kneeling figures akin to those on these two covers.
Another closely related, covered liuding, also from Houma, is in the Shanxi Provincial Museum, Taiyuan its cover lacks the present cover's two kneeling figures, but, like the present cover, it sports a standing animal at its center. The animal on the Shanxi Museum cover turns its head toward its proper left, while that on the present cover faces directly ahead. A third closely related liuding is in the collection of the Shanghai Museum; its cover includes a pair of intertwined dragons whose opposing heads appear to bite the cover's outer edge, but it lacks both kneeling figures and a standing animal.
Hayashi Minao (1925–2006) illustrated two liuding vessels, which he termed yiding in his invaluable 1984 compendium of Shang and Zhou bronzes; although each of those vessels has a circular body, three cabriole legs, two upright handles, and decoration of scales, each has a trough-like spout—or channel-like spout—rather than an animal-head spout, and each lacks a cover, so they are less closely related to the present vessel than the three discussed above. In addition, a display of miniature vessels in the recently opened Shanxi Bronze Museum in Taiyuan features bronzes of several different shapes, including four liuding, of which two have trough-like spouts and two have animal-head spouts and thus are closely akin to the present vessel; the liuding vessels featured in the display all lack covers.
More distantly related to the present liuding, the eighth-century, covered, spouted vessel excavated from Rui-state tomb M26 at Liangdaicun, Hancheng, Shaanxi province rests on a conical base with triangular perforations, and it has large, vertically set handles that project laterally from the vessel's belly. The spout is trough-shaped, but a flat element extends outward from the lid to cover the spout and then turns downward at a ninety-degree angle to conceal and protect the outer end of the spout. The spout cover boasts a low-relief animal mask, perhaps a feline face or perhaps that of a mythical beast descended from a taotie mask. This vessel-and-cover set suggests the possibility that other liuding vessels with trough-shaped spouts—but without covers today—originally might have had covers of this type.
The only example known outside of China and still in private hands, the present liuding represents a rare vessel type that was produced for only a short period time, from the late Western Zhou into the early Spring and Autumn period. Moreover, it belongs to a category of miniature vessels which, though few in number, have long been known but have only recently attracted scholarly interest. Although most miniature vessels relate to full-size, conventional ritual bronzes in shape, style, and decorative motifs, liuding vessels seem to occur only in miniature—and thus lack standard-size counterparts—lending them special intrigue regarding their meaning, function, and significance. Exceptionally well cast and in excellent condition, this liuding compares favorably with kindred examples excavated in Shanxi province and relates closely to vessels produced at Houma; in fact, it ranks among the most handsome and most elaborately decorated of such vessels.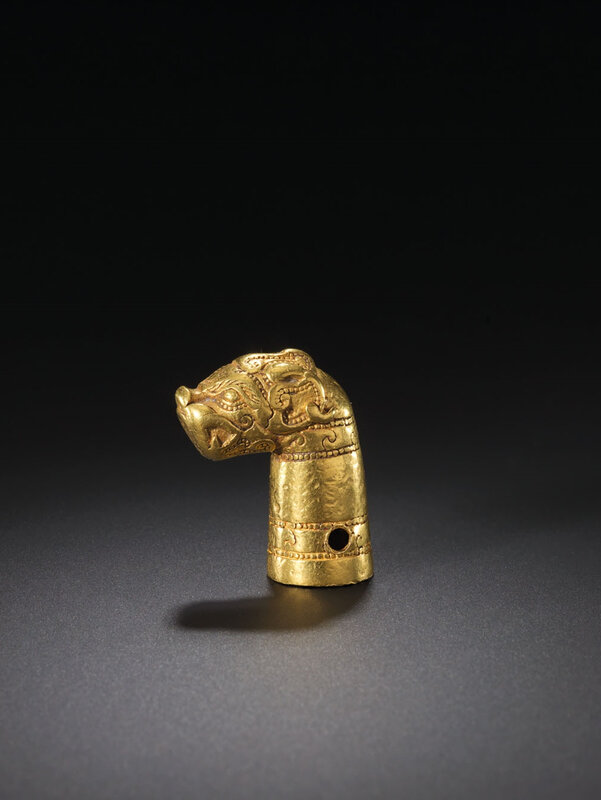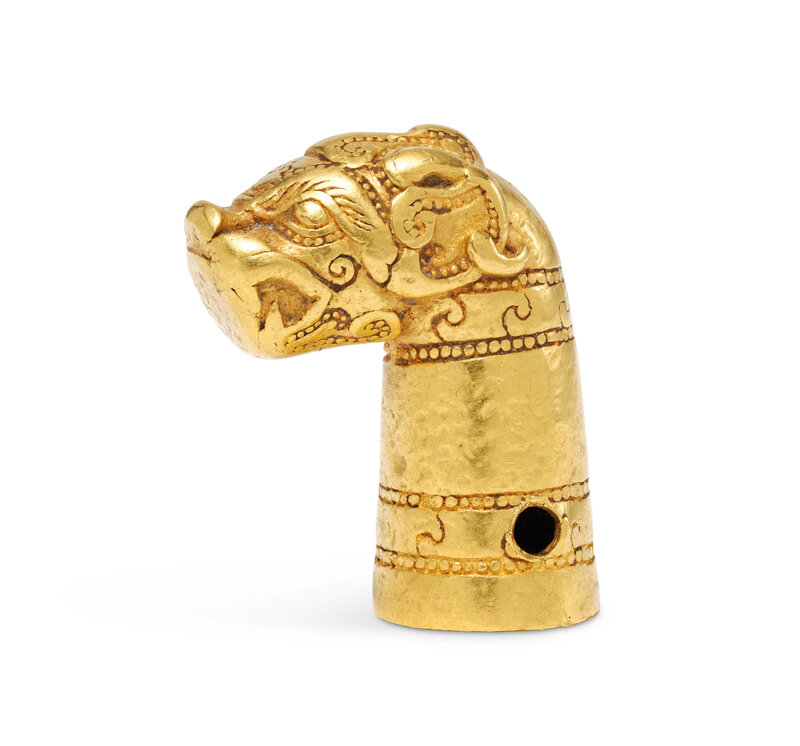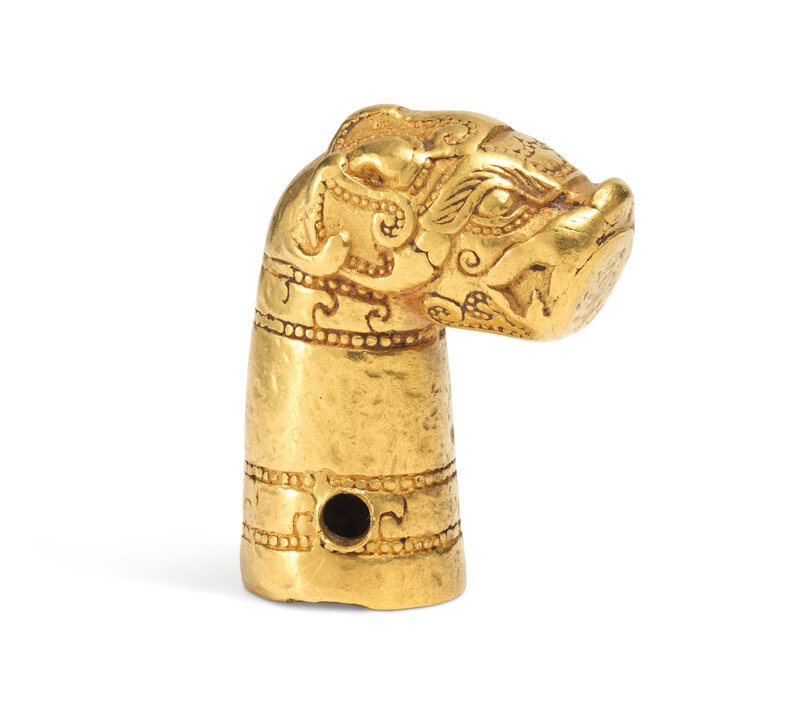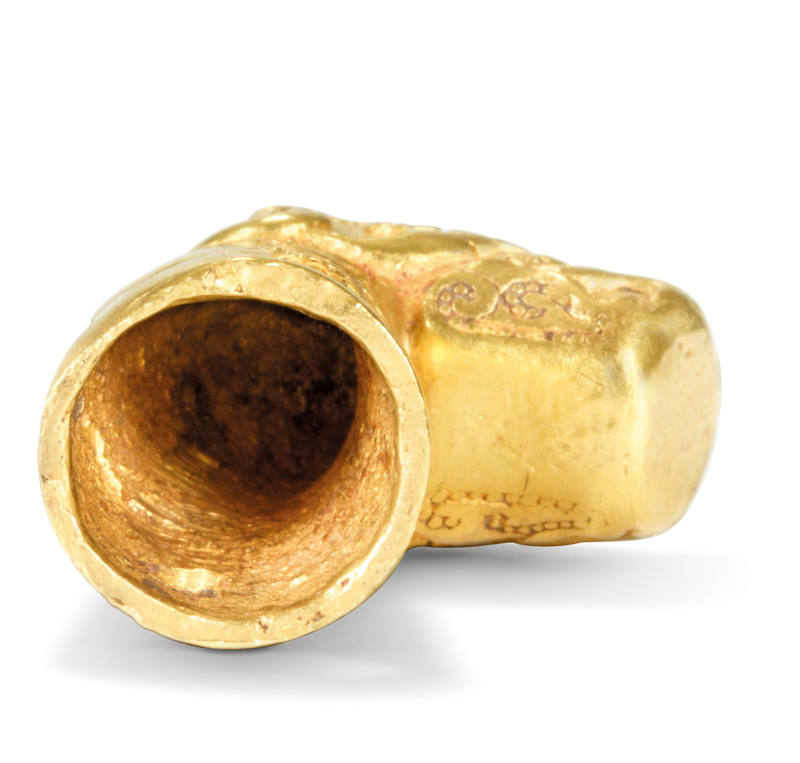 Lot 11. A rare and important gold 'feline-head' finial, Spring and Autumn period, 6th-early 5th century BC; 1 ¼ in. (3.2cm.) high, weight 34.1g. Estimate GBP 30,000 - GBP 50,000. Price realised GBP 125,000. © Christie's Images Ltd 2020.
The finial is finely cast and engraved as a feline head with a large snarling mouth below the glaring eyes with scrolling brows and heart-shaped eyes. The tube is pierced to both sides between two bands of imitation-granulation borders.
Provenance: Collection of C.T. Loo (1881-1957), New York, acquired prior to 1957.
Western Private Collection.
Wih Roger Keverne, London, 2008.
Literature: Roger Keverne, Fine and Rare Chinese Works of Art and Ceramics Summer Exhibition, London, 2008, cat. no. 5.
Note: The present finial may be compared to the virtually identical gold finial from the Dr Johan Carl Kempe Collection (1884-1967), sold at Christie's New York, Masterpieces of Early Chinese Gold and Silver, 12 September 2019, lot 512. On both finials, the narrow bands of dots that highlight the various features and form the borders of the two bands of scrolls encircling the tubular neck appear to be imitating the granulation technique which was introduced into China from the Near East. That type of granulation was created by diffusion bonding tiny gold spheres to the surface. The type of imitation granulation that decorates these finials can also be seen on two other pieces of Spring and Autumn date (770-475 BC) illustrated by Carol Michaelson in Gilded Dragons: Buried Treasures from China's Golden Ages, British Museum, 1999: one a small gold garment hook with duck-head hook excavated in 1992 at Yimen village, Baoji, Shaanxi province, p. 27, no. 5 (left), the other the turquoise-inlaid gold hilt of an iron sword, p. 31, no. 9, from the same excavation.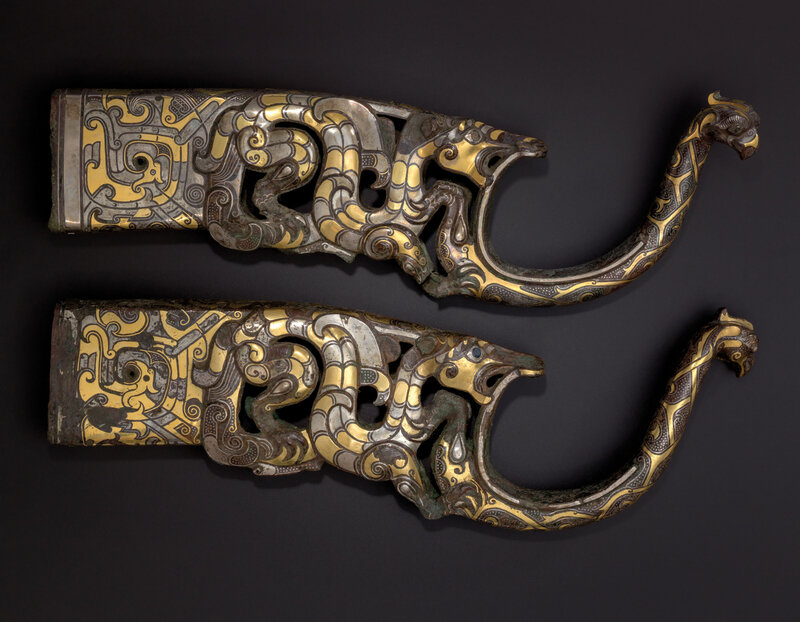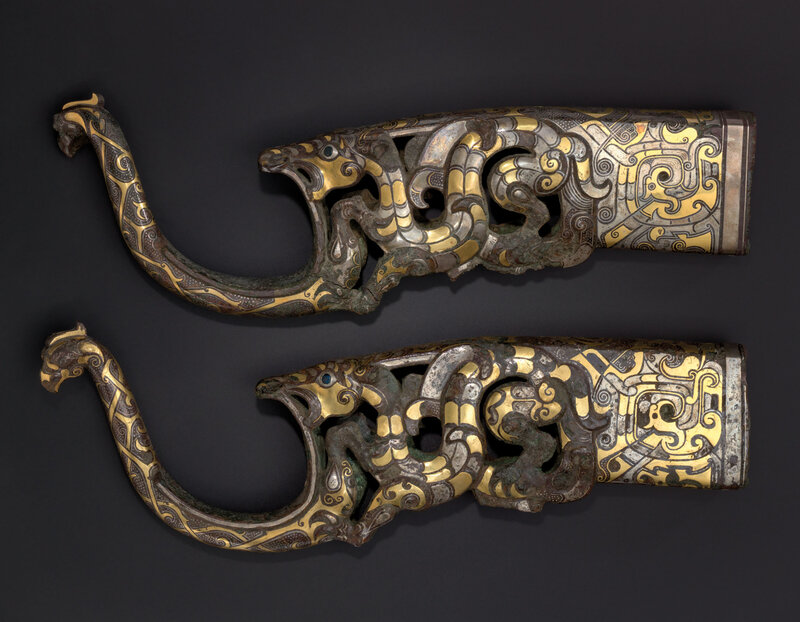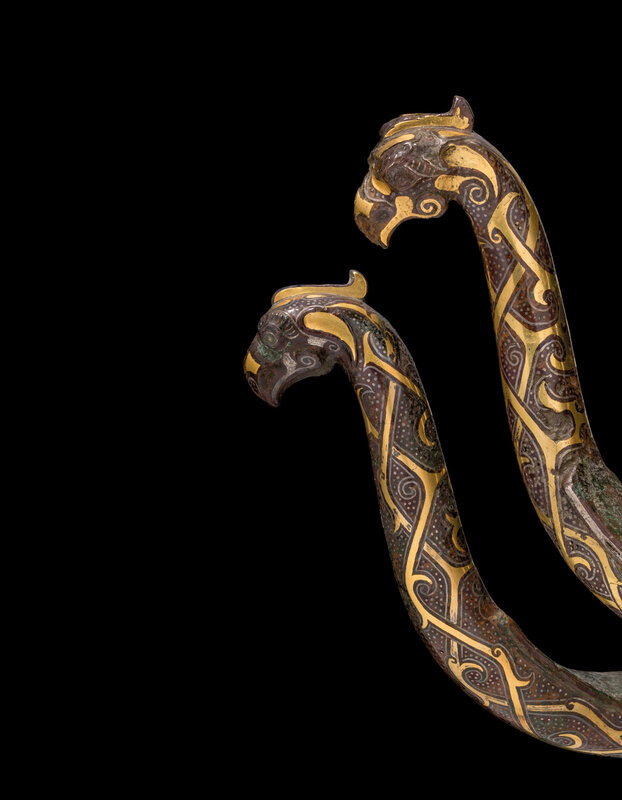 Lot 12. A rare and magnificent pair of gold and silver-inlaid bronze chariot fittings, Eastern Zhou dynasty, 4th-3rd century BC; 10 ¼ in. (26 cm.) long. Estimate GBP 600,000 - GBP 1,000,000. Price realised GBP 1,522,500. © Christie's Images Ltd 2020.
The chariot fittings are exquisitely inlaid in gold and silver and skillfully cast in openwork in the zoomorphic form of a dragon pursuing a phoenix, the shaft in the form of a cross-bow support. The dragons are powerfully rendered with sinuous winged bodies inlaid in silver and gold with interlaced motifs, dots, striations and scale-shaped details. The three-claws of each front leg are hooked into the body of the phoenix that has an inclined head, blue-black glass eyes, sharp beak and curled crest. The interior of the bronze fittings have malachite patination and are heavily encrusted.
Provenance: C.T. Loo, Paris, 1930.
Comtesse de Behague (1870-1939), Paris.
Marquis de Ganay (1861-1948), Paris.
Stephen Junkunc III (d.1978), Chicago.
Eskenazi, London, 2000.
Property from a Princely Collection.
Literature: E. Ader and M. Rheims, Objets d'Art de Chine appertenant au Maquis de Ganay, auction catalogue, Hotel Drouot, Paris, 7 May 1952, no. 41.
Eskenazi, Masterpieces from Ancient China, Millenium Exhibition, 1960-2000, New York, London, No. 4., p32.
A Magnificent and Extremely Rare Pair of Chariot

Fittings
Rosemary Scott, Senior International Academic Consultant, Asian Art
This pair of chariot fittings are a testament to the remarkable artistry and technical mastery of Eastern Zhou metal workers. The fittings are exquisitely decorated with a combination of reticulation and inlay. The inlay, which is wrought with exceptional skill, uses both gold and silver to achieve dazzling and complex designs depicting dragons and phoenixes. These inlays would have been created by casting shallow indentations on the original bronze object and then inlaying the gold and silver, which was worked cold. The head and elongated neck of the phoenix provides the projecting element, while the dragon, with open-work body writhes over the main part of the fitting, provides a hook element, and appears to chase the phoenix. It is significant that the two bronze chariots excavated from the tomb of Qin Shihuang, the First Emperor (221–210 BC) – a liche and an anche – were both decorated with dragons. The emperor specifically associated himself with the dragon, while comparing his empress to the legendary phoenix, and from this time to the end of the dynastic period the dragon and phoenix were symbols of imperial power. It is possible, therefore, that these fittings were made for an emperor, which might explain their unusually large size combined with their lavish decoration.
Chariots were not a Chinese invention, and those used in China were developed from the chariots of non-Chinese tribes in the north. Although it has been suggested that chariots may have been used in China as much as four centuries earlier, the tomb of King Wuding (r. c. 1200-1118 BCE) of the Shang dynasty at Anyang is the earliest of the horse and chariot burials discovered to date, The regular discovery of weapons in association with Shang dynasty chariots suggests that they were used for military purposes. However, the use of chariots in battle was limited by their inability to cope with rocky terrain, and it seems that they were more often used as mobile command posts or for ceremonial use. In Sunzi's Art of War (c. 5th century BCE) there is a description which would suggest the former:
'One chariot carries three mailed officers, seventytwo foot troops accompany it. Additionally, there are ten cooks and servants, five men to take care of uniforms, five grooms in charge of fodder, and five men to collect firewood and draw water. Seventy-five men to one light chariot, twenty-five to one baggage wagon, so that taking the two together one hundred men compose a company.' (See Jenny So and Emma C. Bunker, Traders and Raiders on China's Northern Frontier, Seattle and Washington, 1995, p. 26.)
The Zhou dynasty Shijing (Book of Odes) also describes elaborately decorated chariots which were decked with multicoloured banners, tassels, and bells. Chariots are even mentioned in the Zhao Hun (Summoning of the Soul), which is often attributed to Qu Yuan (c. 340–278 BCE), but which may have been written by Song Yu (fl. 298–263 BCE). One section of Zhao Hun describes the joys of riding in a royal park in a magnificent chariot:
'You shall explore, O Soul, the parks in spring;
Your jewelled axels gleaming in the sun
And yoke inlaid with gold;'

Ending with: 'O Soul come back and live for these
delights' (Translated by Arthur Waley, Translations
from the Chinese, New York, 1941, p. 14.)
The kind of chariots for which the current chariot fittings were made first appeared during the Zhou dynasty for the use of kings, their consorts, and other members of the aristocracy. The size of the chariot and the number of horses used to pull it depended on the rank and sex of the occupant. It is interesting to note that a chariot with fittings somewhat similar to the current pair was excavated in 1980 from a late 3rd century tomb to the west of Qin Shihuang's mausoleum (see Cheng Xuehua, 'Qin Shihuang ling yi hao tongchema', Kaogu yu Wenwu, 1990, no. 5, frontispiece and pp. 1-2; Sun Ji, 'Luelun Shihuang lingyi hao tongche', Wenwu, 1991, no. 1, pp. 14-19). Such fittings were attached to the front of the chariot to support a cross-bow. The cross-bow would have been suspended so that it rested on the curved neck of the phoenix, while the stock of the cross-bow rested against the upper part of the chariot. In this position the trigger mechanism of the cross-bow would have been within reach of the charioteer, and the string of the bow could have been drawn using the gaping mouth of the dragon on the fitting.
Very few chariot-fittings of this type have survived, but fittings of similar type, albeit of simpler design were excavated at Jincun in the 1920s (see Sueji Umehara, 'Rakuyo Kinson Kobo Shuei' (Report of the Findings of the Old Tombs at Jincun, Luoyang), Kyoto, 1937, pls. 53-56). The Jincun find included four pairs of fittings with dragon heads and bodies cast in relief (although without open-work). Another pair of chariot fittings, now in the Idemitsu Collection have similar phoenix heads to those on the current fittings (illustrated Idemitsu Museum of Arts, Ancient Chinese Arts in the Idemitsu Collection, Tokyo, 1989, no. 219).
Christie's. Important Chinese Art. London, 3 November 2020.