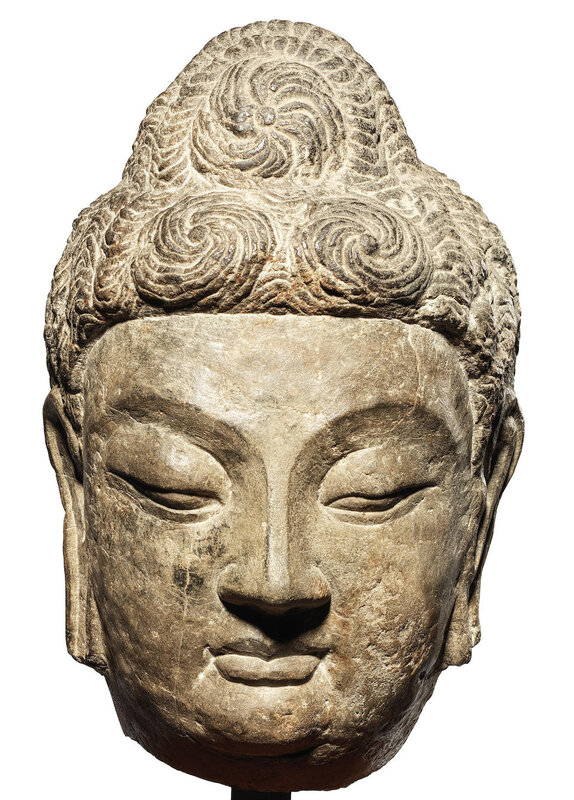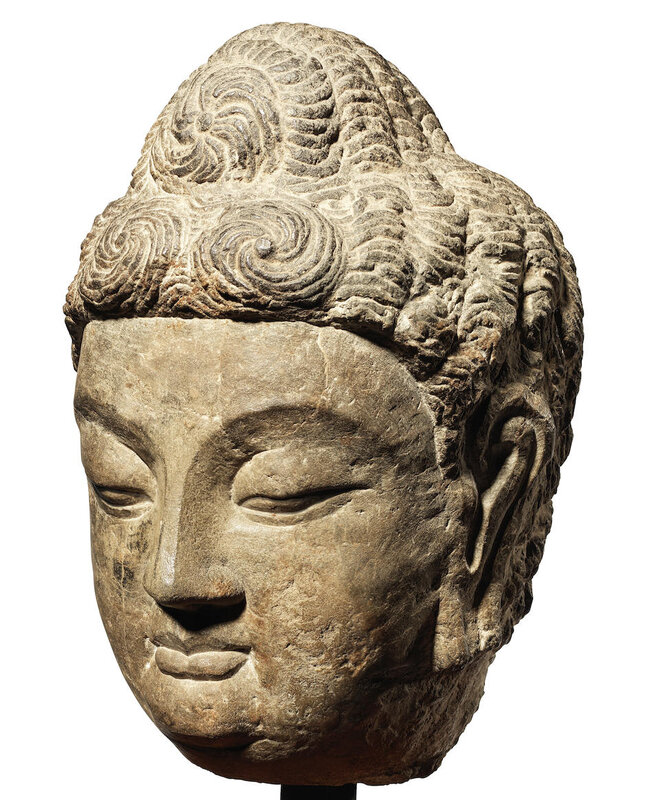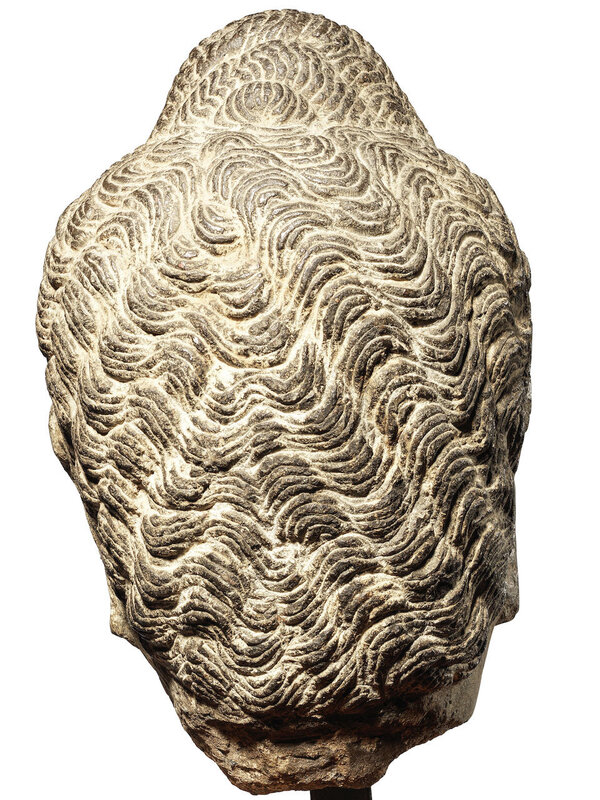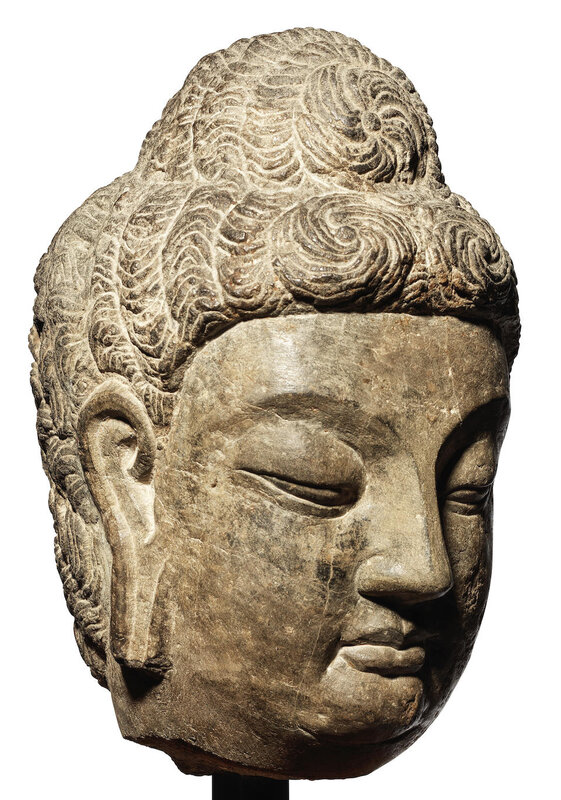 Lot 6. A very rare grey limestone head of Buddha Shakyamuni, Tang Dynasty, Longmen Caves, 7th century AD; 38cm (15in) high. Estimate £ 80,000 - 120,000. Sold for £ 300,062 (€ 331,744). Courtesy Bonams.

The smoothly carved face with meditative expression, the heavily lidded eyes down-cast beneath elegantly arched brows, the straight nose above gently curving lips, the hair carved as wavy curls, all between long pendulous ears, the stone of dark-grey tone, wood plinth stand.
Provenance: a French private collection
Christie's Paris, 7 June 2011, lot 346
A UK private collection.
Note: This large and strongly carved head bears features from the transitional phase of development at the grottoes of Longmen, as the site activity resumed after a long hiatus following the fall of the Northern Wei dynasty. Official sponsorship and further expansion began with renewed energy at the end of the Northern Qi to the early Tang period, and indeed, the present head shows stylistic traces inherited from the early Tang sculptural experimentation. The shallow carving of the eyes, whose lids emerge in low-relief bowed lines from small rounded inner canthi, are similar to the large heads from that site.

The Southern Binyang Cave (Cave 159), begun in the Daye reign of the Sui dynasty, was expanded during the reigns of Taizong and Gaozong during the Tang dynasty, and completed by AD 641. The monumental chief pentad of Amitabha flanked by Ananda, Kasyapa and two bodhisattvas in the Southern Binyang Cave all have large open eyelids within squared faces with thicker flatter lips. See Complete Works of Statues in Longmen Grottoes, vol.1: Binyang Cave, Beijing, 2002, fig.273. As such, the present head seems to be related in proportion to the heads of the Buddhas within the larger niches of the flanking walls. Compare fig.288, the large right bodhisattva on the back wall, fig.317, the central Buddha in niche 13, the largest niche on the left wall, and fig.467, the central Buddha in niche 51, the largest niche on the right wall.

Two Longmen heads with triple-spiralled hair in the collection of the Victoria & Albert Museum, London, are also related to the present head. See Longmen Liusang Diaoxiang Ji, 'The Lost Statues at Longmen Caves', Shanghai, 1993, figs.47 and 63, and Hai-Wai Yi-Chen, Chinese Art in Overseas Collections, Buddhist Sculpture II., Taipei, 1990, figs.59 and 114.
Bonhams. Fine Chinese Art, London, 5 Nov 2020