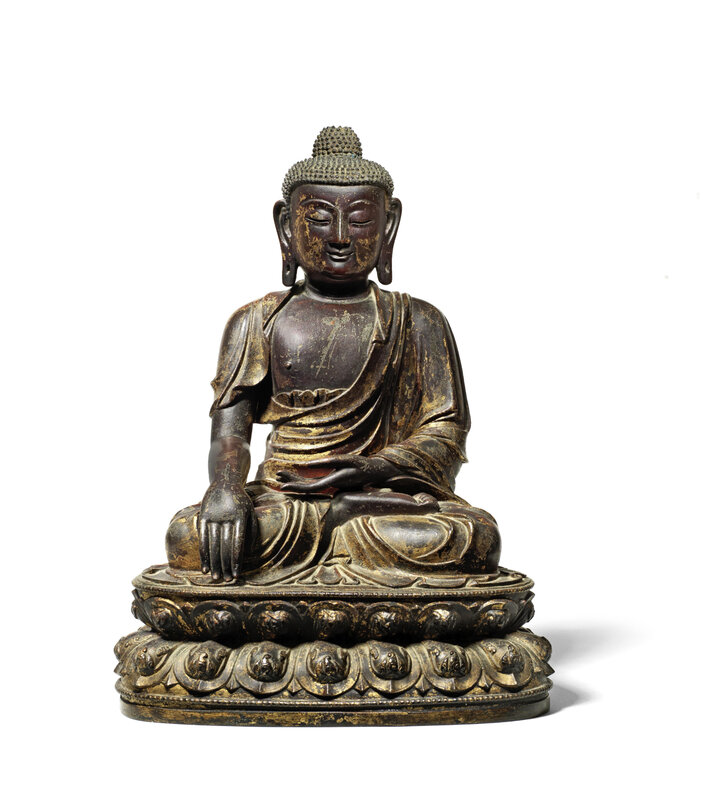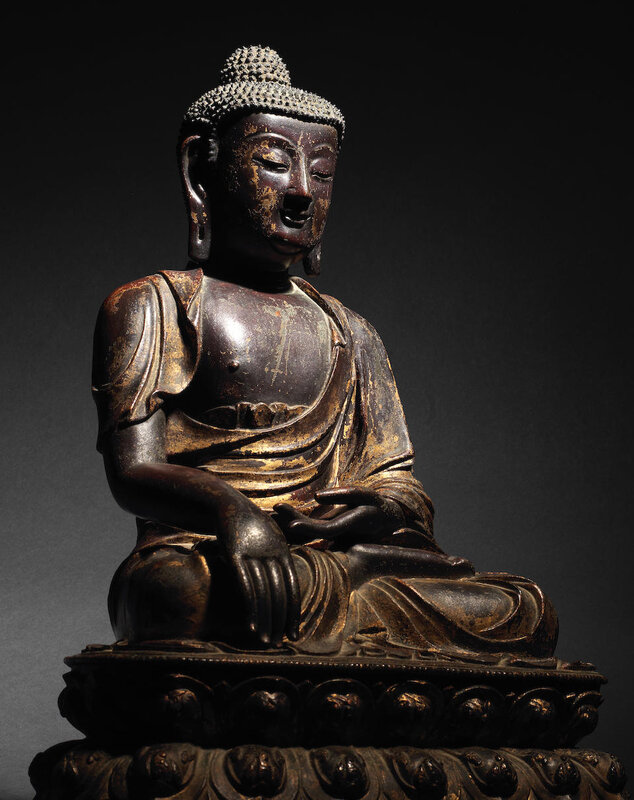 Lot 198. A large gilt-lacquered bronze figure of Buddha Shakyamuni, Mid Ming Dynasty; 47.5cm (18 3/4in) high. Estimate £ 30,000 - 50,000. Sold for £ 237,562 (€ 262,645). Courtesy Bonhams.
Finely cast with eyes downcast in meditative expression seated in dhyanasana,with the right hand reaching down towards the ground in bhumisparsha mudra, the left hand held gently in the lap in dhyana mudra, dressed in pleated garments open at the chest, all supported on a double-lotus pedestal, covered overall with layered gilt lacquer and polychrome.
Provenance: a European private collection.
Note: Conveying a high degree of power and presence, this powerful and large-scale figure of Buddha Shakyamuni is notable for the crisp casting and the meticulous attention to detail which is echoed in the gentle folds of the elegant monastic robes, finely embellished with foliate scrolls and diaper patterns.

The figure of Shakyamuni is one of the most widely represented subjects in Buddhist art. Modelled in the earth-touching gesture or bhumisparsha mudra, the Buddha recalls the moment of his Enlightenment, in which he called upon the earth as his witness of his battle against the temptations and attacks of Mara and his demons. The serene countenance conveyed by the gentle facial features, with the eyes depicted half closed in meditation and the long earlobes symbolising long life, follows the standard rules for the depiction of Buddha to ensure the deity was shown embodying maximum power.

Compare with a related gilt-bronze figure of Buddha in the Munsterberg collection, Ming dynasty; see H.Munsterberg, Chinese Buddhist Bronzes, New York, 1988, pls.18a and 18b.

See also a related but slightly smaller gilt-lacquered bronze figure of Buddha, Ming dynasty, which was sold at Christie's New York, 22-23 March 2012, lot 1778.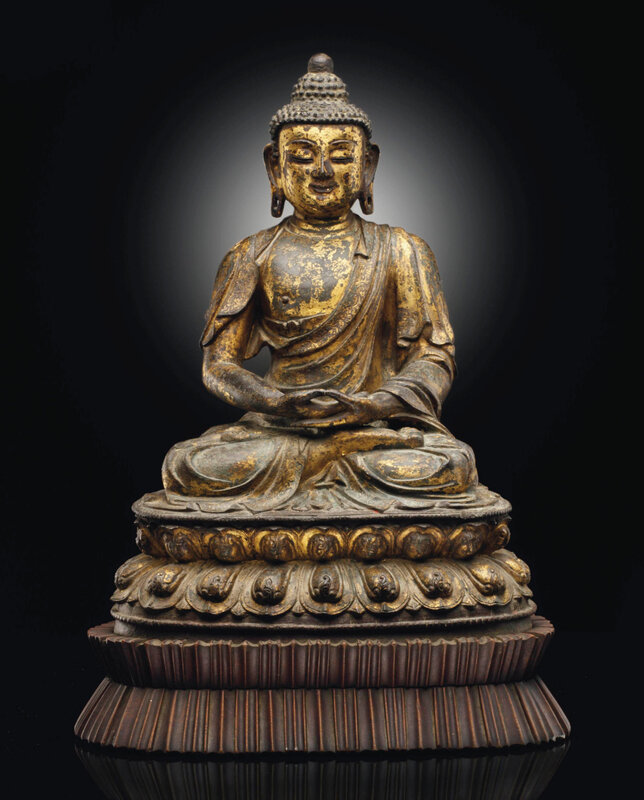 A gilt-lacquered bronze figure of Buddha, Ming dynasty, 15th century; 12¾ in. (2.4 cm.) high. Estimate USD 20,000 - USD 30,000. Price realised USD 74,500 at Christie's New York, 22-23 March 2012, lot 1778. © Christie's Images Ltd 2012.
Seated in dyanasana on a double lotus base with hands in dhyanamudra, wearing simple robes with incised foliate borders falling in graceful folds, the face well cast in a meditative expression flanked by the large ears beneath the tight whorls of hair surmounted by a tall usnisa, with traces of gilt lacquer, wood stand.
Provenance: Acquired from Lee Cheong & Co., Jakarta, in the 1930s.
Note: The full, yet somewhat squared facial features, robust body and stylization of the boldly cast lotus lappet base all indicate a fifteenth century date. Compare, for example, a related gilt-bronze figure of Bhaisajyaguru Buddha, dated to the first year of Jingtai (1450), illustrated in Gems of Beijing Cultural Relics Series: Buddhist Statues (I), Beijing, 1999, p. 153, no. 115. See, also, the fifteenth century gilt-lacquered bronze figure of the seated Buddha sold in these rooms, 24-25 March 2011, lot 1630.
Bonhams. Fine Chinese Art, London, 5 Nov 2020