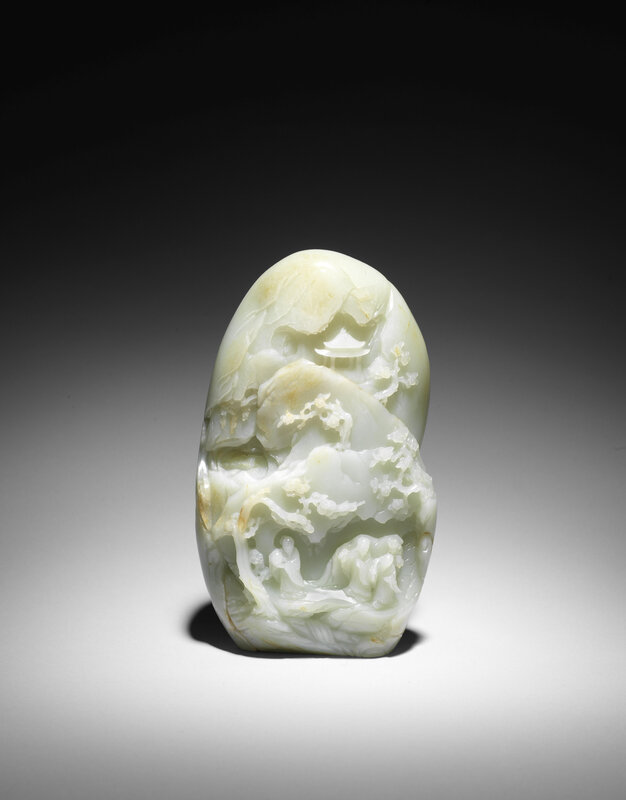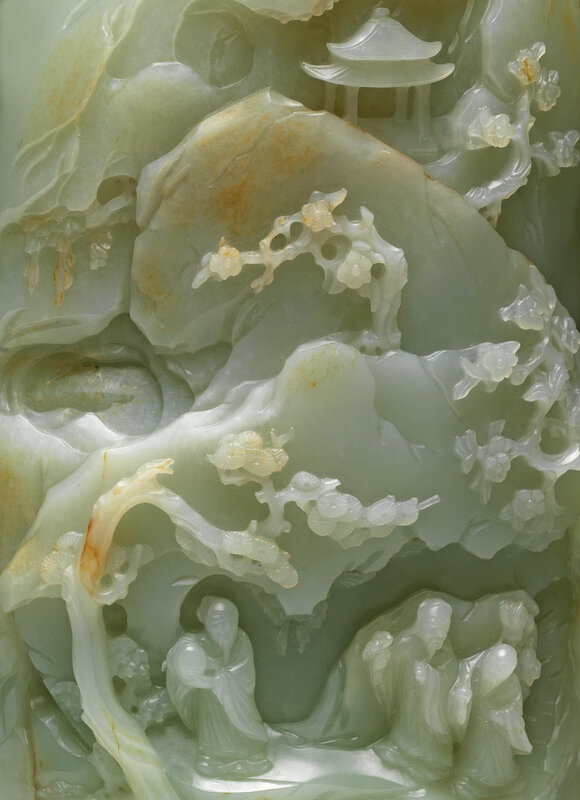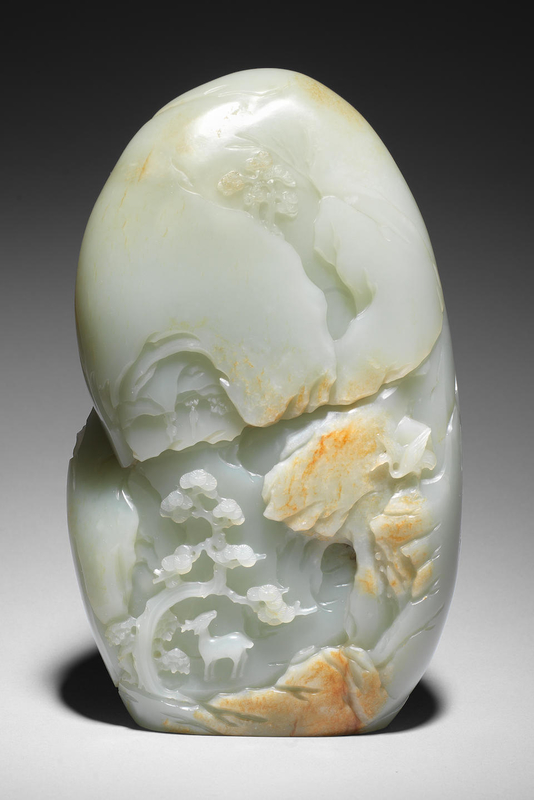 Lot 158. A superb pale green jade 'Immortals' boulder, Qianlong period (1736-1795); 20cm (7 7/8in) high. Estimate £ 3,000 - £ 5,000. Sold for £ 175,062 (€ 193,588). Courtesy Bonhams.
Superbly carved in high relief on one side with three bearded sages each carrying a peach, lingzhi fungus and lotus spray respectively, beneath a gnarled pine tree, a pavilion higher above in the distance, the reverse with a crane gazing down on a deer, all within a craggy grotto with further pine trees, the stone of very pale green tone with minor russet and cloudy inclusions, wood stand.

Provenance: Spink & Son, Ltd., London, 1980
Florence and Herbert Irving (1920-2018; 1917-2016) collection, no.336.
Published and Illustrated: R.Keverne, ed., Jade, London, 1991, p.174, fig.117.
Note: Florence and Herbert Irving were avid collectors of Asian art for more than 50 years, and in 2015, they gave an extraordinary collection of more than 1,200 works of art to the Metropolitan Museum of Art in New York. In 1969, Herbert Irving co-founded the company Sysco. Through hard work and dedication, the company was listed in 1970 and by 2009, Sysco was ranked number 204 in the Fortune 500 companies based on sales. Subsequently, Sysco grew to become one of the world's leading food product distribution company with sales of up to US$58 billion. This exceptional success brought with it great wealth to Florence and Herbert Irving. Their collecting interests encompassed all of the major cultures of East and South Asia and virtually every medium explored by Asian artists and craftsmen over five millennia. Their support of the Metropolitan Museum of Art, New York was also recognised through the numerous galleries that bear their names, in addition to funding the Florence and Herbert Irving Asian Wing in its entirety.

This finely-carved boulder is a superb example of the sensitivity of the 18th century carvers in their use of the natural form of the stone to portray a literati-style landscape scene. During the Qianlong reign, the emperor requested that jade mountains, as well as plaques and panels with scenes of mountainous landscapes, take their artistic influence from the work of famous painters. The personal interest of the emperor, as well as the increased availability of large pieces of Khotan jade after the pacification of the area in 1759, prompted a proliferation of production of jade boulders of varying sizes exquisitely carved with delicate mountain scenes resembling literati landscape paintings.

Compare the present carving to a group of jade mountains carved with landscape motifs in the Qing Court Collection, illustrated in Jadeware (III), The Complete Collection of Treasures of the Palace Museum, Hong Kong, 1996, nos.72-74.

See also a similar but slightly smaller pale green jade boulder, Qianlong, which was sold at Christie's London, 10 November 2015, lot 55.
Bonhams. Fine Chinese Art, London, 5 Nov 2020