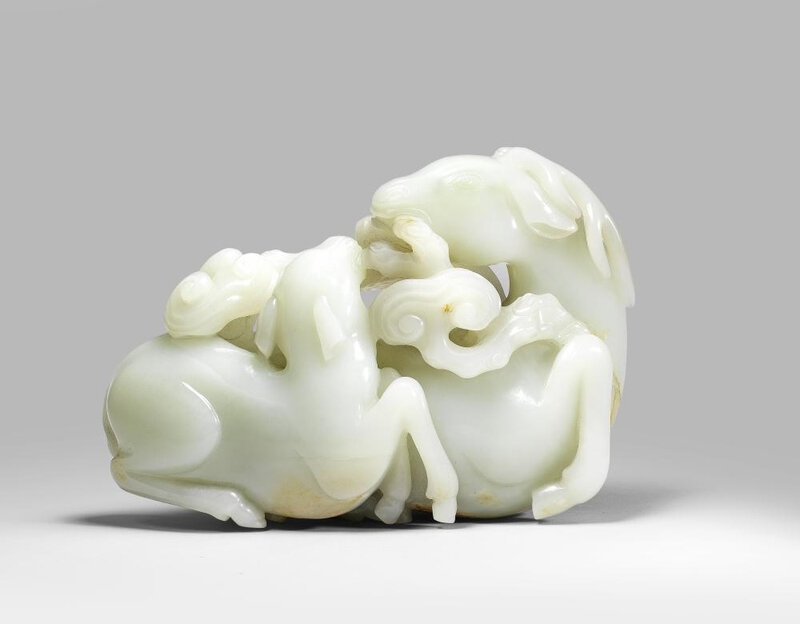 Lot 155. A magnificent large very pale green jade 'stag and young' group, Qianlong period (1736-1795); 19cm (7 1/2in) long. Estimate £ 30,000 - £ 50,000. Sold for £ 81,312 (€ 90,122). Courtesy Bonhams.
Superbly carved as a large reclining stag with its head held high and turned sharply towards a smaller deer, the stag with long antlers extending down its neck, its legs tucked beneath its body, both deer clasping a large, leafy sprig with five lingzhi fungus heads in their mouths, the stone of a very pale green-white tone with russet patches, with silver-inlaid wood stand.

Provenance: Erwin Scharf (1904-1978), and thence by descent.
Erwin Scharf (1904-1978) emigrated from Germany to Britain in the 1930s to escape Nazi persecution of the Jews. He graduated from the university of Leipzig with a doctorate in law but never practiced, rather going into the family business of manufacturing sound reproducing components. His brother, Dr Alfred Scharf was an art historian and it was he who encouraged Erwin's interest in art.
Note: This group is of unusually large size for an animal carving of this period. Skilfully modelled in the round, the sturdy animals effectively contrast with the finely carved branches of lingzhi fungus that scroll around the larger deer to create a sense of movement. The quality of the carving and polish is also of the highest standard. Compare also with a related pale green jade three ram group, Qing dynasty, and a pale green jade carving of a stag and doe with lingzhi fungus, Qing dynasty, in the Qing Court Collection, illustrated in the Compendium of Collections in the Palace Museum: Jade, Qing Dynasty, vol.9, Beijing, 2010, pls.143 and 145. See also a related jade recumbent deer with lingzhi in its mouth, Qing dynasty 1700s, in the Cleveland Museum of Art (acc.no.1952.498).

Deer have a number of auspicious meanings in Chinese culture. Shoulao, the Star God of Longevity, is usually depicted accompanied by a spotted deer, crane, peach and pine tree. Thus each of these, including the deer, has come to represent long life. Deer are also believed to be the only animals that can find the fungus of immortality. In addition, deer may represent Luxing, the God of Rank and Emolument. The Chinese word for deer (lu 鹿), sounds like the word for emolument or an official salary (lu 祿), thus deer are symbolic of the rank and wealth that are associated with such a salary. The word for deer is also a homophone for 'road' and for 'six'. Thus two deer suggest two auspicious phrases: Lulu shunli, 'May all roads be smooth', and Liuliu dashun, 'May everything be smooth sailing'.

Compare with a smaller white jade group of stag and doe with lingzhi, 18th century, which was sold at Christie's Hong Kong, 01 June 2011, lot 3561.
Bonhams. Fine Chinese Art, London, 5 Nov 2020