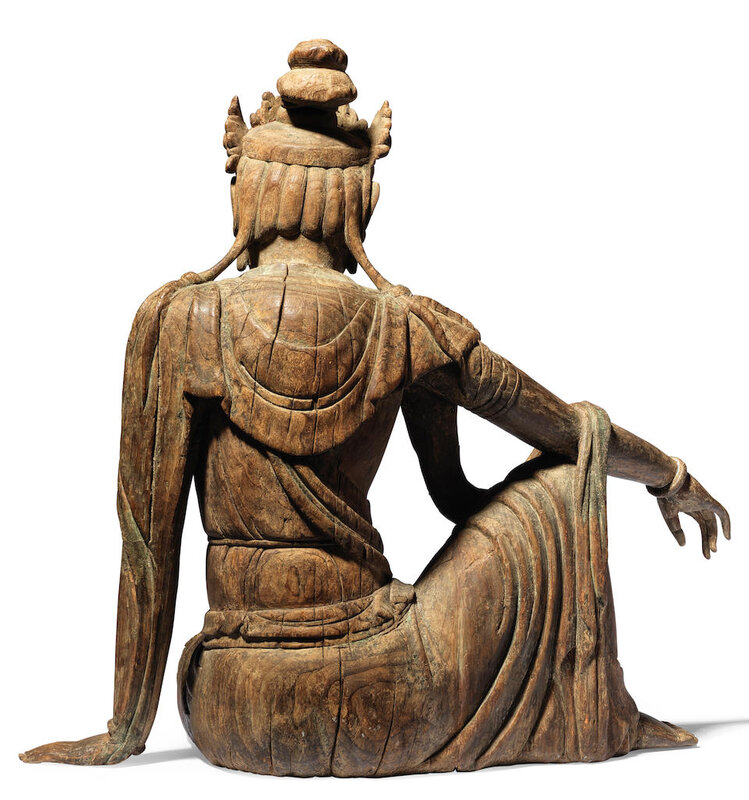 Lot 11. A large wood figure of 'Water-Moon' Guanyin, Probably Qing Dynasty; 82cm (32 2/8in) high. Estimate £ 15,000-20,000. Sold for £ 60,062 (€ 66,910). Courtesy Bonhams.
The deity finely carved with a gentle, contemplative expression, the hair worn in a topknot with knotted tresses falling over the shoulders, seated in rajalalitasana with right arm resting on the raised right knee, the left hand resting on the level surface to support the weight, wearing a sash tied across the left shoulder and a long dhoti secured by a sash around the waist, adorned with floral earrings, elaborate necklace, and beaded armbands.
The result of a radiocarbon dating measurement test, RCD Lockinge Radiocarbon Dating Measurement Report, sample no.RCD-8178, states 95.4% probability for 1664-1953, of which 77.3% probability is for 1664-1884.
Note: Seated in the pose of 'royal ease', the deity probably depicts the Water-Moon Guanyin, an iconography derived from Tang dynasty paintings.

According to the 'Lotus Sutra', Guanyin can take any form necessary to save sentient beings, and mentions thirty-three manifestations which the deity could take, of which seven were female. The figure's sensual curves however, evoke a distinctly feminine feel, and by the Ming dynasty, Guanyin was usually depicted in a feminine form.

Guanyin images seated in the relaxed position of royal ease are referred to as Zizai Guanyin, literally meaning 'Guanyin at ease'. When such figures were placed in a grotto or seated on rocky platforms, they reference the Water Moon Guanyin, who sits by the water's edge contemplating the reflection of the moon in the water and recognising the illusory nature of all phenomena, gently smiles at humans who grasp for the reflection of the moon mistaking it for reality.

For a wood figure of Guanyin, Tang dynasty, whose iconography may have served as prototype for the present lot, see H.Trubner, The Arts of the T'ang Dynasty, Los Angeles, 1957, no.57; see also R.L.Thorp and V.Bower, Spirit and Ritual: The Morse Collection of Ancient Chinese Art, New York, 1982, no.59.
Bonhams. Fine Chinese Art, London, 5 Nov 2020.