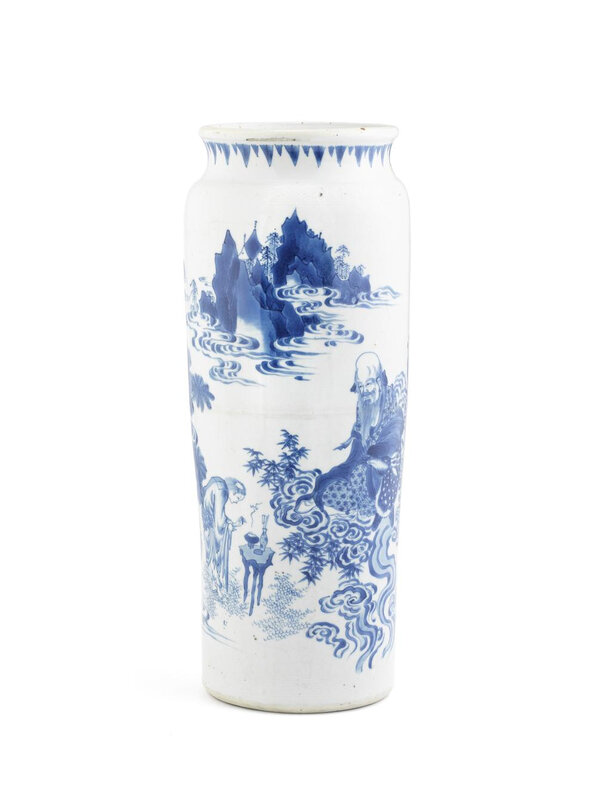 Lot 11. A rare blue and white 'Shoulao' sleeve vase, circa 1640; 40.5cm (15 3/4in. high. Estimate £ 20,000-30,000. Sold for £ 60,062 (€ 66,910). Courtesy Bonhams.
The tall cylindrical body deftly painted in cobalt-blue around the exterior with a continuous scene of the elderly bearded sage Shoulao seated beside a deer and accompanied by several attendants with fans, a figure bows before the sage lighting incense on a stand, all amidst a mountainous landscape with wispy clouds.
Provenance: Marc Michot, Bruges
A European private collection, acquired from the above in 1975.
Note: The scene on the present lot is distinctive both for the complexity of its design and for the fact that Shoulao - the God of Longevity - dominates the scene, while other figures are all depicted on a smaller scale. This emphasis on Shoulao as the most significant figure highlights the purpose of this motif in stressing wishes for longevity. The painting, in particular the ruyi-head clouds carrying Shoulao, is both dramatic and evocative.

A jar with a similar design of Shoulao with deer, crane and boy attendant within a garden setting, Shunzhi, is illustrated in Seventeenth Century Chinese Porcelain from the Butler Family Collection, Alexandria, 1990, p.126, no.76.

For an extensive discussion about the emergence of these wares, and the possible origin of the otherwise inexplicable name of Rolwagen, from rotating vases with continuous designs, in Dutch called 'rolvasen', see C.Sheaf, 'Reflections on Transitional Blue and White', Arts of Asia, Jan/Feb 2009.

Compare with a related blue and white vase decorated with large mythical figures, Shunzhi, which was sold at Bonhams London, 10 November 2011, lot 110.
Bonhams. Fine Chinese Art, London, 5 Nov 2020.