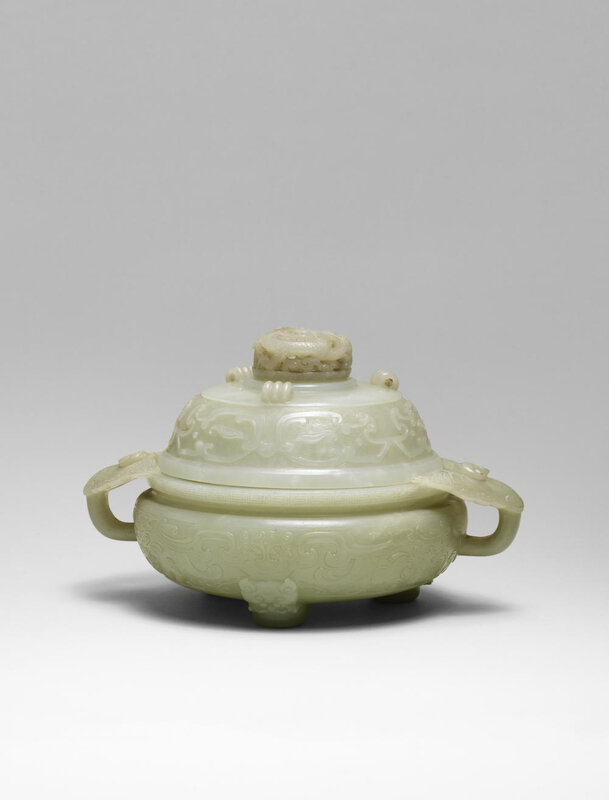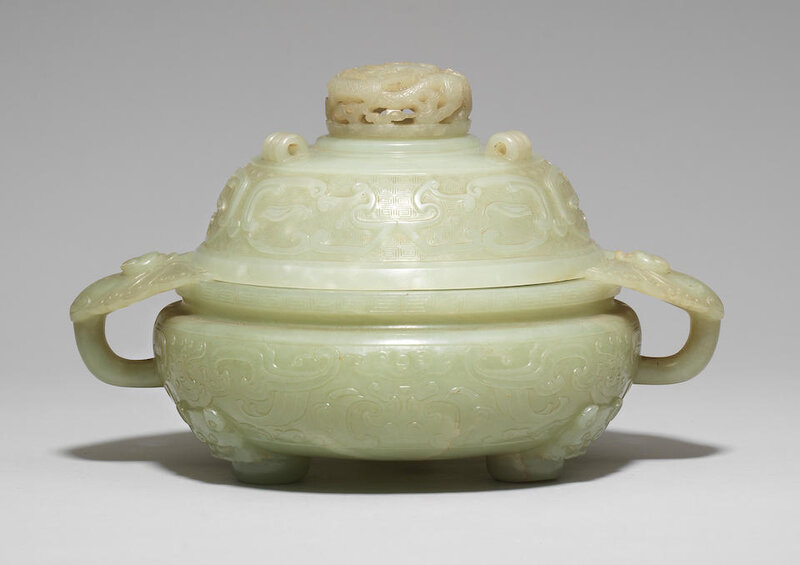 Lot 81. A pale green jade tripod incense burner and cover, ding, Qianlong period (1736-1795); 21cm (8 1/4in) wide. Estimate £ 20,000-30,000. Sold for £ 52,562 (€ 58,609). Courtesy Bonhams.
Skilfully carved around the sides with archaistic motifs and taotie masks, flanked by a pair of auspicious bat handles, all supported on three short feet issuing from mythical beast-heads, the domed cover similarly decorated with taotie masks, surmounted by a circular dragon finial carved in openwork, the stone of pale green tone with milky inclusions.
Provenance: an English private collection.
Note: This piece embodies the brilliant creativity of Qing craftsmen in its combination of contemporary and archaic motifs. Continuing the Song tradition of reinterpreting large archaic ritual bronzes into relatively small jade vessels, this incense burner is carved with the archaic taotie motif. In response to jade carving in the 18th century, characterised by decorative objects with ornate high-relief designs, the Qianlong emperor commissioned a large number of jades which were inspired by the forms and designs of antiquity. Jade carvers were encouraged to move away from the 'new style' by studying archaic bronze vessels in the Palace collection or in illustrated woodblock prints, and adapting them to the medium of jade. Inspired in both form and decoration by archaic bronze ding, this incense burner epitomises this trend.

Compare with a related white jade incense burner and cover with archaistic taotie design, Qing dynasty, illustrated in the Compendium of Collections in the Palace Museum: Jade, 10, Beijing, 2011, p.135, no.98.
Bonhams. Fine Chinese Art, London, 5 Nov 2020.