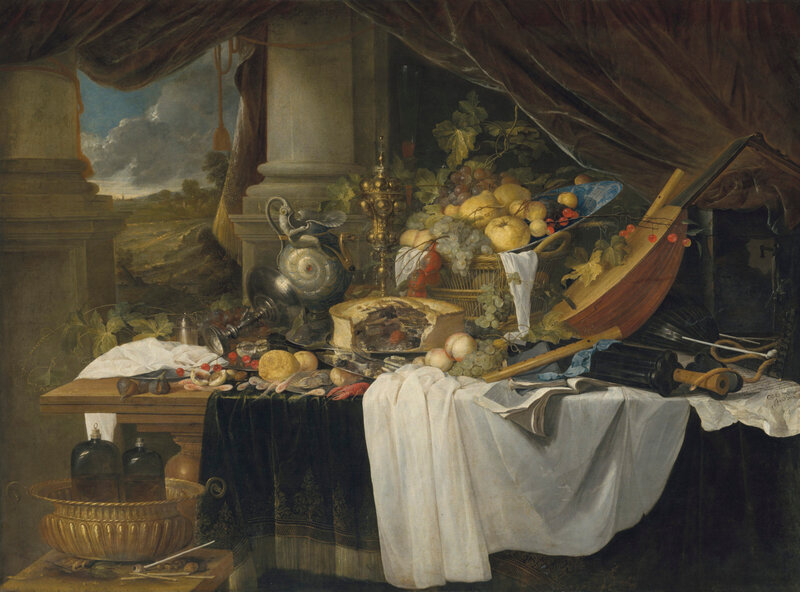 Jan Davidsz de Heem, A banquet still life, 1643. Estimate £4 million– £6 million ($5.3-$7.9 million). Courtesy Christie's.
Ahead of their upcoming London Old Masters sale series, Christie's has unveiled a rediscovered monumental still life by Dutch painter Jan Davidsz de Heem that will go up for auction on December 3 at the house's London headquarters. The painting is expected to fetch a price of £4 million– £6 million ($5.3-$7.9 million).
If the work reaches its high estimate, it will be a new benchmark for the artist, whose last record was set nearly three decades ago when a similar canvas Banquet Still Life with a Lobster (1642) sold at Christie's in January 1988 to a private collector for $6.6 million.
In the mid-17th century, still life painting was in-demand among wealthy European patrons, and de Heem, who was active in Antwerp and Utrecht, is known as one of the founders of the Dutch golden age genre. Ornate still life scenes, featuring detailed renderings of imported food, objects of vertu and other vanitas elements emblematic of wealth, were de Heem's area of expertise.
Measuring at 61 by 83 1/8 inches, the intricate work comes to the market now after having been in the same private collection since the 19th century, last sold to the current owner's descendants in 1817 in Amsterdam. Henry Pettifer, head of Christie's Old Masters department in London discovered the painting back in 2016 at a private English residence, the owner of which was unaware of the painting's attribution. Pettifer subsequently enlisted the help of art historian and former curator at the The Netherlands Institute for Art History, Fred G. Meijer, to examine the work.
"My initial reaction was amazement that a picture of this scale and importance could have remained largely unknown and undocumented for such a long time," said Pettifer of the encounter, calling it an "incredibly exciting moment."
Completed during the painter's early Antwerp period at the apex of his career, it is one of four other large-scale still life pictures completed between 1640-43; one counterpart Table of Desserts (1640), to which the present work is highly similar, resides at the Musée du Louvre, Paris, and another from 1641 at the Brussels Municipal Museum.
"The picture marries the two great traditions of Dutch and Flemish still-life painting," said Pettifer of the work on offer, who explained that de Heem's "minute rendering of detail, surface textures and reflected light," is characteristic of Dutch precision. Alternatively, Pettifer points outs out, "the monumental scale, the introduction of rich colour, the multiplicity of objects, and the elaborate setting," are emblematic of the Flemish baroque style.
The painting's dedication, which reads as translated, "your Honour's humble JD de Heem" and prior ownership of the three comparable works points to the picture having likely been commissioned for a wealthy or noble patron. The genre paintings, made for high ranking collectors served as snapshots of affluence and moral ideals. In short, the vanitas message signaled in the present work and typical of the still life category, according to Pettifer, is that "luxury doesn't endure and is a reminder of the temporary character of life on earth."
While small scale works by de Heem are regularly traded at auction, a work of museum-quality by the artist has not been seen since the last record high achieved in the late 1980s. In the 2000s, floral still life works in the $1 million-$2 million price range by de Heem were among the most valuable being sold. Later, in July 2012, one sold at Christie's London for $4.7 million against an estimate of $1.8-2.8 million, establishing the artist's second highest price. The third highest selling picture was sold decades earlier in 1997, again at Christie's London, when another still life went to a private buyer for $2.7 million.