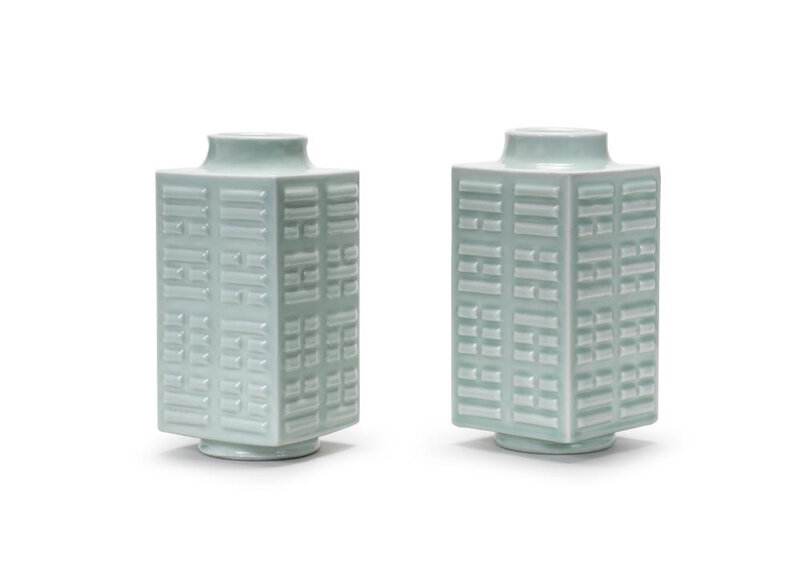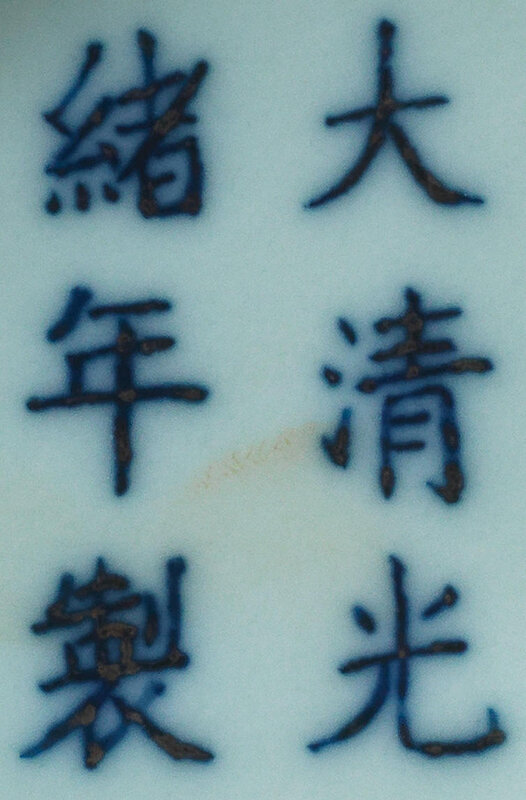 Lot 25. A pair of celadon vases, cong, Guangxu six-character marks and of the period (1875-1908); Each 28cm (11in) high. Estimate £ 4,000-6,000. Sold for 37,562 (€ 42,019). Photo: Bonhams.
Each in the form of an archaic jade cong, of square section supported on a short waisted footing, rising to a flat shoulder and a broad tapering short neck, each face with raised horizontal bands representing the Eight Trigrams, covered overall with a rich bluish-green glaze.
Provenance: an English private collection.
Note: The present pair in its form was inspired by the archaic jade ritual cong vessel, which featured a square body and a hollowed circular core, perhaps symbolising heaven and earth. See for example a jade cong, Neolithic period, Liangzhu Culture (circa 3200-2000 BC), illustrated by J.Rawson, Chinese Jade From The Neolithic To The Qing, London, 1995, p.128, fig.3:5. This archaic form was imitated especially from the 18th century and onwards as means to draw moral righteousness and strength from the ancients. A very similar vase but with a Xuantong mark in the National Palace Museum, Taipei, is illustrated by H.A.Van Oort, Chinese Porcelain of the 19th and 20th centuries, Lochem, 1977, pl.111.

Compare with a similar pair of celadon-glazed cong-shaped vases, Guangxu six-character marks and of the period, which was sold at Christie's London, 7 November 2017, lot 216.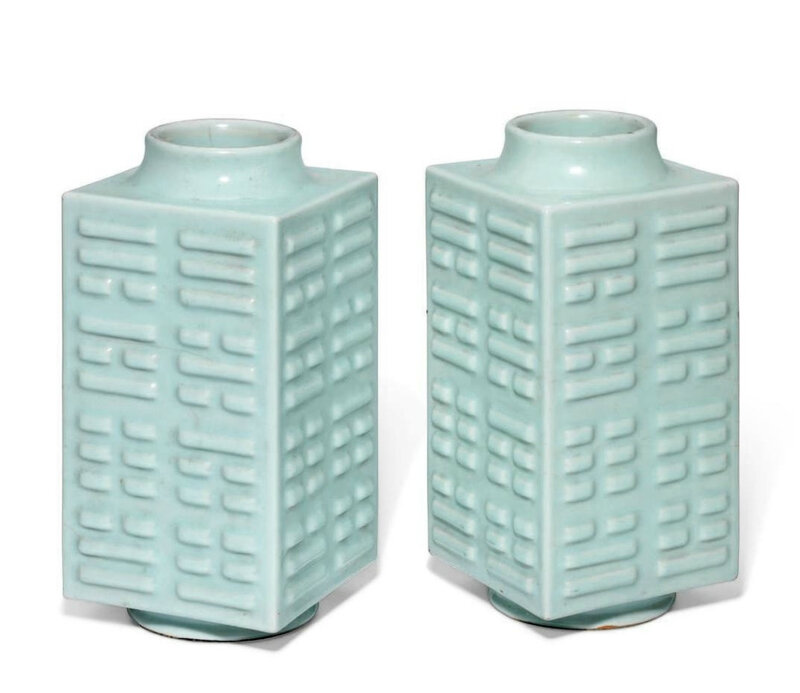 A pair of celadon-glazed cong-shaped vases, Guangxu six-character marks in underglaze blue and of the period (1875-1908). 11 in. (28 cm.) high. Estimate GBP 10,000 - GBP 15,000. Price realised GBP 35,000 at Christie's London, 7 November 2017, lot 216. © Christies Images Ltd 2017
Cf. my post: A pair of celadon-glazed cong-shaped vases, Guangxu six-character marks in underglaze blue and of the period (1875-1908)
Bonhams. Fine Chinese Art, London, 5 Nov 2020