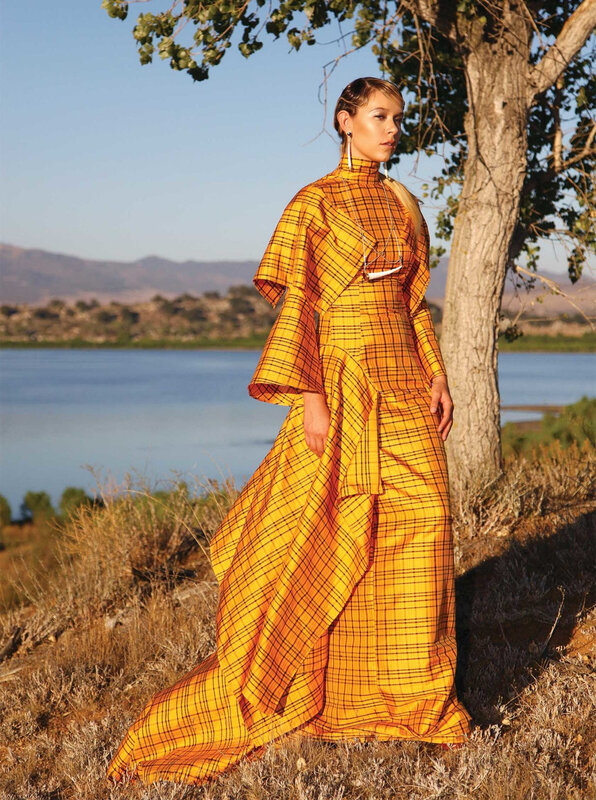 Jamie Okuma (Luiseño/Shoshone-Bannock), For J. Okuma, Dress, 2018. Museum purchase, made possible by the Anna Pingree Phillips Acquisition Fund. 2020.4.1. Courtesy of Jamie Okuma. Photo by Cameron Linton. Model: Corel Taylor.
SALEM, MASS.- This fall, the Peabody Essex Museum goes behind the seams to reveal the often-overlooked contributions of women in the fashion world with its headlining exhibition, Made It: The Women Who Revolutionized Fashion. From 19th-century White House seamstress Elizabeth Keckley to Gabrielle "Coco" Chanel and contemporary labels like Chromat, women designers continue to radically transform our ideas about identity and presentation. Through more than 100 works, Made It celebrates the stories of women who revolutionized many aspects of the fashion industry and traces how these efforts parallel the history of women's global struggle for equity and opportunity. Show-stopping ensembles, street fashion, ready-to-wear and haute couture illuminate issues of representation, creativity and consumption. The exhibition is organized in association with Kunstmuseum Den Haag and will be on view at PEM from November 21, 2020 through March 14, 2021.
Madelief Hohé, Curator of the Collection of Fashion and Costumes at Kunstmuseum Den Haag is the exhibition's organizing curator and author of the exhibition concept. Petra Slinkard, PEM's Nancy B. Putnam Curator of Fashion and Textiles, is the exhibition co-curator. The exhibition features ensembles from the Kunstmuseum Den Haag, PEM's renowned fashion collection as well as private and public collections around the world.

"This exciting and thought provoking exhibition celebrates female fashion designers who have worked to shape societal norms and shift cultural perspectives. Reflecting on generations of design, we can see how fashion continually mirrors the values and struggles of its day and consider how we might envision our own future, boldly," says Brian Kennedy, PEM's Rose-Marie and Eijk van Otterloo Director and CEO. "We are honored to share stories and garments of women who forged their own path and did so with incredible determination, focus, and vision. We hope visitors will be inspired by their enterprising spirit and lasting legacy."
The exhibition covers 250 years of fashion through the eyes of women, some famous, some not so famous, whose experiences intersect with the history of women's ongoing struggle for equality. 2020 marks the 100th anniversary of the ratification of the 19th Amendment of the U.S. Constitution. The landmark legislation granted some women the right to vote and the historic milestone provides an occasion to think about the ways in which women — including women in fashion — have pursued equity and greater opportunity.

Born into slavery in 1818, Elizabeth Keckley first learned how to sew from her mother. Despite enduring decades of harsh treatment, her reputation as a high-quality dressmaker rose, and she was able to purchase her freedom in 1855. Keckley soon opened a dressmaking business in Washington, D.C., and rose through the ranks to become a leading designer for the social elite, including the personal dresser and couturiere to First Lady Mary Todd Lincoln as well as a noted civil rights activist and author. Keckley's remarkable story, along with those of 70 others, are told in this groundbreaking exhibition.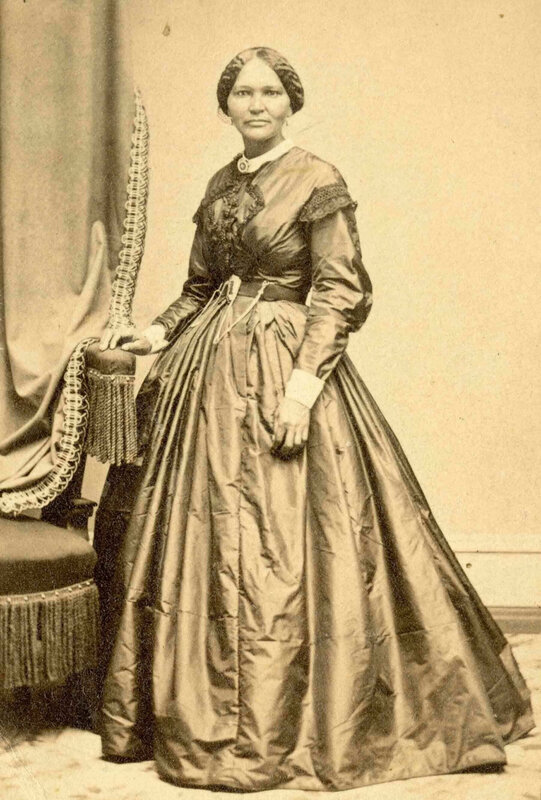 Elizabeth Keckley, about 1861. Courtesy of the Moorland-Spingarn Research Center, Howard University Archives.
In Europe, Lady Duff Gordon survived the Titanic disaster and went on to establish the fashion design house, Lucile, Ltd. She was known in the fashion sphere for her soft, frothy lace designs and was the first to introduce "mannequin parades," precursors to today's fashion runways. Names like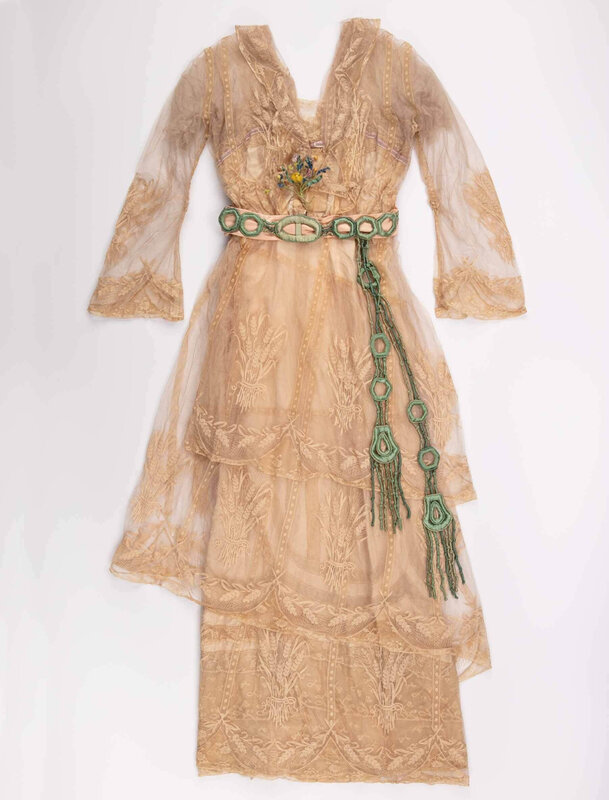 Lucy Duff Gordon, dress, 1913–15, for Lucile Ltd. Peabody Essex Museum, gift of James J. Minot, 1979. 134686. © 2019 Peabody Essex Museum. Photo by Bob Packert.
Bonnie Cashin and Pauline Trigère emerged after World War II as top-tier designers of coordinated, easy-to-wear ensembles, further establishing the "American Look." With a simplistic ease and practical bent, designer sportswear led clothing trends in a new direction.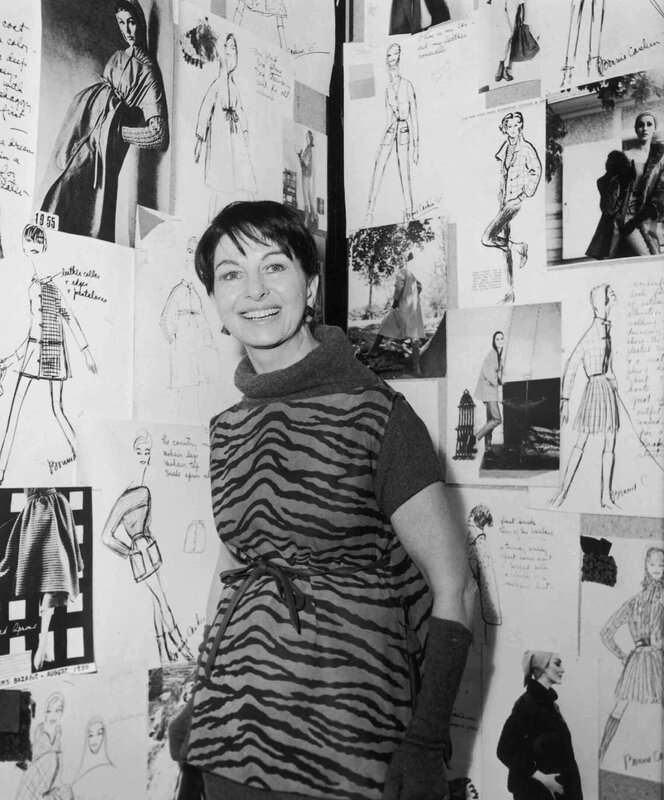 Bonnie Cashin in tiger print B.tif. 2931965. Courtesy of the Bonnie Cashin Archive.
"This exhibition provides us with an opportunity to reveal, recognize and celebrate the accomplishments of women designers, individually and collectively." says Petra Slinkard, PEM's Nancy B. Putnam Curator of Fashion and Textiles. "Fashion is often thought of as being solely about consumption and presentation. It can be written off as frivolous. But as this exhibition vigorously asserts, fashion represents so much more: from defining cultural moments and advancing political causes, to deeply impacting the global economy and ecology."
Breaking In
The European clothing trade of the 18th and 19th centuries was strictly divided along gender lines and catered exclusively to royal courts and fashion centers. Men regulated the tightly structured professional guilds and dictated what could be made and by whom. Male tailors bore the responsibility for cutting textiles—the most expensive part of an ensemble—while women served in crucial yet subservient roles as seamstresses. That is until a few bold women challenged the establishment and formed their own guilds and advanced new practices and styles of dress. Their courage and conviction laid the foundation for a more equitable industry.

Enterprising women made significant professional and creative inroads in the evolving fashion industry of the late 19th and early 20th centuries. The Western world saw the rise of fashion designers, the establishment of department stores, and the launch of fashion journalism. Women like Jeanne Lanvin, Valentina, Gabrielle 'Coco' Chanel, and Elsa Schiaparelli leveraged their skills and instincts as they carved out space for themselves. They promoted new business models, forged partnerships, and used their own names and faces to brand their houses. These leaders and the teams that supported them altered the way people conceived, consumed and marketed fashion.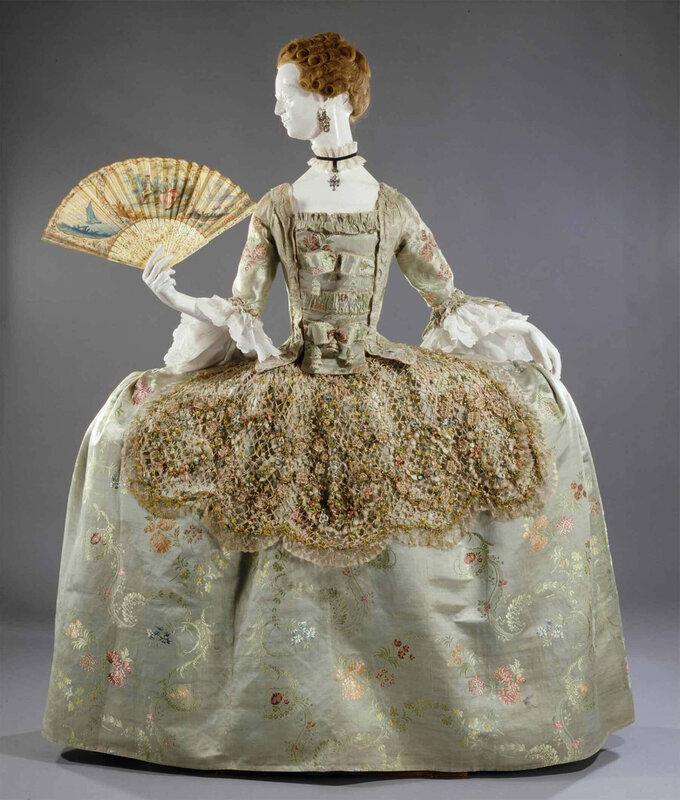 Mantua, about 1760–65, Kunstmuseum Den Haag, 0555918. Courtesy of Kunstmuseum Den Haag.
Powering social change
The flapper silhouette that emerged in the 1920s coincided with women's right to vote and designers like Callot Soeurs and Jenny created waistless forms that allowed for a freer range of movement. In post-WWII America, department stores were cut off from European trends and a distinctive American sportswear look emerged with the help of female designers like Claire McCardell, Bonnie Cashin and Elizabeth Hawes. These designs with their simple silhouettes and easy closures set the tone for how Americans continue to dress to this today.

The pace of women defining themselves within society accelerated in the 20th century. Accordingly, hemlines rose and fell, cut and drape shifted to match women's needs and new technologies prevailed. "Swings in the sartorial silhouette demarcate key movements in history and mirror the freedoms women gained along the way," notes Slinkard. As women increasingly joined the workforce and needed to assert themselves in male-dominated environments, fashion designers like Donna Karan and Diane Von Fürstenberg helped forge women's new identities and usher in the modern era.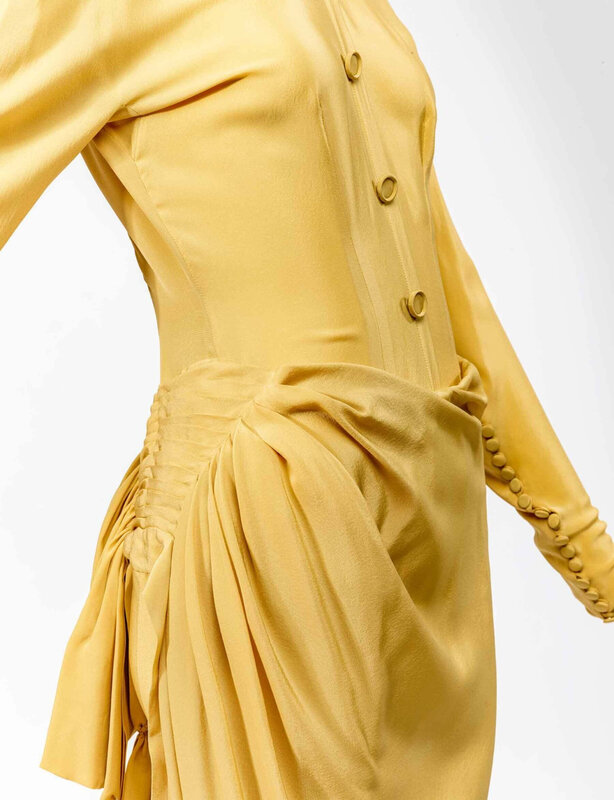 Maggy Rouff, "Lucerne" dress (detail), 1949 . Kunstmuseum Den Haag, 0331925. © Kunstmuseum Den Haag. Photo by Alice de Groot.
Diane von Fürstenberg, wrap dress, 1975. Adnan Ege Kutay Collection. © 2019 Peabody Essex Museum. Photo by Bob Packert.
Zandra Rhodes, evening ensemble from The Conceptual Chic Collection, 1977. Kunstmuseum Den Haag. 0242227.
Fashion as Politics
Visitors stepping through the doors of Made It will have no shortage of ensembles to feast their eyes on, but others will see how fashion through the ages has come to be instrumental in expressing political statements. Color also represents a form of protest, like the early suffragettes leading marches in head-to-toe white ensembles.

Fashion can serve as psychological armor and social pronouncement, giving us the courage to broadcast to the world who we are and how we would like to be seen. It's also an effective vehicle for putting political ideas in writing as designer Katharine Hamnett found when she met with British Prime Minister Margaret Thatcher in 1984 while wearing an oversized T-shirt bearing a nuclear missile protest message. As Hamnett knew and subsequent designers continue to affirm: you can't NOT read messages on T-shirts.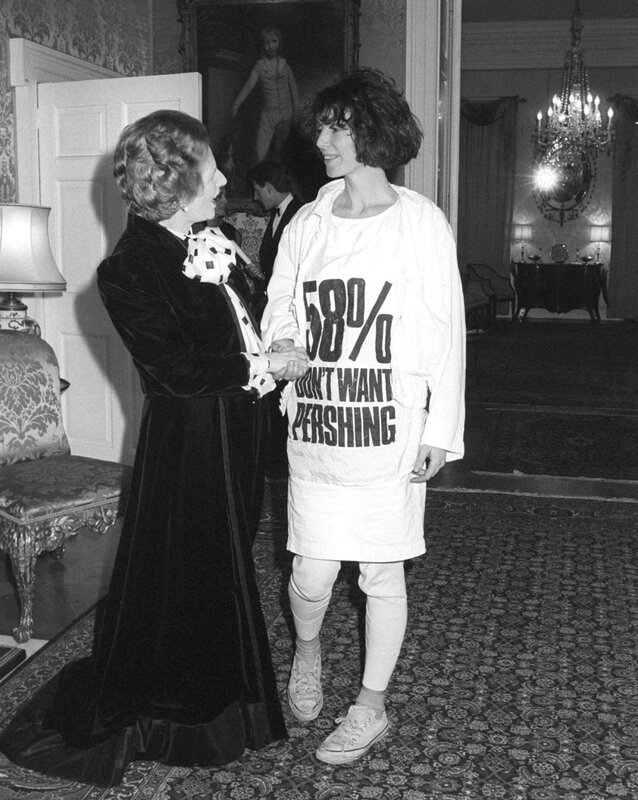 Katharine Hamnett meets with British Prime Minister Margaret Thatcher in 1984. Courtesy of PA Images/Alamy Stock Photo
For Slinkard, the exhibition is a celebration of these women's vast contributions, and also an opportunity to say thank you. "In times of instability and challenge, these women stand to represent so many more women who persevered to enable us to live in this moment and occupy this space," she says. "They recognized that fashion could serve as a catalyst for change."

Since bursting onto the fashion scene in 2010, Becca McCharen-Tran and her sportswear line Chromat has actively engaged issues of gender fluidity, racial inequality and body acceptance. More than a swim- and bodywear company, Chromat is a platform for examining and challenging traditional notions of who —and what body shapes—are considered desirable. From its inception, the brand made a conscious effort to show its collections on trans and non-gender-conforming models, almost all of whom are people of color whose body shapes reflect the diversity found in real life. The #ChromatBABES hashtag on social media serves as a unifying digital battle cry for Chromat fans.

"I am thrilled Made It celebrates this incredible cast of designers. They changed the way women dress, which in turn changed how women moved and where women moved," says Slinkard.
Made It: The Women Who Revolutionized Fashion. On view November 21, 2020 through March 14, 2021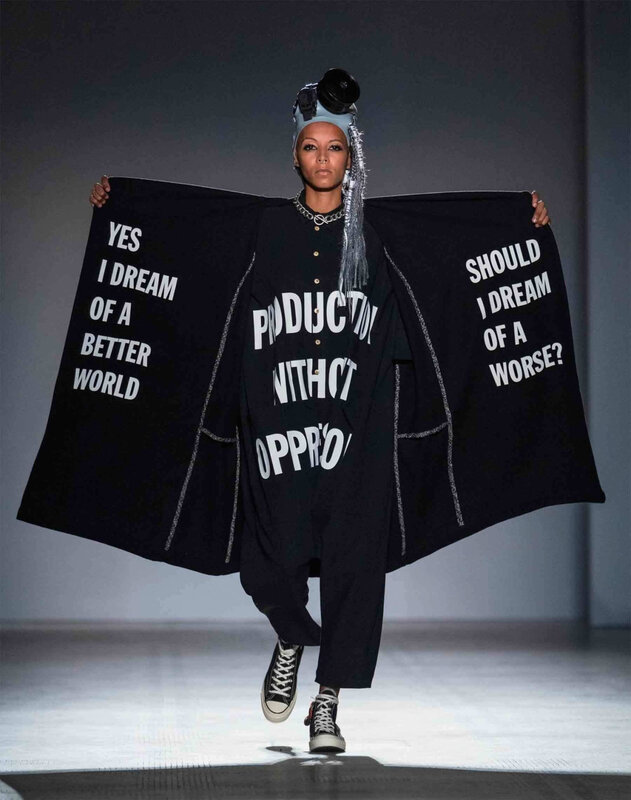 Carla Fernández, jumpsuit, jacket, 2018
.
Photo
: Courtesy of The
Victoria and Albert Museum
, London.