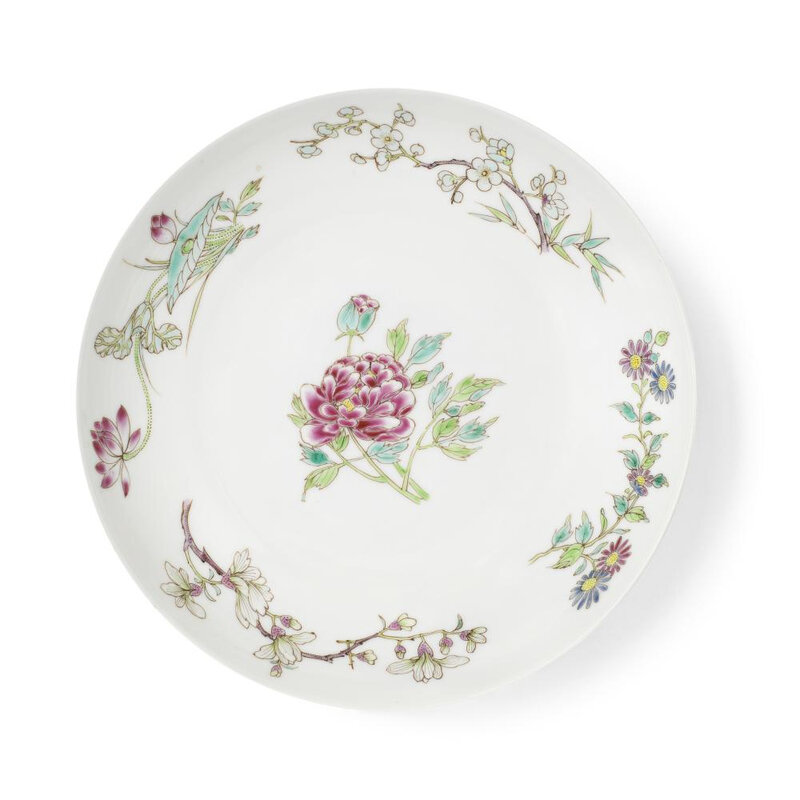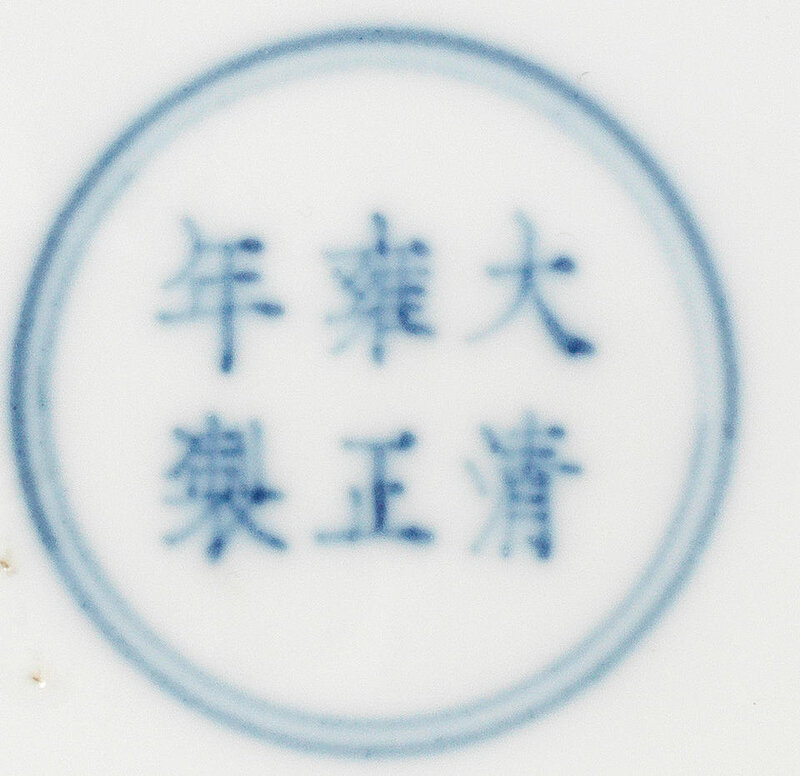 ot 34. A rare famille rose 'floral sprays' dish, Yongzheng six-character mark and of the period, the enamels probably later; 19cm (7 1/2in) diam. Estimate £ 3,000-5,000. Sold for £ 25,062 (€ 28,036)). Photo: Bonhams.
Thinly potted with gently curving sides rising from slightly tapered foot, enamelled possibly later with a peony spray in the well, with four sprigs of lotus, magnolia, chrysanthemums and prunus around the cavetto.
Provenance: Sotheby's London, 28 April 1953, lot 61
Robert Stanley Hope Smith (1910-1979), collection no.R34, and thence by descent
Note: Compare with a Yongzheng dish relatedly decorated with a peony spray in the centre, surrounded by three various floral sprigs, in the Victoria and Albert Museum, London, no.589-1907.

A related dish from the Yongzheng period of smaller size, the centre with two butterflies, was sold at Sotheby's Hong Kong, 8 October 2014, lot 3642.
A fine Famille-Rose 'Butterfly and Flower' dish, mark and period of Yongzheng (1723-1735); 15 cm., 5 7/8 in. Estimate 120,000 — 180,000 HKD. Lot Sold 237,500 HKD at Sotheby's Hong Kong, 8 October 2014, lot 3642. Photo: Sotheby's.
Cf. my post: A fine Famille-Rose 'Butterfly and Flower' dish, mark and period of Yongzheng (1723-1735)
The Robert Stanley Hope Smith Collection

Robert Stanley Hope Smith, known to friends and family as Stanley, was born on 13th December 1910 in Horton, Bradford. During the 2nd world war he served with his local Home Guard Regiment. He was a solicitor and partner at Browning Oliver and Smith in Bradford and was known to have worked closely with the refugee Polish community which settled there in the late 1940s and early 50s, helping them establish a future within the city that still prospered with a textile industry.

He married Joan Shelton, a schoolteacher, on 4th September 1946, bought a small semi-detached house, Colwyn, Park Mount Avenue in Baildon and had one son, John.

According to his diary he began collecting "Famille Rose" and "Famille Verte" pieces in 1946 from local auction houses, shops and privately in Harrogate, Leeds and Bradford. His wife Joan also shared his passion and they made further purchases on weekend trips to country houses and antique fairs.

He made his first Sotheby's purchase via absentee bid on 2nd October 1950 and on the 15th December the same year was elected a member of the Oriental Ceramic Society. In 1959 Frank Davis, another north of England OCS member, wrote to say that he would surely be welcomed by the "learned lot" in London but it is unlikely Stanley ever made it there because of the disability that made travel difficult.

Over the following decades he was delighted to acquire pieces from well-known collections formed by Lord Cunliffe, Montague Meyer, Leonard Gow, along with OCS exhibition pieces. What may have not been key pieces for them became the core of his collection.

Stanley and Joan lived an unassuming life, intellectually stimulated by eclectic subscriptions to periodicals. He played the organ at church services in Baildon, watched his son play rugby for his school and county, and on summer afternoons tended his allotment. They loved the Yorkshire Dales, visiting country houses, occasionally staying in hotels in the Lake District. On Sundays they drove a specially adapted Jaguar across the Yorkshire moors.

Members of their family were the few fortunate enough to see the porcelain collection displayed in the back room of Colwyn on a dresser alongside the piano and harpsichord. They assumed that Stanley collected even broken pieces of Chinese pottery because they were all that he could afford, unaware that Kintsugi was key to his passion, for he had suffered from polio as a child and walked with a cane.

Stanley died in November 1979. Joan remained a member of the Oriental Ceramic Society for the rest of her life. In later years her grandchildren remember her reading to them in front of an open fire from auction catalogues, OCB periodicals and Oriental art study books, teaching them about the Chinese dynasties and their dates while referring to the pieces still on display in the back room where they had remained undisturbed for the previous 45 years. She died in 2000 and the collection was subsequently put into storage. The family has decided that the time has come for others to enjoy and admire the collection and hope that it will bring as much pleasure as it did for Stanley and Joan.
Bonhams. Fine Chinese Art, London, 5 Nov 2020