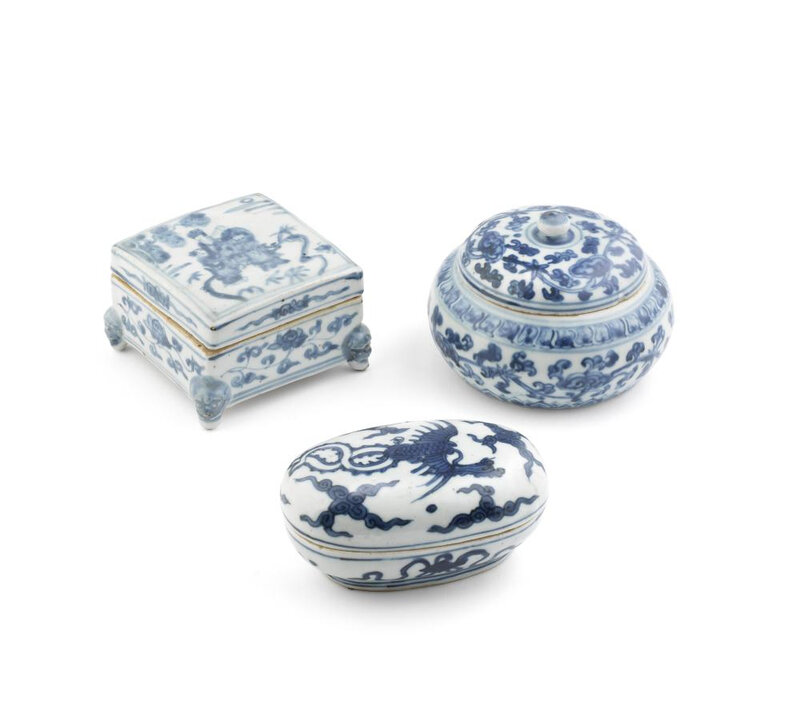 Lot 41. A pair of large blue and white 'lotus' jars, Wanli period (1573-1620). Estimate £ 2,000-3,000. Sold for £ 4,812 (€ 5,414). Courtesy Bonhams.
Comprising a square box and cover, the cover painted with three sages gazing up at the moon, the sides painted with lotus scrolls, supported on four mythical-beast head feet, 8.7cm (3 3/8in) wide; an oval box and cover, painted with a phoenix amidst clouds, 11.5cm (4 1/2in) long; and a small circular jar and cover, the body painted with lotus scrolls between lappets, the cover similarly decorated and surmounted by a lotus-bud finial, 12cm (4 3/4in) wide.
Provenance: a European private collection
Circular box: acquired in Amsterdam, 1973
Square box: acquired in Amsterdam, 1974
Oval box: acquired from Marc Michot, Bruges, 1983.