Lot 113. A rare archaistic silver-and-gold-inlaid bronze tripod wine vessel and cover, zun, Mid Qing Dynasty; 23cm (9in) high. Estimate HK$ 150,000-250,000. Sold for HK$ 1,752,500 (€ 188,899). Photo: Bonhams.
The deep cylindrical body raised on three bear-form feet and cast in low relief with bands at the rims and mid body, with a pair of taotie mask handles, decorated in gold and silver inlay in the upper and lower sections of the body with archaistic bands of cicada blades and leiwen scroll interspersed with stylised clouds in gold and silver inlay, the domed cover decorated with similar patterns in gold and silver inlay, with two bands encircling a central quatrefoil flower with a loop handle, applied with three upright phoenix-form handles that become supports when the cover is inverted, the interior undecorated.
Provenance: William S. Tatlow (1921-2016), Wollongang, Australia.
William S. Tatlow was an ardent collector whose interests included not only books, Australian pottery and aboriginal paintings, but also Chinese ceramics and furniture. His strong interest in Chinese art was nurtured over a period of 25 years. The majority of his Asian art collection was given to Wollongong Art Gallery to form the new Mann-Tatlow Gallery in 2003.
Note: The zun was a popular vessel used to keep the wine warm during the Warring States period and Han dynasty. The function can be proved by the inscription on a bronze zun, late Western Han dynasty, reading Zhongling Hufu wenjiu zun, which may be translated as 'This zun was made for Hufu of Zhongling to keep wine warm', now in the Shanxi Provincial Museum and illustrated in Zhongguo Qingtongqi Quanji (Complete Collection of Chinese Bronzes), Beijing, vol.12, 1996, pl.37.

Zun vessels could be lavishly decorated with inlay of gemstones, gold and silver as well as being lacquered and painted. Compare with a gold-and-silver-inlaid zun, mid Warring States period, in the Hubei Provincial Museum, illustrated in ibid., vol.10, p.51; and also with a gilt animal-incised zun in the National Museum of China, and a cloud-painted zun in the Yangzhou Museum, both dated late Western Han dynasty and illustrated in ibid., vol.12, pls.40 and 41.

Archaic bronzes including ritual wine and food vessels were greatly admired by the Qianlong emperor and were used as inspiration at the Palace Workshops. The Qianlong emperor encouraged fanggu (imitating antiquity) and fugu (reviving antiquity), resulting in a revival of archaistic forms in the Imperial court.

Examples made under the same inspiration, but dated Song to Ming dynasty, include an inlaid bronze hu, illustrated by M.Goedhuis, Chinese and Japanese Bronzes, A.D. 1100-1900, London, 1989, no.77. Another in the British Museum, dated Song-Ming dynasty, is illustrated by R.S.Jenyns and W.Watson, Chinese Art II, New York, 1980, pp.90-91, no.56.

See a related archaistic gold-and-silver-inlaid bronze pear-shaped vase, hu, Song dynasty, which was sold at Christie's New York, 18-19 September 2014, lot 1016.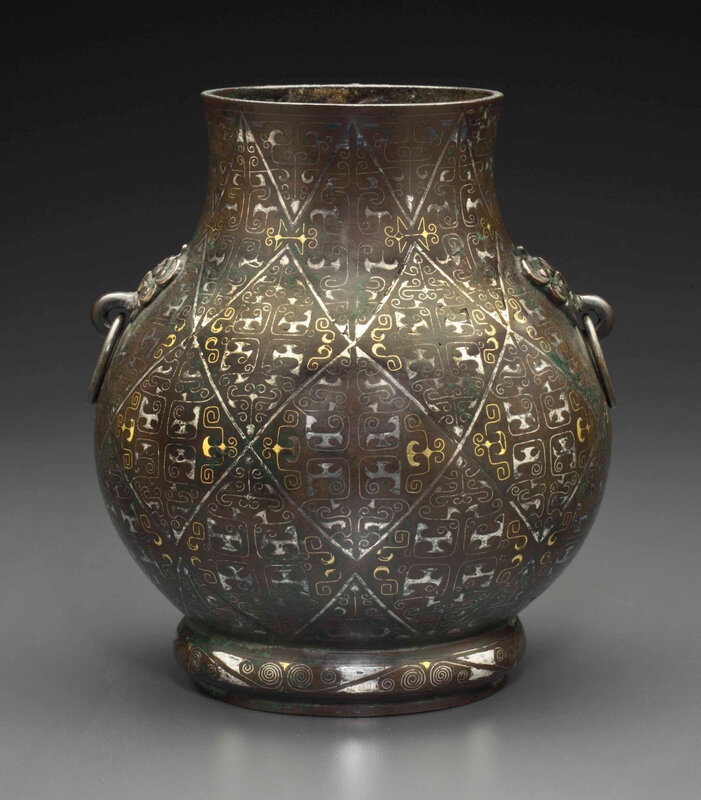 A rare archaistic gold and silver-inlaid bronze pear-shaped vase, hu, Song dynasty, 11th-13th century; 7¼ in. (18 cm.) high. Estimate USD 30,000 - USD 50,000. Price realised USD 81,250 at Christie's New York, 18-19 September 2014, lot 1016. © Christie's Images Ltd 2014
Cf. my post: A rare archaistic gold and silver-inlaid bronze pear-shaped vase, hu, Song dynasty, 11th-13th century
Bonhams. Fine Chinese Ceramics and Works of Art, 1 Dec 2020, Hong Kong, Admiralty