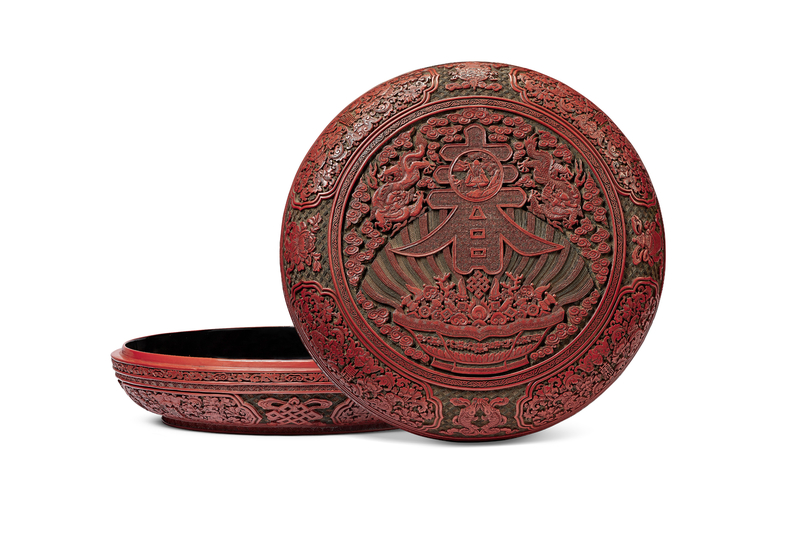 Lot 143. A rare and large three-colour lacquer 'chun' incised gilt box and cover, Qianlong six-character mark and of the period (1736-1795); 38cm (15in) diam. Estimate HK$ 800,000-1,200,000. Sold for HK$ 815,000 (€ 87,847). Photo: Bonhams.
The cover with rounded sides crisply carved through red, dark green and yellow layers of lacquer with a large chun 'spring' character above a large lobed dish filled with treasures in the centre within a red, yellow and dark green radiating panel, a circular window carved with a seated Shoulao centred in the chun character, all flanked by two five-clawed dragons amidst ruyi-clouds against a wan-diaper ground, both rounded sides of the cover and box exquisitely carved with the Eight Buddhist Treasures between four lobed cartouches centred with shou characters in different scripts and flanked by two bats amidst lotus scrolls, the interior and base lacquered black, the box raised on a short sturdy foot, the base with a gilt six-character reign mark Daqing qianlong nianzhi and four characters reading chunshou baohe.
Note: The four characters chunshou baohe may be translated as 'Treasured box of Spring and longevity'. The character chun or 'Spring' on the cover, is a metaphor for youth and fertility. Combined with the figure of Shoulao, the God of Longevity, this box belongs to a group produced as tribute to be offered to the emperor representing wishes for long life and eternal youth. This group of Spring and longevity-themed polychrome lacquer wares include various forms and shapes, such as peach-shaped boxes and rectangular trays, all carved with chun and Shoulao in the centre flanked by a pair of dragons, surrounded by the Eight Buddhist Treasures. This design was introduced during the Jiajing reign of the Ming dynasty. Compare with a polychrome lacquer carved 'chun' box, Jiajing, illustrated in The Complete Collection of Treasures of the Palace Museum: Lacquer Wares of the Yuan and Ming Dynasties, Hong Kong, 2006, no.134, p.176; see also another similar box, illustrated in Carving the Subtle Radiance of Colours: Treasured Lacquerware in the National Palace Museum, Taipei, 2008, pl.87, p.97.

Unlike other works of art made for the Qing Court in the Zaoban Chu (Imperial Workshop), carved lacquer wares were made in Suzhou or Yangzhou before being inscribed with the reign mark and name in Beijing. According to the Imperial Workshop Archives, chunshou baohe, was the name given by the Qianlong emperor himself:

'On the 7th day of August in the 8th year of Qianlong (1743), the Carving Department recorded: The seventh-rank officer Samuha reported that Eunuch Hu Shijie presented lacquer carved shouchun boxes, the Emperor ordered: Engrave 'chunshou baohe' four characters side by side. On the 27th of this month, the seventh-rank officer Samuha handed in four shouchun boxes carved 'shouchun baohe' four characters to Eunuch Hu Shijie to present to the emperor.' See R.Zhang, Yangxindian zaobanchu shiliao jilan-dierji Qianlong chao (Historical Materials Relating to the Imperial Workshop in Yangxing Dian: Part II Qianlong), Beijing, 2012, p.274.

At least eighteen types of chunshou boxes were made during the Qianlong period, however, examples carved with four different shou characters in the cartouches around the sides are exceptionally rare. The majority of designs in cartouches are landscapes and figures. Compare with a 'chunshou' box in the National Palace Museum, Taipei, carved with landscapes and sages on the sides, illustrated in ibid., pl.137, p.136; compare also with another similar 'chunshou' box, illustrated in The Complete Collection of Treasures of the Palace Museum: Lacquer Wares of the Qing Dynasty, Hong Kong, 2006, pl.61, p.88.

Compare with a carved polychrome lacquer 'chun' box, Qianlong mark and period, which was sold at Christie's Hong Kong, 28 May 2014, lot 3004; and another but smaller polychrome lacquer 'chun' box, Qianlong period, which was sold at Sotheby's Kong Kong, 8 August 2014, lot 3224, both boxes are carved with landscapes and sages on the sides.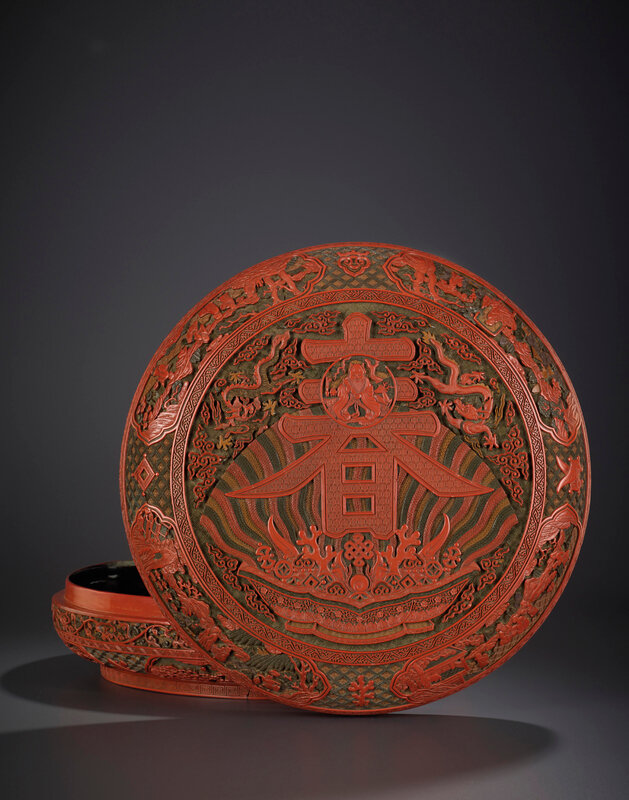 A magnificent carved polychrome lacquer 'spring' circular box and cover, Qianlong incised and gilt six-character mark and of the period (1736-1795); 14 1/4 in. (36.1 cm.) diam. Estimate HKD 1,500,000 - HKD 2,500,000. Price realised HKD 1,840,000 at Christie's Hong Kong, 28 May 2014, lot 3004. Courtesy Christie's Image Ltd
Cf. my post: A magnificent carved polychrome lacquer 'spring' circular box and cover, Qianlong mark and period (1736-1795)
Bonhams. Fine Chinese Ceramics and Works of Art, 1 Dec 2020, Hong Kong, Admiralty