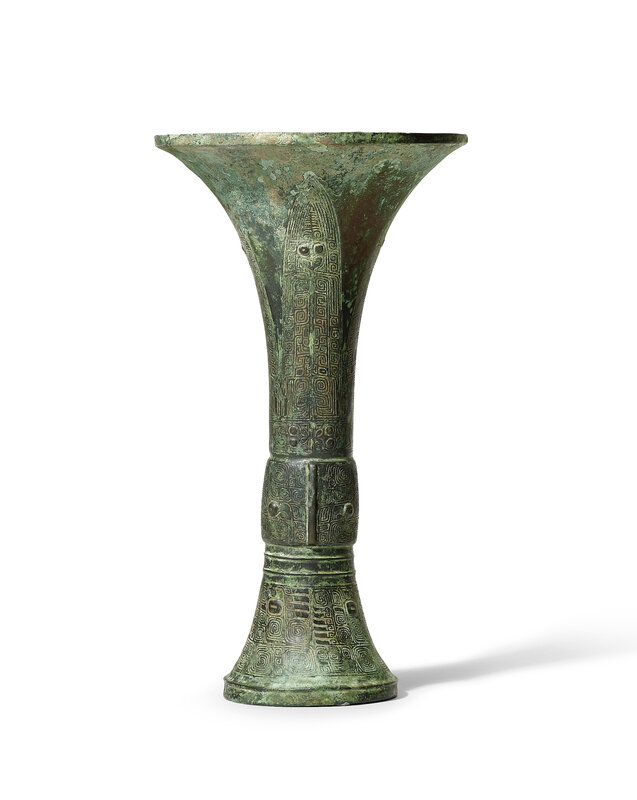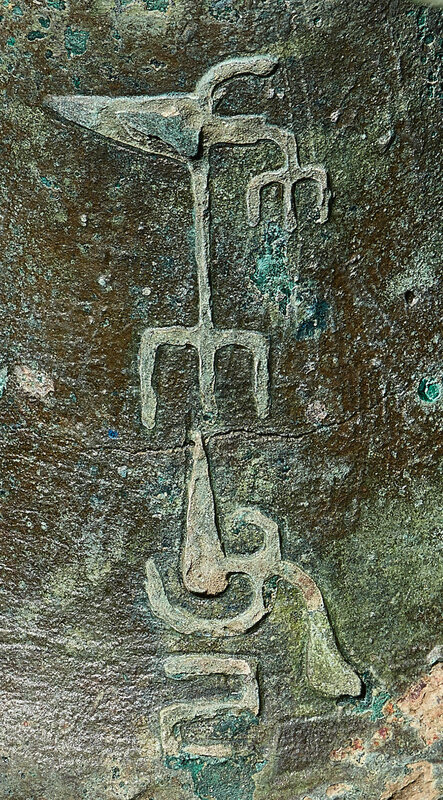 Lot 151. A rare archaic bronze wine vessel, Gu, Shang Dynasty; 26.5cm (10 1/2in) high. Estimate HK$ 200,000-300,000. Sold for HK$ 402,500 (€ 42,819). Photo: Bonhams.
The flaring trumpet neck cast with four S-scroll-filled leaves above a band of stylised cicadas, the central section cast with two taotie masks bisected by vertical flanges, the spreading foot cast with four stylised half-taotie masks reserved on a leiwen ground, with a crisply-cast three-character pictogram inside the foot reading ge fuyi, the pale green patina with some green encrustation.
Provenance: The Numina Collection, Hong Kong.
Published and Illustrated: Luo Zhenyu, Zhensong tang jigu yiwen (Supplement to the Gathering of Ancient Writings at the Zhensongtang Studio), 1930, vol.9, p.5, no.1 (manuscripts of inscription)
Luo Zhenyu, Sandai jijin wencun (Surviving Writings from the Xia, Shang, and Zhou Dynasties), Beijing, 1937, vol.14, p.26, no.5 (inscription rubbing)
Wang Xiantang, Guoshi jinshi zhigao (A Record of Bronze and Stone Inscriptions in Chinese History), manuscript, 1943, p.969. no.110 (inscription rubbing)
Yan Yiping, Jinwen Zongji (Corpus of Bronze Inscriptions), Taipei, 1983, no.6152 (inscription rubbing)
The Institute of Archaeology, Chinese Academy of Social Sciences, Yinzhou jinnuen jicheng (Compendium of Yin and Zhou Bronze Inscriptions), Beijing, 1984, no.7135 (inscription rubbing)
Wu Zhenfeng, Shangzhou qingtongqi mingwen ji tuxiang jicheng (Compendium of Inscriptions and Images of Bronzes from the Shang and Zhou Dynasties), Shanghai, 2012, no.9700 (inscription rubbing).
Note: Ge fuyi may be understood as 'this piece made for (or by) the Father of Yi in Ge family'. The rubbings of this gu are well documented in major publications of research on archaic Chinese bronze inscriptions since 1930. Although only rubbings have been recorded, the present lot can still be identified by the unique traces on the rubbings comparable to those on the piece. The 'Ge family' appeared to be active and powerful during the Shang and early Western Zhou dynasty according to surviving bronze vessels cast with this family pictogram.

Unlike extravagant high-relief motifs on other gu vessels in the late Shang or early Western Zhou dynasty, motifs on this lot were cast with a smooth and flat finish, which may suggest some influence from other regions outside the core area of the Shang dynasty. Compare with a similar gu in Sen-Oku Hakukokan Musuem, Kyoto, and another similar gu collected by Shobei Itou, both illustrated by Rong Geng, Haiwai jijin tulu, Beijing, 1935, pls.78-79.