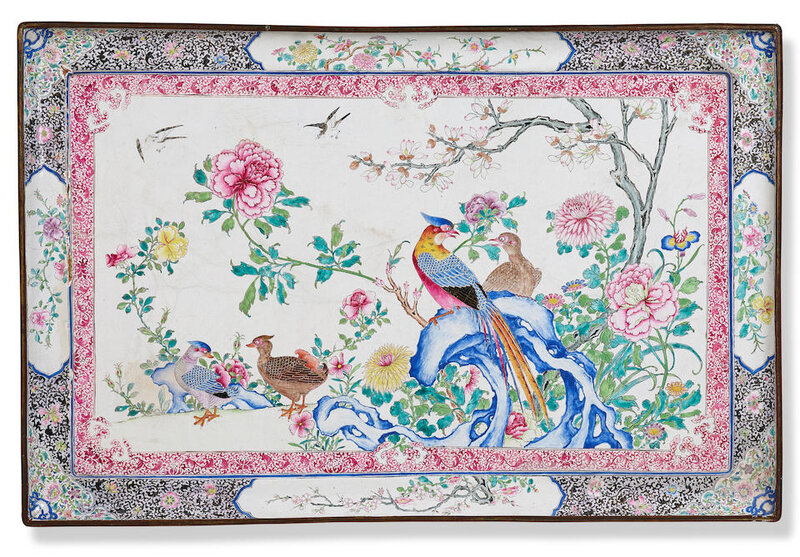 Lot 150. A massive and rare famille rose painted enamel tray, Qianlong period (1736-1795); 87.5cm (34 1/2in) wide x 57.2cm (22 1/2in) deep. Estimate HK$ 250,000-350,000. Sold for HK$ 402,500 (€ 42,819). Photo: Bonhams.
Delicately painted in nine panels with fauna and flora, the main rectangular panel depicting a pair of pheasants and a pair of mandarin ducks amongst flowery branches of peonies and magnolia, the pheasants roosting on rockwork, all within a leafy lotus-scroll border in pink enamel, reserved on white ground, the bevelled frame enclosing flowering blossom scrolls in black enamel with four quatrefoil panels at the sides and four triangular panels at the corners depicting branches of leafy flowers, the underside with a branch of two large finger citron reserved on white ground, all within a cracked-ice band at the exterior of the rim.
Note: Notable for its impressive size, the present tray is a fine example of a beautifully-executed piece that synthesises Western painting techniques with Chinese decorative motifs. While the subjects enclosed in the panels, such as the birds and flowering branch issuing from rockwork in the centre, and landscapes on the frame, are familiar in traditional Chinese art, their meticulous execution provides a distinct Western flavour. The subtle gradations of tone and the rendering of light and shade are seen in the seated bird, rockwork and flowering branch, providing the composition with a three-dimensional effect, as the flowers depicted in full bloom appear to loom out from the contrasting plain white background.

Painting in enamels on copper originated in Western art and gained prominence in northern Europe during the Renaissance, and was particularly popular in France at Limoges for the production of painted enamels on copper. It was brought into China by Jesuit missionaries through the trade port in Guangzhou at the end of the Kangxi period, and flourished during the reign of the Qianlong emperor.

It is very rare to find painted enamel trays of this massive size; compare with a smaller tray of similar composition, similarly painted with birds and a flowering branch issuing from rockwork within a black-ground rectangular border and a yellow-ground frame, illustrated in Fran Kina till Europa, Stockholm, 1998, no.261.

See also a large painted enamel tray of similar size, Qianlong, but painted with butterflies and flower sprays and set in a brass-bound lacquered wood frame, which was sold at Christie's London, 2 November 2016, lot 75.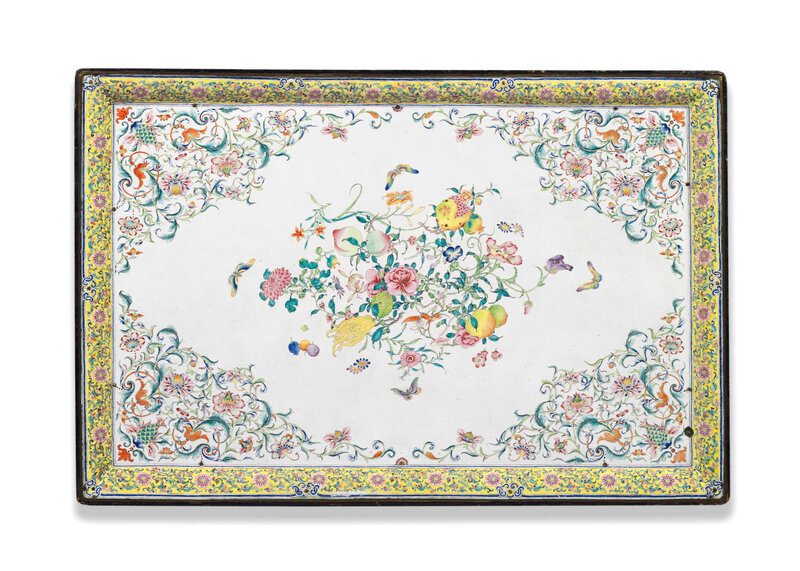 An impressive very large Chinese painted enamel tray, Qianlong period (1736-1795); . Estimate GBP 6,000 - GBP 8,000. Price realised GBP 52,500 at Christie's London, 2 November 2016, lot 75. Courtesy Christie's.