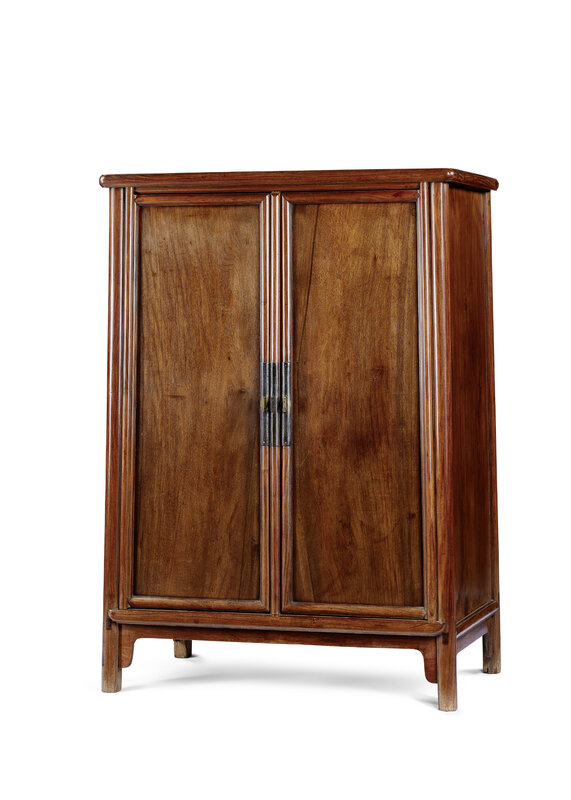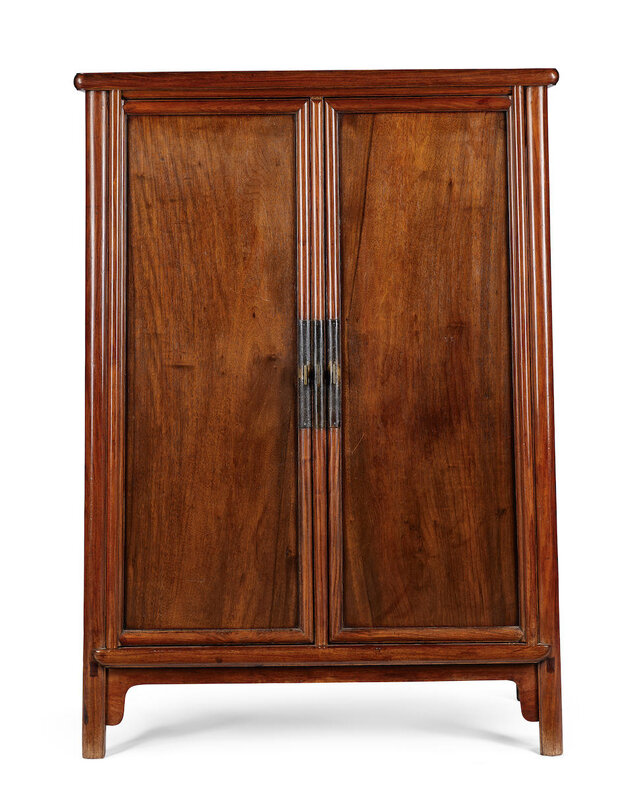 Lot 134. A small huanghuali, nanmu and softwood round-corner tapered cabinet, yuanjiaogui, Mid Qing Dynasty; 74cm (29 1/8in) wide x 44cm (17 5/16in) deep x 108cm (42 1/2in) high. Estimate HK$ 250,000-400,000. Sold for HK$ 315,000 (€ 33,548). Photo: Bonhams.
The floating panel top set into a standard mitre, mortise and tenon, tongue and groove frame with rounded corners showing exposed tenons on the short sides, the four main stiles gently splayed and double-tenoned into the top, rounded on the exterior edges and square in the interior, beaded along the edge between the stiles and the side panels and doors, each door inset with a well-figured nanmu panel with a dovetailed transverse stretcher tenoned into the door frame, the sides inset with hardwood panels, the interior fitted with a removable shelf and a pair of drawers below, the door frame members and the central stile fitted with three curved rectangular metal plates with three square lock receptacles.
Provenance: A Hong Kong private collection.
Note: The engraved patterns were probably filled in with red lacquer, a few traces of which remain in some grooves. Bronzes tended to be lavishly decorated during the Spring and Autumn and Warring States period, and were sometimes inlaid with gold, silver, precious stones, glass, as well as lacquer. Compare with a very similar bronze hu, late Warring States period, in the Hubei Provincial Museum, illustrated in the Zhongguo Qingtongqi Quanji (Complete Collection of Chinese Bronzes), Beijing, 1996, pl.40.The present cabinet, with its clean and simple lines, represents one of the most popular and successful designs in classical Chinese furniture construction, and was widely admired during the Ming and Qing dynasties.

Compare with a pair of cabinets also constructed with various woods, including burlwood door panels and structural panels of huanghuali, illustrated by R.H.Ellsworth, Chinese Furniture, New York, 1970, pl.122; and see another single huanghuali cabinet with burlwood door panels, illustrated by G.Wu Bruce, Two Decades of Ming Furniture, Beijing, 2010, p.217.

Compare also with a pair of huanghuali, nanmu and hardwood tapered cabinets, 17th century, which was sold at Sotheby's New York, 16 September 2009, lot 6. See also another huanghuali and nanmu round-corner tapered cabinet of similar size, from the collection of Ronald W. Longsdorf, which was sold at Christie's New York, 15 September 2011, lot 1339.
Bonhams. Fine Chinese Ceramics and Works of Art, 1 Dec 2020, Hong Kong, Admiralty