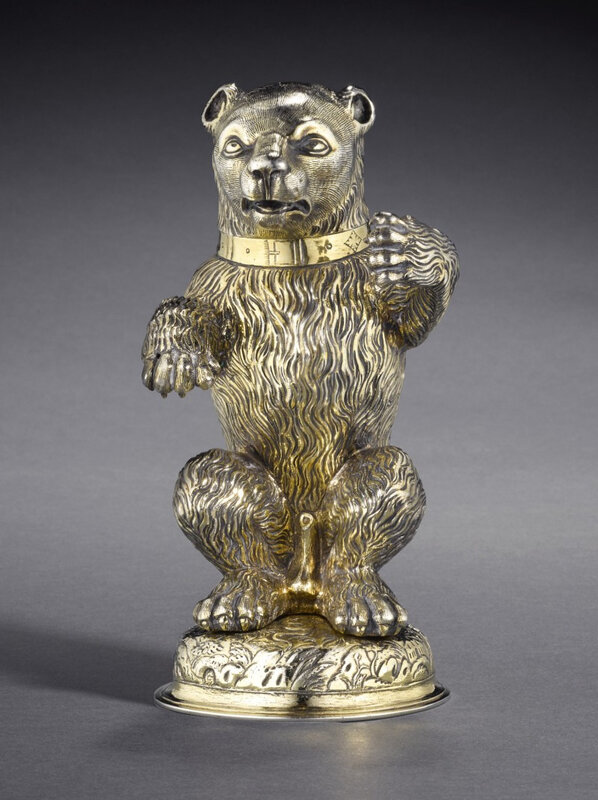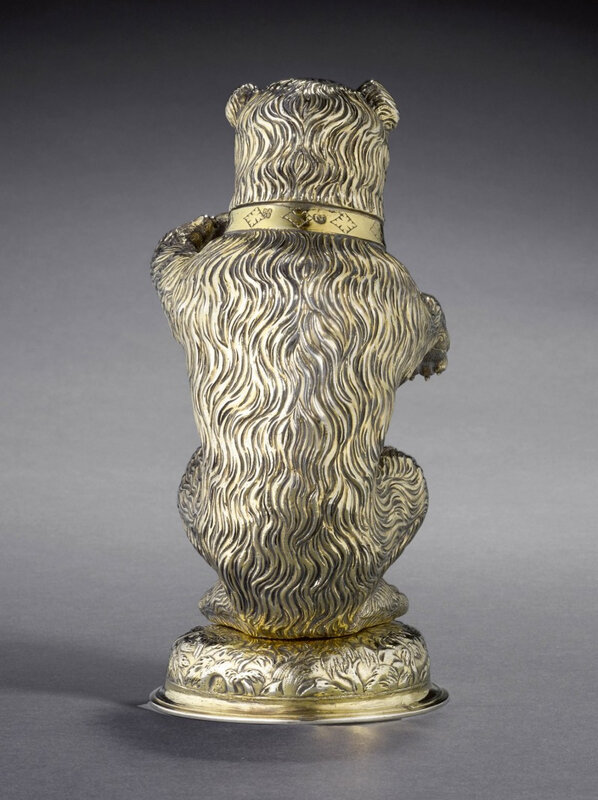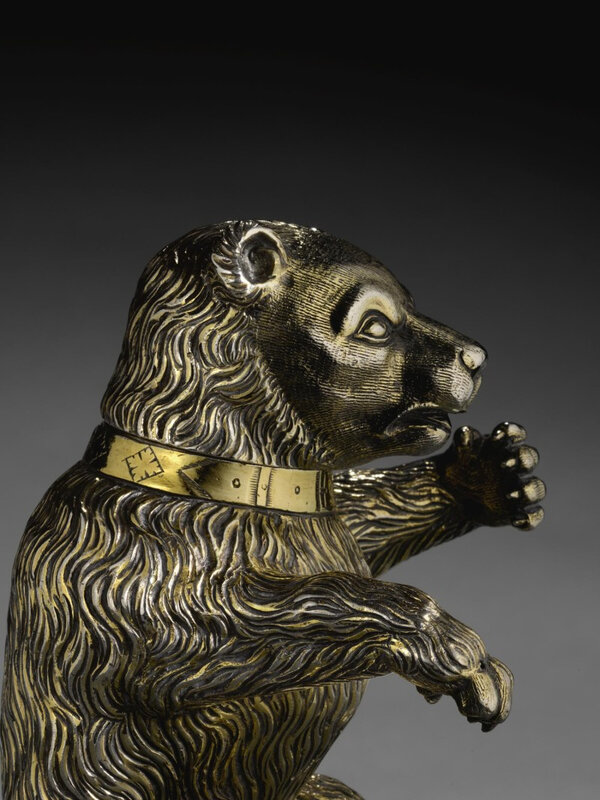 Lot 2. A fine German silver-gilt drinking cup modelled as a bear, Hans auf der Burg, Nuremberg, circa 1598-1602; 18.5cm, 7 1/4in high, 693gr, 22oz 4dwt. Estimate: 200,000 - 300,000 GBP. Lot sold: 252,000 GBP. Photo courtesy Sotheby's
The male animal seated with raised paws, cast, embossed and chased with thick buckled collar, realistic fur, on a detachable foot, tooled with birds, a house, a snake and foliage, marked on body, cover and foot.
Provenance: Baron F. Rolin, Brussels
Sold Christies Geneva, 9 November 1976 lot 245
Vincent Laloux, Brussels
Princess Salimah Aga Khan until 1998
Sold Christies Geneva, 19th May 1998, lot 179
Property of a European Private collection.
Literature: Vincent Laloux, Les Bestiare des Orfèvres, Lausanne, 1994, p.167
Karin Tebbe et al. Nürnberger Goldschmiedekunst 1541-1868, Nuremberg 2007, p. 78
Associated literature:
Robert L. Wyss, Handwerkskunst in Gold und Silber, Berne, 1996, pp 99
Helmut Seling, Die kunst der Augsburger Goldschmiede 1529-1868, Munich, 1990. Vol. II illus. no. 156
Magnificent silver-gilt, Objects of Vertu and Miniatures From the Rothschild and Rosebery Collection, Mentmore, Sothebys London, 11 February 1999, lot 41.
Note: Bears were the inspiration for 16th and 17th century drinking cups made in precious metal, for a number of reasons; As noble beasts they could be used heraldically, they were seen as worthy adversaries prized in the hunt for their stamina and cunning, and they were familiar as amusements at the Fairs, fighting, playing instruments or doing tricks, and therefore relevant for the drinking games that were so loved at the time.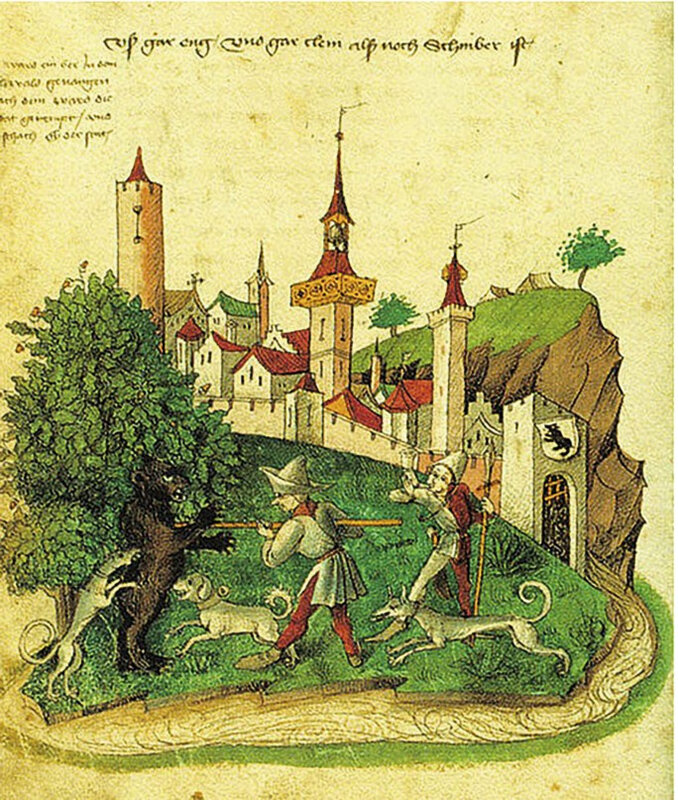 Bears as worthy adversaries and heraldic animals. The founding history of Berne, as illustrated in the Tschachtlan Chronicles of 1470. Duke Berchtold Kills the bear, which gives the town its coat of arms. Scanned from Rainer C Schwinges(ed) Berns mutige Zeit: Das 13. und 14. Jahrhundert neu entdeckt, Bern Schulverlag blmv AG und Stämpfli Verlag AG, Bern 2003, p. 245.
As late as 1753 The Derby Mercury (Friday-Friday, 5-12 January 1753) records:
'London, January 6. . . . Yesterday as the Dancing Bears were preparing for a Dance at the Pump without Cripplegate, a Baker, with a Loaf under his Arm, standing very near then, the great Bear suddenly threw the Baker down into the Channel [i.e. gutter], and, notwithstanding the Blows he received from his Keeper, would not quit him till he had gained his Prize; However, the Baker came off with no other Damage, than the Loss of his Loaf, a terrible Fright, and the daubing his Cloathes.'
An Augsburg bear cup dressed up as a caricature of a soldier with musket and jewelled breastplate is in the Kunsthistorisches museum Vienna (inv. no. 1094); of particular luxury it is made of gold, also enamelled and set with precious stones.
A heraldic example combined as a drinking game is in the Historisches museum Berne (inv 15540). This was modelled as a bear to honour the powerful Bernese Gesellschaft zu Pfistern, (baker's guild) to whom it was given in 1679. The beautiful model made in Hamburg was also a drinking game, as it had a shell attached to the animal's chest. When the drinker drunk from the shell it never emptied being constantly replenished from the wine inside the model which came out from a hole in the bear's left paw.
There is no doubt such highly prized models of numerous animals were used to drink from, further evidenced by a record of two being used in 1801 at a dinner of the society of archers in Berne. The society ledgers record in Left translation…'joyously the cups of fine wine made the rounds. Of the many toasts, one in particular is remembered. It was proposed to England, that nation of faith and belief and drunk from the wonderful cup that King William (William III) gave….singing and clanging of cups resounded until midnight when we left for home…as best we could. Governor Graf emptied the King William (as the 'leopard' cup was known,) nine times and Carl von Graffenried von Burgenstein drained his Minister, as we called the owl drinking cup, in one go…'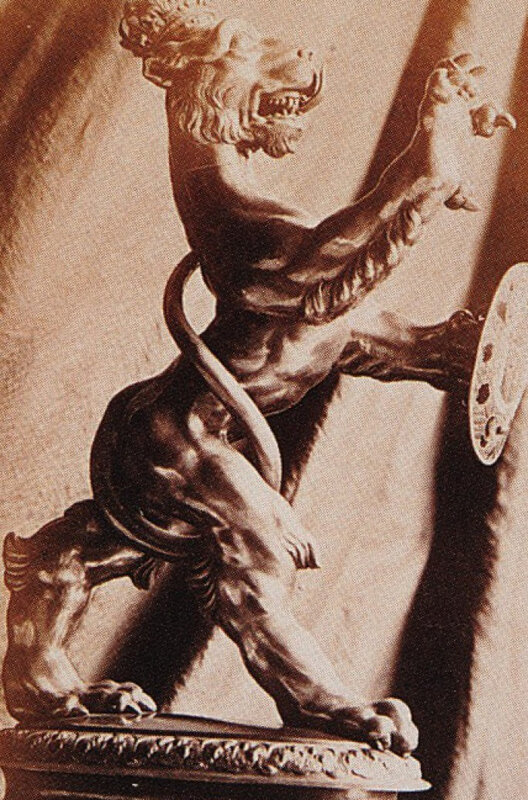 The Leopard Cup, Berne, 1690, was used to drink from. Photograph from Mentmore catalogue of 1884, see: Associated Literature.
Hans Auf der Burg came from a family of Nuremberg goldsmiths originating in that city with his grandfather, who arrived from Lindau on Lake Constance in the early 16th century. Only traces of his life remain in the records which include a cup of 1610 and a tankard of 1615 both now in the Armoury of the Moscow Kremlin. More is known about his Grandfather Rudiger who was apparently of noble birth and very well connected. He attended as a Junker at the reception in Nuremberg of the emperor Charles V, acted as ambassador abroad for the city, and had dealings with clients such as the Prussian Duke Albrecht of Brandenburg-Ansbach (1490-1568) and the Elector of Saxony Johann Friedrich the Magnanimous (1503-1554) to whom he supplied large quantities of jewelry.
Sotheby's. Treasures, London, 10 december 2020