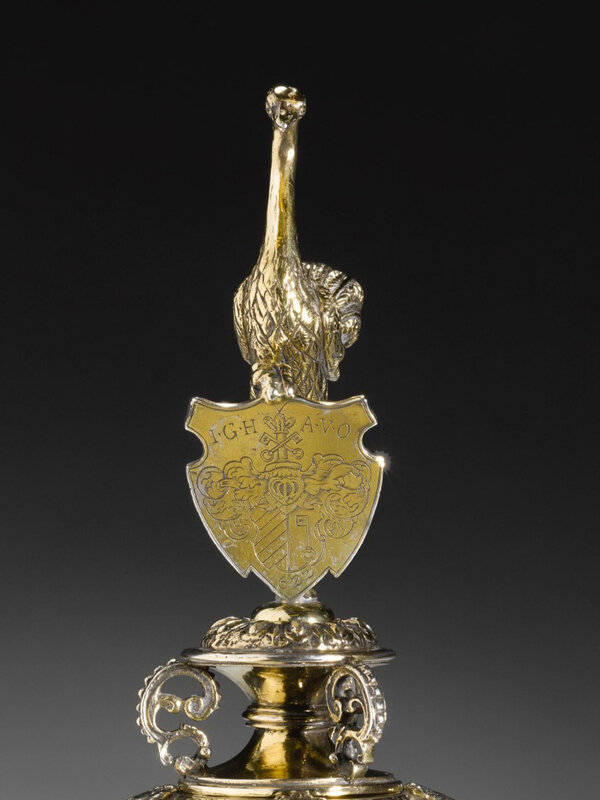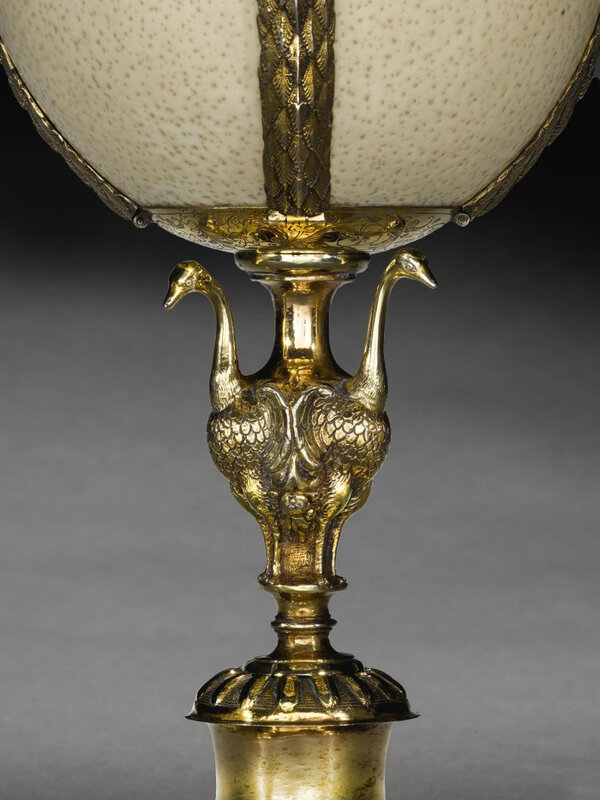 Lot 3. A German silver-gilt mounted ostrich egg cup and cover, Andreas Klette, Torgau, circa 1622; 45cm. high. Estimate 200,000 - 300,000 GBP. Unsold. Photo courtesy Sotheby's.
surmounted by an Ostrich finial holding armorial engraved shield, initialled and dated 1622, three ostriches forming the stem below feathered strapwork, masks and female caryatids, male caryatids at the detachable cover holding the upper part of the ostrich egg, borders embossed, chased and engraved with leaves and flowers, foot rim stamped 22.
Provenance

:

Hans Adam Von der Osten 1622
Sotheby's, Geneva, 19th May 1997, lot 184.
Associated literature

:

Johann Heinrich Zedler, Grosses Vollständiges Universal Lexicon…., Leipzig and Halle, 1740, pp. 2237 and 2238
Gerhard Kasten, Ein Rittergut im Wandel der Zeit: Erinnerungen an den pommersche Dorfleben und an der Zeit 1957, Nordstedt, 2009.
Note: The initials and armorials are, I(hro) G(naden) H(ans) A(dam) V(on) der O(sten) (Formal address: To my Hans Adam von der Osten). The coat of arms of Hans Adam are completed by the cup, whereby the ostrich represents the lineage of his wife Eva, born von Strauss (or von Straussen). The date 1622 engraved under the von der Osten coat-of-arms was the 10th anniversary of their marriage and the 40th of his birth.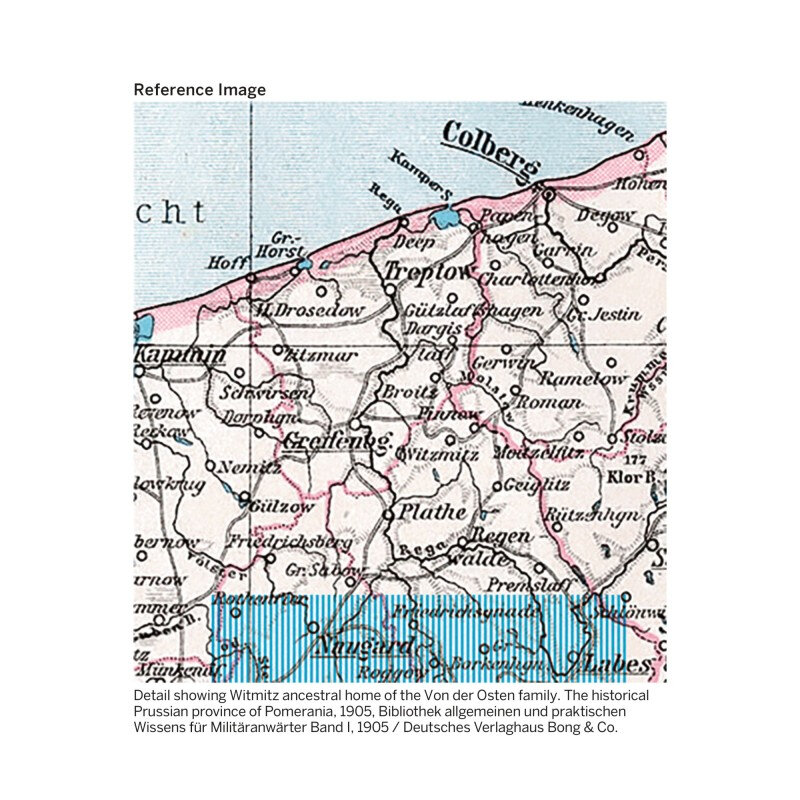 Hans Adam (1582-1627) was master of Stolitz and Witzmitz an area including Plathe near the Baltic sea, north east of Stettin in Pomerania (see map). The head of the family, Dinnies von von der Osten had received these lands, confirmed by the reigning duke of Pomerania Bogislaw X in return for a loan to the Manntuffel family, the previous owners, in 1479.
The von Ostens were soldiers and court servants from the outset; Dinnies von der Osten served Erich I of Pomerania (1382-1459), king of Norway and Denmark and husband of Phillipa, daughter of Henry IV of England. Dinnies's son Ewald (1445-1534) was a long-standing member of Bogislaw X's court and knighted in 1496 or 1497 by the Duke during their pilgrimage to Jerusalem.
Hans Adam, Ewald's great grandson was brought up as a noble page at the electoral and ducal courts of Joachim Friedrich of Brandenburg (1546-1608) and Friedrich Wilhelm of Saxe-Weimar (1562-1602). The record shows he then served the Brandenburg and Saxon courts as an adult, although it is not clear if the latter was the electoral or ducal house. At any rate there was a certain fluidity between the two, including the rule of each house by the other during minorities.
During the minority of Friedrich Wilhelm of Saxe-Weimer the dukedom was administered by Augustus, elector of Saxony (1526-1586); and during the minority of Augustus's grandson Christian II (1583-1611) Friedrich Wilhelm acted as joint-regent of the electorate in conjunction with Christian's mother, Sophie of Brandenburg (1568-1622).
While Administrator des Sächsischen Kurstaates, Friedrich Wilhelm set up his court in Torgau, which had been the capital of the Ernestine electors of Saxony and which had risen during the 16th and 17th century to be an important religious and cultural centre. In addition to the courts of Brandenburg and Saxony, Hans Adam continued his family's relationship with the Pomeranian court and was active, in the service of Philipp II in 1618. This duke, famous as an art collector, who employed the Augsburg dealer Philipp Hainhofer (1578-1647) as his agent, is perhaps remembered for the Pommercher Kunstschrank. This cabinet by Ulrich Baumgartner of Augsburg, (destroyed in 1945), was a treasure itself, but also full of treasures from the natural world like shells, and exotic objects by Augsburg craftsmen. It was presented to the Pomeranian duke in 1617, and recorded in a painting by Anton Mozart (1573-1625), including all the dignitaries and goldsmiths, and artists involved (see detail).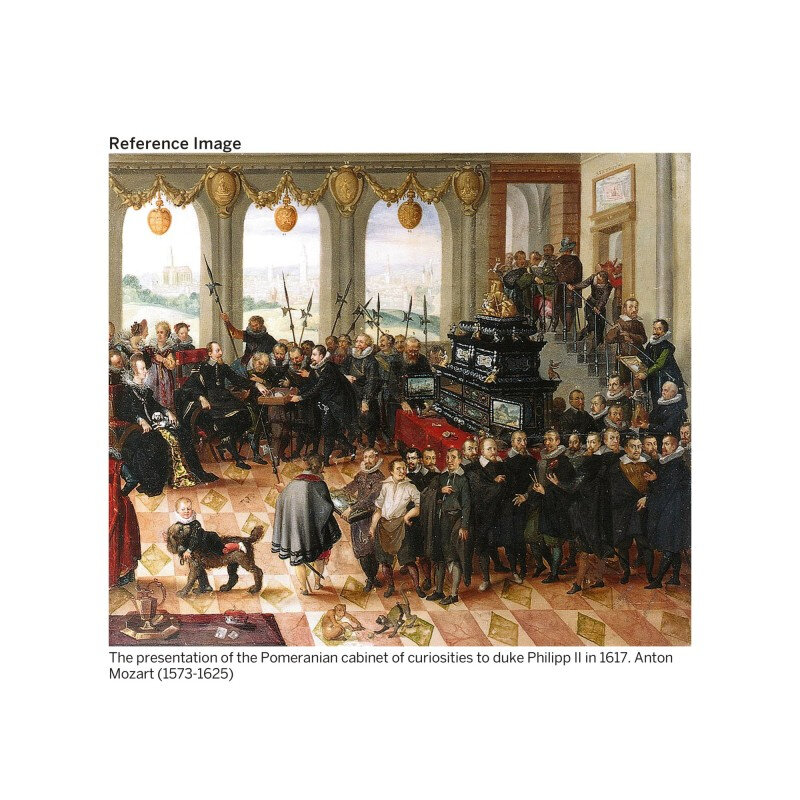 Hans Adam with his close association to these ruling families would have been familiar with their collections and passion for exotica which he clearly shared. Objects similar to the Ostrich egg cup made in Torgau, existed in the electoral Saxon inventory. The Green Vaults in Dresden still hold two sailing nefs made from Nautilus shell with precious mounts by Samuel Lormann of Torgau (Sponsel vol. I, pl. 52) and even a marked piece by Andreas Klette, another mounted nautilus in the form of Pelican in Her Piety (see detail).
Two Ostrich egg cups and an unmarked coconut tankard, also in The Green Vaults, have the same straps as the von der Osten Ostrich egg cup. (Sponsel vol I pl.. 65 and 68).
After Hans Adam's death in 1627, Eva his wife completed the Lutheran church which he had began leaving this epitaph to her husband Ich, geboren Straussen vom Hause Zernikow, des wohledlen und Vesten Hans Adam v.d. Osten Weiland, auf Plathe, Woldenburg und Witzmitz erbgesessen, nachgelassene Witwe habe diese Kirche und Gotteshaus zu Ehren und zu einem Schlafkämerlein für meinen herzliebsten Junker erbauen lassen…(literature, Gerhard Kasten p. 27).