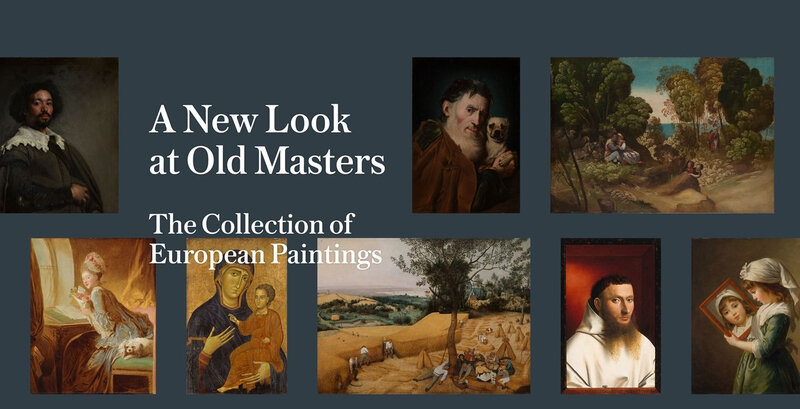 NEW YORK (NYT NEWS SERVICE).- "In a dark time, the eye begins to see," the poet wrote. And after the dark, dark time we've been through, this year's winter solstice, marking the start of slow climb back into light, may carry more metaphorical weight than usual.

Coincidentally, the Metropolitan Museum of Art has some restorative illumination of its own underway. In recent decades, the skylights that brought natural light into the European paintings galleries had grown timeworn and semifunctional, leaving some spaces half-dark. In 2018, the museum initiated a four-year project to replace all the skylights. The job required that half of the 45 galleries be closed down in two phases and chunks of the collection be temporarily stored or relocated. (The museum's Dutch paintings are on view in the Robert Lehman Wing.)

With half of the new skylights now in place, 21 galleries, holding some 500 paintings and a few sculptures, have been reinstalled and reopened. As seen on a recent overcast December afternoon, the new lighting — natural, with some artificial enhancement — looked good, less dramatic than remembered but even and clear, presumably close to the kind of light that artists working in Europe between 1250 and 1800, the dates that roughly frame the collection, might have painted in.

The project is generating other kinds of illumination, too. The curatorial team in charge of reinstallation, led by Keith Christiansen, chair of European paintings at the Met, is taking the opportunity to do some rethinking.

In galleries once arranged largely by geography and date, they are mixing things up to spotlight transnational exchanges and border crossings. And they are acknowledging, out loud, in print, the shaping force on art of sociopolitical realities — colonialism, slavery, the disenfranchisement of women — that this museum has all but ignored in its permanent collection displays.

And it's important they do this, not just to advance historical truth-telling but to secure and broaden an audience for art. Over the decades I've noticed a decreasing popular interest in the Met's old master galleries, once considered the museum's chief attractions and crown jewels. Maybe this change can be put down to shifts in school education. Almost certainly it is a byproduct of a digital culture that keeps us inexorably pinned to the present. In fact, though, the sociopolitical themes raised in the reinstallation of art from the past are very much of the present. Making that link is essential to attracting an audience into the future.

Anyway, whatever reason people have for visiting the galleries — to check out the new lighting, sample unexpected (at the Met) ideas or catch some of the greatest paintings on the planet — is the right reason.
Changes aren't obvious right away. The high-ceilinged galley at the top of the Grand Staircase isn't officially part of the reinstallation. Devoted to 18th-century Venetian artist Giovanni Battista Tiepolo, it is a set piece, a fixture in a museum that is, after all, Tiepolo Central. There's more work by him here than anywhere outside of Venice, Italy. The distant sight of his supersized paintings of angels and gods couched on cumulus clouds are meant to pull you up the stairs, up to heaven, and they do. Why change a winning thing?
Innovations begin just beyond, in a gallery that was once a straightforward sampler of Italian Baroque paintings but now has a more specific theme: Baroque Rome. In the 17th century, Rome was a magnet for artists from all over Europe hungry for counter-Reformation commissions. Many were Italian; Michelangelo Merisi da Caravaggio, Guercino and Guido Reni are all here. But so is the youthful Diego Rodríguez de Silva y Velázquez up from Madrid and, with a charming small picture of the young Virgin Mary, Francisco de Zurbarán, who never left Spain, though the Roman Baroque filtered down to him there.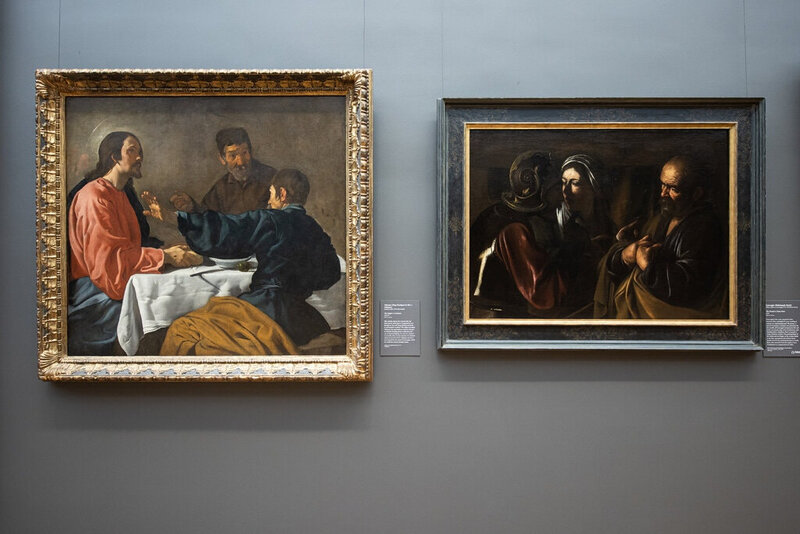 Left to right, Velázquez, "The Supper at Emmaus", 1622–23, and Caravaggio, "The Denial of Saint Peter", 1610 are in Gallery 601. Credit Jeenah Moon for The New York Times.
In the next gallery, called "Painting as the Mirror of Nature: 1420-1480," north and south meet in an exquisite lineup of headshot portraits. Some are Italian, some Netherlandish, a difference being this: The Italian portraits present people as they'd probably wanted to be seen — smooth-skinned and toned; the northern ones show them as they actually were — stubble, frown lines and all. In Hans Memling's famous dual portraits of Tommaso and Maria Portinari — Florentines living in the artist's home city of Bruges, Belgium — the two approaches merge. Every facial crease is accounted for and the sitters are beautiful.
The 15th century was a fluid time for culture. Art and influences traveled, fast and wide. During Memling's lifetime, his work made its way to Italy, France, England and Poland. Painting by a Bruges-based artist of an older generation, the sublime Jan van Eyck, was a hit in Naples, Italy, where it may have inspired Sicilian-born Antonello da Messina to take up and master the Netherlandish medium of oil painting.

Antonello's art is beyond category, stylistically and expressively. His bust-length panel painting "Christ Crowned With Thorns," from around 1470, is both imaginatively fantastic and portrait-specific. Christ's face has the beat-up features of a boxer who's lost a fight and the pleading gaze of a doomed man who just fully understood his fate. One of the strangest and most moving images in the Met's early European holdings, it's unlocatable in every way, outside any this-leads-to-this art historical narrative.
The Met favors such narratives — most big, generalist museums do — and adheres to them in sections of the new installation. After the gallery of 15th-century portraits comes another centered on religious motifs (the Antonello is here) shared by artists across pre-Reformation Europe. And this is followed by a showcase of fancy Florentine homewares: marriage chests, majolica jars and commemorative platters. (Lorenzo the Magnificent's birth plate, decorated by the younger artist-brother of the great Masaccio, is a centerpiece.)
Petrus Christus, "Portrait of a Carthusian", 1446, Oil on wood. The Metropolitan Museum of Art, New York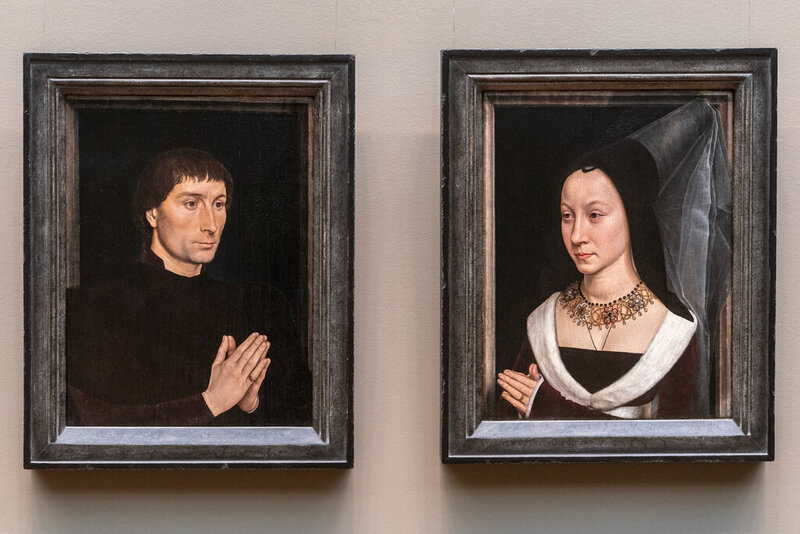 Hans Memling, "Tommaso di Folco Portinari and Maria Portinari", 1470. Credit Jeenah Moon for The New York Times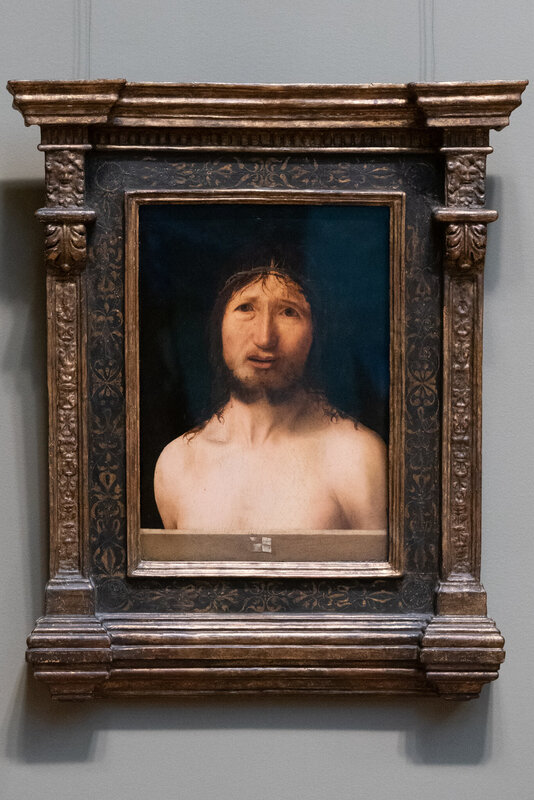 Antonello da Messina, "Christ Crowned with Thorns", circa 1470. Credit Jeenah Moon for The New York Times
Then, suddenly, there's a break in the timeline. You step from 15th-century Italy into 18th-century France and the Rococo world of Jean-Honore Fragonard and Jean-Antoine Watteau. It's a world of pinpoint delicacy and — in pictures like Fragonard's "Woman with a Dog" — self-amused wit. And, as distilled here, it feels, for all its urbanity, vacuum-packed: all French, all the time. (A gallery of 18th-century British art has a similar feel of being a culturally closed system, an island art.)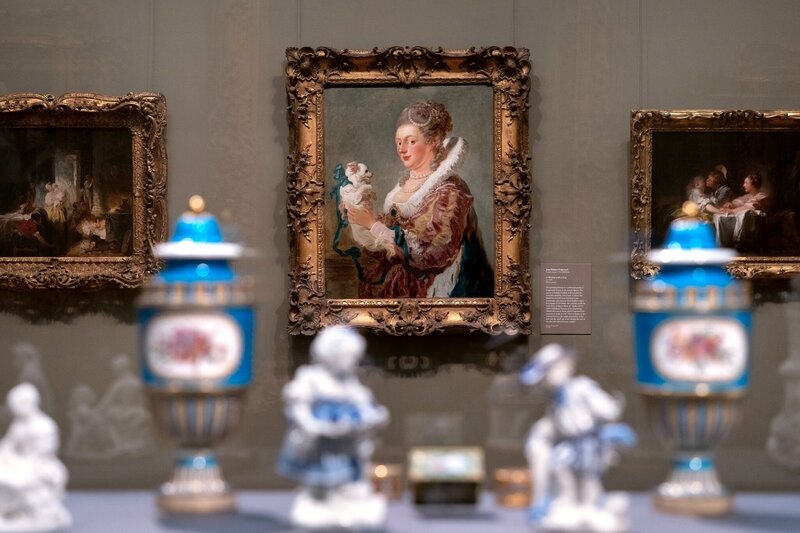 Left to right, all by Jean Honoré Fragonard: "Roman Interior," 1760; "A Woman with a Dog," 1769; "The Stolen Kiss," 1760. Credit Jeenah Moon for The New York Times
Emerging from it, you make another leap, this one a back flip to a Pan-European Baroque. And at this point the curators spotlight the issue of race in a two-paragraph wall text titled "Slavery, Race, and Ideology in Seventeenth Century Europe." This is by no means the only mention. Texts in the Renaissance galleries refer to enslaved Africans in 15th-century Antwerp, Belgium, and Florence. Individual labels here and there flag the appearance of Black figures in paintings, cast as Magi in Nativity scenes or as servants in upscale portraits.

In the context of the intense Black Lives Matter consciousness-raising of recent years, this all feels like a mild, late-coming gesture. But in a museum that has, in its permanent collection displays, been all but mute on the subject of racism, it at least starts a conversation. So does a gallery focused on women artists, or on a handful who established careers in Paris after the French Revolution. Their careers had built-in boundaries. Men made "important" art: history painting. Women were confined to lesser genres like still life and portraiture.

Yet "lesser" produced two of the Met's most moving 18th-century images: Adélaïde Labille-Guiard's monumental 1785 "Self-Portrait with Two Pupils, Marie Capet (1761-1818) and Marie Marguerite Carreaux de Rosemond (died 1788)," and Elisabeth Louise Vigée Le Brun's intimate portrait of her 7-year-old daughter Julie looking at her own reflection in a hand-held mirror.

Fabulous, both. The Vigée Le Brun painting, a study in dawning self-awareness, arrived at the Met, by bequest, just last year. The picture by Labille-Guiard, who advocated for the equality of women and passed her conviction on to the next generation, has been in the collection since the 1950s, and I periodically track it down just to get a fix of her radiant optimism.
Adélaïde Labille-Guiard, "Self-Portrait with Two Pupils, Marie Gabrielle Capet (1761–1818) and Marie Marguerite Carreaux de Rosemond (died 1788)," (1785). Gallery 616. Credit Jeenah Moon for The New York Times
In the end, the deepest pleasure in having the European painting galleries back — all 45 will reopen in 2022 — is the opportunity to revisit friends, many long-familiar, some new. We all have our favorites. Of those now on view in the refurbished spaces, I'll just mention a few of mine.

Jan van Eyck's diptych "The Crucifixion; The Last Judgment," from the early 1440s (Gallery 602) is certainly one. It compresses entire universes, natural and moral, into two narrow wood panels.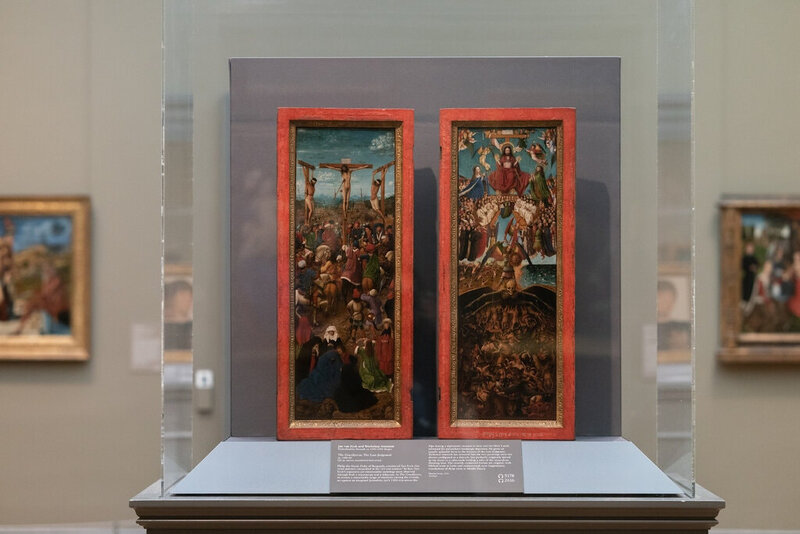 Center, Jan van Eyck's diptych, "The Crucifixion; The Last Judgment", 1440–41, in Gallery 602. Credit Jeenah Moon for The New York Times
I love Sandro Botticelli's small, flawless "Last Communion of Saint Jerome" (Gallery 606). Dating from the 1490s, it came late in the artist's career. By then he'd been through the wringer, emotionally and spiritually, but here seems to resolve all distress in an image of end-of-life grace.
The same could be said for another late picture, Peter Paul Rubens' near-life-size self-portrait with his wife, Helena Fourment, and their toddler son Frans (Gallery 617). A self-commission, it was probably done around 1635, when Rubens was in his late 50s and Helena, his second wife, nearly 40 years younger. He looks at her as if he can't quite believe she's there, standing beside him, soft white hand on his rough one, and glowing like a lamp. They're walking through the gates of their Antwerp garden, which he has turned into Paradise. But are they entering or leaving? Impossible to tell.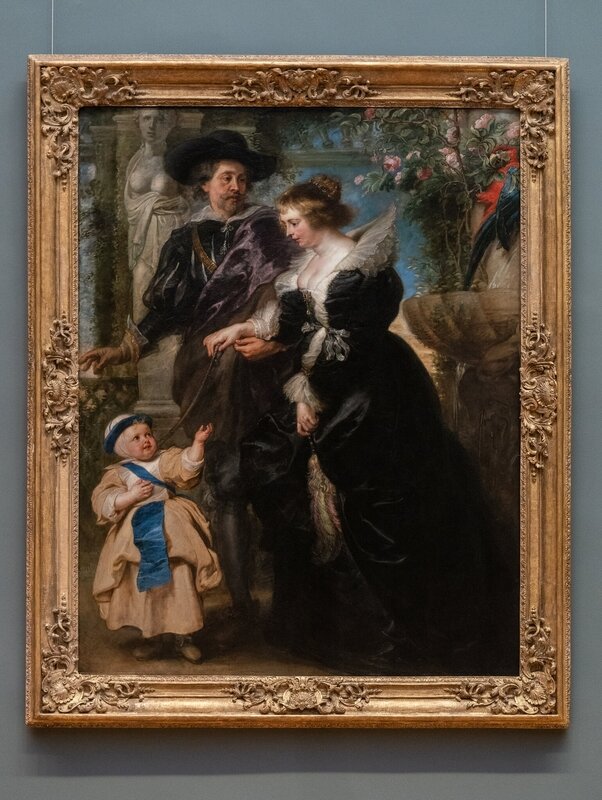 Peter Paul Rubens, "Rubens, Helena Fourment (1614–1673), and Their Son Frans (1633–1678)," circa 1635, Gallery 617. Credit Jeenah Moon for The New York Times
I'm a longtime fan of Johannes Vermeer's late-1660s "Study of a Young Woman," now part of "In Praise of Painting: Dutch Masterpieces at the Met" in the Lehman Wing. Some portrait sitters come across as stiffs or grouches. (Many of Antonello's look like serious troublemakers.) Vermeer's young woman, with her bare brow and wide-set eyes suggests a friendly, ready-to-party ET, someone I'd like to know.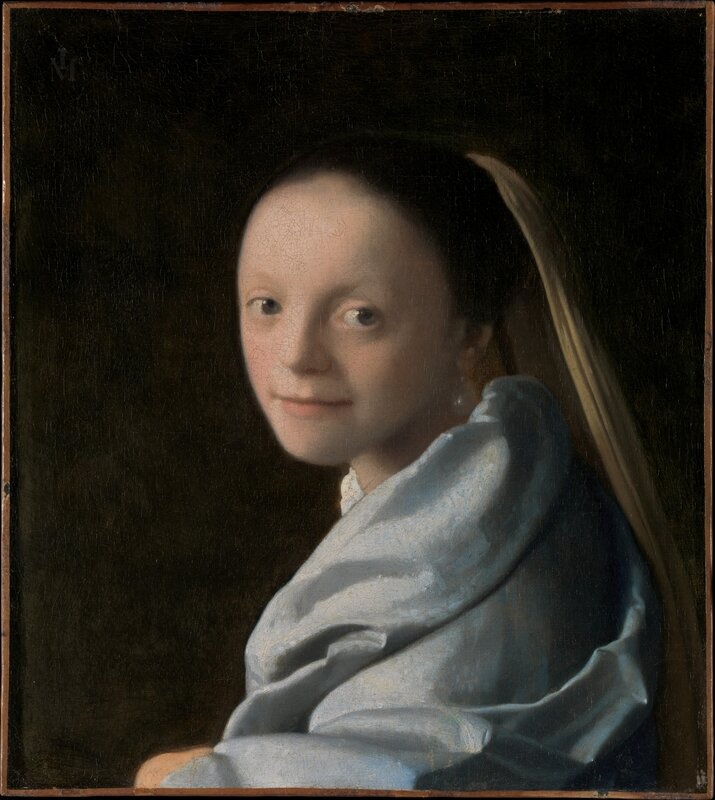 Johannes Vermeer (Dutch, Delft 1632–1675 Delft), Study of a Young Woman, ca. 1665–67. Oil on canvas, 44.5 x 40 cm. Gift of Mr. and Mrs. Charles Wrightsman, in memory of Theodore Rousseau Jr., 1979. © 2000–2020 The Metropolitan Museum of Art.
When the Met bought Duccio di Buoninsegna's "Madonna and Child" (Gallery 624) for $45 million in 2004, some eyebrows went up. Too much money! Wrong. It was worth every cent, and it's priceless now. Dated to around 1300, it's roughly the size of an iPad and painted in tempera and gold. In it, the infant Jesus pushes aside his mother's veil so he can see her sad face. Their eyes meet. They both know the history to come.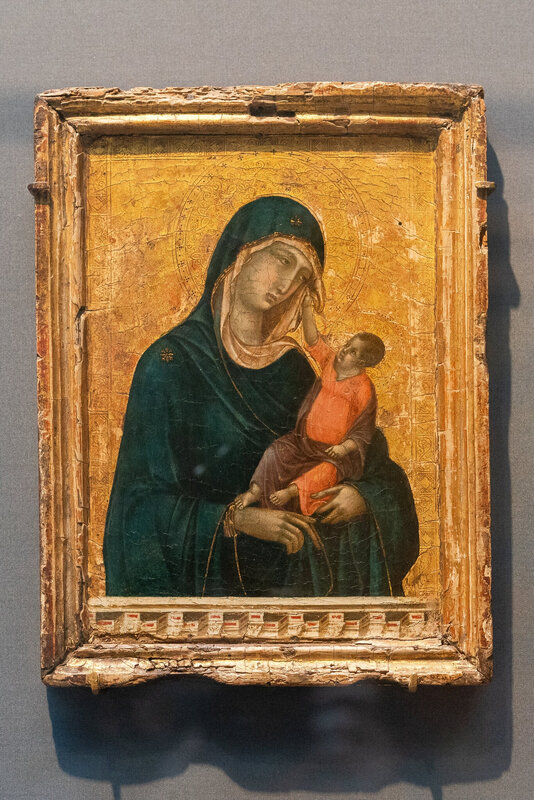 Duccio di Buoninsegna (Italian, active by 1278–died 1318 Siena), Madonna and Child, ca. 1290–1300. Tempera and gold on wood. Overall, with engaged frame, 27.9 x 21 cm; painted surface 23.8 x 16.5 cm. © 2000–2020 The Metropolitan Museum of Art.
The picture may or may not have been made for private worship. Its precise origins are obscure, but we can see that it was an object of devout attention. Dark scorch marks from altar candles are still visible on its frame. And today at the Met it still radiates all manner of light. © 2020 The New York Times Company
"A New Look at Old Masters," through Spring 2022. Metropolitan Museum of Art, metmuseum.org, (212) 535-7710.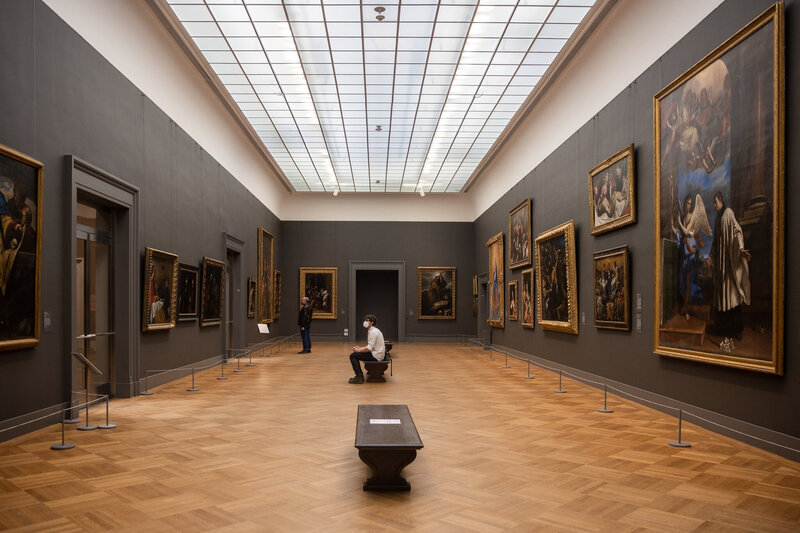 A visitor in Gallery 601, one of 21 reinstalled skylit galleries with a range of old masters, including Velázquez, Caravaggio, Guercino. Credit Jeenah Moon for The New York Times
Installation view of "A New Look at Old Masters," at the Metropolitan Museum of Art. Photo: the Metropolitan Museum of Art.