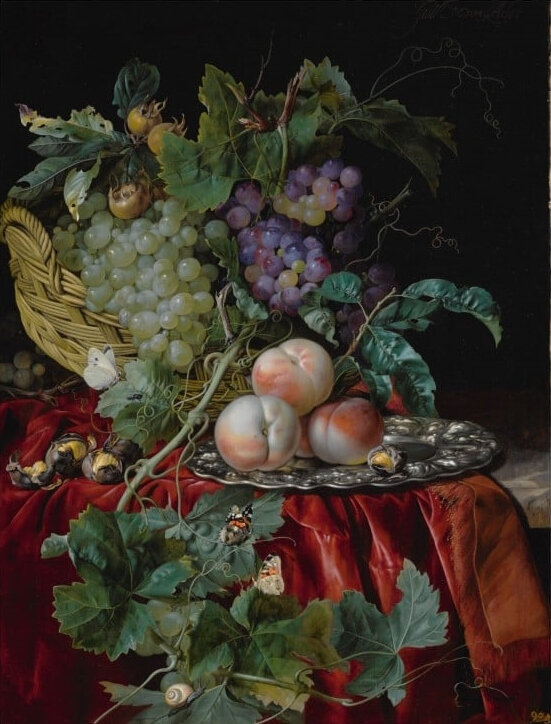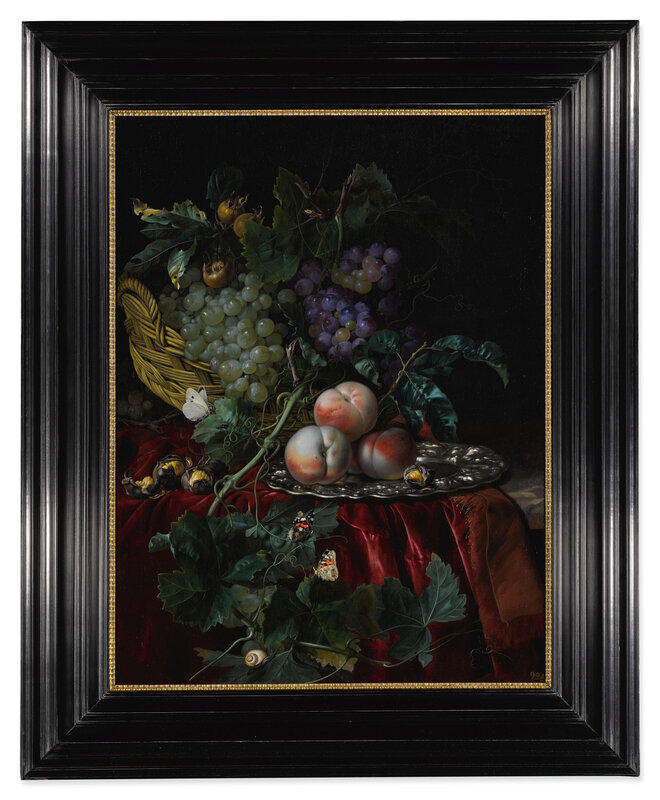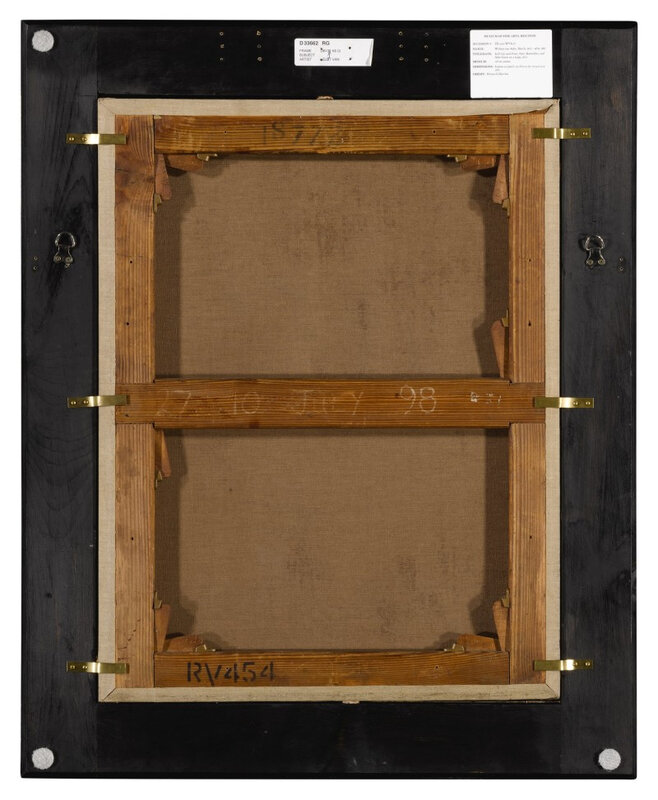 Lot 36. Willem van Aelst (Delft 1627 - 1683 Amsterdam), Still life with grapes in a basket, peaches on a silver dish, medlars, two butterflies, a fly and a snail, all on a red velvet cloth over a partially draped ledge, signed upper right: Guill.mo van Aelst. , oil on canvas, 29 ½ by 22 ¼ in.; 74.9 by 56.5 cm. Estimate: 1,000,000 - 1,500,000 USD. Photo Sotheby's.
Provenance: With Galerie Sanct Lucas, Vienna, by 1936;
Bas de Geus van den Heuvel, Amsterdam and Nieuwersluis, 1963-1976;
By whom sold, Amsterdam, Sotheby's, 30 April 1976, lot 36;
Anonymous sale, London, Christie's, 30 March 1979, lot 36;
Bücker collection, Düren, 1981;
Anonymous sale, London, Christie's, 10 July 1998, lot 27;
With Johnny van Haeften, London and Otto Naumann, New York, by 1999;
From whom acquired by the present collectors.
Literature: P.C. Sutton, in Otto Naumann, Ltd: Old Master Paintings, New York 1999, p. 6;
T. Paul, 'Beschildert met een Glans': Willem van Aelst and artistic self-consciousness in seventeenth-century Dutch still life painting, PhD diss., Charlottesville 2008, pp. 128, 212-214, 291, 359, reproduced plate 47;
T. Paul, Elegance and Refinement: The Still-Life Paintings of Willem van Aelst, exhibition catalogue, New York 2012, pp. 163-165, cat. no. 27, reproduced.
Exhibited: Maastricht, Stedelijk Museum Maastricht, Oude Kunst tentoonstelling. Limburgsche Kunstkring, August 1939, no. 34;
Schiedam, Stedelijk Museum, 1951-1952 and 1957-1958;
Arnhem, Gemeentemuseum, Collectie B. de Geus van den Heuvel te Nieuwersluis, 11 December 1960 - 26 February 1961, no. 1;
Haarlem, Frans Halsmuseum, De landman en de muze: een tentoonstelling van schilderijen, aquarellen, tekeningen, grafiek, beeldhouwwerken en handschriften, 14 June 1965 - 29 August 1965, no. 1;
Houston, The Museum of Fine Arts; Washington D.C., National Gallery of Art, Elegance and Refinement: The Still-Life Paintings of Willem van Aelst, 11 March 2012 - 14 October 2012, no. 27.
Note: Willem van Aelst painted this beautiful still life of a table laid with fruits late in his career in Amsterdam, where he was an important exponent of the pronkstilleven (ornate or sumptuous still life) genre. He confidently signed his name in the Italian fashion to remind viewers of his travels in Italy, where he worked for the Medici family, and where he first developed the compositional format of such fruit still lifes. The impeccable condition of the present canvas allows for appreciation of the various textures, reflections of light, and gradations of color that made Van Aelst a highly sought-after artist among elite patrons in the late seventeenth-century Netherlands.
Born in Delft 1627, Van Aelst was the nephew and pupil of Evert van Aelst, and a precocious artist who became a member of the painter's guild in his home city in 1643 at only sixteen. He traveled to France shortly after and worked in Italy 1649-56 where he became court painter to Grand Duke of Tuscany Ferdinand II de' Medici. Relocating to Rome, he joined the Bentveughels, or Birds of a Feather, the society for Northern painters. After his return to the Netherlands he signed his name in Italian (Guillermo), as in the present lot. He moved to Amsterdam where he found wealthy patrons for his still lifes of fruits, flower arrangements, laid tables, and spoils of the hunt. According to Arnold Houbraken, who was not averse to exaggeration, Van Aelst was an obnoxious character given to bragging about the gold chain he had earned from the Grand Duke. In any case he was certainly financially successful and trained other important still life painters, including Rachel Ruysch (see lot 32).
Van Aelst developed his fruit still life compositions in the employ of the Medici family, and from the late 1650s on, many of these fruit pieces featured peaches and grapes arranged on and around a silver dish. The present still life expands upon his earlier arrangements and its silvery tonality is indicative of his late career. The excellent condition of the canvas allows for appreciation of the almost obsessively rendered textures, like the dusty film on the grapes, the cracked outer peels of the medlars, and the crinkled leaves, ranging from deep blue on the right to dying yellow on the left, and the complicated twists of vine tendrils. In style and composition, the present painting is most similar to the fruit piece dated 1677 now in the Gemäldegalerie Alte Meister, Kassel (fig. 1). Van Aelst clearly reworked favorite arrangements and featured favorite props repeatedly in still lifes, a common practice for artists in this genre. Both the present painting and the Kassel painting also feature Red Admiral and Cabbage butterflies, and the Kassel work also includes a mouse hiding in the left corner.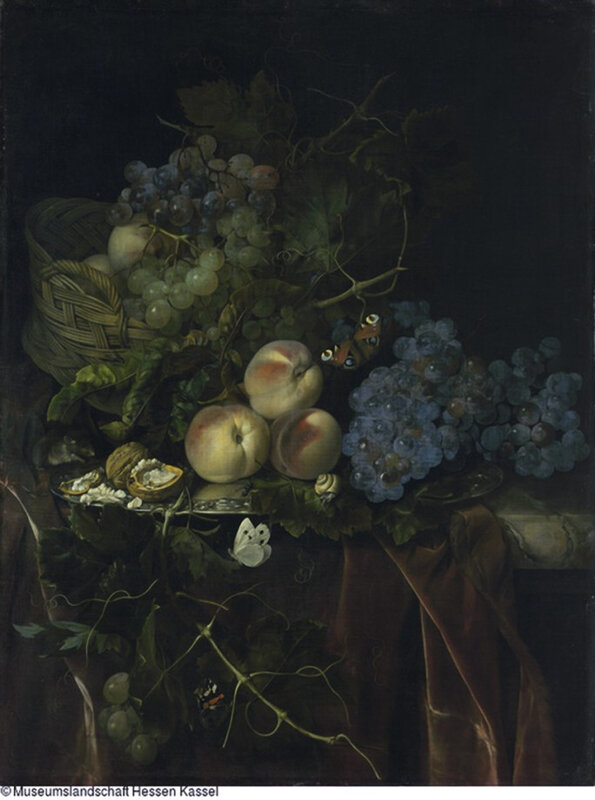 fig. 1. Willem van Aelst, Still life with fruit, mouse, and butterflies, 1677. Oil on canvas, 68.5 by 58.3 cm. Kassel, Gemaldegalerie Alte Meister, inv. GK447.
The high quality and rarity of props favored by Van Aelst serve to demonstrate the artist's skill at rendering elegant objects but also point to the high cost of the paintings themselves. Van Aelst's patrons would likely own similar luxury items as portrayed in the still life, and the artist strove to present himself as equally wealthy. The silver auricular rimmed dish here is not identifiable but resembles pieces made by successful silversmiths whose pieces feature in others of Van Aelst's works, for example Johannes Lutma and Johannes Pagendarm.1
Juxtaposed with the sumptuous material goods are signs of the brevity of life from the natural world, reminding the viewer that riches are temporary. The decaying yellow leaves at upper left are rare in Van Aelst's works, and they visually rhyme with the rotting medlars scattered across the table. Interestingly, this unusual fruit was not considered edible until it had undergone controlled rotting, a process called "bletting" that resulted in the color and texture shown here. The butterflies, a symbol of transformation, can suggest both the human soul striving for perfection and the brevity of any single stage of life.
1. See Paul 2012, p. 165.
Sotheby's.Master Paintings & Sculpture Part I. New York, Live Auction: 28 January 2021.