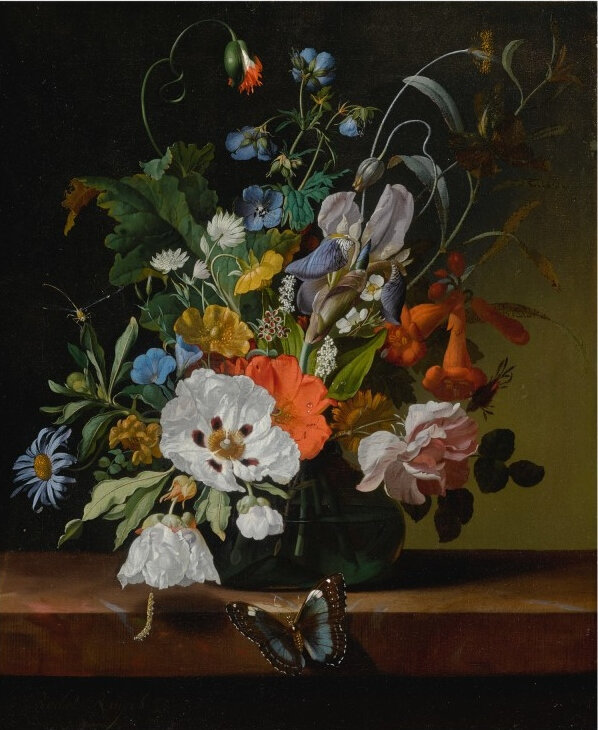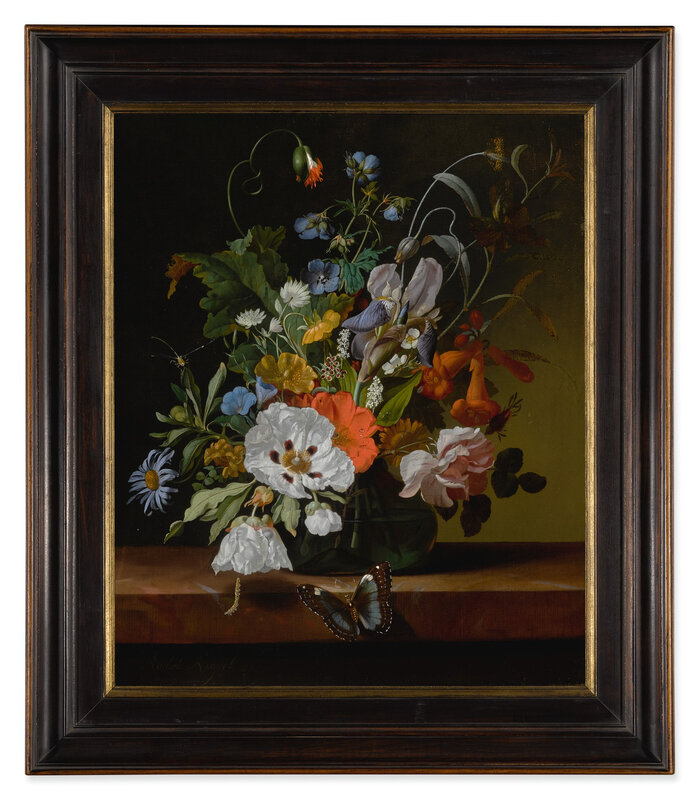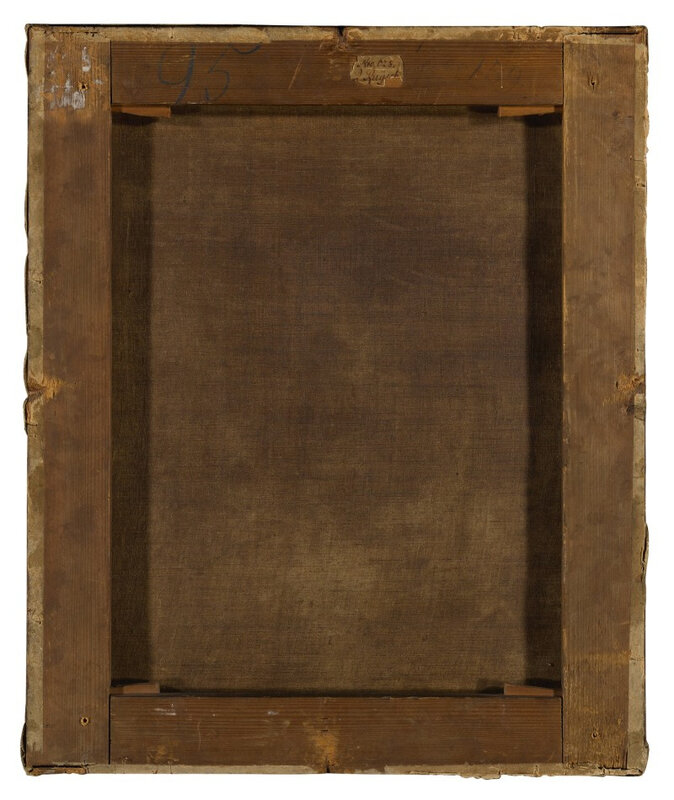 Lot 32. Rachel Ruysch (The Hague 1664 - 1750 Amsterdam), Still life with flowers in a vase on a ledge with a dragonfly, caterpillar, and butterfly, signed and dated lower left: Rachel Ruysch 1698, oil on canvas, 19 by 15 ¾ in.; 48.3 by 40 cm. Estimate: 1,000,000 - 1,500,000 USD. Photo Sotheby's.
Provenance: Pieter Locquet, Amsterdam;
His deceased sale, Amsterdam, Van der Schley a.o., 22 September 1783, lot 312 (for fl. 200);
There acquired by Van der Schley, Amsterdam;
Count Czernin von Chudenitz, Vienna, 1810 (cat. no. 95);
Thence by descent until sold to Galerie Sanct Lucas, Vienna, 1948;
From where acquired for a private collection, Austria;
From whom acquired by present owner, early 1990s.
Literature: C. Hofstede de Groot, A Catalogue Raisonné of the Works of the Most Eminent Dutch Painters...vol. 10, Stuttgart/London 1928, p. 317, no. 40 (wrong date and size given);
K. Wilczek, Katalog der Graf Czernin'schen Gemaldegalerie, Vienna 1936, cat. no. 95;
M.H. Grant, Rachel Ruysch 1664 - 1750, Leigh-on-Sea 1956, p. 39, cat. no. 152, illustrated;
M. Berardi, "Science into Art: Rachel Ruysch's early development as a still-life painter," Ph.D. diss., Pittsburgh 1998, pp. 220, note 404, and 251-53;
R. Juffinger and I. Walderdorff, Czernin, Verzeichnis der Gemälde, Vienna 2015, p. 147, reproduced.
Note: This exquisite still life by Rachel Ruysch, one of the most celebrated female artists of the early modern era, features poppies, marigolds, daisies, irises, and forget-me-nots, among other flowers, casually arranged in a glass vase. A butterfly and caterpillar have flocked to the colorful array, signaling the remarkable power of nature to transform living things. Painted relatively early in her career, the canvas is in impeccably good condition and is one of a pair of still lifes signed and dated 1698 that once belonged to the illustrious Czernin collection in Austria.
Rachel Ruysch is widely regarded as one of the most successful still-life artists of the Dutch Golden Age and was the first female Netherlandish artist to win international recognition. Born in Amsterdam in 1664, Ruysch began training with the still-life painter Willem van Aelst (see lot 36) at age fifteen and continued to paint for some 64 years. On her last known dated paintings, a pair of flower pictures in Lille, she proudly added her age, 83, to the signature and date. In the course of her career she married the portraitist Juriaen Pool (1666 - 1745), had ten children and was named, with her husband, as court painter to the Elector Palatine Johann Wilhelm in Düsseldorf. The fact that Ruysch held such a highly coveted post speaks to her uncommon success, as a woman artist had significant social and professional barriers to overcome to even begin a career as an artist. It also speaks to the high status and value of finely painted still lifes in the late seventeenth-century, despite their traditionally low ranking among the genres of painting.
The present work is relatively early and showcases Ruysch's deep color palette and a dark, undefined background inspired by the works of Jan Davidsz. de Heem. The centrally placed flowers-- the white and red poppies, the pink carnation, and the blue iris-- create a pyramidal composition in primary colors, and the surrounding violets, daisies, and marigolds with their bright blues, yellows, reds, and whites, serve to balance the color palette throughout the arrangement. Such a bouquet is based on studies of real flowers, but, as is common in Dutch still lifes of this period, it almost certainly did not exist in reality, as the flowers would bloom and open at different times. The insects add movement and vitality to the nature morte and taken individually or together traditionally symbolize Christian resurrection and the frailty of life.
Ruysch's intimate knowledge of the minute creatures seen in this composition is indicative of both the culture in which she lived and her particular upbringing. The recent invention of the microscope engendered increased curiosity in naturalia amongst artists and scientists alike. Moreover, her father, Frederik Ruysch, was a celebrated professor of botany and anatomy, his wunderkammern a popular destination for visiting dignitaries. Access to such curiosity cabinets of preserved specimens as well as her father's scientific publications would have enabled careful examination of insects and butterflies, which Ruysch executes with scientific precision in paintings such as this one. The accuracy of the flora and fauna in Ruysch's works made them highly prized by erudite patrons who envisioned themselves as scholar-princes.
The pendant to this flower piece, also signed and dated 1698, is a fruit piece of the same dimensions featuring peaches, grapes, hazelnuts, plums, and a half cantaloupe on a marble table. First appearing in the sale of P. Locquet, Amsterdam, in 1783, the two paintings entered the collection of Count Czernin von Chudenitz by 1810, where they were among other masterpieces of Dutch art, including Vermeer's famous Art of Painting, now in the Kunsthistorisches Museum, Vienna. The Ruysch pair remained together until the years following World War II, when the present lot, along with many others, was sold to pay for repairs to the Czernin palace after bombings. At that time the present lot went to Galerie Sanct Lucas and the pendant to the Swiss Embassy in Vienna, where it remains.1 A large portion of the former Czernin collection now forms the collection of the Salzburger Landessammlungen.
1. For more on the provenance and relationship between the pendant pair, see Berardi 1998, pp. 220-21, 251-53. Berardi was unaware of the present lot's existence at the time of her dissertation due to discrepancies in dimensions in earlier publications.
Sotheby's.Master Paintings & Sculpture Part I. New York, Live Auction: 28 January 2021.