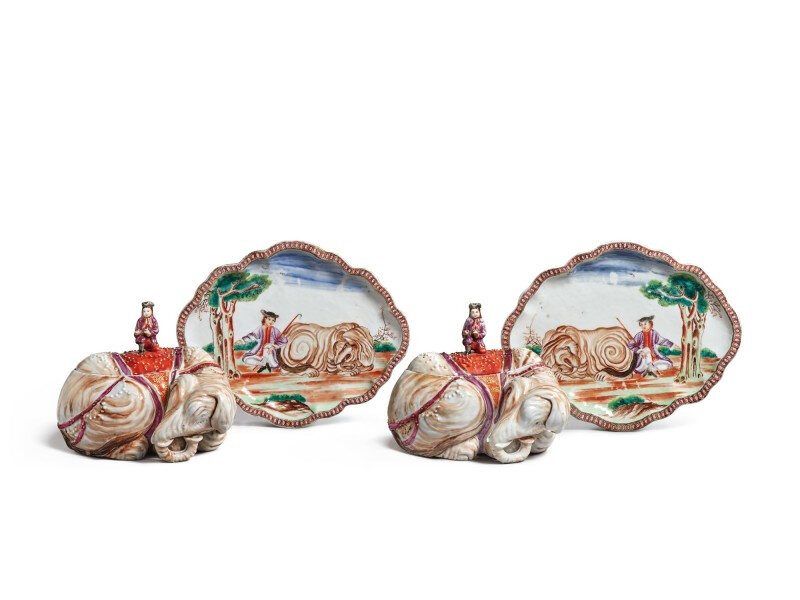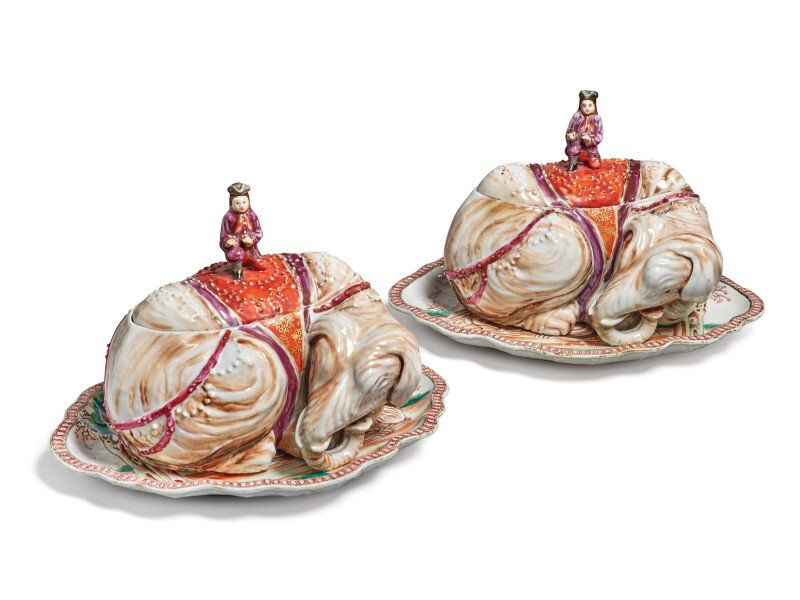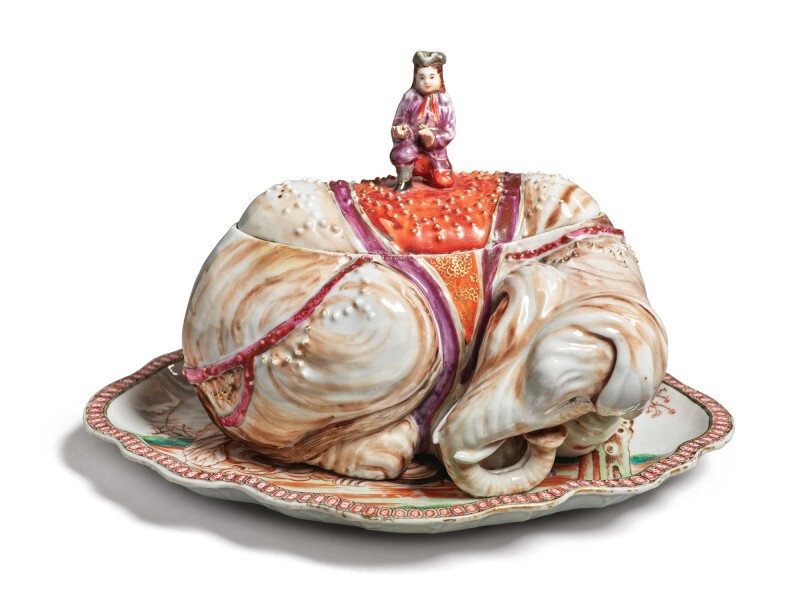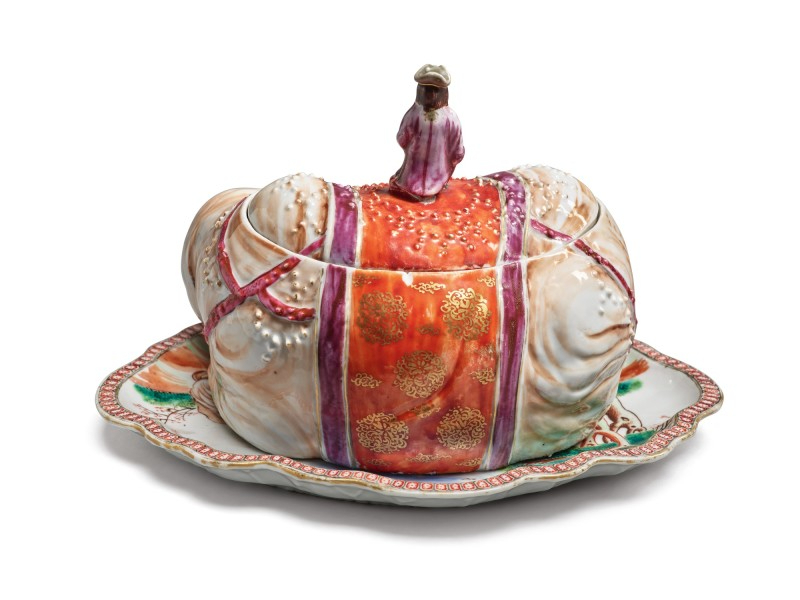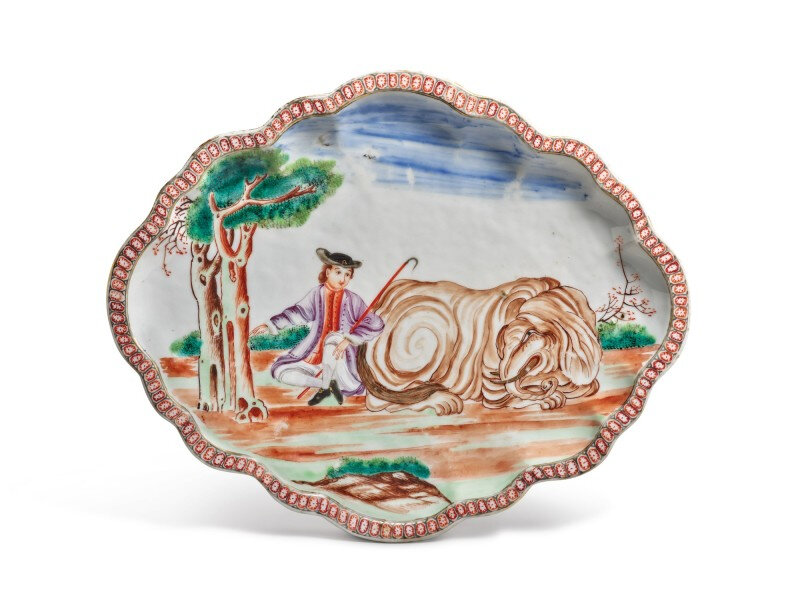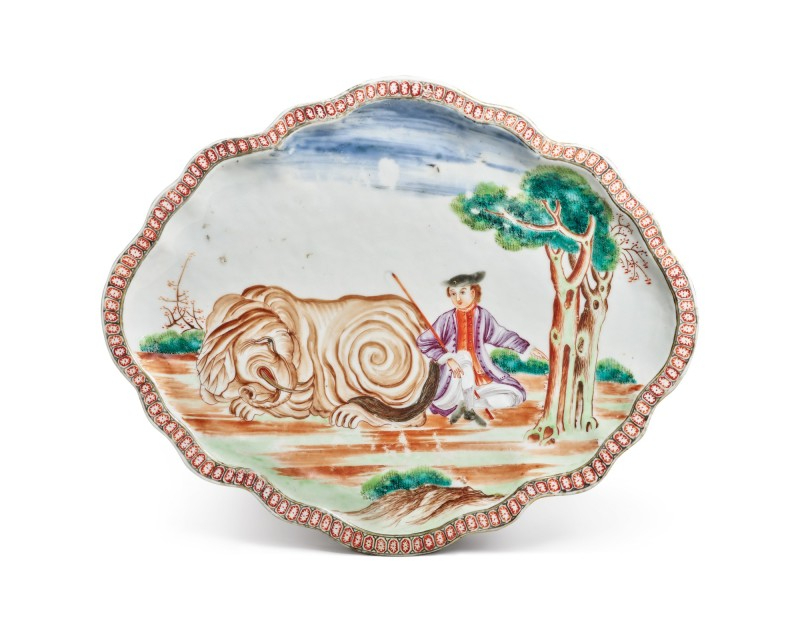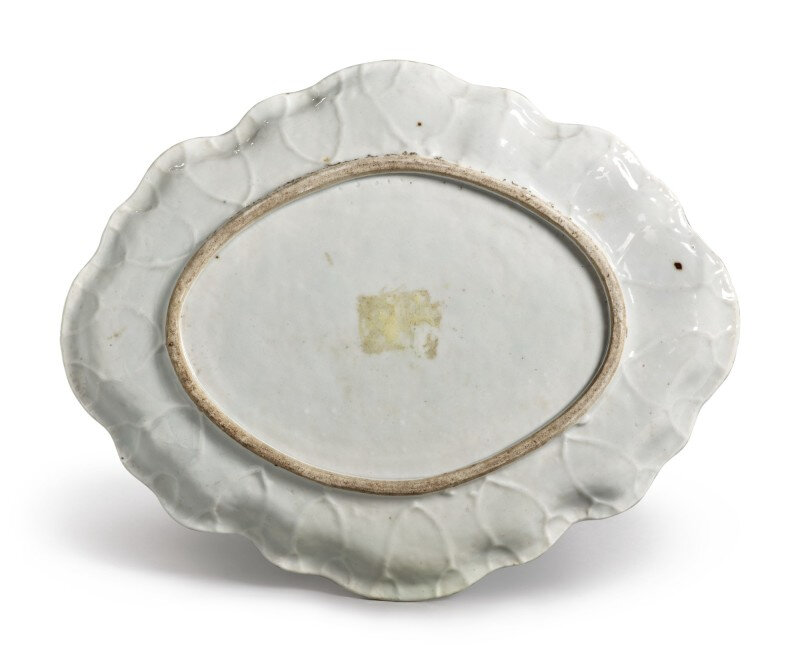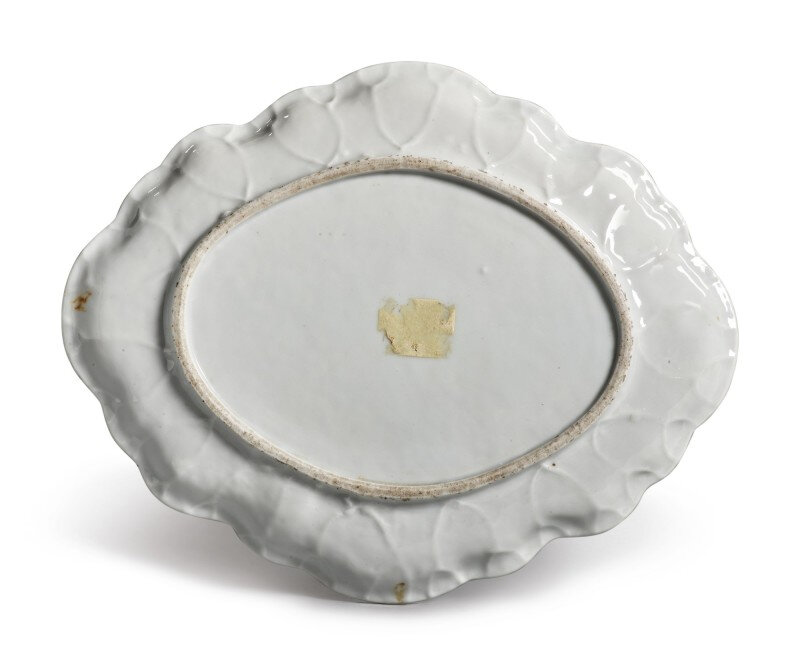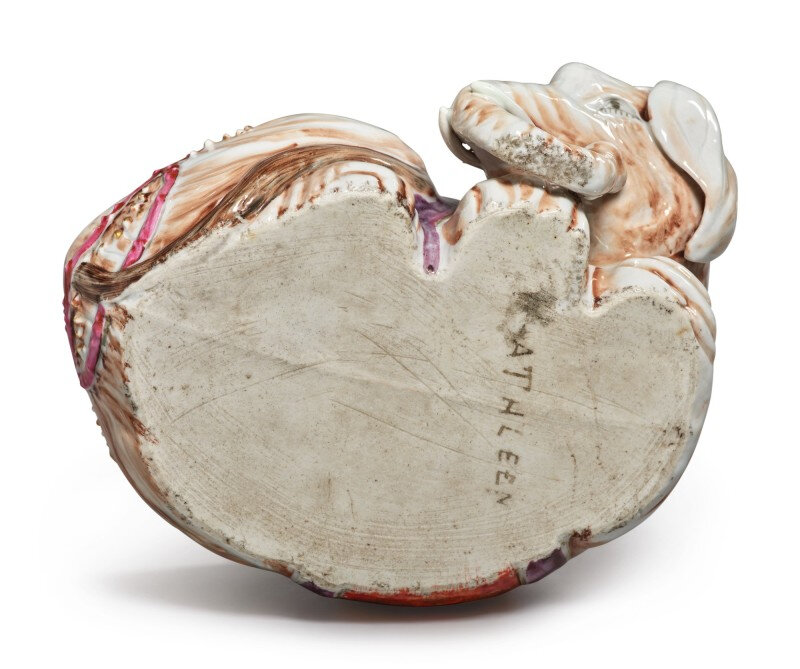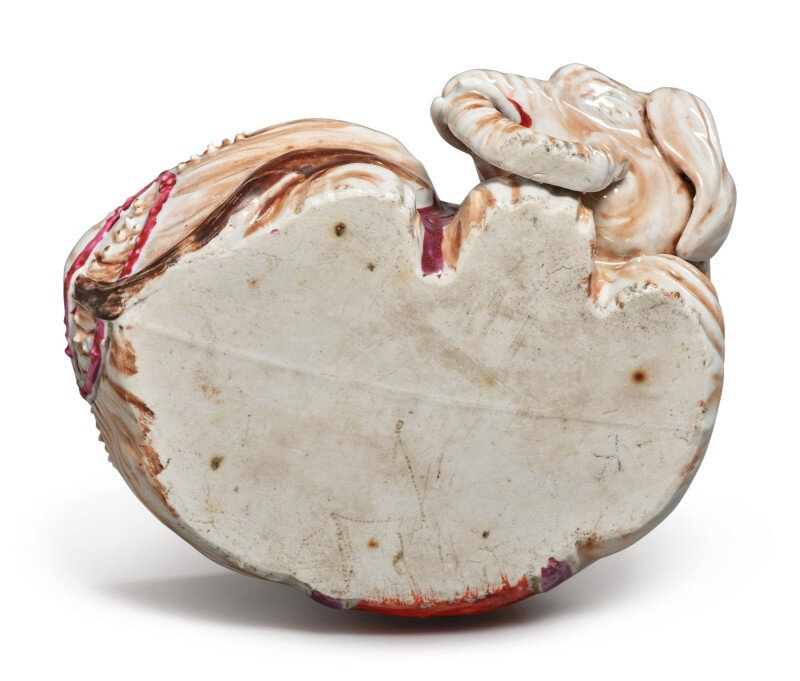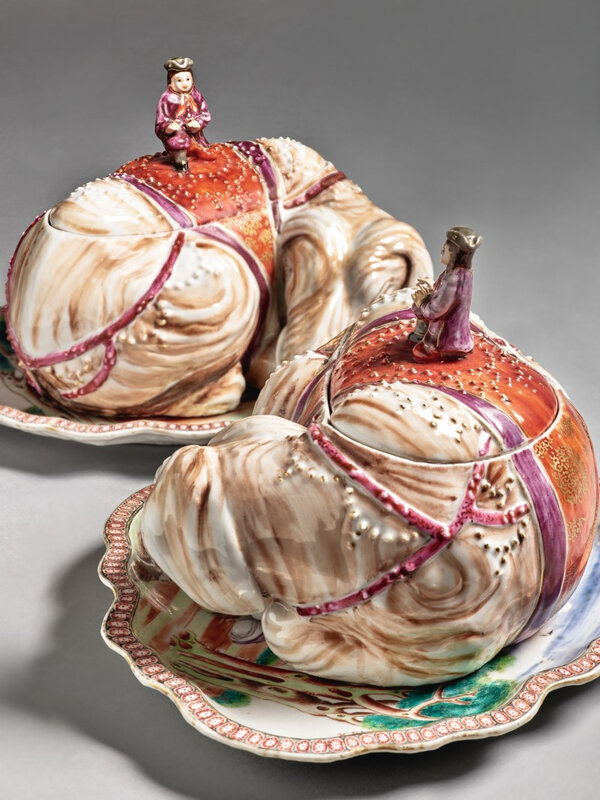 Lot 439. An Extremely Rare and Important Pair of Chinese Export Elephant-form Tureens, Covers and Stands, Qing Dynasty, Qianlong Period, circa 1770; length of tureen 6 3/8 in.; 16.2 cm. Estimate: 70,000 - 100,000 USD. Courtesy Sotheby's.
each tureen delicately modeled as a recumbent elephant with the head turned to one side tucked snugly into the body with the trunk coiled, molded overall with naturalistic folds in the hide, the cover surmounted by a finial in the form of a European man wearing a long purple coat and tricorn hat, kneeling atop a purple-edged iron-red saddle highlighted with gilding extending down the sides of the elephant, the lobed oval stand painted in the center with a similarly dressed European holding a whip sat astride a recumbent elephant in landscape within an iron-red and gilt border.
Property of an Important Midwestern Collection.
Provenance: The Fermor-Hesketh Collection, Northamptonshire
Christie's Monaco, June 20th, 1988, lot 121
A. & J. Speelman Ltd., London, 1993.
The Fermor-Hesketh Elephant Tureens
Finely painted and delicately modeled, the present pair of elephant form tureens are one of the most unusual forms in Chinese porcelain made for the Western market. Tureens in the form of geese, cockerel, carp, ox head, boar's head and other animals were an integral part of the grand display in an 18th century European dining room, presenting guests a feast for the eyes to accompany the lavish meal. Many Chinese export examples of these tureens were modeled after European originals made by factories such as Höchst, Chelsea, and Meissen in the 18th century. However, the present tureens may have taken their inspiration from an entirely different source.
Depicted with legs tucked in and head turned to one side in an obedient manner, the recumbent elephant is often seen in Chinese jade carvings. Compare a Han dynasty jade pendant carved in a similar recumbent position, until 1913 in the collection Samuel T. Peters and gifted to the Metropolitan Museum of Art, New York, acc. No. 13.40.116. While the pose is most often seen in jade, the design of the recumbent elephant functioning as a vessel can also be seen in other materials. Compare a Ming dynasty, early 17th century, waterpot decorated with underglaze-blue and red enamel, in the collection of the Sir Percival David Foundation and on loan to the British Museum, illustrated in Margaret Medley, Illustrated Catalogue of Ming Polychrome Wares in the Percival David Foundation of Chinese Art, London 1966, cat. no. A707.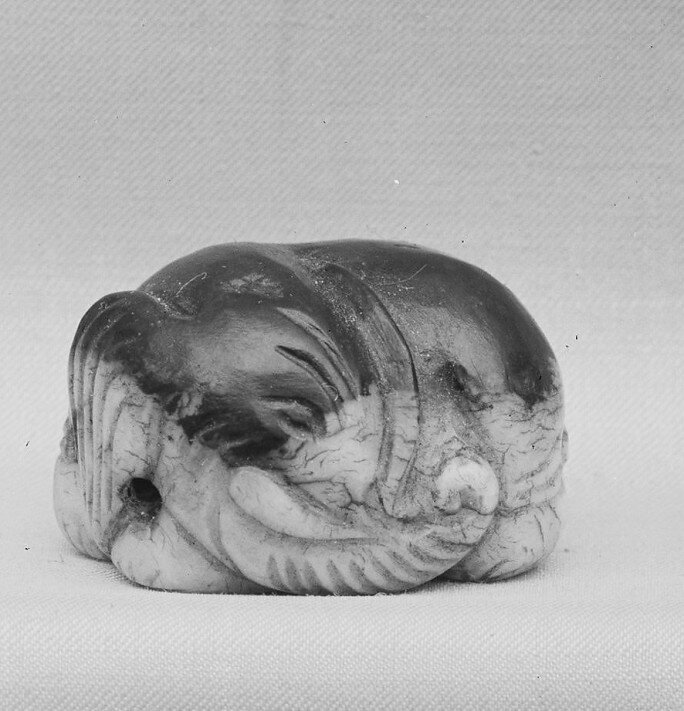 Jade Girdle Pendant, Han Dynasty, Gift of Samuel T. Peters, 1913, The Metropolitan Museum of Art, New York.
Recumbent elephant tureens are rare and the covers are most often modeled with a spotted dog form finial; examples with European figural finials are exceedingly rare. Aside from the present examples, only one other tureen and cover of this exact form appears to have been on the market. That example was formerly in the collection of Esther Pace Kuna, sold in these rooms, January 25th, 1989, lot 209, and later entered the collection of Dorothy and Wendell Cherry, and was sold again in these rooms, March 16th, 2012, lot 206. This arrangement of adorning the top of an elephant with a figure can also be seen in Chinese bronzes. A 17th century example of a bronze incense burner and cover, sold in our Hong Kong rooms, December 3rd-4th, 2015, lot 466, depicts a recumbent elephant with its head raised and the cover cast with a seated ascetic.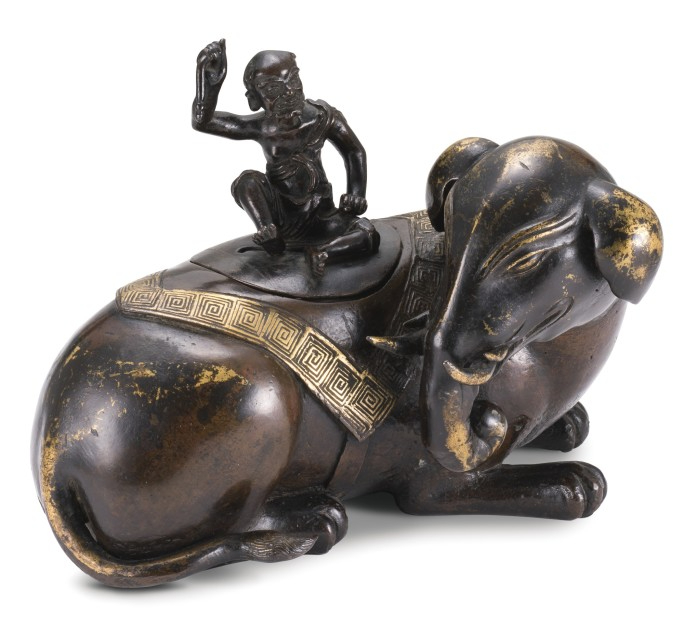 A Parcel-gilt Bronze 'Ascetic on Elephant' Incense Burner and Cover, 17th Century, sold Sotheby's Hong Kong, December 3rd-4th, 2015, lot 466. Courtesy Sotheby's.
Other comparable examples include a pair in the Copeland collection at the Peabody Essex Museum, Salem, illustrated in William R. Sargent, The Copeland Collection: Chinese and Japanese Ceramic Figures, Salem, 1991, cat. no. 100, where the author suggests that given the small number of examples extant, the production period of these tureens was short and likely all originating from one single enameling studio. An example formerly in the collection of Helena Woolworth McCann (until 1938) and the Winfield Foundation (1938-51) is in the collection of the Metropolitan Museum of Art, New York, acc. No. 51.86.346a, b. Also in the collection is a matching stand, formerly in the collection of Mrs. Nellie Ionides, sold in our London rooms, July 2nd,1963, lot 133. A pair of tureens, unusually mounted in ormolu, was sold in our London rooms, November 6th, 1973, lot 196A. A single tureen with two stands, formerly in the James E. Sowell collection and illustrated in Michael Cohen and William Motley, Mandarin and Menagerie, Reigate, 2008, cat. no. 13.1, was later sold at Christie's New York, January 20th, 2016, lot 49.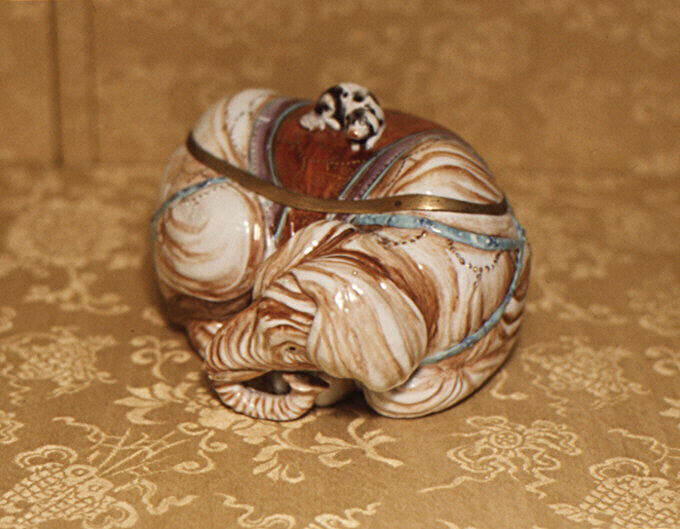 Box with cover in the form of an elephant, ca 1770, Helena Woolworth McCann Collection, Gift of the Winfield Foundation, 1951, The Metropolitan Museum of Art, New York.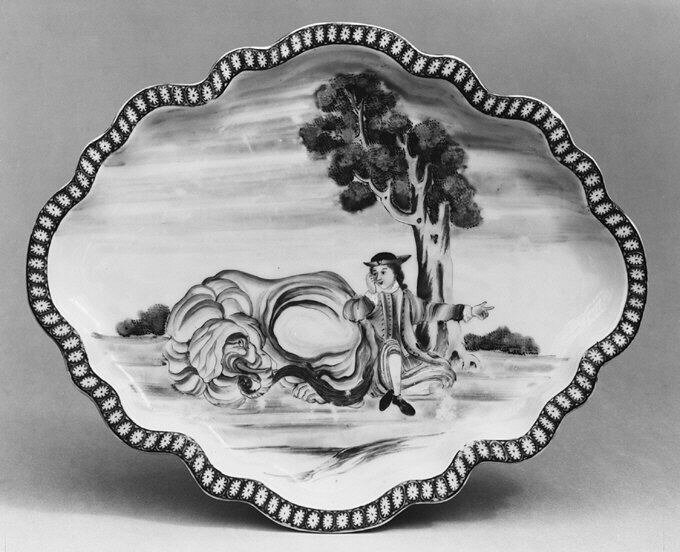 Tray, ca. 1770, Helena Woolworth McCann Collection, Purchase, Winfield Foundation Gift, 1963, The Metropolitan Museum of Art, New York.
The stands that accompany these tureens are also of interest. These are painted in the center with a recumbent elephant and a European figure seated beside the beast underneath a tree. It is known that most Chinese export decorations follow closely, or take inspiration from, European source prints, however, the source of the current subject matter has yet to be found. In writing about the pair in the Copeland collection, Sargent suggested that the scene is possibly derived from Chinese sources rather than Western prints. He further notes that the European figure's gesture of opening one arm resembles the "Sailor's farewell", a popular motif seen on Chinese export porcelains, and Chinese porcelain painters likely adapted this motif. Therefore, it is possible that the current scene is perhaps a composite, taking inspiration from both Chinese and Western sources.
The current pair of tureens was formerly in the Fermor-Hesketh collection prior to appearing on the market. The Baron Heskeths, created in 1935 for Sir Thomas Fermor-Hesketh, descended from the Hesketh Baronetcy of Rufford, created in 1761. The family's former seat was the celebrated Easton Neston house in Northamptonshire, a British Baroque style house completed around 1700 by the English architect Nicolas Hawksmoor.
Sotheby's. Important Americana: Silver, Chinese Export, and Prints, New York, 22 January 2021