Aquamanile. Chimera-shaped aquamanile; a donkey´s head, female torso, lion's feet and a fishlike tail. Portuguese faience, Lisbon, first half 17th century. H 26.5 cm. SÃO ROQUE at BRAFA 2021
Provenance: J.T. collection, Lisbon.
Similar pieces of the same period recorded in European museums (V & A Museum in London, MNAA in Lisbon, Angewandte Kunst Museum in Frankfurt, Kunst und Gewerbe Museum in Hamburg)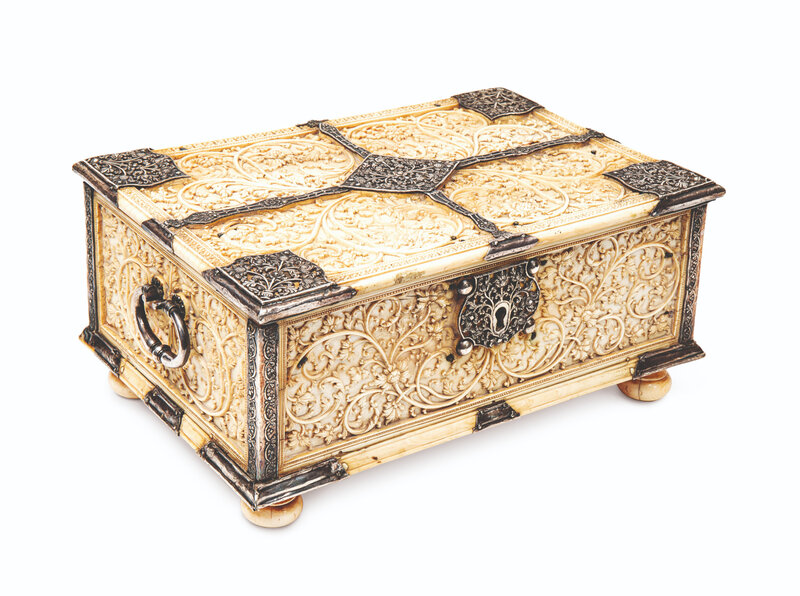 Jewellery box, Singhalese-Portuguese, mid-17th century. Ivory and silver. H 14.5 x W 31 x D 20 cm. SÃO ROQUE at BRAFA 2021
Provenance: S. Pinto collection, Oporto

A large Singhalese silver mounted ivory box of flat and slightly protruding cover, on four turned feet. The carving quality of this casket is on a par with the best examples produced in Ceylon for the Portuguese market, until approximately 1658. Its dimensions and selection of materials, the artistic level of carving and the sophistication of silverwork make this box a unicum for its rarity and a tour de force on account of the technical and artistic quality that distinguishes it from other known pieces of the same origin.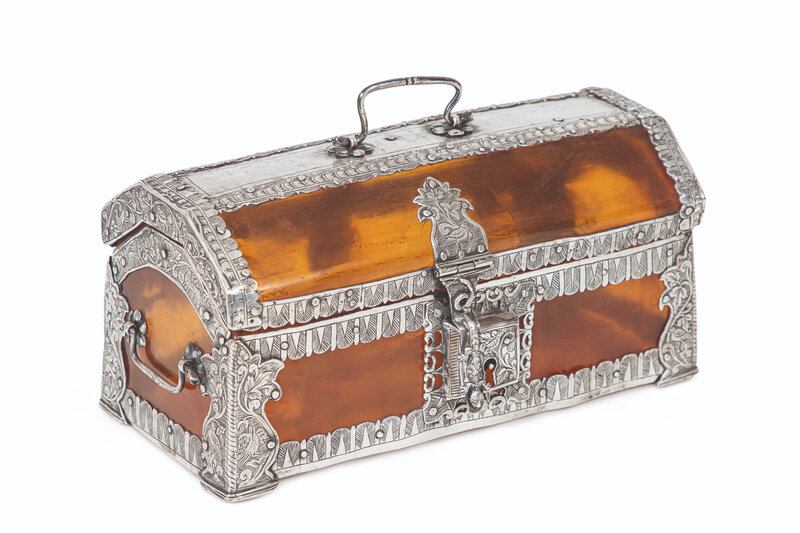 Casket, India, Gujarat, 16th century. Tortoiseshell and silver. H 9.5 x W 21 x D 9.5 cm. SÃO ROQUE at BRAFA 2021
Provenance: F.K.A. collection, Portugal.

Silver mounted translucent, or blonde, tortoiseshell casket of silver mounts. For its rarity this extraordinary piece belongs to a group of approximately a dozen of identical origin that are recorded at various international museum collections. The lizard lock and snake handles were often depicted in Portuguese pieces, in which they assume a warning role to those attempting to violate the casket's contents.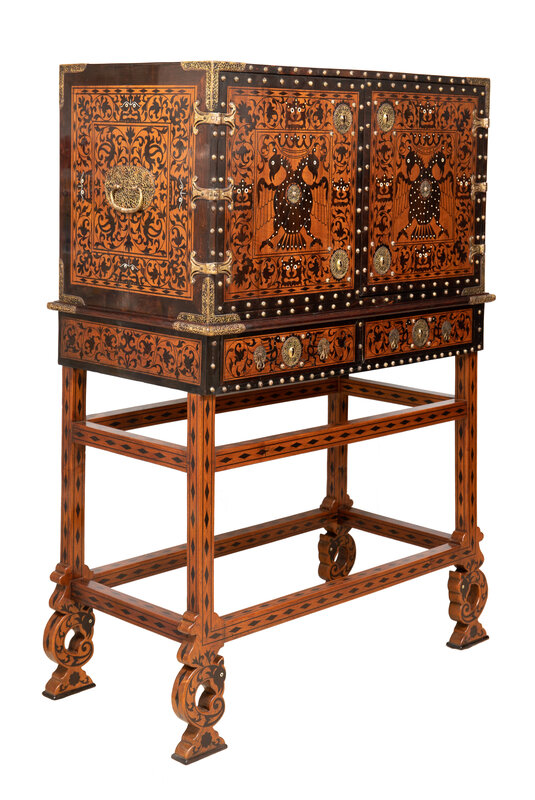 Cabinet with Habsburg Armorial, Indo-Portuguese, 17th century. Teak, ebony, ivory and copper. H 128 x W 90.5 x D 50 cm. SÃO ROQUE at BRAFA 2021
Provenance: private collection, Spain.
Rare cabinet on stand of sophisticated ebony and ivory marquetry decoration and gilt copper hardware. On the door fronts the Habsburg crowned double-headed eagles, which would become the emblem for the religious Order of Saint Augustine.
From the inner door surfaces stand out stylised heraldic rampant lions framed by a border of foliage scrolls alternating with lion's heads that is also repeated on the front. Stylised depictions of vultures decorate the cabinet's drawer fronts and carved openwork feet.

These highly powerful and symbolic iconographies, associated to ancestral Indian protective ideals, ensured that the cabinets' owner precious possessions were well and truly safeguarded.
This cabinet, until recently the property of a Spanish family, was most certainly commissioned for the crown, for an important aristocratic family or for a high ranking dignitary of the Augustinian Order in the period when the Spanish Habsburgs sat on the Portuguese throne (1580-1640).
Child Jesus The Good Shepherd, Indo-Portuguese, 17th century. Ivory. H 52 cm. SÃO ROQUE at BRAFA 2021
An extraordinary sculpture for its unusual size and artistic quality, the elaborate composition depicts the evangelical scene of The Baby Jesus as The Good Shepherd or The Parable of The Lost Sheep.

Seventeenth century missionaries stimulated the integration of autochthonous symbols within a western artistic frame, resulting in Luso-Asian artworks that were imbued with great creativity: in this instance the Child posture evokes the image of the meditative Buddha, while the terraced composition relates to the Gopuram towers in Hindu temples.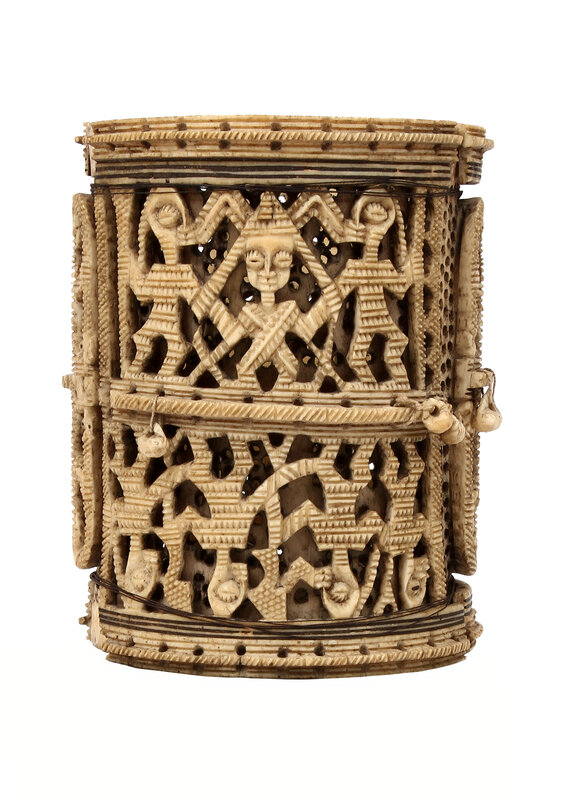 Owo / Yoruba Bracelet, Nigeria, probably 18th century. Ivory. H 12.7 cm. SÃO ROQUE at BRAFA 2021
Provenance: Alpoim Calvão collection, Cascais.
An important 18th century ivory bracelet produced for an Oba, a local King or Dignitary. Designed as a double cylinder, the inner section is punctured outlining the carved decorative motifs. The outer surface follows a banded and mirrored decorative scheme alternating horizontal and vertical strips.

On one band the iconography illustrates the leadership of Owo or Benin flanked by his warriors. On the other two priests holding a snake encircling an Opan-Ifa and a mudfish, symbol of Olunkun. The ivory's whiteness aludes to the sea surf hence reflecting the close relationship between the King and Olunkun, the Nigerian god of the Sea.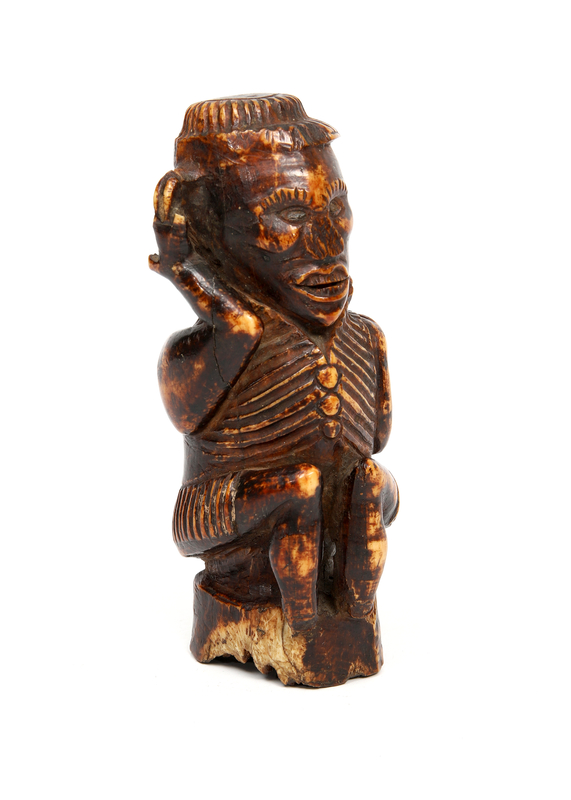 Mvwalla staff handle, Kingdom of Kongo, late 16th-early 17th century. Ivory. H 13.5 cm. SÃO ROQUE at BRAFA 2021
Provenance: Fernando Moncada, Lisbon and Joshua Dimondstein, Los Angeles collections
Literature: M. L. Félix, White Gold, Black Hands, Ivory Sculpture in Congo, V. 2 (p. 156)
Important Kingdom of Kongo staff handle portraying a high ranking official or local ruler, in mid-16th century Portuguese attire, an iconography that reinforced its owner's authority status.

Figurative handles were produced in a variety of materials, ivory being the rarest and hence reserved for use by religious, political and social elites. This handle's symbolic associations relate to leadership authority as well as to ritual attributes charged with mystic beliefs, aspirations and moral principles.

This figure fitted onto the top of a leader's staff (Mvwala), an insignia carried by a Kongo ruler or government official. The Mvwala were essential in the perpetuating of memories passed down generations, as well as tools to communicate with subjects or to mediate between the worlds of the living and the dead.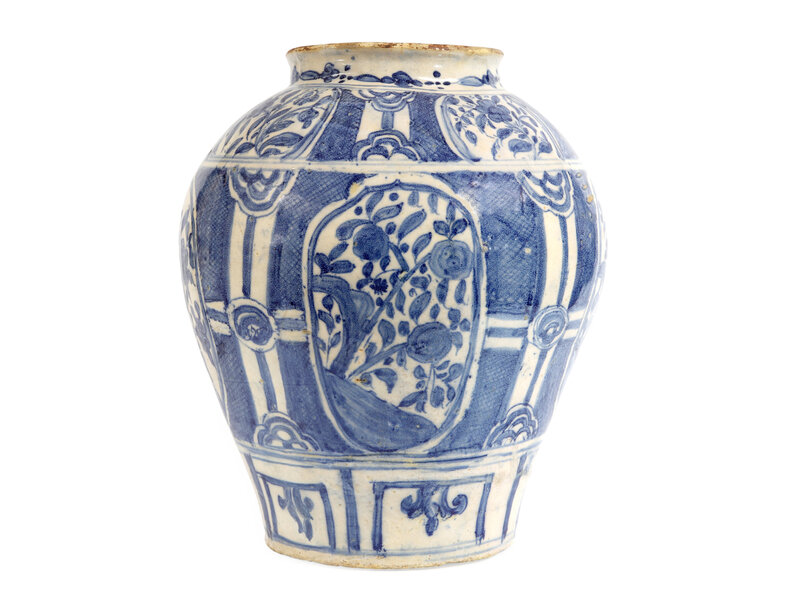 Large pot, Lisbon, 1600-1620. Portuguese faience 'Wanli decoration'. H 40 cm. SÃO ROQUE at BRAFA 2021.
Provenance: M.P. Lisbon and Convent of Jesus, Setúbal collections
Exhibitions: Musée Guimet, Un Firmament de Porcelaines-De la Chine à l'Europe, Paris, 2019; M. N. Azulejo, O Exótico nunca está em casa?, Lisbon, 2007; A Influência Oriental na Cerâmica Portuguesa do Século XVII, Lisbon, 1994
Literature: OCEANOS - Porcelanas e Mares da China, nº 14

Portuguese faience pot of Wanli (1572-1620) inspired decorative composition.
The cobalt-blue decoration is defined by four large oval frames filled by rock outcrops, lotus, camellias and peach trees that alternate with blue and white bands joined by ruyi heads, in an attempt at replicating Ming dynasty models.

For its size and condition this pot is a rare survival of a short lived early 17th century Portuguese faience production that followed Chinese prototypes. Lisbon produced ceramic was a singular production of its age, not only for the fine paste, translucent glaze and bright blue pigment, but also for its innovative 'Chinoiserie' thematic that predated other European ceramic productions.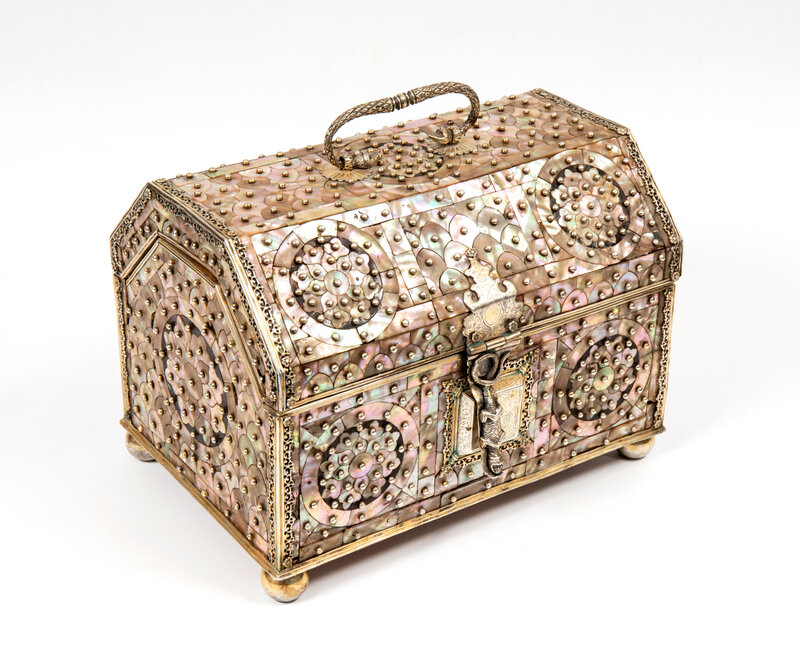 Casket, India, Gujarat, 16th century. Teak, mother-of-pearl, tortoiseshell and gilt silver. H 18 x W 24.2 x D 16.5 cm. SÃO ROQUE at BRAFA 2021.
Provenance : private collection, Oporto

A unique Turbo-marmoratus mother-of-pearl and tortoiseshell casket, with original gilt-silver mounts and decorative elements. The unusual lizard-shaped lock latch and double-headed serpent handle, as if guarding the box valuable contents, suggest its likely use as a jewelery safe-box. Its inner Mughal decoration, similar to contemporary paintings on paper, portray scenes with hunters dressed in late 16th century European attire, lions and flowering branches with birds, a decorative scheme found in an ivory box at the V&A Museum (inv. IS.39-1898).