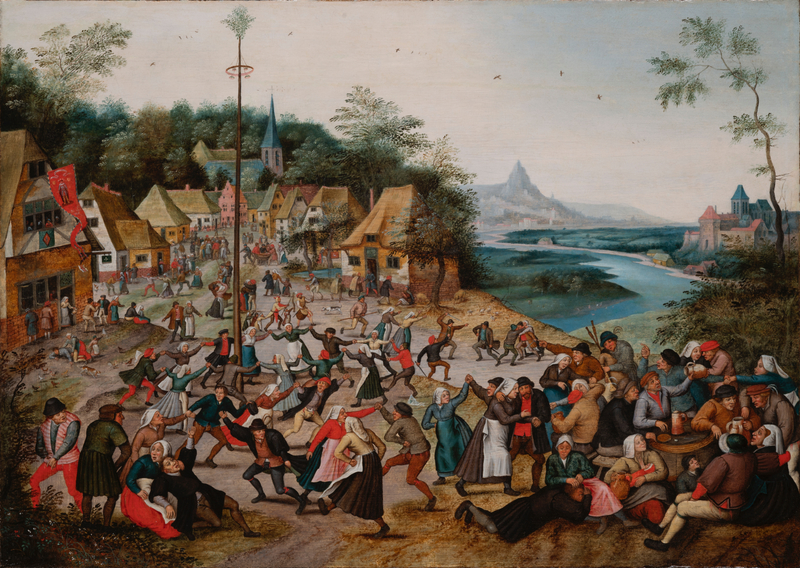 Pieter Brueghel the Younger (Brussels 1564-1636 Antwerp), Saint George's kermis with the dance around the maypole, 1627. Oil on panel, 54.6 x 75.7 cm. Signed at the bottom left 'P. BRUEGHEL 1627'. DE JONCKHEERE at BRAFA 2021
Provenance: F.B. Greenstreet, London; private collection, USA, 1940; subsequently by descent; Anonymous Sotheby's sale, New York, 29 January 2009, lot 43; Richard Green Fine Paintings Ltd., London; private collection, USA.
Literature: G. Marlier, Pieter Brueghel Le Jeune, Brussels 1969, p. 403 (recognized from a photograph in the Witt Library, London); K. Ertz, Pieter Brueghel der Jüngere. Die Gemälde mit kritischem Oeuvrekatalog, vol. II, Lingen, 1988/2000, p. 907.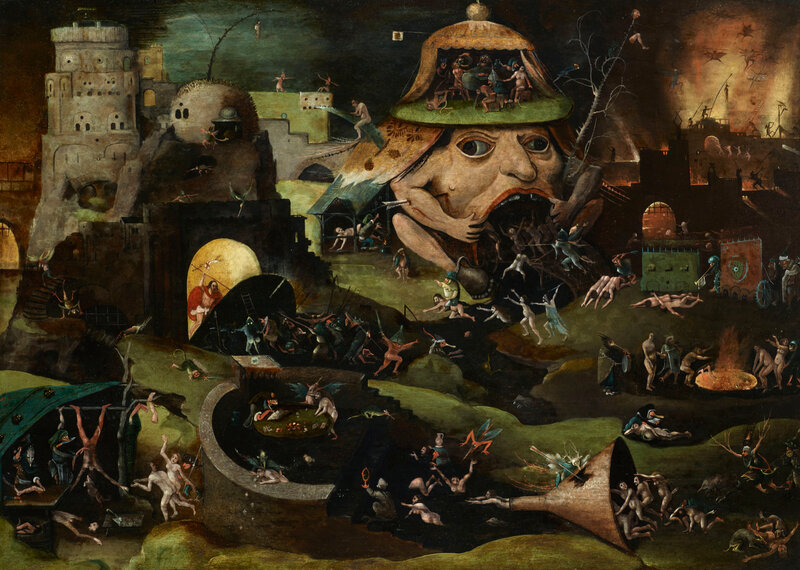 Follower of Hieronymus Bosch ('s-Hertogenbosch, 1450-1516), Christ in Limbo. Oil on panel, 52.8 x 73.7 cm. DE JONCKHEERE at BRAFA 2021.
Provenance: Sale Sotheby's, London, 9th December 2004, lot 109; private collection, Europe.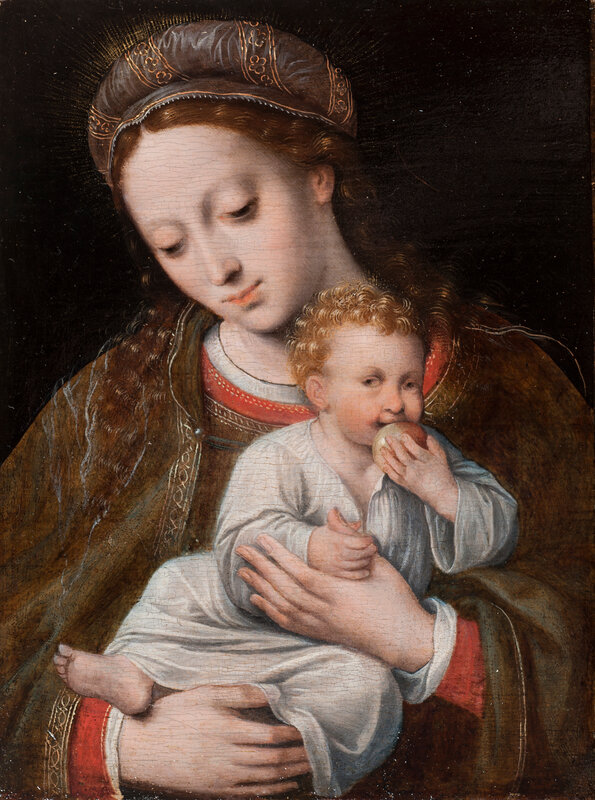 Studio of Joos Van Cleve (Clèves ca. 1485-1540/41 Antwerp), Virgin and Child. Oil on panel, 25.8 x 19.5 cm. DE JONCKHEERE at BRAFA 2021.
Provenance: Sale Sotheby's, London, 9th December 2004, lot 109; private collection, Europe.
Numerous Virgin and Child paintings were produced in the studios of Antwerp in the 16th century. By commissioning works, the urban bourgeoisie enabled the development of the art market, and while religious subjects were in greatest demand, it considerably encouraged the production of small paintings associated with private worship, as is the case with this Virgin and Child, based on a model by Joos van Cleve. His studio in Antwerp was one of the most dynamic and numerous variations of this subject are known today, some attributed to the master's studio and others to his son, Cornelis van Cleve.

Joos van Cleve was influenced by Memling and Gérard David and although it isn't certain that he stayed in Italy, his paintings nevertheless reflect a significant Italian influence. A highly-skilled portraitist, the natural aspect of his characters endows his scenes with a gentle and intimate atmosphere. Here, the Virgin appears in a contemplative and elegant attitude. The beauty of her expression and her face are echoed in a finely-worked garment. She is wearing a splendid embroidered coat accompanied by a refined headdress. A delicate veil surrounds her fine hair and a golden halo highlights the top of her head. This coat can also be seen in the Virgin and Child Friedländer mentions (56 d., pl.71); in this version, the far more basic headdress is nevertheless compensated for by a splendid Italian-style landscape (fig.1).

The other versions, compiled by Max J. Friedländer and John Oliver Hand, bear witness to the importance of the subject and its Italian heritage with the systematic half-bust portrayal. There is a version from Joos' studio, featuring a neutral background, in which the Virgin is supporting the Child with her right hand, leaving a gap between the index and middle finger (fig.2). The master's finesse can thus be appreciated in the hands: the Child tenderly holds onto his mother's thumb. While the version by Cornelis in the Fitzwilliam Museum is similar (fig.3), our version differs. There are no gaps between the fingers of the Virgin's right hand supporting the Child. The joyful expression of the Child holding an apple up to his mouth, as well as the shiny curly hair, is reminiscent of another painting that Friedländer considered as "perhaps original" (fig.4).

Through the emotion of a maternal scene, the artist illustrates a highly popular subject. The rediscovery of this type of scene is always moving owing to its remarkable value. This example, with its precise technique and excellent condition, adds to the qualitative body of works stemming from a model by Joos van Cleve.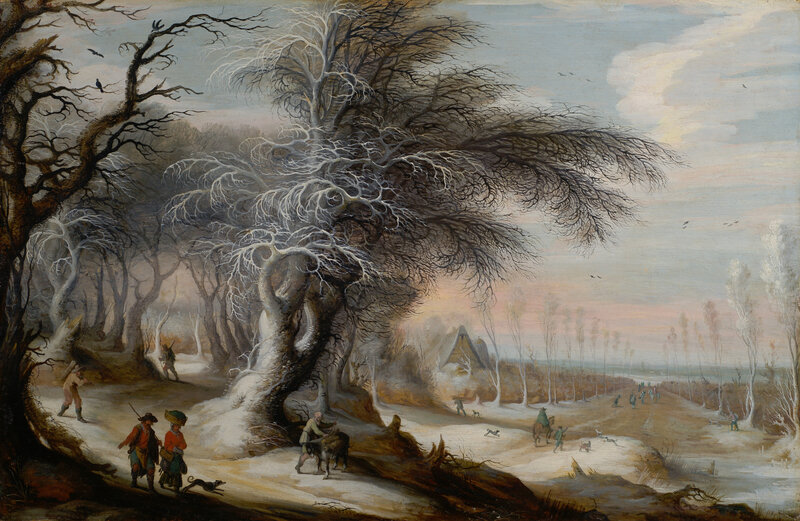 Gijsbrecht Leytens (Antwerp, 1586-1656), Winter landscape animated with villagers. Oil on panel, 48 x 74 cm. DE JONCKHEERE at BRAFA 2021.
Provenance: private collection, France.
Literature: Yvonne Thiery, Les Peintres flamands de paysage au XVIIe siècle: des précurseurs à Rubens, published by Lefèbvre et Gillet, Brussels, 1988.
Cornelis Mahu (Antwerp, 1613-1689), Still life with an orange on a pewter plate, a porcelain pitcher, a glass, bread and a box of tobacco on a table, circa 1620-1630. Oil on panel,31 x 45.5 cm. DE JONCKHEERE at BRAFA 2021.
Provenance: private collection, Germany.
This still life with an orange on a pewter plate, a porcelain pitcher, a glass, bread and a box of tobacco on a table is a brilliant illustration of the virtuosity and multifaceted talent of a painter who was equally adept in landscape painting and genre scenes. A perfect example of the spirit that informed the Haarlem school in the 1630s, this painting will delight the most devoted enthusiasts of the Northern still life. In fact, from the year 1640 onwards Mahu adopts a distinctly more baroque style, abandoning the models of Claesz in favour of the opulence of the table settings by Jan Davidsz de Heem and his Antwerp contemporaries.
Gustave De Smet (Ghent 1877-1943 Sint-Martens-Latem), The Fair, 1928. Oil on canvas, 82 x 65 cm. Signed. DE JONCKHEERE at BRAFA 2021.
Provenance: Rieunier & Bailly-Pommery, 22 November 1999, lot 85; private collection, Belgium
This work will be included in the forthcoming catalogue raisonné of the artist being prepared by Piet Boyens.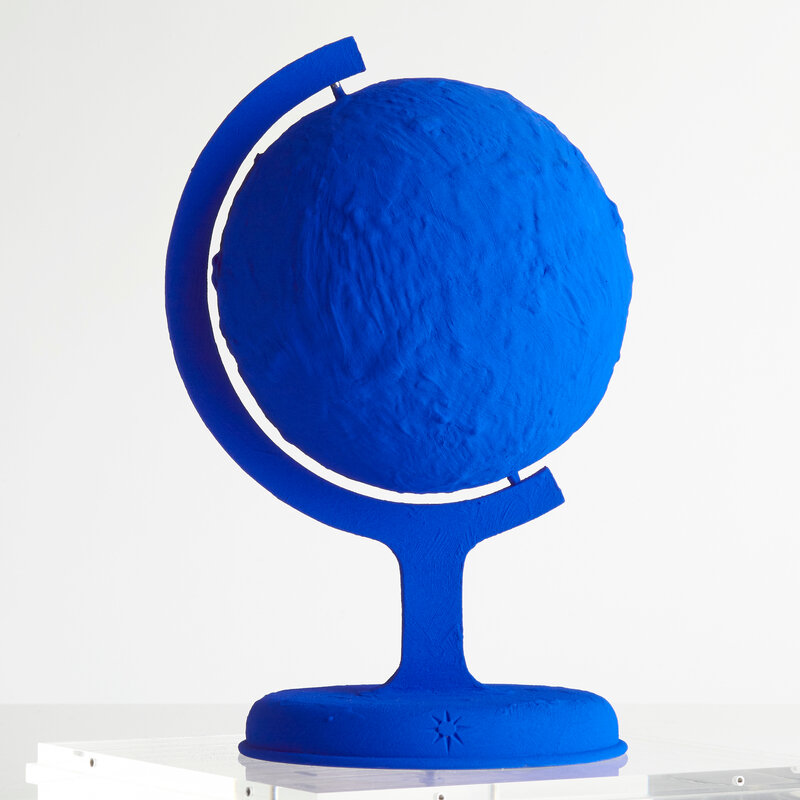 Yves Klein (Nice 1928-1962 Paris), The Blue Earth, 1957. Blue pigment on plaster,H 35 cm. Yves Klein's monogram in the form of a star is engraved on the base. Numbered on the base: 58/300. DE JONCKHEERE at BRAFA 2021.
Provenance: Galerie Bonnier, Geneva; private collection.
Lucio Fontana (Rosario Santa Fé 1899-1968 Varese), Concetto Spaziale, Attesa, 1966. Oil on canvas, 55 x 46 cm, "I. Fontana/ Concetto spaziale / Attesa / il giallo è come / il sole". DE JONCKHEERE at BRAFA 2021.
Throughout his career, Lucio Fontana defended the need for a new art and questioned traditional painting on canvas. To achieve this, he explored space in all its forms through his works. This search led to his 'Concetto Spaziale', in which he sought to create space within his works through perforations and later cuts. Fascinated by space, Lucio Fontana published a manifesto after the Second World War that aimed to create a synthesis between "colour, sound, space and movement".
The artist's first Tagli appeared in 1958, and he would continue to produce these works until his death in 1968. This artistic production is characterized by monochromes cut once or more with a blade. These cuts, which create an additional space within the canvas, have something mysterious about them, like an opening into a sensuous 'other place'. These canvases are undeniably erotic, a sensation which is reinforced by the artist's act of delicately parting the slits with his fingers. This also allows us to understand why these spatial concepts place greater emphasis on the artist's idea and gesture rather than the result. These works of art are a cross between painting, sculpture and performance. The cut, which vertically divides the canvas in the centre, creates movement and invites the viewer to enter into the space offered to them. Painted in a magnificent shade of yellow, this monochrome was produced in 1966.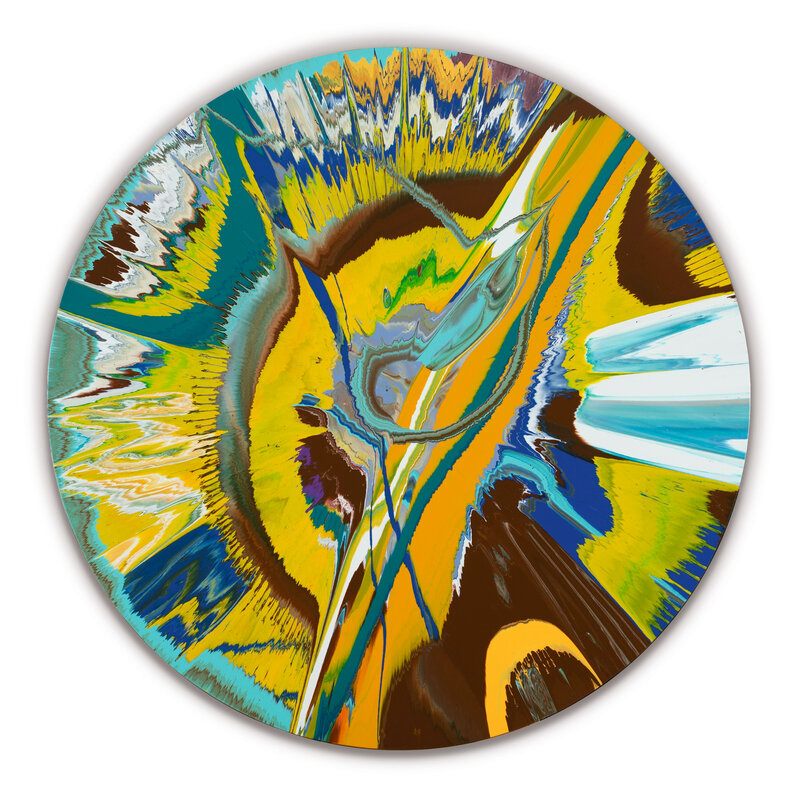 Damien Hirst (Bristol, 1965), Beautiful Bum Runs Painting, 2007. Household gloss on canvas, Ø 152.4 cm. DE JONCKHEERE at BRAFA 2021.
Provenance: Galerie Gagosian, New-York, private collection.