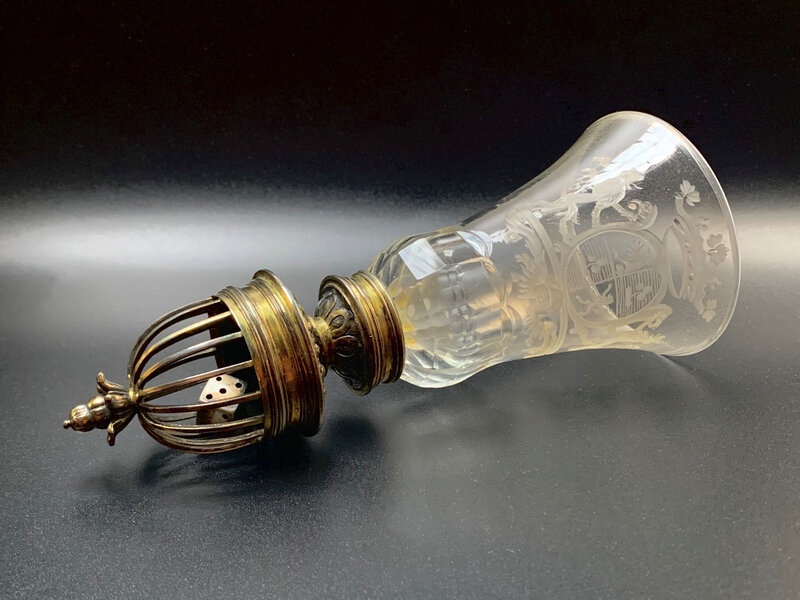 Dice glass, Holland, 17th century. Gilt silver, glass H 16.7 cm Ø 7.2 cm. CABINET OF CURIOSITIES-HONOURABLE SILVER OBJECTS at BRAFA 2021.
A Dutch gilt silver dice cup with an 18th century engraved glass 'à la façon de Venise' with a coat of arms of the Frisian noble family (Van) Burmania (later replaced). On a bar of the cage, a 19th century Dutch silver retest mark of a flowered V (1814-1831) for foreign and antique works of silver. Similar object to be found at the Rijksmuseum: dice glass, object n° BK-1995-4 (gift of Joseph R. Ritman, 1995).
Instead of having a normal base, this glass is mounted on a silver gilt cage with a flower on top and with a silver gilt dice. The object was used in a drinking game, where the glass had to be emptied as often as the dice indicated. Dice glasses without a foot but often with a silver mount were popular in the second half of the 16th century and throughout the 17th century. It was also known as a 'drink-up' - a glass that had to be placed on the table upside-down, preferably empty.