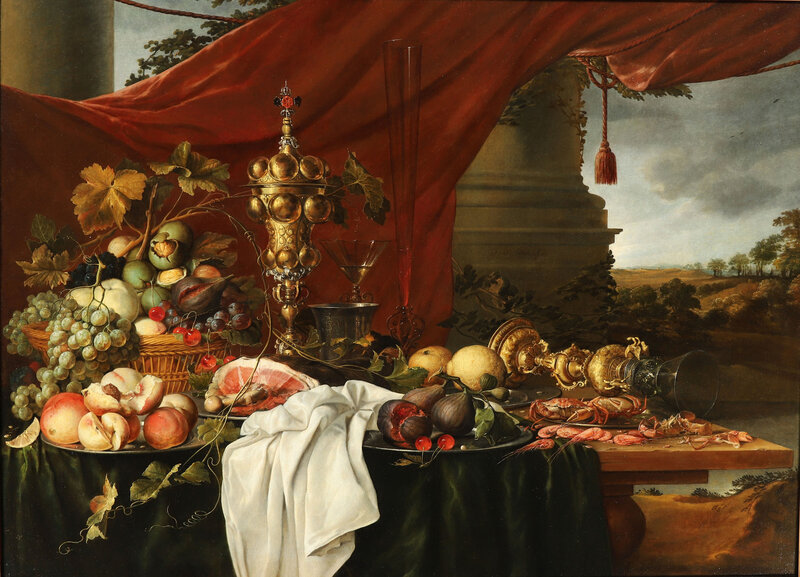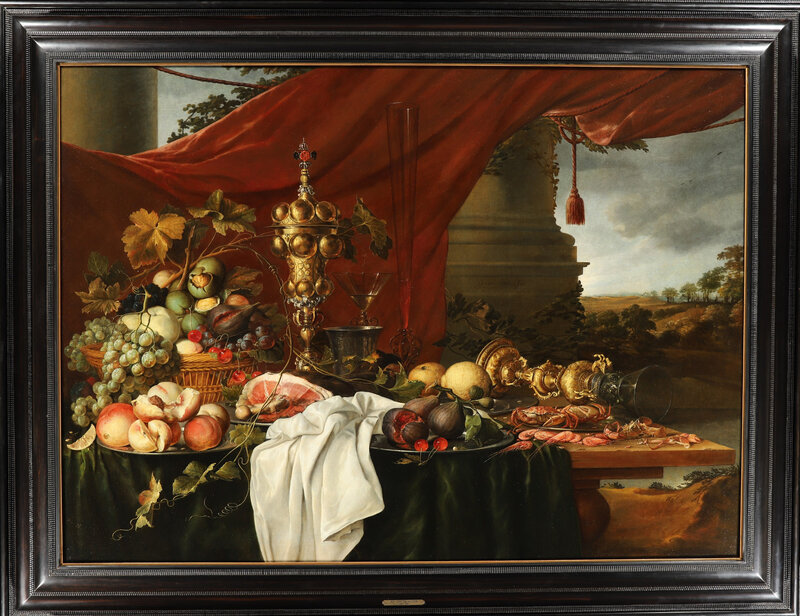 Jan Davidsz. de Heem (Utrecht 1606-1684 Antwerp), Still life. Oil on canvas, 88 x 120.5 cm. Signed, right of centre J. De heem. f, circa 1645. DOUWES FINE ART BV at BRAFA 2021.
Fred Meijer, in a letter of 18 October 2004: 'the signature, the quality of the composition, and the certitude with which the objects are placed do not leave any doubt about the authorship. This painting can be dated ca. 1645'. This work is included in the catalogue raisonné by Fred G. Meijer, 2016.
Provenance: collection Sir Richard V. Sutton Bt.; by descent to F. Chaplin, London 1855; by whom given to Sir Richard Sutton; by descent to Sir R.V. Sutton; Christie's London, 1971; with Richard Green Gallery, cat. 1971, n° 6 & ill.; sale Paul Brandt, Amsterdam, 1972; with art dealer F.G. Bosiak, Frankfurt (Weltkunst n° 48, 1978); Christie's London, 1979; with Waterman Gallery, Amsterdam, cat. 1979, n° 9 & ill.; a private Dutch collection; from a foreign collection; Douwes Fine Art 2006; private collection, The Netherlands.
Exhibitions: Braunschweig, Herzog Anton Ulrich Museum, 1991, 'Jan Davidsz de Heem und sein Kreis'; Leeuwarden, Fries Museum, 'Van Jan Steen tot Jan Sluijters, De smaak van Douwes', from November 1998 until February 1999, cat. n° 9, with ill. (incorrectly as Jan Jansz. De Heem.).
Literature: London 1971, cat. n° 6, colour ill.; Greindl, 1983, n° 10, p. 359, n° 69, p. 361, n° 69 as by Jan Davidsz. de Heem & n° 88; Sam Segal, Jan Davidsz de Heem und sein Kreis, Herzog Anton Ulrich Museum, Braunschweig 1991, addendum 34 A & ill. (wrongly attributed to Jan Jansz. De Heem.); Liedtke 1992(2), pp. 112, 113, wrongly as by Jan Jansz. de Heem; Liedtke 2007, p. 322 (notes 2 and 5); Meijer 2013, pp. 255, 263, 266 (detail k), 269 (note 18); F. G. Meijer, (2016) Jan Davidsz. de Heem 1606-1684, Catalogue Raisonné, Part 2, pp. 109-110, A 95 with ill.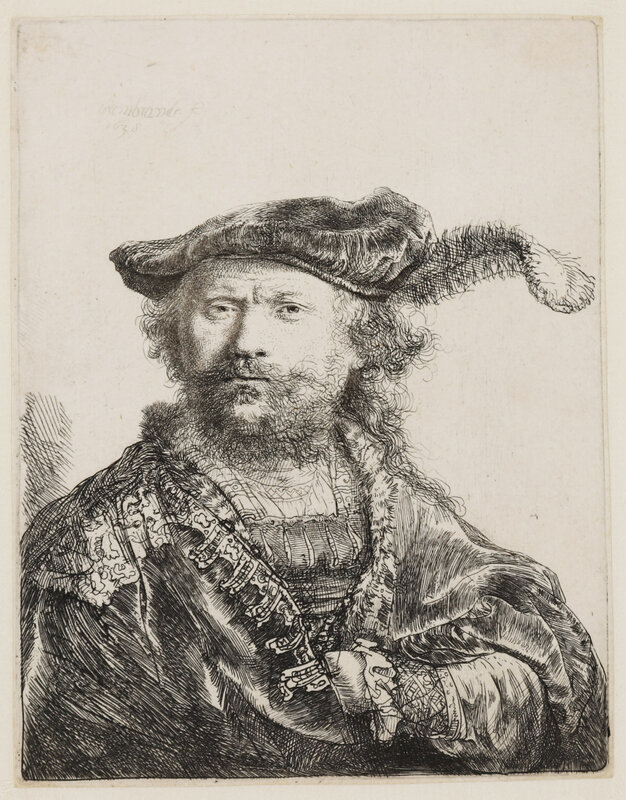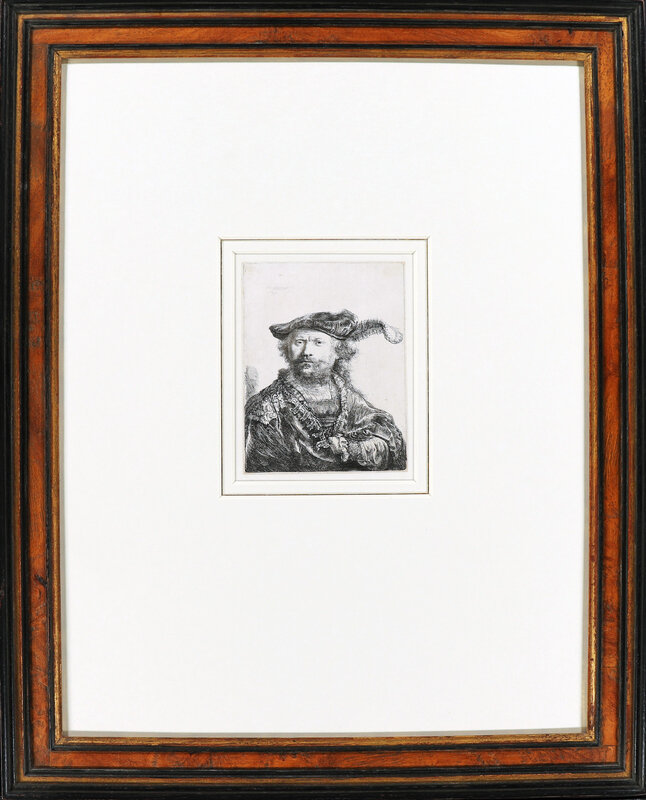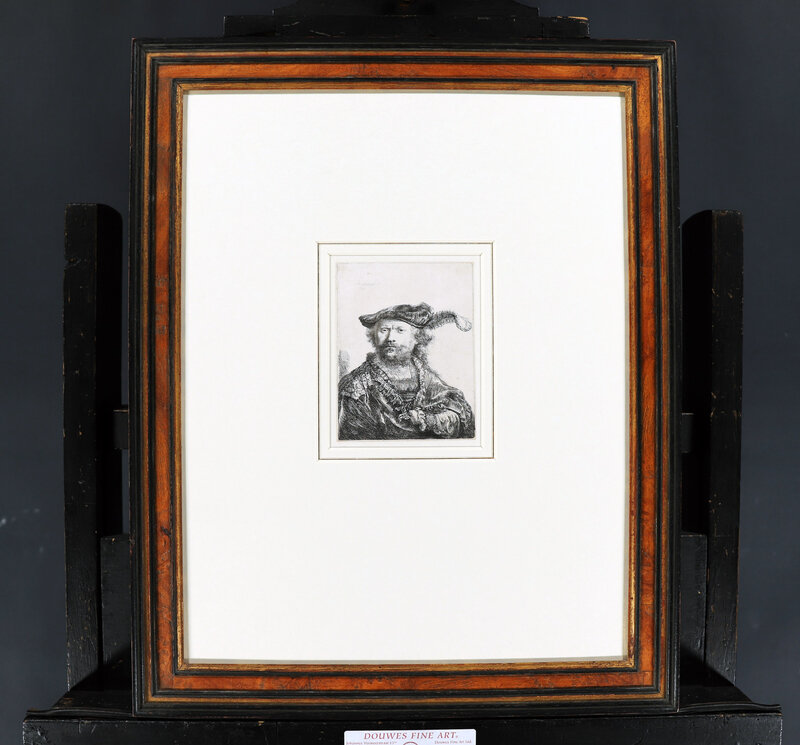 Rembrandt van Rijn (Leiden 1606-1669 Amsterdam), Self-Portrait in a Velvet Cap with Plume, 1638. Etching on laid paper, 13.4 x 10.3 cm. Signed and dated upper left 'Rembrandt f. 1638'. Bartsch 20; Seidlitz 20; Hind 156; White-Boon 20; the New Hollstein Dutch n° 170, 2nd state (of four); plate in existence in Paris - with Nowell-Usticke (1967). DOUWES FINE ART BV at BRAFA 2021.
Provenance: private collection, USA; private collection, The Netherlands.
Condition: a fine print with good margins all around the plate edge. An excellent print of the second state of four, before probably being rebitten and the strengthening and broadening of lines with cross-hatching throughout.
No artist has left a loftier or more penetrating personal testament than Rembrandt van Rijn. In more than 90 portraits of himself that date from the outset of his career in the 1620s to the year of his death in 1669, he created an autobiography in art that is the equal of the finest ever produced even in literature.

It wasn't until the 19th and 20th centuries, when scholars studied Rembrandt's oeuvre as a whole, that it was discovered how very many times the artist had portrayed himself. The number is still a matter of contention, but it seems he depicted himself in approximately forty to fifty extant paintings, about thirty-two etchings, and seven drawings. It is an output unique in history; most artists produce only a handful of self-portraits, if that. And why Rembrandt did this is one of the great mysteries of art history.

Rembrandt's self-portraits always tell us how he feels about himself. In 1638 he feels prosperous: his shirt and jacket are expensive and stylish; the plain artist's beret has been supplanted by a crushed velvet hat with a plume; he has grown whiskers -all befitting a man with much revenue, a costly household and admiring students. Rembrandt also feels cocky: his bearing is aristocratic; his face and eyes convey a certain smugness; his hand is thrust jauntily into the folds of his garment. The scale and ostentation of this self-portrait contrast sharply with the modest, intimate studies of 1630-1631, which reveal only his head and shoulders. Yet within five years of this fine reflection of 1638, Rembrandt's popularity as a portraitist for the wealthy Amsterdam bourgeoisie would fade, his beloved wife Saskia and his mother would be dead, and the resulting financial and emotional turmoil would bring a mature understanding of human fragility to Rembrandt's art and his views of himself.

More recent scholarship has shed additional light on Rembrandt's early self-portrayals. Quite a few, it is argued, were tronies -head-and-shoulder studies in which the model plays a role or expresses a particular emotion. In the seventeenth century there was an avid market for such studies, which were considered a separate genre (although for an artist they also served as a storehouse of facial types and expressions for figures in history paintings). Thus, for example, we have four tiny etchings from 1630 that show Rembrandt, in turn, caught in fearful surprise, glowering with anger, smiling gamefully, and appearing to snarl -each expressed in lines that themselves embody the distinct emotions. Rembrandt may have used his own face because the model was cheap, but perhaps he was killing two birds with one stone. The art-buying public -which now included people from many walks of life, not only aristocratic or clerical patrons, as in the past -went for etchings of famous people, including artists. By using himself as the model for these and other studies, Rembrandt was making himself into a recognizable celebrity at the same time that he gave the public strikingly original and expressive tronies. The wide dissemination of these and other prints was important in establishing Rembrandt's reputation as an artist.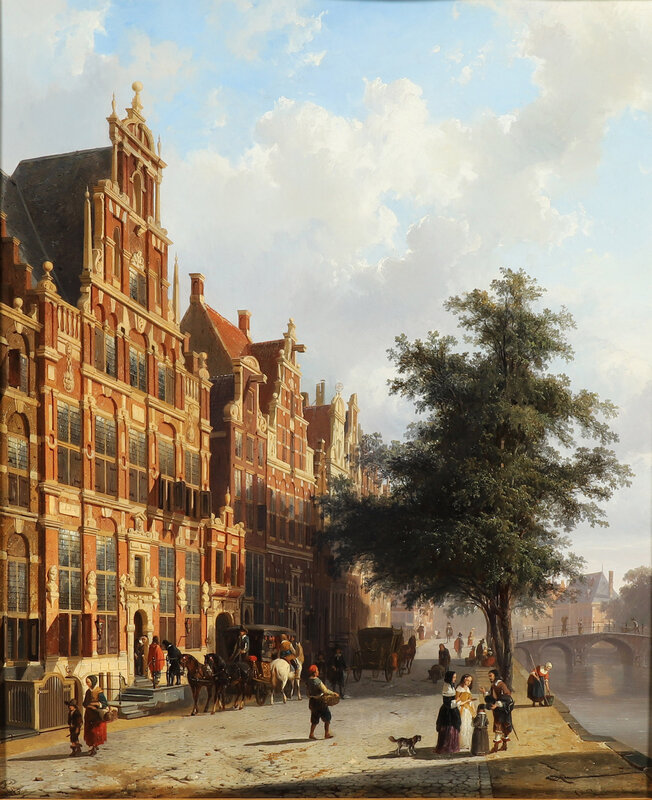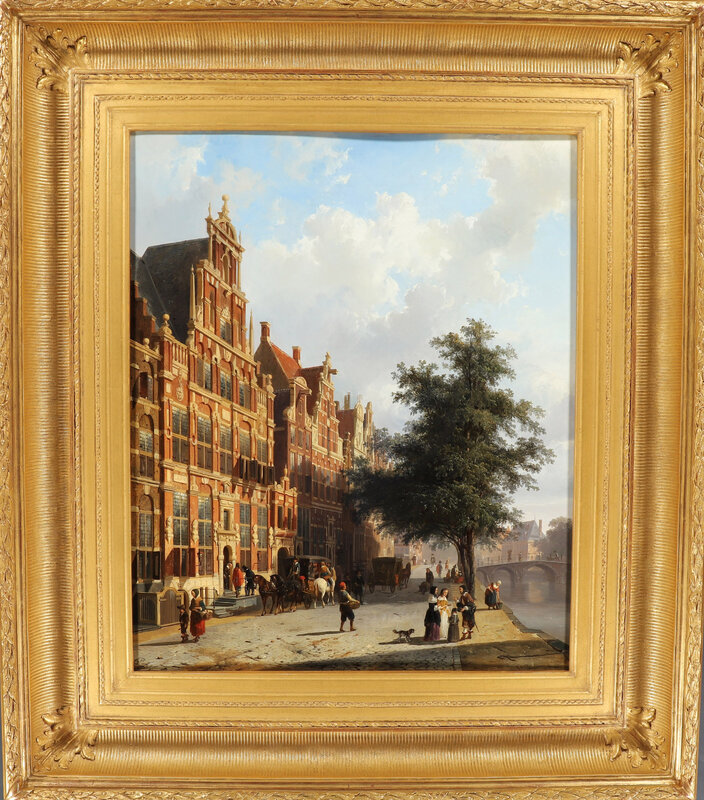 Cornelis Springer (Amsterdam 1817-1891 Hilversum), View of 'Het Huis met de Hoofden' in Amsterdam at the Keizersgracht 123. Oil on panel, 66 x 55 cm. Signed and with monogram, dated '53' (1853). DOUWES FINE ART BV at BRAFA 2021
Provenance: acquired directly from the artist by collection C.F. Roos in Amsterdam, 20th of August 1853; Frederik Muller, Amsterdam 1932, lot 414; collection Mensing, The Netherlands; thence by descent to the current owners.
Exhibitions: Douwes Fine Art, Amsterdam: Retrospective Exhibition Springer and the book launch of W. Laanstra, 1984; Dordrechts Museum, Dordrecht 1984; Rijksmuseum Twente, Enschede 1985; Zuiderzee Museum, Enkhuizen. 'Door het oog van Springer' 12 december 2015-10 april 2016.
Literature: W. Laanstra 'Cornelis Springer', p. 84, n° 53-6. Amsterdam, 1984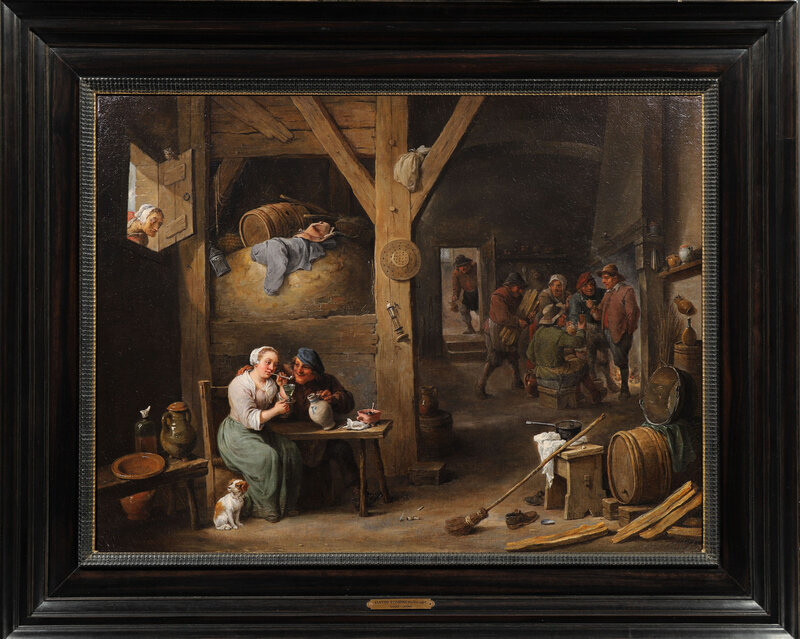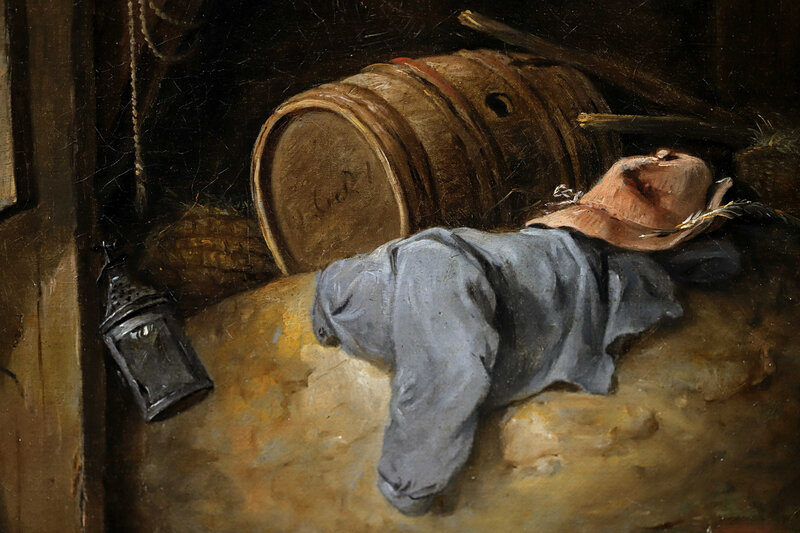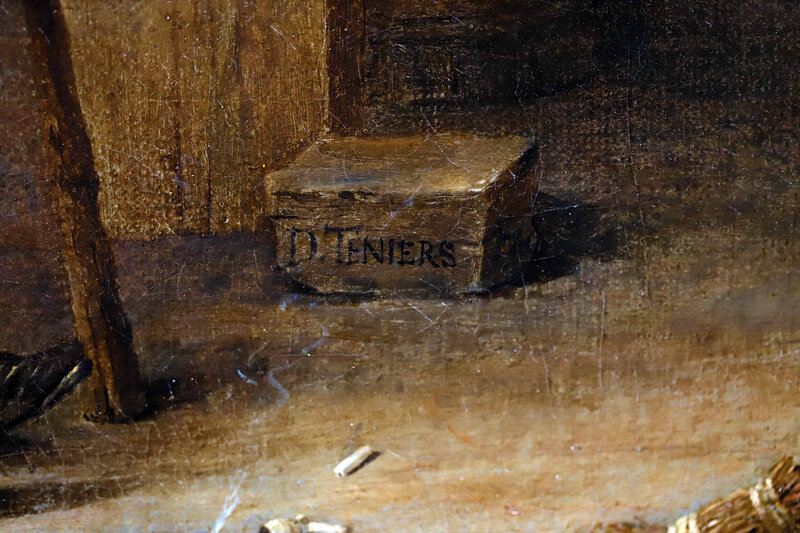 David Teniers II (Antwerp 1610-1690 Brussels), A barn scene with a man courting a young woman, and several figures, 1681. Oil on canvas, 53.5 x 69.5 cm. Signed lower right 'D.Teniers' on the box and dated '1681' on the barrel; with dedication on verso 'To Felixe & Charli Eyston - presented by Grandmother as a wedding present, September 1982 - L.H.'. DOUWES FINE ART BV at BRAFA 2021
Provenance: collection of the Duke of Orleans, 1798; private collection, United Kingdom; Felix & Charli Eyston, London, 1982; private collection, The Netherlands; with Douwes Fine Art, Amsterdam, 2006; private collection, The Netherlands.
Exhibition: Leeuwarden, Fries Museum, Van Jan Steen tot Jan Sluijters, De smaak van Douwes, from Nov. 1998 until Feb. 1999, cat. n° 22, with ill..
Literature: most probably the painting described by John Smith in his Catalogue Raisonné, London 1831, Vol. III, under n° 372, where the dimensions are incorrectly stated as square.
A young woman and a male companion are engaged in conversation. She is smoking a typical 'Gouda' clay pipe and holding a Berkemeyer glass in her right hand. A little white dog sits trustingly by the girl's side. From a window at the top, an older lady observes the couple. Above her head an owl, the ancient symbol of wisdom. Could she be the girl's mother, secretly observing what is going on? The presence of the dog indicates a form of trust and fidelity. Is the young man putting the young woman to a test of courtship? And might the dog indicate her being faithful and not giving in to his advances? To the right in the background is a group of merry peasants, in front of an open fireplace, possibly speculating about the outcome of the couple's conversation.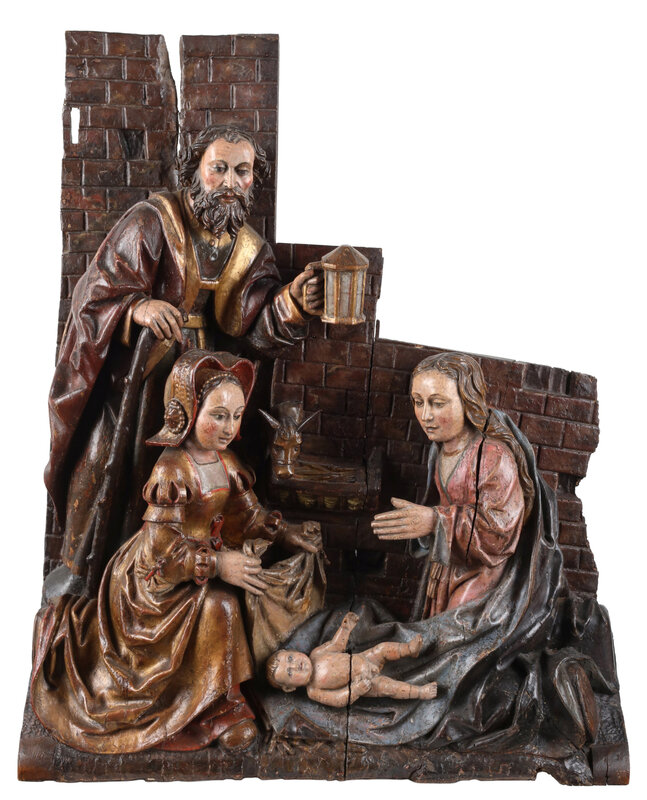 Adoration with the female patron kneeling at the left, Northern France, circa 1525-1530. Oak with original polychrome paint, 76 x 62 cm. DOUWES FINE ART BV at BRAFA 2021
Possibly commissioned for a private chapel.
Provenance: sold at Drouot 18 March 1890, the collection of Mr. Dubessy, lot 112; thence by descent; Jan Muller Antiques, Ghent, 2017; private collection, The Netherlands
Literature: Catalogue des objets d'art et d'ameublement des XVe, XVIe, XVIIe et XVIIIe siècles […], - le tout appartenant à M. Dubessy [Chevallier, 1890], n° 112
Expertise: We thank Mr. Jan Dirven for his expert help to describe this piece.
This polychrome sculpture with an adoration scene, shows a kneeling female patron, surrounded by the holy family. It was not uncommon for patrons who commissioned the sculpture to be portrayed. Some slight overpaint is visible, mainly in the flesh tones ('inkarnaten'), probably from a restauration in the 19th century.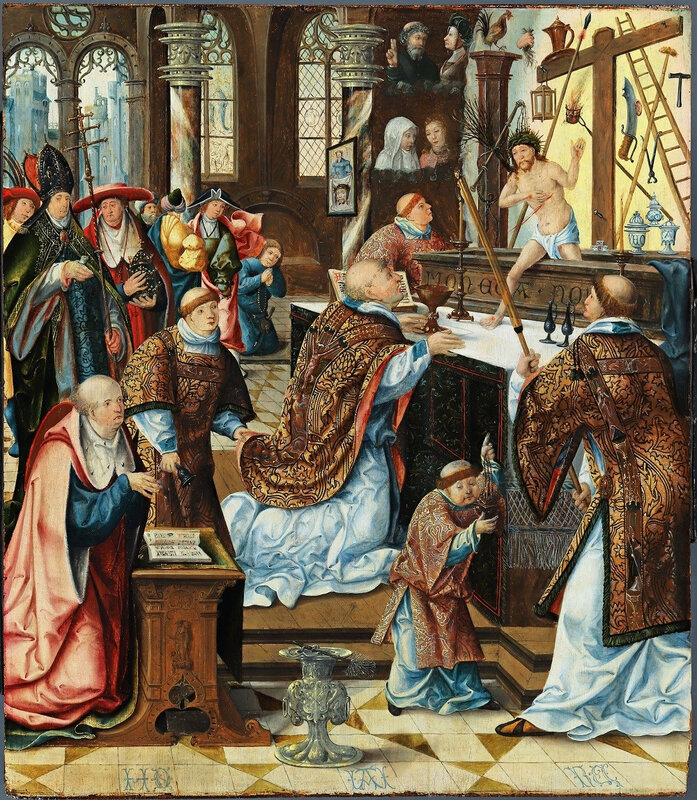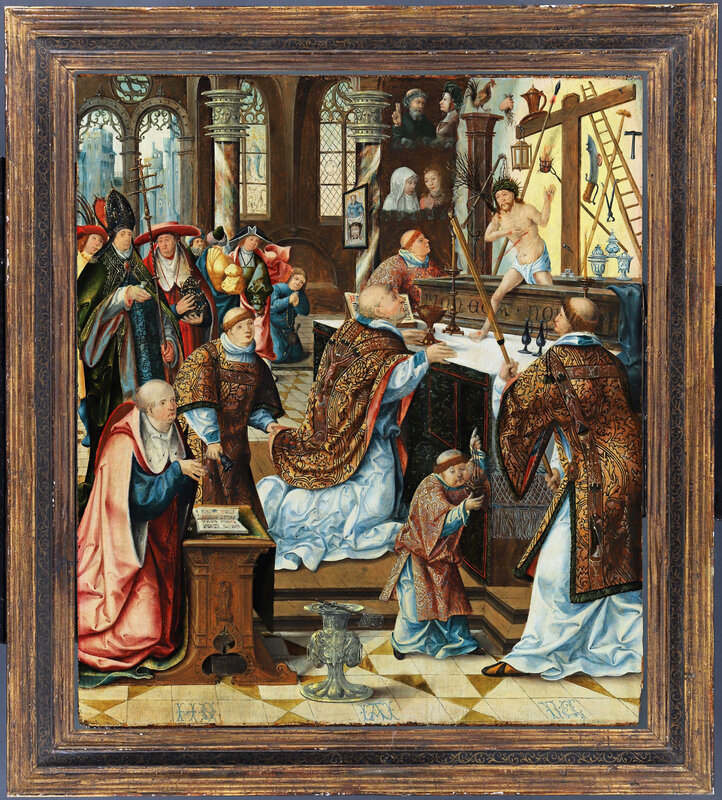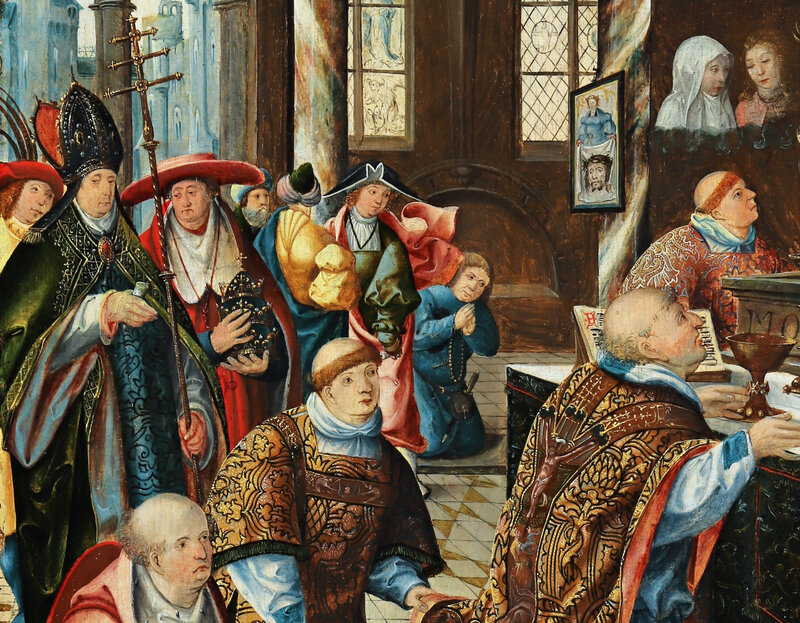 Antwerp school, circa 1520-1540, The Mass of Saint Gregory. Oil on panel, 79 x 68.5 cm. DOUWES FINE ART BV at BRAFA 2021
Provenance: private collection Mrs. A. Eecen-Van Setten, Leeuwarden, around 1961; private Dutch collection.
Exhibition: Laren, Singer Museum, Nederlandse Primitieven, July-Sept 1961, cat. n° 94 (attributed to the Master of The Aachen Altarpiece).
Literature: Religious Themes in Painting from the 14th Century Onwards (March 16 to May 5, 1962), Wildenstein & Co. (London), March 16 to May 5, 1962.
Literature: Religious Themes in Painting from the 14th Century Onwards (March 16 to May 5, 1962), Wildenstein & Co. (London), March 16 to May 5, 1962.
While performing mass one day, an important 6th-century pope and one of the fathers of the early Roman Church called Gregory, overheard an onlooker express doubts about Christ's actual presence at the altar during mass. He prayed for a sign and as he raised the consecrated host (the bread), Christ miraculously materialized above the altar as the Man of Sorrows, displaying the stigmata and surrounded by the instruments and symbols of his Passion.

Shown wearing a chasuble over a dalmatic, a long-standing custom for bishops celebrating solemn pontifical Masses, Saint Gregory gazes up intently at Christ. Miraculously, Precious Blood from the side of Christ sprouts into the chalice the pope is holding. Gregory is assisted by a candle-holding deacon and a deacon who rings the bell for mass while raising the Pope's chasuble during the elevation of the chalice. A very young sub-deacon is swinging a thurible while pointing up to the alter (during the Holy Mass, the altar and bible are being incensed). Part of Saint Gregory's entourage are also two cardinals dressed in red. One is standing in the back, holding Saint Gregory's Papel triple tiara, a headgear with three crowns or levels. Beside him Saint Ambrose, dressed in green with a miter, holds Saint Gregory's three armed Papel cross in the one hand and the papal indulgence letter in the other. In the left corner the other cardinal is kneeling, he is praying from a book.

Together with Christ, some of the instruments of the Passion of Christ miraculously appear above the altar. They help the viewer to empathize with the suffering of Christ. Christ is shown wearing the crown of thorns on his head. Beside Christ the pillar or column is visible where He was whipped in the Flagellation of Christ. Attached to the pillar by the rope that bound Christ are the whip and birches, used for the 39 lashes. On top the pillar stands the rooster (or cock) that crowed after Peter's third denial of Jesus. Behind Christ the Cross on which He was crucified (True Cross) is visible. It contains the nails and around it the hammer appears (used to drive the nails into Jesus' hands and feet) and the pincers used to remove the nails. Placed against the cross are the Holy Lance with which a Roman soldier inflicted the final of the Five Wounds in Christ's side. Placed behind the cross is the ladder used for the deposition or removal of Christ's body from the cross for burial. Interlinked with one step of the ladder is the sponge-on-a-stick from which He drank vinegar while being crucified. Hanging on the cross is the lantern from the garden of Gethsemane and behind the cross is the torch, both used by the arresting soldiers at the time of the betrayal. Nearby is the sword used by Peter, and the ear of the High Priest's servant which Peter cut off in his attempt to prevent the arrest. On top of the cross is the pitcher and cloth used by the Roman prefect Pontius Pilate to wash his hands of Christ's death. At the bottom of the cross three vessels of myrrh are placed, used to anoint the body of Jesus. Beside it three dices are piled up. They are the dice with which the soldiers cast lots for Christ's seamless robe. Right above the head of Saint Gregory, an image with the Veil of Veronica is attached to a marble column.

Allegedly, when Pope Gregory received his vision in the church of Santa Croce in Gerusalemme in Rome, he promised a 14.000-year indulgence to all repentant attendees. Filled with concern about what would happen to his soul after death, hell, heaven and purgatory were top-of-mind for medieval man. To be ensured a spot in heaven, and to pay for their sins in purgatory as short as possible, the redemption of punishment for sins by indulgences was part of every-day-life. Pope Gregory's promise led to many pilgrims coming to this church to pray for an indulgence at the relics of the passion of Christ. If one could not travel to Rome to earn an indulgence, one could also pray in front of a panel such as this Mass of Saint Gregory.

The pious legend of the event was chronicled by the eighth-century Benedictine monk Paul the Deacon in his biography of Pope Gregory, Vita Beati Gregorii Papae. It was later retold in the thirteenth-century Golden Legend. In the 16th century Saint Gregory's vision became very popular again because of its focus on transubstantiation—the belief that the bread and wine transform into the body and blood of Christ during Mass. It is no coincidence that the artistic representation of this Eucharistic Miracle became especially prominent in Europe during the Protestant Reformation.

The quality of execution of the painting, the rendering of facial expressions and the particular care used to represent the costly gowns of the figures are remarkable. The rendering of the drapery and the dark use of colours, point towards an artist working in Flanders or Germany around 1520/1540. According to prof. dr. A. Stange in the 1961 exhibition catalogue of Singer Museum, the painting may be attributed to the Master of The Aachen Altarpiece. Anno 2019 dr. Henri Defoer (former director of the Museum Het Catherijne Convent in Utrecht), suggests a Master from the Cologne region. It is known that during the 16th-century the subject matter of Saint Gregory was rather popular.