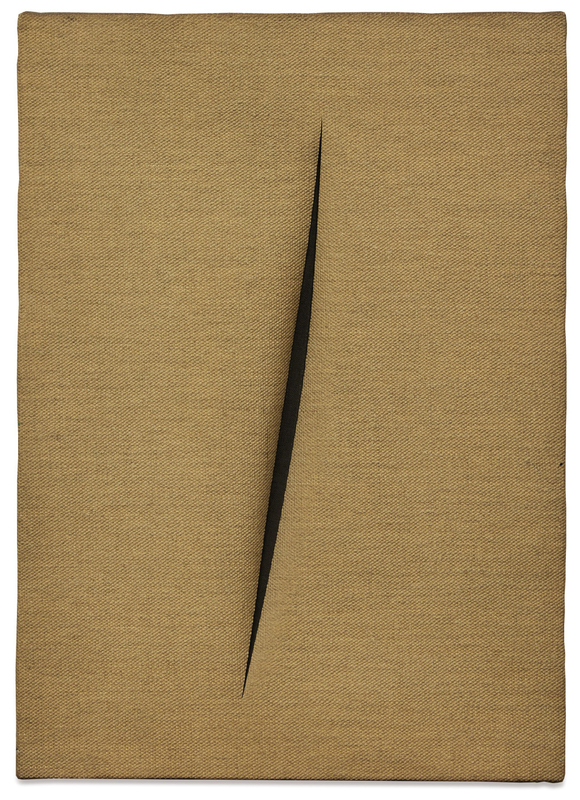 Lot 11. Lucio Fontana (1899 - 1968), Concetto Spaziale, Attesa, signed, titled and dedicated A Jeanne-Claude affettuosamente on the reverse, unprimed canvas, 46 x 33 cm ; 18⅛ x 13 in. Executed in 1963. Estimate: 300,000 - 500,000 EUR. Lot sold: 920,000 EUR. Photo André Grossman/©The Estate of Christo V. Javacheff.
PARIS - Bulgarian-born artist Christo, who died this past May at 84, was famous for the spectacular ambition of the environmental projects he created in collaboration with his wife, Jeanne-Claude, who died in 2009. Over the decades, as they tirelessly battled (not always successfully) to bring celebrated temporary artworks like "The Gates" in New York's Central Park to fruition, Christo and Jeanne-Claude also acquired pieces by friends and contemporaries.

These works are being auctioned this week by Sotheby's in a two-part sale in Paris, the city in which the couple first met after Christo escaped from Communist Bulgaria in 1957, before moving to New York in 1964. Proceeds from the sale benefit the artists' estates.

"They didn't consider themselves collectors," Matthias Koddenberg, an art historian and close friend of the couple, said in an interview. "They only had works by artists they knew, or admired or were close to."

After arriving in New York on the SS France, Christo and Jeanne-Claude created a studio in a disused factory at 48 Howard St., in SoHo, where they lived and worked for the rest of their lives. The art they owned "stood as testaments to various friendships and encounters," Koddenberg explained in a foreword to the auction catalog. "In their eyes, the prestigious names weren't important, but the stories that tied the pair to each of them certainly were."

Plenty of these stories were told in Sotheby's catalog entries for the 28 most valuable works offered in a live auction Wednesday, which raised 8 million euros with fees, or about $9.8 million, against a presale high estimate of 3.8 million euros. An online auction of a further 347 lots, expected to raise at least 314,000 euros (or about $380,000), ends Thursday.

Italian conceptual artist Lucio Fontana was an early supporter of Christo, buying one of his "Wrapped Can" sculptures at a group show in Cologne, Germany, in 1958. Christo and Jeanne-Claude became close friends with Fontana in the 1960s. During one of their frequent visits to his studio in Italy, Fontana asked Jeanne-Claude to choose one of his works.

The selected piece, a trademark canvas with a single cut called "Concetto Spaziale, Attesa," inscribed by the artist to Jeanne-Claude, inspired intense competition from telephone bidders before selling for about $1.1 million with fees, against a low estimate of about $360,000.
The most highly valued work was a 1964 Andy Warhol "Jackie" silk-screen canvas, showing the mourning first lady at the state funeral of President John F. Kennedy, estimated at 700,000 euros to 1 million euros, or as high as $1.2 million. The piece had formerly been owned by New York art critic David Bourdon, who wrote monographs about both Christo and Warhol. Bourdon wanted to sell the work, but after receiving estimates of $1,000 from auction houses, he decided to sell it instead to Christo and Jeanne-Claude for $1,001, according to Koddenberg. In, Paris it sold for about $1.1 million.