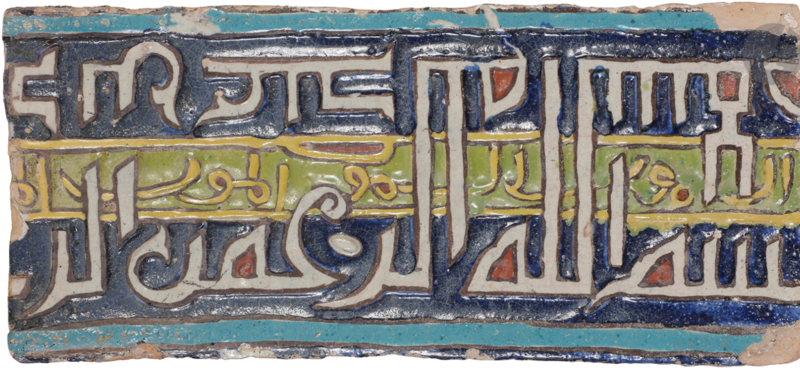 Lot 203. Carreau de revêtement en céramique à décor de lignes noires, Asie Centrale, époque timouride, fin XIVe siècle; 33 x 15 cm. Estimation : 2 000 € - 3 000 €. Photo courtesy Ader.
Carreau de bordure rectangulaire, orné de deux lignes d'inscriptions arabes en coufique géométrique tête-bêche émaillées de blanc sur fond bleu, l'une donnant le début de la Bismillah. Au centre, frise d'inscriptions arabes cursives jaunes sur fond vert répétant le terme "al-mawt"/"la mort". Quelques rehauts de glaçure rouge, bandes turquoise sur les bords.
Quelques éclats.
Publications : Arts from the Land of Timur, An Exhibition from a Scottish Private Collection, Paisley, Sogdiana Books, 2012 : n° 449.
Des carreaux au décor similaire revêtent le pishtaq du mausolée Ostâd 'Ali Nasafi situé dans la nécropole du Shah-e Zende de Samarcande et généralement daté des années 1380. Par ailleurs, le terme "mawt"/"mort" répété sur ce carreau vient suggérer sa provenance funéraire.
Arts de l'Islam et de l'Inde chez Ader, 26 février 2021, Drouot Richelieu - 9, rue Drouot - Salle 7 - 75009 Paris. Marie-Christine DAVID, Expert SFEP.