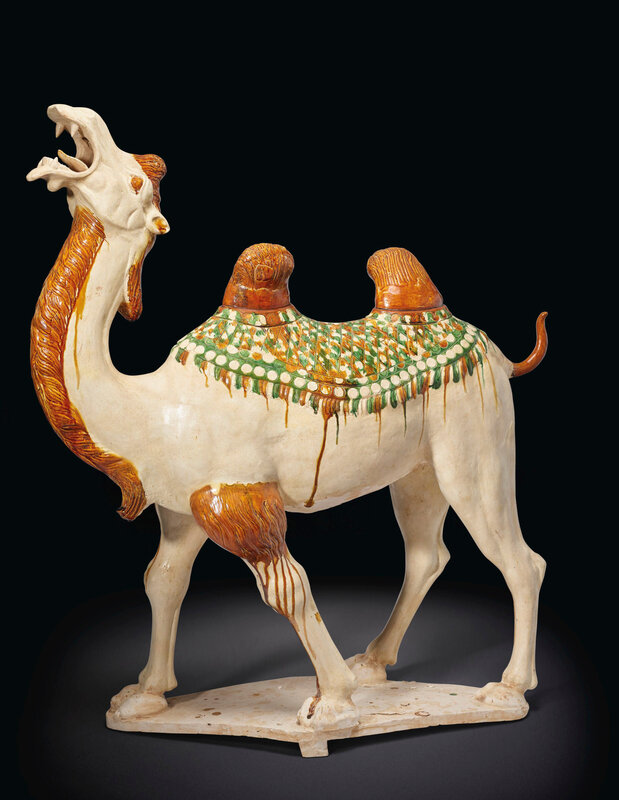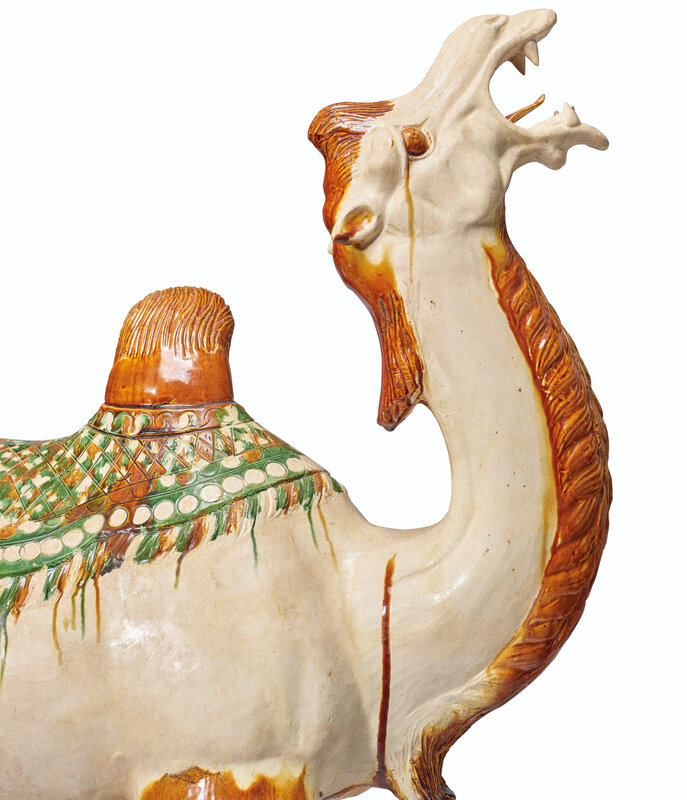 Lot 881. A massive sancai-glazed pottery figure of a striding Bactrian camel, Tang dynasty (AD 618-907); 33 in. (83.8 cm.) high. Estimate USD 100,000 - USD 150,000. © Christie's Image Ltd 2021
The camel is shown striding, with the mane, tail, and two humps highlighted in amber glaze. The head arches strongly upwards with the mouth agape revealing long pointed teeth and the tongue. The camel's back is fitted with a cloth decorated with diamond pattern and with tufted fur border.
Provenance: Hung Wu Antiques, Hong Kong, 1999.
Note: The Bactrian camel was not indigenous to China, but was imported by the tens of thousands from the states of the Tarim Basin, eastern Turkestan and Mongolia. The Tang state created a special office to oversee the imperial camel herds, which were brought into service for transport and for special military courier missions to the northern frontier. The camel was also employed by the court and merchants, making these animals 'ships of the desert' linking China commercially and culturally to the cities and trade routes of Central Asia, Persia and the Near East.

The two-humped Bactrian camel, known in China from as early as the Han dynasty, was originally brought from Central Asia and Eastern Turkestan as tribute. Its ability to survive the hardships of travel across the Asian deserts was soon recognized and Imperial camel herds were established under the administration of a special Bureau. These Imperial camel herds, numbering in the thousands, were used for a range of state duties, including the provision of a military courier service for the northern frontier. Camels were not only prized for resilience but also for their hair, which was used to produce cloth, admired for its lightness and warmth, and when necessary for their meat and milk during the long treks.

A striding camel of similar size (84 cm. high), also with head raised and mouth opened in a bray, with amber-glazed tufts of hair, in the British Museum, London, is illustrated in Sekai toji zenshu, vol. 11, Tokyo, 1976, p. 148, no. 136. Another camel, laden with a large pack with a monster mask, in the collection of the Idemitsu Museum, is illustrated in Chinese Ceramics in the Idemitsu Collection, Idemitsu Museum, Tokyo, 1987, no. 48. A massive sancai and brown-glazed pottery figure of a Bactrian camel was sold at Christie's New York, 25 September 2020, lot 1807.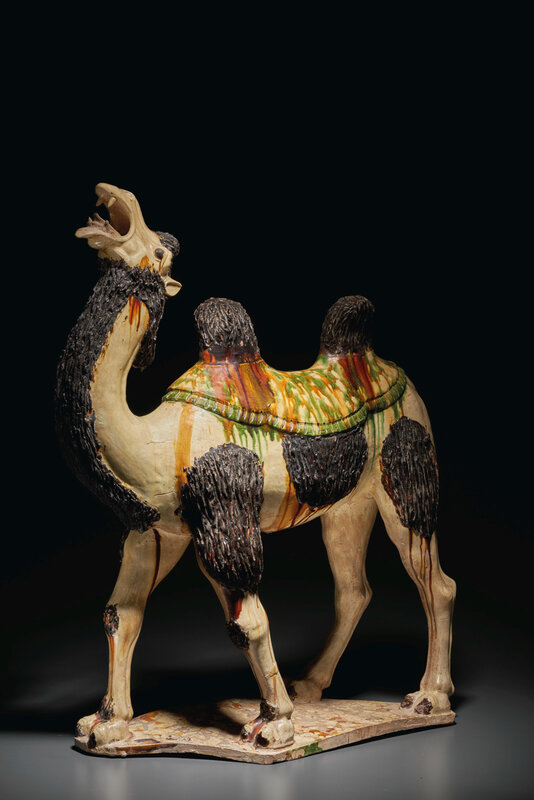 A massive sancai and brown-glazed pottery figure of a Bactrian camel, Tang dynasty (AD 618-907) from the Collection of Frederick A. and Sharon L. Klingenstein; 32 ¾ in. (83.5 cm.) high. Estimate USD 100,000 - USD 150,000. Price realised USD 200,000 at Christie's New York, 25 September 2020, lot 1807. © Christie's Image Ltd 2020
Cf. my post: A massive sancai and brown-glazed pottery figure of a Bactrian camel, Tang dynasty (AD 618-907)
Christie's. Important Chinese Ceramics and Works of Art, 18 march 2021