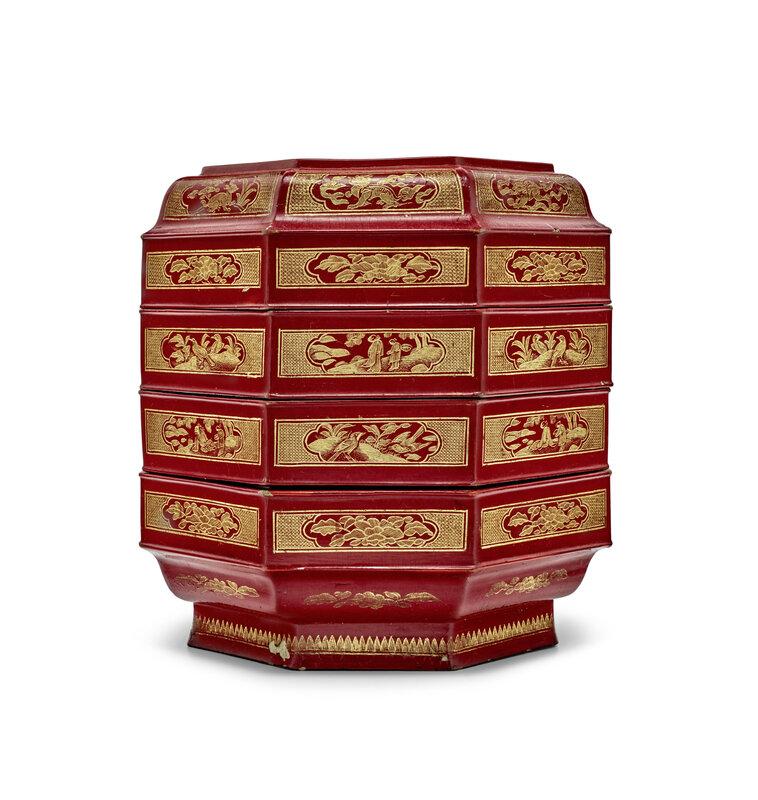 Lot 129. An early red and engraved gilt (qiangjin) lacquer three-tier octagonal box and cover, Song-Yuan Dynasty (960-1368); 11in (28cm) high, 12in (30.5cm) across. Estimate US$ 15,000 - 25,000 (€ 12,000 - 21,000). © Bonhams 2001-2021
The stepped domed cover incised and gilt with a scene depicting two scholarly figures on horseback with attendants arriving at a terraced lakeside building with a newly-leaved willow nearby, the sides with panels depicting various animals, floral sprays, birds and figural groups on cell-grounds, comprising two collars, a base, an individual liner tray and cover.
Property from the Mee-Din and Robert W. Moore Collection of Chinese Lacquer.
Note: For a circular box and cover dated to the Song dynasty (960-1279) depicting an extremely similar scene, with a rider paying a visit to four sages set within an ogival panel and reserved on a similar densely-hatched ground, see 2000 Years of Chinese Lacquer, The Oriental Ceramic Society of Hong Kong and Art Gallery, The Chinese University of Hong Kong, 1993, pp.150-151, no. 78. The scene itself depicts a scene from Shiji, Liuhou shijia (Biography of Zhang Liang, Marquis of Liu) about the prince Liu Ying paying a visit to the four sages, Shangshan Sihao, in the Shang mountains after they turned down the offer of the Emperor, Liu Bang, to serve at the Han court. Like our box, the side includes animals within shaped panels and the lower section has seasonal flower panels. It is also illustrated by Lee King Tsi and Hu Shih Chang, Drache Und Phoenix, Lackarbeiten aus China, The Lee Family Collection, Tokyo (Dragon And Phoenix, Chinese Lacquer Ware), The Museum of East Asian Art, Cologne, 1990, pp.176-177, no. 76. Another covered box of the same period with sages on a moored vessel is illustrated in the same publication, pp.174-175, no. 75.

See also a square dish dated to the twelfth century decorated with two pheasants on rockwork amidst peony sprays illustrated by Lee Yu-kuan, Oriental Lacquer Art, New York and Tokyo, 1972, pp.106-107, no. 44. For an octagonal tiered box dated to the Yuan dynasty with identically domed cover, molded edges and waisted foot but with one less section and depicting floral decoration only, see Ann Yonemura, 'The Art of Chinese Lacquer', Asian Art, Arthur M. Sackler Gallery, Smithsonian Institution, Fall/Winter Issue, 1987-1988, pp. 31-49, fig. 18, where it is described as one of the most exquisite lacquers in the Sackler Gallery. The author notes that the lacquer surfaces of qiangjin lacquers are relatively thin and that the comparatively weak adhesion of the primary material between the wood surface and the final lacquer layers make these pieces especially fragile and few have survived. Qiangjin lacquers were highly regarded both in China, where they appear among the objects in imperial tombs, and in Japan, where they were exported and have been preserved for centuries in Buddhist temples and in private collections.
Bonhams. Chinese Works of Art and Paintings, 15 March 2021, 10:00 EDT, New York