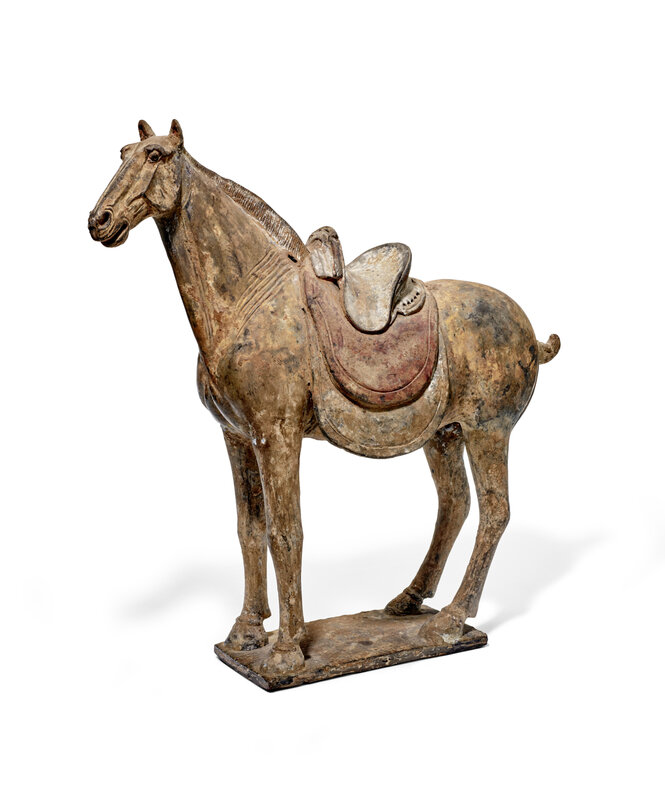 Lot 92. A magnificent large painted grey pottery saddled horse, Early Tang Dynasty, 7th Century; 22 1/2in (57.3 cm) high. Estimate US$ 10,000 - 15,000 (€ 8,300 - 12,000). © Bonhams 2001-2021
Standing foresquare on a rectangular base, the powerful head and neck raised and looking slightly to its real left, the strong face naturalistically-modelled and knife-pared with rippling mouth, flared nostrils, hooded eyes pricked ears and taught muscled neck with neatly hogged mane, the saddle and double-saddle cloth delicately incised and drilled with a single grooved line at the edges and a line of holes at the back of the saddle imitating the leather prototype, the body and legs of the horse further knife-pared and incised with the rippling skin and muscular structure of a thoroughbred, the short tail docked.
Note: For a slightly smaller example of a prancing horse with head bowed and left leg raised, dated to the Late Six Dynasties-early Tang period, 6th/7th century, see Eskenazi, Early Chinese Art from Tombs and Temples, London, 1993, pp. 106-107, no. 35. That horse, like ours, displays great attention to the naturalism of these magnificent beasts, quite unlike that found on the later red, buff and white pottery examples of the Tang period that were produced primarily in molds in greater numbers. The exceedingly heavy weight of our horse also suggests that an iron armature may well have been embedded within the legs of our horse before firing.

For another large figure of a horse dated Northern Wei Dynasty, first half of 6th Century CE, from the MOA Museum of Art, Shizuoka, see Special Exhibition Chinese Ceramics, Tokyo National Museum, October-November, 1994, p. 62, no. 88.