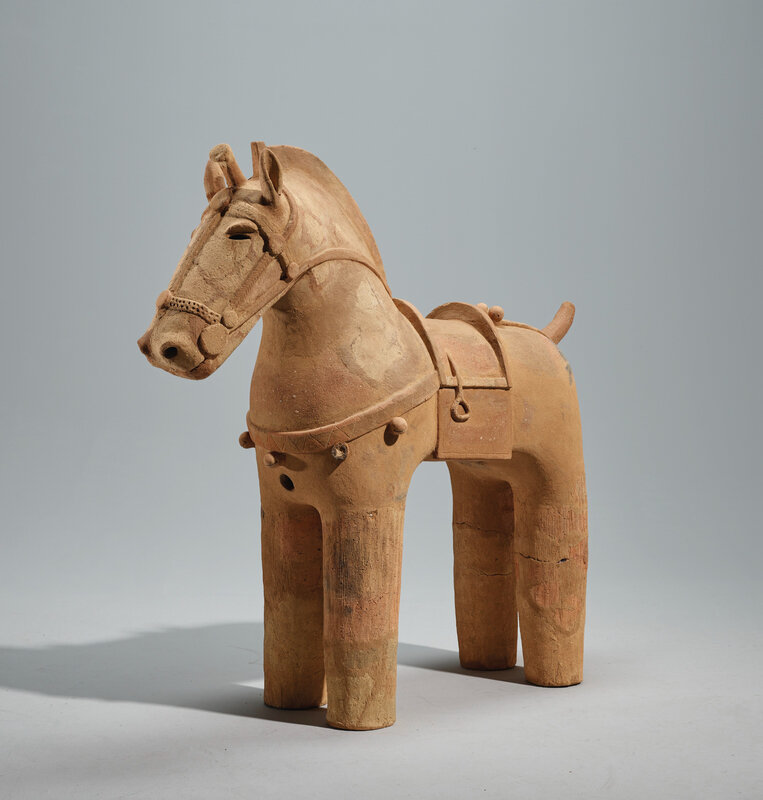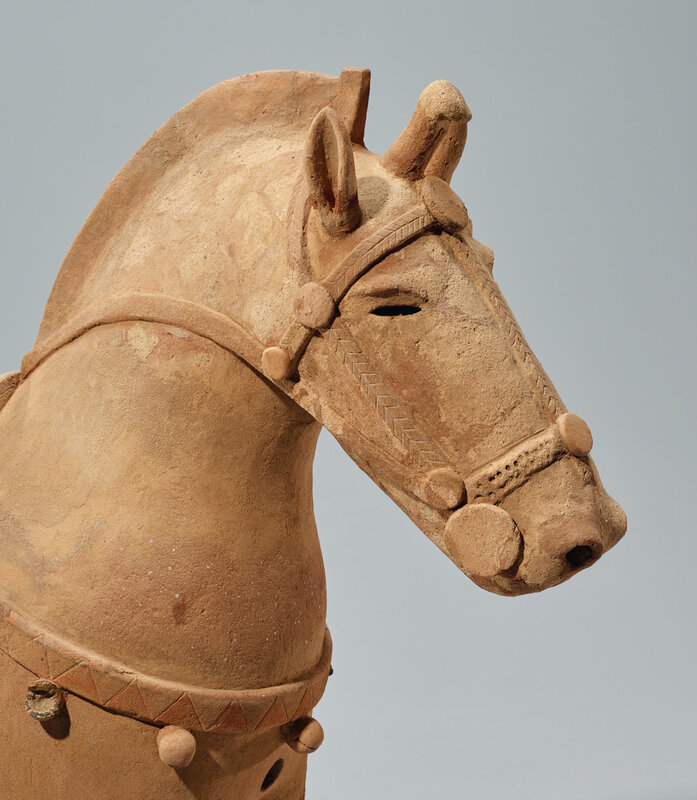 Lot 1. A large Haniwa earthenware sculpture of a horse, Late Kofun period (6th-7th century); 38 in. (96.5 cm.) high; 40 in. (101.6 cm.) long. Estimate USD 20,000 - USD 30,000. Price realised USD 43,750. © Christie's Images Ltd 2021
Of low-fired reddish clay, modeled as a standing life-like horse wearing a bridle, stirrups and saddle with bells on the front and back, the mane tied in a knot at the forehead.
The results of the report on Thermoluminescene Analysis no. N121b22 obtained by the Research Laboratory for Archaeology and the History of Art, Oxford University, are consistent with the dating of this lot.
Provenance: Acquired from a private collection in Japan, 2004.
Exibited: Acquired from a private collection in Japan, 2004.
Note: Haniwa of armored warriors and horses of the fifth century AD indicate the military power of the ancestors of the Imperial line and show that the horse must have played a major role in the unification struggles and the rise of the Yamato clan. Although archaeology tells us that there were wild horses in Japan long before the Kofun period, it is believed that they were never previously domesticated. That horses and riding accoutrements were brought from China and Korea around the end of the fourth and beginning of the fifth century is attested by tomb contents which include both imported objects and objects made in Japan virtually identical to those found in Korean mounds of the same period. Representations of haniwa of horses are often found sculpted in such detail as to enable the positive identification of metal fragments of horse trapping found buried in the stone chambers of some tombs.
The celebrated haniwa of a caparisoned horse in the collection of the Tokyo National Museum which was recorded by Gowland has since been enhanced with the addition of formerly missing parts of the harness, mane and tail. Now restored to its original condition it can be seen as a close relative of this fine haniwa here. The importance of the horse to the early Yamato Emperors ensured that it would forever be associated with the Shinto pantheon, and to this day a pair of horses, a black and a grey of pure white, are kept in the shrine of the Sun Goddess at Ise, reflecting the events of fifteen hundred years ago, and thus preserving the grand scheme of the gods as portrayed in the early unification myths.
Christie's. Japanese and Korean Art, New York, 16 march 2021.