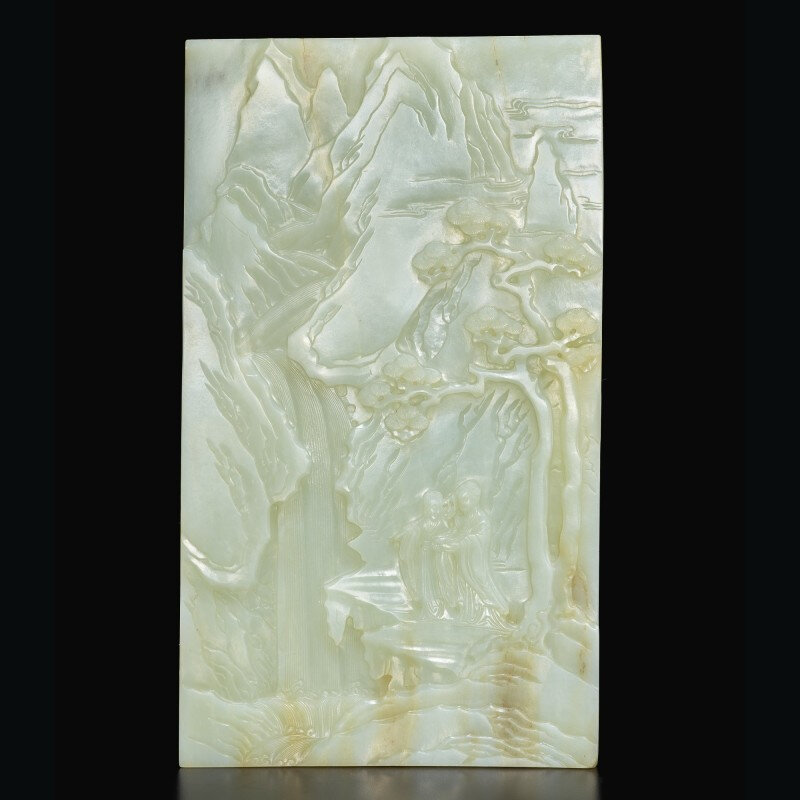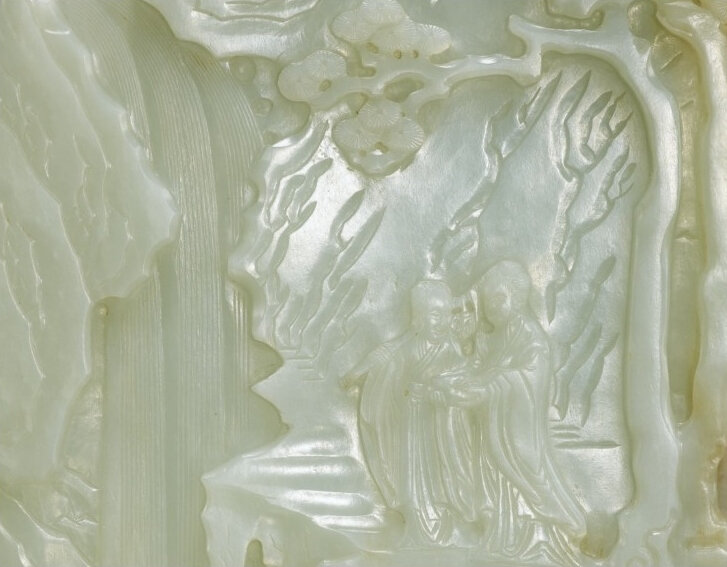 Lot 8. An important inscribed pale celadon jade table screen, Qing dynasty, Qianlong period (1736-1795). Height 10 ⅞ in., 27.6 cm. Estimate: 300,000 - 500,000 USD. Lot sold: 588,700 USD. (C) 2021 Sotheby's
of vertical rectangular form, skillfully carved in several layers of relief on one side with two scholars standing on a rocky outcrop beneath a gnarled pine tree all set within a vertiginous mountain landscape of craggy peaks and ravines, a waterfall coursing between the distant summits before cascading down the steep rock face in the middle-distance, roiling clouds in the sky above, the verso carved in low relief with a river estuary with steep rockwork rising to one side, the top left corner with a twenty-eight character poem Yuzhi gaoshi linquan shi (scholars by the waterfall) incised and gilt, following by the inscriptions Yuzhi ti and He Shen jingshu (respectfully written by He Shen).
Provenance

:

Collection of Mr. and Mrs. James Leipner.
Gifted to Brooklyn Museum, Brooklyn, in 1976 (acc. no. 76.180).
Ehibited: Brooklyn Museum, Brooklyn, circa 1980-88.
'A hundred streams flying from beyond the clouds, Traveling thunderously for thousands of miles and falling into the river in front' - EMPEROR QIANLONG, 1764
nscribed with a poem composed by the Qianlong Emperor (r. 1736-95), this table screen is significant not only for its imperial association, but also for the name engraved in the complimentary close – He Shen (1750-99).
The inscription can be translated as:
A hundred streams flying from beyond the clouds
Traveling thunderously for thousands of miles and falling into the river in front
He who watches this lofty marvel is
Perhaps the celestial Beigu of Dayuan
Imperial Poem respectfully written by the Emperor's subject He Shen