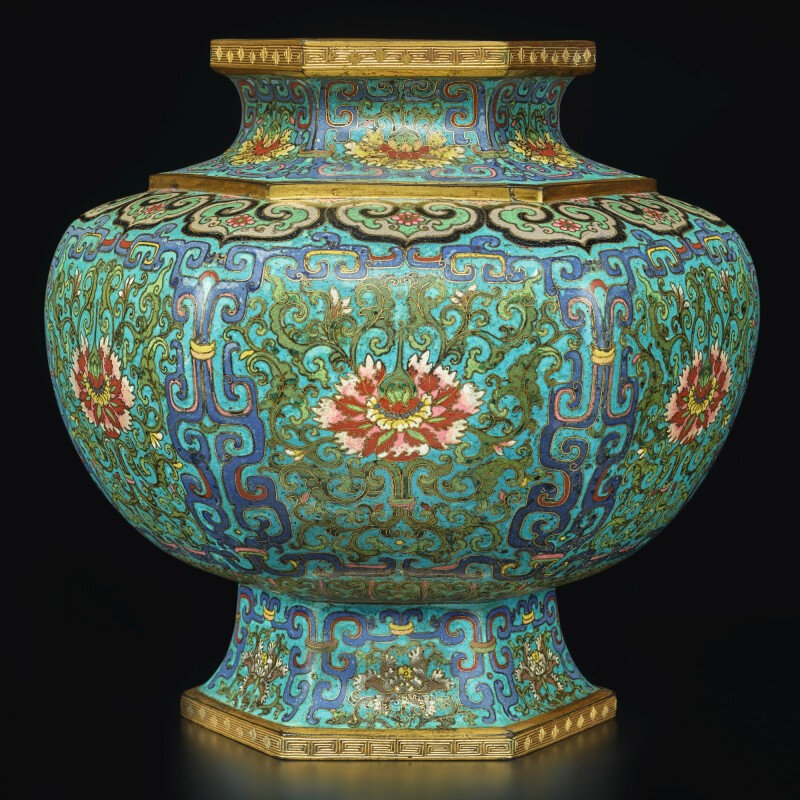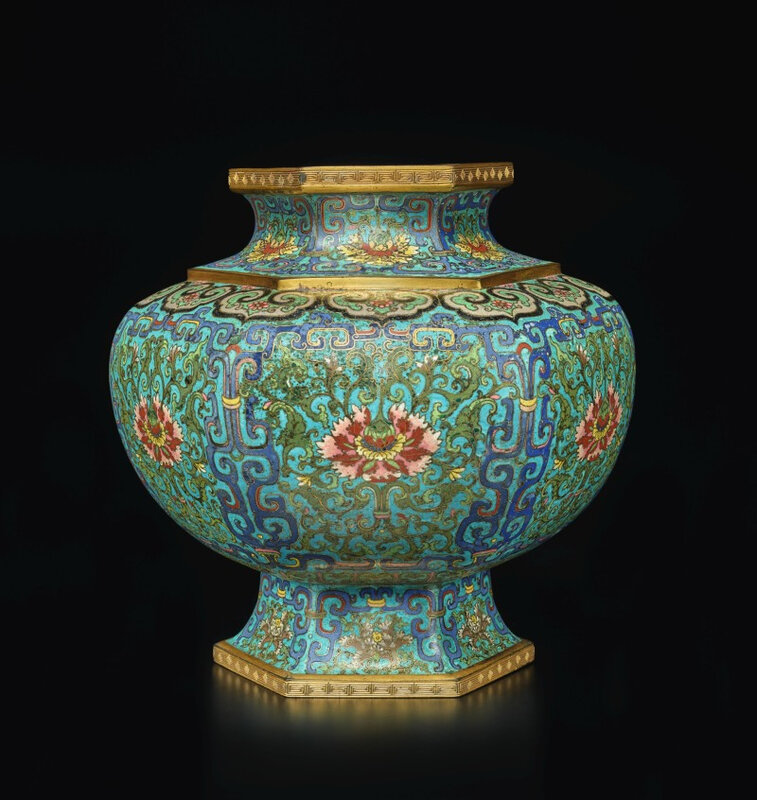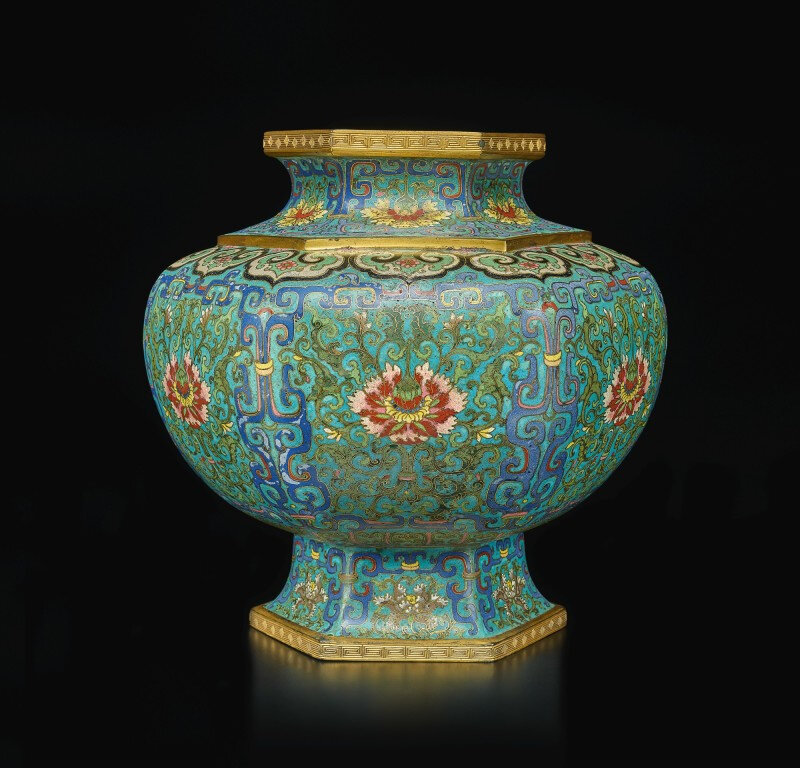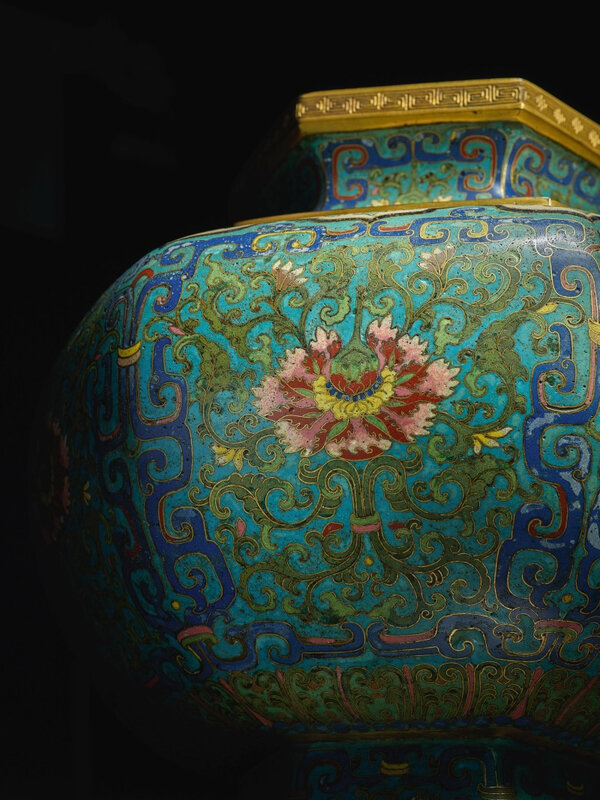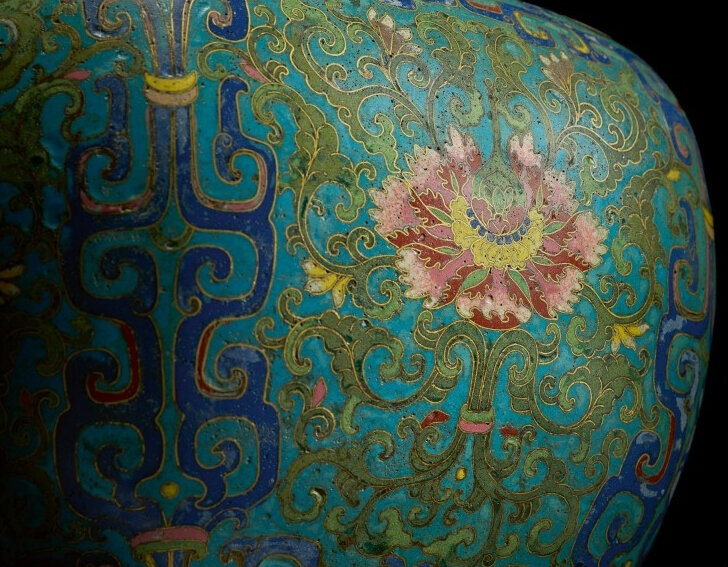 Lot 24. An exceptionally rare cloisonné enamel 'bats and clouds' vase, Qing dynasty, Qianlong period (1736-1795). Height 15 ½ in., 39.3 cm. Estimate: 300,000 - 500,000 USD. Lot sold: 315,000 USD. (C) 2021 Sotheby's
the globular body rising from a tall spreading foot to a flaring waisted neck and a gilt galleried rim, the neck set with two mythical beast-form handles, the body intricately enameled with sixteen bats in flight, each meticulously picked out in red, pink, yellow and green enamels, amidst blue ruyi-shaped clouds, encircled above by a band of pendent bats and interlocking C-scrolls at the shoulder, and below by a band of lappets enclosing lotus blooms, repeated and interlocking at the foot, the neck with ten further bats in predominantly blue, pink and red enamels amidst shaded green-enameled foliate scrolls, framed below by a band of upright bats, with further interlocking lappets above encircling the rim, all reserved on a turquoise ground.
Provenance: Collection of Robert Hoe III (1839-1909).
American Art Association, New York, 18th February 1911, lot 812.
Collection of Samuel P. Avery, Jr. (1847-1920).
Gifted to the Brooklyn Museum, Brooklyn, in 1911 (acc. no. 09.478).
Literature: John Getz, Catalogue of the Avery Collection of Ancient Chinese Cloisonnés, New York, 1912, pl. 49.
Exhibited: Blue of Jingtai. The Samuel P. Avery, Jr. Collection of Chinese Cloisonné Enamels, Brooklyn Museum, Brooklyn, 1990-93.
'Art critics from the prominent cities in the East have been so interested in this collection that they have journeyed to this borough in order that they might actually see the beauties and wonders of this old cloisonné.' THE STANDARD UNION, 15 JANUARY 1910
The present vase, with its exquisite enameling and majestic design of bats in flight amidst scrolling clouds was undoubtedly made for Imperial use and is representative of imperial cloisonné enamels of the finest quality commissioned for the court of the Qianlong Emperor.
After the sixth year of the Yongzheng reign (1728), the palace enamel workshops succeeded in experimenting with locally manufactured enamels and instigated the production of a whole new palette of enamel colors, which allowed the court enamelers to deploy a wide array of colors to create complex designs on vessels. Of particular significance is the production of two new enamel colors, pink and white, which allowed decorations of enameled wares to be executed with more sophisticated color gradations, lending them a 'painterly' quality.
The rare and masterfully executed design of 'bats and clouds' seen on the present vase takes its inspiration from contemporary porcelain wares. Here, the use of the predominantly red enameled bats on a ground of shaded dark and light blue clouds is reminiscent of copper- and iron-red bats and washes of cobalt blue clouds found on porcelain wares, such as on an unmarked Qianlong period tianqiuping in the Qing Court Collection, illustrated in The Complete Collection of Treasures in the Palace Museum. Blue and White Porcelain with Underglaze Red (III), Hong Kong, 2000, pl. 212.
The elegant form, particularly unusual given the inclusion of the stepped gilt-rim at the shoulder, similarly finds its origins in Qing dynasty porcelains. The form is seen on a yellow-ground Jiaqing mark and period 'bats and lotus' vase in the Huaihaitang Collection, included in the exhibition Ethereal Elegance. Porcelain Vases of the Imperial Qing. The Huaihaitang Collection, Art Museum, The Chinese University of Hong Kong, Hong Kong, 2007, cat. no. 135.
Masterful transfers of a porcelain form and design into cloisonné enamel are extremely rare and only a relatively small number of vessels of this category are known. An earlier Yongzheng period cloisonné enamel 'dragon' tianqiuping is illustrated in Sotheby's: Thirty Years in Hong Kong, Hong Kong, 2003, pl. 283; and in Giuseppe Eskenazi in collaboration with Hajni Elias, A Dealer's Hand. The Chinese Art World Through the Eyes of Giuseppe Eskenazi, London, 2012, pl. 158; and sold three times in our Hong Kong rooms, 2nd May 1995, lot 118; 7th May 2002, lot 580; and 31st October 2004, lot 2.
The design of the present vase is replete with auspicious meaning with the scrolling clouds adorning the vase homophonous with yun, 'fortune', and together with bats relay the auspicious message of 'may you have good fortune and blessing'. A small number of other cloisonné enamel vases decorated with a 'bats and cloud' design are known, all lacking the sensitive application of enamels and shading effect seen on the present lot. Compare, for example, a double gourd-form vase decorated with bats and shou characters amidst clouds, attributed to the first half of the 18th century, illustrated in Helmut Brinker and Albert Lutz, Chinese Cloisonné: The Pierre Uldry Collection, New York, 1989, pl. 246; a 17th century bottle vase of similar design in the Museum für Kunst und Gewerbe, Hamburg, illustrated in Nora von Achenach, Chinesische Kunst im Museum für Kunst und Gewerbe Hamburg, Hamburg, 2012, pl. 120; and a slightly later baluster vase, attributed to the Jiaqing period, from the collection of Juan Jose Amezaga and Maria Dolores Feijoo, sold at Christie's Paris, 7th December 2007, lot. 46.
Variations of the design are also found on imperial cloisonné wares of other forms, such an elaborate zitan-framed throne screen in the Palace Museum, Beijing, included in the exhibition Secret World of the Forbidden City. Splendors from China's Imperial Palace, The Bowers Museum of Cultural Art, Santa Ana, p. 34; the reverse of a two-sided cloisonné enamel panel from the collection of David David-Weill and now in the Musée des Arts Décoratifs, Paris, included in the International Exhibition of Chinese Art, Royal Academy of Art, London, 1935, cat. no. 2038 and in the exhibition Cloisonné: Chinese Enamels from the Yuan, Ming, and Qing Dynasties, Bard Graduate Center, New York, 2011, cat. no. 126; a pair of large cloisonné enamel censers and covers, formerly in the collection of the Rt. Hon. The Lord Margadale of Islay, sold at Christie's London, 31st May 1965, lot 134, and again in their Hong Kong rooms, 30th May 2005, lot 1279; and on two cloisonné enamel peach-form basins, the first sold in our London rooms, 7th November 2007, lot 439 and the second at Christie's Hong Kong, 28th May 2014, lot 3022.