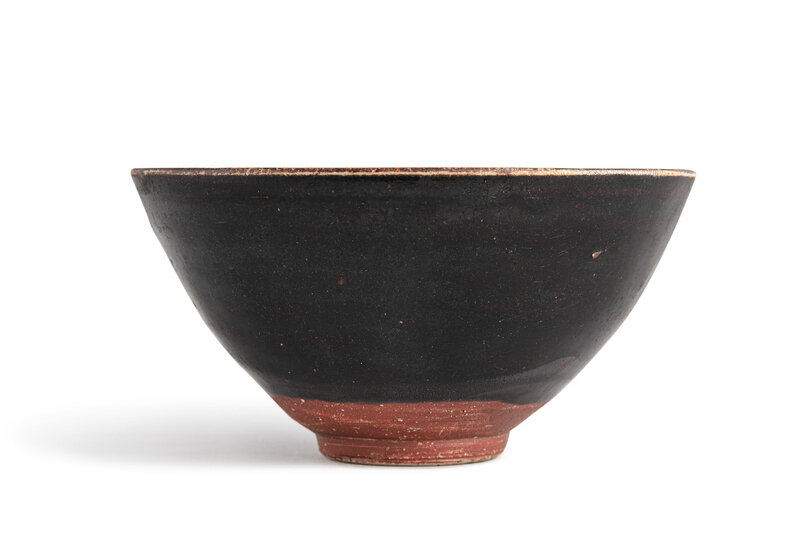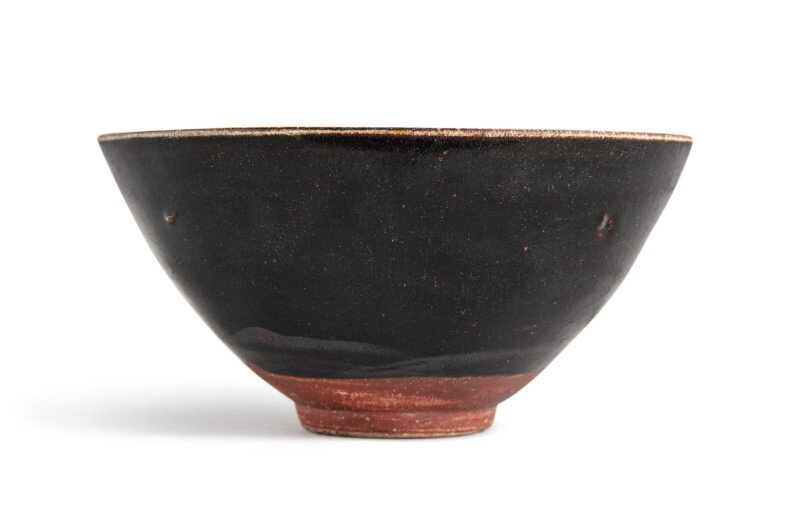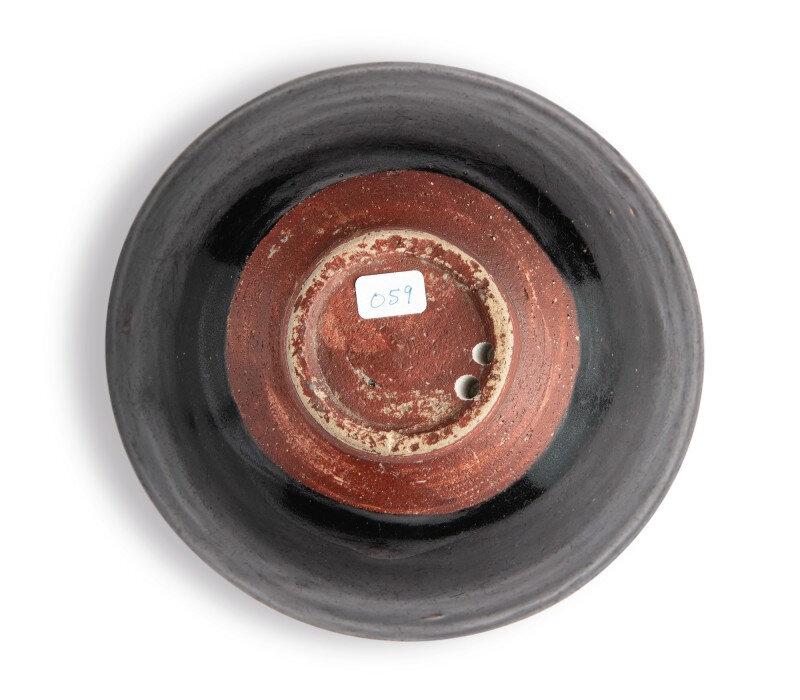 Lot 102. A 'Jizhou' 'papercut' bowl, Southern Song dynasty (1127-1279). Diameter 5 in., 12.7 cm. Estimate: 4,000 - 6,000 USD. Lot sold: 10,710 USD. Courtesy Sotheby's.
robustly potted with the deep, gently rounded sides rising from a tapered foot to a slightly indented rim, the interior resist-decorated with two rows of papercut plum blossom florets reserved in a rich dark brown glaze against a variegated buff ground, the exterior covered with a black glaze falling short of the foot to expose the unglazed buff-colored stoneware body dressed in a thin layer of brick-red wash.
Property from a Boston Private Collection.
Provenance: The Chinese Porcelain Company, New York, 2010.
Note: The present lot belongs to a group of Jizhou papercut-decorated bowls which share the same characteristic of dressing the unglazed biscuit foot with a dark red wash, possibly to imitate the dark body of the highly praised Jian wares of the same period. See a closely related example from this group in the National Museum of Asian Art Collection, Washington, D.C. (accession no. RLS1997.48.1266); and another bowl, similarly decorated, but of a conical form, sold at Christie's New York, 20th September 2002, lot 289.
Tea bowl, Jizhou ware, Southern Song dynasty, 12th-13th century. Stoneware with iron and ash glazes, 6 x 12.3 cm (2 3/8 x 4 13/16 in). The Dr. Paul Singer Collection of Chinese Art of the Arthur M. Sackler Gallery, Smithsonian Institution; a joint gift of the Arthur M. Sackler Foundation, Paul Singer, the AMS Foundation for the Arts, Sciences, and Humanities, and the Children of Arthur M. Sackler. Accession no RLS1997.48.1266, National Museum of Asian Art Collection, Washington, D.C.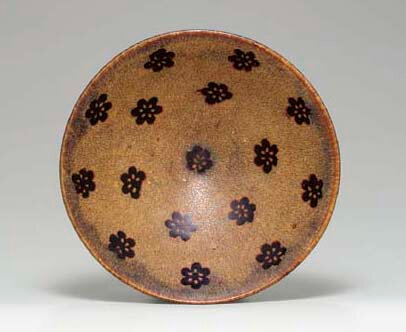 A rare 'Jizhou' paper cut resist-decorated conical bowl, Southern Song dynasty, 12th-13th century; 6in. (15.3cm.) diam., box. Estimate USD 20,000 - USD 30,000. Price realised USD 21,510 at Christie's New York, 20th September 2002, lot 289. © Christie's Images Ltd 2002
The interior of the shallow flared sides decorated in resist technique with a pattern of scattered plum blossoms reserved in dark brown glaze against the finely variegated buff matte ground thinning at the rim, the exterior covered with a dark brown glaze over a milky russet glaze ending in a line above the shallow foot to expose the buff ware covered in a thin wash burnt dark brick red in the firing.
Note: The Jizhou kilns in Jiangxi province were perhaps the most daring, versatile and technically creative kilns of the Song dynasty. Among the kiln's most innovative techniques was using paper stencils to create resist designs. For a discussion of the processes involved in producing designs using paper cut-outs, see R. Mowry, Hare's Fur, Tortoiseshell, and Partridge Feathers, Cambridge, Massachusetts, 1996, pp. 36-7.

There is little doubt that this handsome bowl was used for drinking tea. Like Fujian, where large numbers of hare's fur-glazed bowls were produced, Jiangxi province was also an important tea-producing area, and the large number of tea bowls made at the Jizhou kilns, as well as those in Jian, reflect the increasing popularity of tea-drinking in China during the Song dynasty.

Bowls of this type are represented in many famous collections. A bowl of this design in the Avery Brundage Collection, Asian Art Museum of San Francisco, is illustrated by R. Mowry, op. cit., p. 250, no. 101. Another example is illustrated by J. Ayers in Chinese Ceramics in the Baur Collection, Geneva, vol. 1, p. 97, no. 51. Compare, also, the deeper bowl with similar decoration illustrated by R. Krahl in Chinese Ceramics from the Meiyintang Collection, vol. 1, London, 1994, p. 283, no. 525.
Sotheby's. Important Chinese Art, New York, 17 march 2021