HONG KONG.- This April, Sotheby's will bring to auction three of the most important Chinese seals ever to come to the market. Each one a priceless record of imperial Chinese history in its own right, together these three seals rank among the most important historical objects – of any period or geographic region – ever to appear at auction. Originally the preserve purely of the Emperors of China, imperial seals were used as a singular stamp of authority – akin to that of a signature – each one carved with language unique to the Emperor it served. Today, very few imperial seals survive. Those to be offered this spring include: the only surviving imperial seal from the Ming dynasty (est. HK$25-30m / US$3.2-3.9m / £2.3-2.8m); the largest and most important seal ever carved for the Kangxi Emperor, who in the late 17th and early 18th centuries, was the single most powerful person on earth, ruling over a vast Kingdom of over 100 million subjects (est. HK$80-100m / US$10.3-12.9m / £7.4-9.3m); and the white jade seal used by the latter's grandson, the Qianlong Emperor to legitimise his rule, which at HK$125-180m / US$16.1-23.2m / £11.6-16.7m, carries the highest auction estimate ever placed on a seal.

Nicolas Chow, Chairman, Sotheby's Asia, International Head and Chairman, Chinese Works of Art, said: "The three extraordinary seals that we are presenting together for the first time capture, in their inscriptions and in the scars of history left upon them, the most defining moments in Chinese imperial history – from the apex of the Ming dynasty to its downfall, from the consolidation of the Manchu empire to the most controversial imperial succession power struggle ever, and finally to the decline of imperial China at the hands of imperialist forces in the 19th century."
THREE SUPREMELY IMPORTANT MING AND QING IMPERIAL SEALS FROM PRIVATE HONG KONG COLLECTIONS
The Only Surviving Ming Dynasty Imperial Seal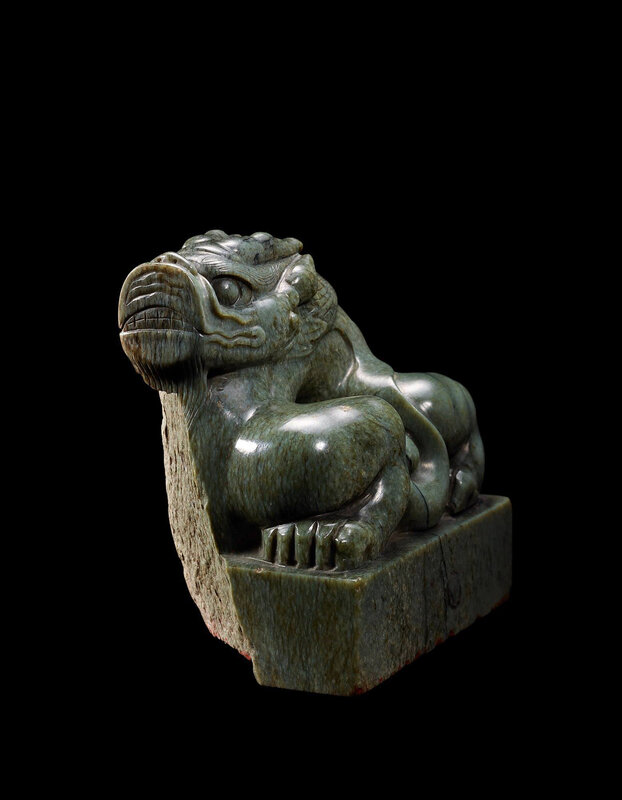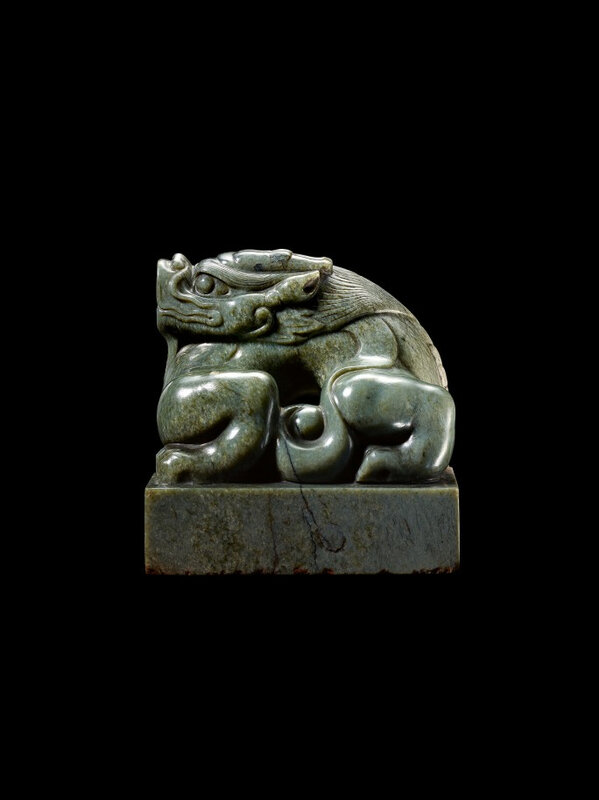 A Superb Imperial Green Jade Memorial Seal of the Yongle Empress Wen, Ming Dynasty, Hongxi Period (1424-1425), 10.5 cm. Est: HK$25,000,000 - 30,000,000 / US$3,220,000 - 3,870,000. Courtesy Sotheby's.
Until the emergence of this extraordinary jade piece, all Ming dynasty imperial seals were thought to have been lost or destroyed – having been either adapted for Qing imperial use or destroyed during the ravages of war during the fall of the dynasty.
The personal seal of Empress Wen – the consort of the Emperor Yongle, who played a key role in the establishment of the Ming dynasty – this rare survival is carved in the shape of a ferocious horned dragon, encapsulating the pinnacle of wealth and power of the Ming dynasty in the early 15th century. At the same time, the scars and scorch marks on the surface of the seal act as a powerful visual record of the tumultuous events of the 3rd June 1644, when the seal was clearly smashed and burned as the last Chinese dynasty was destroyed. The survival of this piece, which tells the story of the Ming dynasty at its height and at its fall, and is nothing short of miraculous, making it the only known surviving imperial seal of the Ming era.
The Largest and Most Potent Seal Ever Carved for the Kangxi Emperor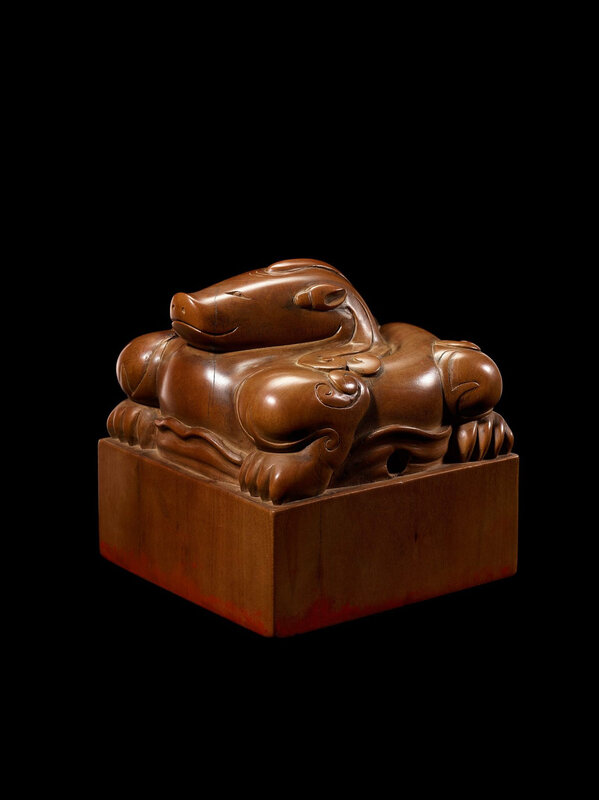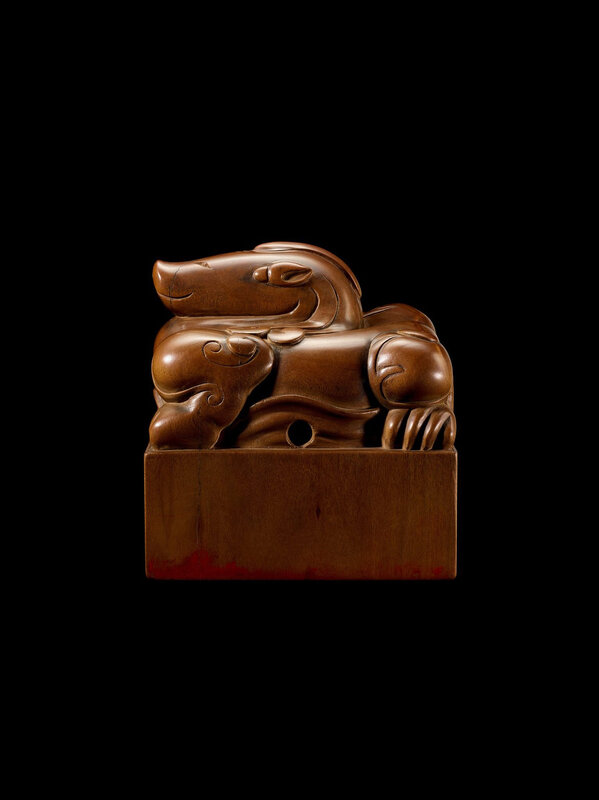 An Exceptional Imperial Tanxiangmu "Jingtian Qinmin" Seal, Qing Dynasty, Kangxi Period (1662-1722), 10.2 by 10.2 by h. 11 cm. Est: HK$80,000,000 - 100,000,000 / US$10,300,000 - 12,880,000. Courtesy Sotheby's.
This seal, the largest and most potent seal ever carved for the Kangxi Emperor, bears the inscription "Jingtian qinmin" – "Revere Heaven and Serve Thy People" – words that served as the Kangxi Emperor's moral and philosophical compass as he completed the conquest of China, anchored the Qing dynasty, and ushered in a long period or great prosperity and peace.
The Seal of Emperor Qianlong, Inscribed with Language Legitimising his Rule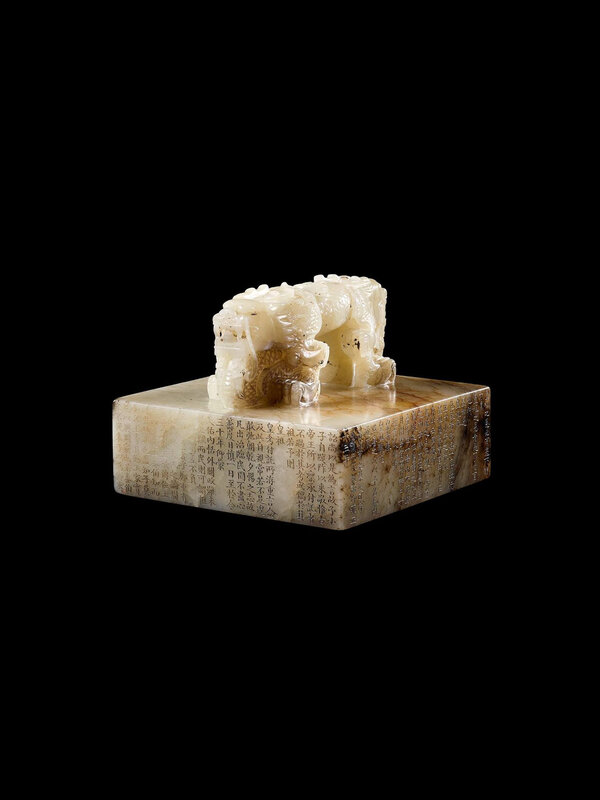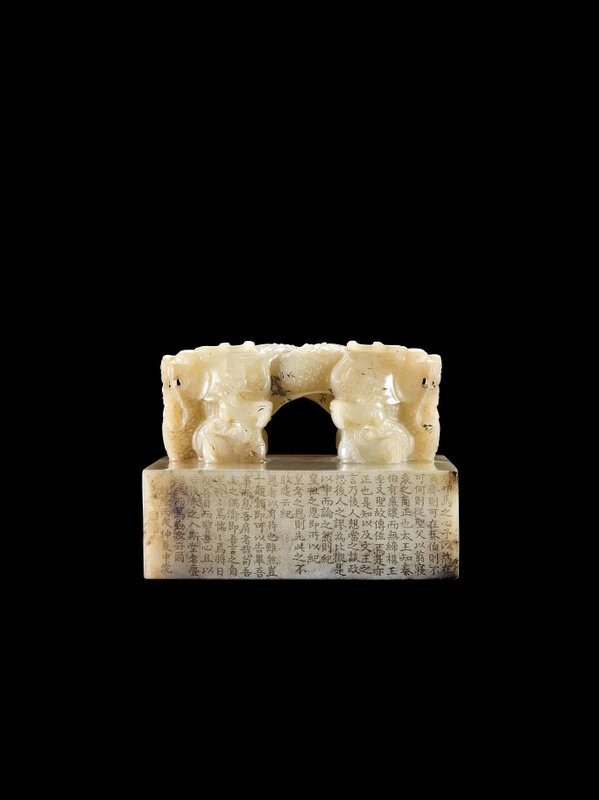 An Outstanding Imperial Inscribed White Jade "Ji'entang" Seal, Qing Dynasty, Qianlong Period, dated to the Bingxu Year (corresponding to 1766), 10.4 by 10.4 by H. 7.8 cm.
Est: HK$125,000,000 - 180,000,000 / US$16,096,000 - 23,178,000.

Courtesy Sotheby's.
Burned and cracked during the final days of the Qing dynasty, this white jade seal was that of Emperor Qianlong, grandson of the Kangxi Emperor who nurtured and instructed him as a young prince. Given that neither Emperor Qianlong nor his father – Yongzheng, fourth son of Emperor Kangxi – were 'heirs apparent', the inscription on this seal served to legitimise his authority, at the same time speaking to his relationship with his beloved grandfather, whose principles he set out to uphold. The very survival of this seal gives it huge historical significance.

'I fear that the political discussions of later generations will most likely be inaccurate and that people will make poor comparisons. For that reason, I record this piece of history in the hopes of clarifying and supporting the decision of my Grandfather who, like the Zhou dynasty Emperor Taihuang, did not pass his throne down to his eldest son but to his fourth son, my Father and then to me.'