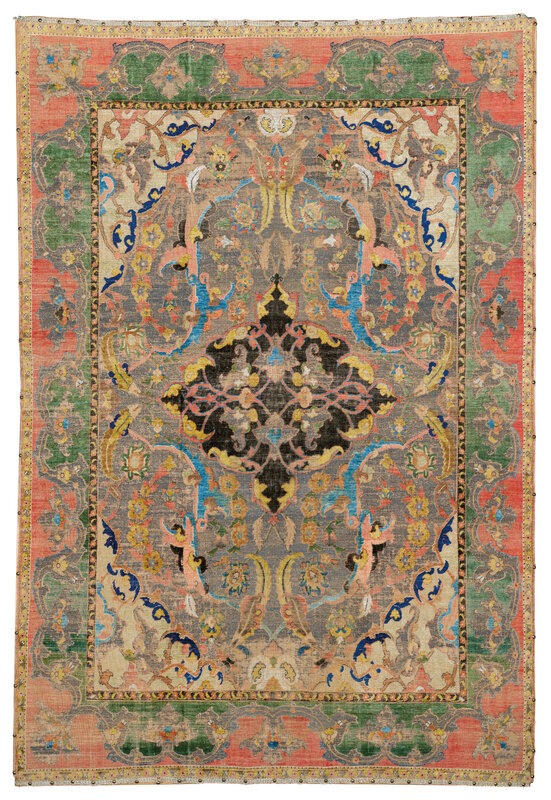 Lot 129. A highly important Safavid silk and metal-thread 'Polonaise' carpet, Central Persia, early 17th century. Estimate: GBP 1,500,000 - GBP 2,000,000. Sold for: GBP 2,062,500 / USD 2,833,875 / EUR 2,417,250. © Christie's Images Ltd 2021.
LONDON.- Christie's Arts of the Islamic and Indian Worlds, including Oriental Rugs and Carpets realised a total of £10,771,500/ $14,800,042 / €12,624,198, achieving sell-through rates of 96% by value and 82% by lot.

Sara Plumbly, Head of the Islamic Art Department, commented: "It was a great pleasure to have been part of the journey of this spectacular painting, formerly in the collection of Bonnet House Museum and Gardens. Bringing it to the market for the first time in over 100 years was a very special moment. It almost doubled its pre-sale estimate when it sold for over £2.3 million. Another highlight of the auction was a late 15th or early 16th century Veneto-Saracenic bucket, which was signed by the master Mahmud Al-Kurdi, and which tripled its pre-sale estimate when it sold for £1,822,500 / $2,504,115 / €2,135,970. Throughout the sale we saw very engaged bidding from 28 countries, across 4 continents."
The top lot of the auction was the magnificent Qajar multiple portrait depicting the grandsons of Fath 'Ali Shah in the Saf-e Salam, a Persian New Year (Norouz) procession. Attributable to the court artist 'Abdullah Khan, this remarkable painting exemplifies the glory of the Qajar era, and established a new world auction record for any Qajar painting, realising £2,302,500 / $3,163,635 €2,698,530.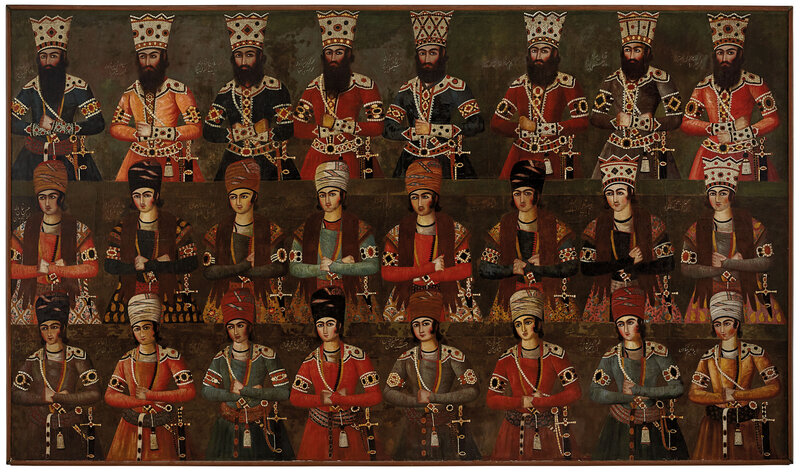 Lot 30. A magnificent Qajar multiple portrait depicting the grandsons of Fath 'Ali Shah in the Saf-e Salam, a Persian New Year (Norouz) procession. Attributable to the court artist 'Abdullah Khan Naqqashbashi (Active 1800-1850), Tehran or environs, Iran, circa 1810-20; 101 x 174in. (256.5 x 442cm.). Estimate GBP 1,000,000 - GBP 1,500,000. Price realised GBP 2,302,500 / USD 3,163,635 / EUR2,698,530. © Christie's Images Ltd 2021.
Oil heightened with gold on canvas, depicting twenty-four royal courtiers portrayed in three rows of eight, all standing facing left and wearing lavish robes and turbans or crowns, each figure identified in white nasta'liq
When History was Writ Large: The Bartlett Monumental Painting of the Court of Fath 'Ali

Shah
INTRODUCTION:
With the appearance of this exceptional and unrecorded work, one of the great mysteries of Qajar painting can be solved. Over 47 years ago in 1973 a component of the side panels of a monumental tripartite Fath 'Ali Shah enthronement scene appeared on the market in Paris. Two years later, a similar work appeared in London and was acquired by the Private Cabinet of Shahbanou Farah of Iran. The Paris work disappeared into private hands but the London painting soon reappeared as a centrepiece of the inaugural installation of the Negarestan Museum in 1975 where it remained on display until the closing of the Museum in February 1979 (Soustiel Paris, Objets d'Art de L'Islam, 24 July 1973, lot 28, 28-40; Sotheby's, London, Islamic Works of Art, 8 April 1975, lot. 183).
It was not until 1998 when major battle paintings from the Hermitage Museum were shown in the exhibition Royal Persian Paintings: The Qajar Epoch that this genre of Qajar painting was seen by a wide international audience. (Layla Diba and Maryam Ekhtiar, Royal Persian Paintings; The Qajar Epoch, New York, 1998, nos. 50-51, pp. 198-201; first published by Ada Adamova, Persian Painting and Drawing of the 15th to 19th Centuries in The Hermitage Museum, St. Petersburg, 1996, no 74 and 75, pp. 300-312, no.77, pp. 314-15). However, monumental enthronement scenes were represented by contemporary small-scale copies of the Negarestan palace murals (Fig. 1). The original tripartite mural had been situated in the Negarestan palace near the Tehran palace complex (Dar al-Khalafeh) and was executed in 1812-13 by the court artist 'Abdallah Khan and his team. (The date and signature were seen sometime in 1887-88 by E. G. Browne and recorded in his work: A Year Amongst the Persians, 1893, London, p.96 ; see also Ahmad Suhayli Khawnsari "The Negarestan Palace and Garden" (in Persian) in Hunar va Mardum, 144, 1974, pp. 31-370). The murals were copied by Samsan ibn Zulfaqar Musavvar al-Mamalik in 1904 but not exhibited until 1917. See L'Empire des Roses, Gand, 2017, pp. 294-97). The Negarestan palace painting although long since lost, became synonymous with this type.
Also in 1998, a sharp-eyed visitor to the exhibition signalled the existence of monumental court painting in the Bonnet House Museum and Gardens in Fort Lauderdale, the summer residence of the artist and collector Frederic Clay Bartlett. A fourth painting of this group was identified in a private European collection in the first decade of the 21th century. Finally, a complete cycle of a court painting from the Qom palace of Kay Kaus Mirza, Fath 'Ali Shah's 28th son, has emerged. (Kianoosh Motaqedi "From Chehel Sutun to Golestan Palace: The Evolution of Royal Wall Painting during the Reign of Fath 'Ali Shah" in, The Idea of Iran: Iran in Transition to A New World Order, forthcoming).
Although single portraits were known to collectors and audiences and well-documented in the scholarly literature, largely because they were relatively accessible in European Museums, this was not the case with monumental paintings, which if they had even survived, were stored in Iranian museum basements. The most important evidence for their significance to the history of Persian painting was first presented in 1963 by the eminent authority on Qajar art, B.W. Robinson, who identified 18 paintings based on European travel accounts and divided them into three groups: battle, enthronement, and hunting scenes, all with the ruler at the epicentre of the composition. Subsequently, two enthronement scenes of Aqa Muhammad and Fath 'Ali Shah in Sulaymanieh in Karaj were documented, a major battle painting was located in the Iran-Bastan Museum and a magnificent hunting scene appeared on the ceiling of the Rashtrapathi Bhawan (President's Palace) in New Delhi. (B.W. Robinson, "The Court Painters of Fath Ali Shah, Eretz Israel 7, 1964, pp. 94-105; Wolfram Kleiss and Hubertus Von Gall, Der Qajaren-Pavilion Sulaymanieh in Karaj", Archaeologische Mitteilungen aus Iran, 10, 1977, pp. 325-39; Layla S. Diba, "Making History: A Monumental Battle Painting of the Perso-Russian Wars", in Pearls from Water, Rubies from Stone, Studies in Honor of Priscilla Soucek, Artibus Asiae XVI, 2, 2006, pp. 97-111 and ibid. "Qajar Iran and the West: The Rashtrapathi Bhavan Painting of Fath 'Ali Shah at the Hunt" in D. Behrens Abu Seif and S. Vernoit, eds. Islamic Art in the 19th Century, Boston, 2006, pp. 282-302).
Now, with the reappearance of the monumental painting from the Bonnet Museum we have enough evidence in hand to truly understand the scope and ambition of dynastic wall paintings of the era. The reappearance of this masterpiece in the art world and its wide dissemination will hopefully preserve it for future generations.
DESCRIPTION AND GROUP:
The Bartlett painting is a component of a large-scale tripartite composition of a royal reception which once would have decorated the main hall of a royal Qajar palace of the second decade of the 19th century. Based on the known Negarestan palace model, the work consisted of a central image of Fath 'Ali Shah seated on the Peacock throne with his eldest sons (now missing), two right-hand panels (Sotheby's 1975 now in Saadabad Museum, Tehran and Bartlett), and two left-hand panels depicting the ruler's grandsons (Private collection, location unknown and Soustiel 1973/private collection, location unknown. see Fig. 2). The Bartlett painting, when reunited with the other panels and the central scene would have presented about 100 figures.
The Bartlett panel presents three straight rows of eight three-quarter length figures, organized according to age and rank and divided by balustrades. Their features are idealized and represent generic types: the mature princes are bearded, while the younger ones are clean shaven with side locks of hair. All display the handsome features and elegant figure of their father. The princes are dressed in elaborate court ceremonial attire and either crowned or turbaned according to their rank. The clothing is richly detailed and exquisitely rendered with the precision of manuscript illustration. The alternating brilliantly coloured robes, rich detailing in gold paint of the brocades, shawl fabrics, fur collars, and most of all armlets, epaulettes, crowns, daggers and swords worn by the princes and princelings, impart an air of luxury and wealth to the scene, skilfully evoking the splendours of the imperial treasury. The background is a dark brownish colour, the better to show off the rich costumes and identifying inscriptions next to each figure.
The princes stand to attention, exactly as in the rigid ceremonial required at the court which so dazzled Sir Robert Ker Porter, one of the many European envoys to the court in the early 19th century. (Robinson, op. cit., p. 95) Their arms are crossed in a gesture of submission and allegiance and their gaze is directed towards their father and ruler at the centre. The Soustiel panel's composition is identical in all aspects except the number of figures which is six in each row.
The four panels can be assigned to the enthronement scenes corpus. The latter all measure approximately 10 x 20 feet, some are even as wide as 30 feet. The number of figures range from six to over 100, with the Qom painting numbering 150. The Bartlett and Soustiel panels belong to a subgroup of four detached fragments with the princes and grandsons in three registers. In my view, they all were components of a complex decorative cycle of a large royal reception hall with Fath 'Ali Shah flanked by his eldest sons enthroned at one end, the Negarestan and Bartlett panels on the right and the Soustiel and Private European collection panels on the left. Stylistic affinities, similar dimensions, and comparable inscriptions in all four panels support this hypothesis.
ARTIST:
The painting may be attributed to 'Abdallah Khan and his team of numerous workshop painters. The royal workshops were crucial for the execution of major projects such as this one. Even as late as the reign of Naser al Din Shah (1848-96), they executed the Thousand and One Nights manuscript and Loqante mural painting projects under the supervision of 'Abdallahs' successor, Abu'l Hasan Ghaffari Sani' al Mulk. 'Abdallah had risen in the ranks of the court workshop system sharing the honour with Mirza Baba and Mihr 'Ali, celebrated for their portraits of the ruler sent abroad as diplomatic gifts. Although all three artists worked in both single format and monumental paintings, there is only a single signed work by 'Abdallah from 1807, comparable in quality and sensitivity with the magnificent portrayals of Fath 'Ali Shah by the other two artists: his portrait of Crown Prince 'Abbas Mirza as a youth (Fig.3).
Maryam Ekhtiar has discussed Abdallah's career and, based on an 1839 firman of Muhammad Shah, first published by Muhammad Ali Karimzadeh, recorded his elevation to Khan, his appointment as painter laureate naqqashbashi sometime after 1807, designer (tarrah), architect (me'mar) and chief of all the royal workshops (bashi). He was clearly a brilliant conceptualizer of major compositions and projects: his most celebrated works are the Negarestan and Sulaymanieh murals; the rock relief of Fath Ali Shah and his court at Rayy and the tomb carving of Fath Ali Shah's tomb in Qom, executed shortly before the ruler's death in 1834. Active circa 1800 to circa 1850, he was also the most long-lived of Fath 'Ali Shah's court artists. 'Abdallah's style is less distinctive than that of the other two naqqashbashi: Mirza Baba's works evince the modelling and soft facial effects of his Zand school origins and Mihr 'Ali specialized in iconic portrayals of the ruler distinguished by their elongated proportions and stylized -almost delicate- facial features whose eyebrows appeared to be delineated with kohl, and masterfully rendered jewels.
The bulk of 'Abdallah's work is only preserved in secondary sources. But his success with the Negarestan and Sulaymanieh dynastic paintings and the numerous palace decorations commissioned from him would favour this attribution. According to the firman, he was rewarded for his service in the construction of the following palatine edifices of Fath 'Ali Shah (in addition to the Sulaymanieh): the Qasr-e Qajar, the Imarat-i Cheshmeh, the Imamzadeh Qulhak, Arghavanieh, Negarestan, Dilgusha, Baharistan and Lalehzar. (Maryam Ekhtiar: "From Workshop to Academy: Art Training and Production in Qajar Iran", in Diba and Ekhtiar, op. cit., pp. 52, 55 and notes 23, 49 and 52. For a reconstruction of the Golestan in the first decade of the 18th century based on manuscript sources see Layla Diba, "The Lost Palatine City of Fath 'Ali Shah, in IQSA Journal, X-XI, 2011. 17-29). These sites were located in the vicinity of Tehran. (Abbas Amanat Email communication to the author, Feb. 18, 2021) The execution of giant decorative cycles would have required the very special talents of 'Abdallah Khan as designer and chief of the royal workshops and the service of a vast army of painters.
EPIGRAPHIC EVIDENCE:
Inscriptions identify each of the princes, giving their title and patrilineal or matrilineal descent. The painting acts as a historical record of the dynasty, giving specific information regarding the status of the princes and their role in the court and line of succession. The inscriptions identify grandsons of the ruler through the female line such as the sons of Ibrahim Khan Qajar Qovanlou, Zahir al-Dawleh, thus visualizing minor members of the dynasty little known from historical accounts. The inscriptions contain certain historical inaccuracies, but in my view support a dating to the second decade of the 19th century and the original location of the works proposed herein.
COURT CONTEXT:
During the second decade of the 19th century Iran was involved in the inconclusive first Perso-Russian War (1805-13) and ultimately disastrous second Perso-Russian war (1826-28). Occasions for elaborate ceremonials were devised from New Year Salaams, to public levees, diplomatic receptions and poetic gatherings. The court was a set for displays of pageantry and loyalty.
It was also a period of consolidation of royal power characterized by a massive building program and the creation of a dynastic image. Lavish decorative cycles of the ruler and his sons played a critical role in the construction of this image, and were displayed in the numerous palaces, pavilions and gardens of the ruler and his many sons and prince-governors. Numerous accounts, both foreign and local, record the painted decoration of the palaces though none specifically mention the three-row group.
PROVENANCE AND AMERICAN COLLECTING TRADITION:
The Bartlett painting is the only one of the group to have specific and very intriguing provenance. Museum records based on an oral interview with his widow in 1983, indicate that the work was acquired in New York from the Plaza Auction House by Fredrick Clay Bartlett sometime before 1920 when Bonnet House was built (email communication, Denyse Cunningham to the author Feb 19, 2021). Its royal provenance and the appearance of this painting outside of Iran well before the remainder of the group requires an explanation. A taste for Oriental art developed in America in the late 19th and 20th centuries fostered by international art fairs and art dealers in New York. Bartlett was a talented artist and passionate art collector who was interested in Oriental curiosities as well as Impressionist paintings. This would perfectly describe the field of activities of Dikran Kelekian, a leading art dealer and tastemaker. Kelekian had organized an Imperial Persian Pavilion at the St. Louis World's fair (1904) and had then sold the exhibits in New York at the Fifth Avenue Auction House in 1906-07. He was favoured with a title by the Qajar ruler Muzaffar al Din Shah (1896-1907) (Luiza deCamargo, "Content and Character: Dikran Kelekian and Eastern Decorative Arts Objects in America" Master of Arts Thesis, The Smithsonian Associates and the Corcoran College of Art and Design, 2012), indicating he would have been in a position to acquire works from the Tehran court such as our painting, at a time when due to renovations, changing tastes and financial problems, a number of royal treasures were discreetly sold. Bartlett apparently also purchased works at another action house, the Plaza Art Gallery, (Cunningham, 2021, ibid) and he may well have acquired our painting there. The Bartlett painting thus provides evidence of American collecting taste for Persian and Islamic art in this era, situating him somewhere between the Hudson River School artist Frederick Church and the world-traveller and collector, Doris Duke. The fact that he was an art connoisseur and kept the painting installed in his studio, even when he later deaccessioned works from the collection, speaks to his very original and innovative taste. (email communication, Denyse Cunningham to the author Feb 19, 2021).
CONCLUSION:
To conclude, we may argue that the Bartlett painting came from one of the palaces mentioned in the 1839 firman which would have been torn down by the late 19th century and its contents sold to an intermediary, possibly Dikran Kelekian, who was known to Muzaffar al-Din Shah. In stylistic terms, the Bartlett painting and its group are hieratic, theatrical, extremely lavish and really unprecedented in Persian painting, which in the 19th century, was synonymous with 'miniature painting'. Certainly, they astonished European visitors traveling in Iran in this period. Given the historicizing nature of the early Qajar court we may also discern a connection with the Persepolis reliefs supported by Abdallah's rock reliefs of Fath 'Ali Shah (William Robinson, email communication to the author, February 21,2021)

The Bartlett painting and its subgroup emphasizes that these were not only dynastic images but evidence of the pecking order of the princelings and the struggles for succession after the death of Fath 'Ali Shah. These paintings broaden the scope of Persian painting from the miniature to the monumental, presenting a kaleidoscope of imagery not unlike a giant royal muraqqa. They are history writ on a large scale.

I wish to express my gratitude to William Robinson, Abbas Amanat, Manoutchehr Eskandari-Qajar, Behnaz Atighi Moghaddam and Melis Cokuslu for their assistance in the research and preparation of this entry.

INSCRIPTIONS:
Courtesy of Dr. Manoutchehr Eskandari-Qajar
Top row (left to right)
1. Ebrahim Mirza son of Esma'il Mirza. Esma'il Mirza is Fath 'Ali Shah's eighteenth son from Zoleykha Khanum.
2. Siyavash (or Siyavosh) Mirza son of Kiomarth (or Kiumarth) Mirza. Kiomarth Mirza is Kiomarth Mirza "Il-Khani" "Abol Moluk" "Molk-Ara," Fath 'Ali Shah's thirty-second son from Pari Shah Khanum Gorji, a.k.a. "Hajieh Shah Khanum."
3. Arsalan Mirza son of Seyf al-Moluk Mirza. This is an interesting addition because Arsalan Mirza is the great-grand son of Fath 'Ali Shah. Seyf al-Moluk Mirza is the son of 'Ali Shah "Zell al-Soltan," who was the tenth son of Fath 'Ali Shah. Seyf al-Moluk Mirza was the son of 'Ali Shah Mirza from Hajieh Agha Khanum, the daughter of Qahar Qoli Mirza Afshar, son of Shahrokh Mirza, son of Reza Qoli Mirza, son of Nader Shah Afshar.
4. Mohammad Karim Mirza son of Mohammad Mehdi Mirza. Mohammad Mehdi Mirza is the thirtieth son of Fath 'Ali Shah from Moshtari Baji.
5. Emam Qoli Mirza son of Sheykh 'Ali Mirza. Sheykh 'Ali Mirza is Sheykh 'Ali Mirza "Sheykh al-Moluk," Fath 'Ali Shah's ninth son from Maryam Begom, daughter of Sheykh 'Ali Khan Zand.
6. Esma'il Mirza son of Ebrahim Mirza. Ebrahim Mirza is Fath 'Ali Shah's thirty-ninth son by Begom Jan Khanum, daughter of Haji Sadeq Qazvini.
7. Ghahreman Mirza son of Hasan 'Ali Mirza. Hasan 'Ali Mirza is Hasan 'Ali Mirza "Shoja' al-Saltaneh," Fath 'Ali Shah's sixth son from Badr-e Jahan Khanum.
8. Akbar Mirza, son of Homayun Mirza. Homayun Mirza is Fath 'Ali Shah's sixteenth son from Maryam Khanum of the Bani Israel. He was the full brother of Fath 'Ali Shah's favorite daughter, Shah Begom Khanum "Zia' al-Saltaneh."
Second row (left to right)
1. Hasan Khan son of Ebrahim Khan. Ebrahim Khan Qajar Qovanlu "Zahir al-Dowleh" (d. AH 1240/CE 1825), the first son-in-law of Fath 'Ali Shah, husband to Fath 'Ali Shah's first daughter, Homayun Soltan Khanum known as "Khanum Khanuman" "Navab Mote'aliyeh" "Khan Baji," sister of Hoseyn 'Ali Mirza Farman Farma and Hasan 'Ali "Shoja' al-Saltaneh," whose son is also featured as no. 7 in the top row. Ebrahim Khan "Zahir al-Dowleh" had three children with this daughter of Fath 'Ali Shah, but had a total of forty-one children (twenty sons and twenty-one daughters.) Two further sons are also depicted in the bottom row (nos. 7 and 8). Ebrahim Khan "Zahir al-Dowleh" was both the paternal cousin of Fath 'Ali Shah, as well as his adopted son and his son-in-law, and much honored by Fath 'Ali Shah. This, in addition to his large number of sons, makes him the likely candidate for the "Ebrahim Khan" in question.
2. Shah Khalil, son of …. ?
3. Mohammad 'Ali Khan, son of Allahyar Khan. Mohammad 'Ali Khan refers to Mohammad 'Ali Khan "Sardar," son of Hajieh Maryam Khanum, fifth daughter of Fath 'Ali Shah, and of Allahyar Khan "Asef al-Dowleh" Qajar Davalu "Tajbakhsh," one of the powerful Davalu Khans and Grand-Vizier of Fath 'Ali Shah.
4. Asad Allah Khan, son of Mohammad Baqer Khan. Asad Allah Khan could refer to Asad Allah Khan son of Zeynab Khanum, eleventh daughter of Fath 'Ali Shah, and of Mohammad Baqer Khan "Merrikh Shah," (himself son of Hoseyn Qoli Khan Kuchak, brother of Fath 'Ali Shah). Given that this was such an important grandson, it would make sense to have him in this painting, but this identification is not certain.
5. Illegible.
6. Illegible.
7. Ja'far Qoli Mirza son of Nayeb al-Saltaneh (Ja'far Qoli Mirza was the eleventh son of 'Abbas Mirza. "Nayeb al-Saltaneh" refers to 'Abbas Mirza, Fath 'Ali Shah's fourth son from Asiyeh Khanum Davalu. )
8. Mohammad Rahim Mirza son of Nayeb al-Saltaneh. (The writing looks like "Ebrahim," but 'Abbas Mirza's nineteenth son's name was Mohammad Rahim Mirza "Zia' al-Dowleh." "Nayeb al-Saltaneh" refers to 'Abbas Mirza, Fath 'Ali Shah's fourth son from Asiyeh Khanum Davalu.)
Bottom row (left to right)
1. Illegible.
2. Mirza Abol-Qasem son of Mirza Gholam Shah. This refers to Mirza Abol Qasem, son of Farrokh Soltan Khanum, thirty-fifth daughter of Fath 'Ali Shah, and of Mirza Gholam Shah "Pishkhedmat Bashi" (Head Chamberlain of Fath 'Ali Shah).
3. Allah Qoli Khan son of Musa Khan. Allah Qoli Khan refers to Allah Qoli Khan "Il-Khani," son of' Ezzat Nesa' Khanum, thirteenth daughter of Fath 'Ali Shah, and of Musa Khan Qajar Qovanlu. He owned the famous Bagh-e Il-Khani, near the location of the Bank-e Melli, and on account of his double Qovanlu parentage, considered himself a claimant to the throne.
4. Khalil or Jalil Allah son of Ali Mohammad Khan.
5. Jamshid Khan son of …? Khan.
6. Jamshid Khan son of Soleyman Khan. This Soleyman Khan is possibly Soleyman Khan "Amir Kabir" "Nezam al-Dowleh" "E'tezad al-Dowleh" Qajar Qovanlu (d. AH 1220/CE 1805), son of Mohammad Khan Qajar Qovanlu. He was one of the most respected early Qajar commanders who fought for the right of Aqa Mohammad Khan to be Shah, and one of the great Qovanlu Khans.
7. Fakhr al-Dowleh, son of Ebrahim Khan (see Second Row, no.1 for identification of Ebrahim Khan.)
8…., son of Ebrahim Khan (see Second Row, no.1 for identification of Ebrahim Khan.)

Please note for this lot we have used Persianate transliterations, rather than Arabic used elsewhere in the catalogue.
Note: I had some misgivings on the identifications of the "sons of Ebrahim Khan" and, upon further research and consideration, I would like to offer what I consider to be the correct identification. I am fairly certain that the Ebrahim Khan named here is Ebrahim Khan Qajar Qovanlu "Zahir al-Dowleh," the first son-in-law of Fath 'Ali Shah, husband to Fath 'Ali Shah's first daughter, Homayun Soltan Khanum known as "Khanum Khanuman" "Navab Mote'aliyeh" "Khan Baji", sister of Hoseyn 'Ali Mirza Farman Farma and Hasan 'Ali "Shoja' al-Saltaneh" whose son is also featured in the Bartlett painting.

Ebrahim Khan Zahir al-Dowleh had three children with this daughter of but had a total of 40 children (20 sons and 21 daughters).(Source for the total number of children: Bamdad, Vol. I, p. 21). Ebrahim Khan Zahir al-Dowleh was both the paternal cousin of Fath 'Ali Shah, as well as his adopted son and his son-in-law, and much honored by Fath 'Ali Shah.

It thus makes perfect sense that he be the "Ebrahim Khan" in question whose sons are featured in both the Soustiel and Bartlett paintings. In fact, one of the sons whose names I do have, Abolfath Khan, is featured in the Soustiel painting. Given that he had twenty sons and he was a favorite cousin, adopted son and son-in-law of Fath 'Ali Shah, it makes sense that the other "sons of Ebrahim Khan" also be his.

I also have a guess as to who is being referred to as the father of Jamshid Khan: "Jamshid Khan son of Soleyman Khan." This Soleyman Khan could possibly be Soleyman Khan "Amir Kabir" "Nezam al-Dowleh" "E'tezad al-Dowleh" Qajar Qovanlu, son of Mohammad Khan Qajar Qovanlu. He died in 1805 and would be the right person to have a son featured here in the painting. He was one of the most respected early Qajar commanders who fought for the right of Aqa Mohammad Khan to be king, and one of the great Qovanlu Khans.

(Email Correspondence to the author, February 20,2021)
Further highlights included a monumental calligraphic Iznik tile, dating from circa 1565, which sold for £325,000 / $446,550 / €380,900, and a Safavid painting of Bahman enthroned at court, dating from 1540-50, which sold for £200,000 / €274,800 / €234,400 against an estimate of £10,000-15,000. A silver overlaid brass pen-case with the coat of arms of the Giustiniani family, made in Venice in the mid of the 16th century, sold for £150,000 / $206,100 / €175,800, tripling its pre-sale estimate.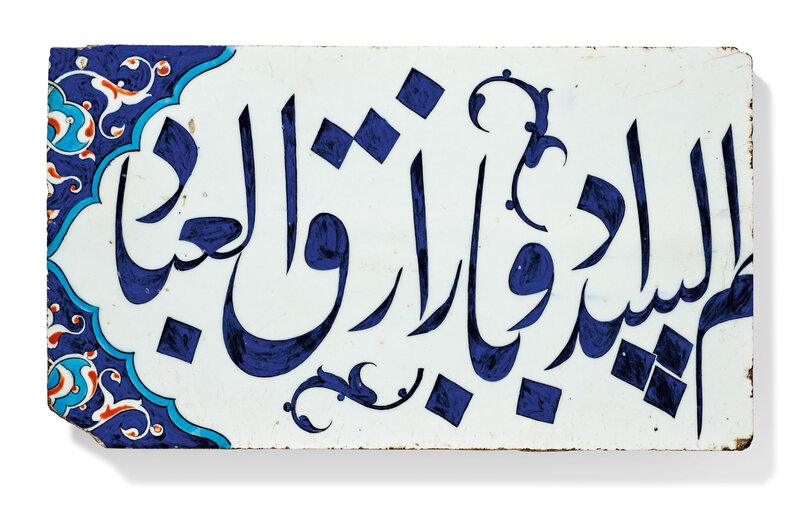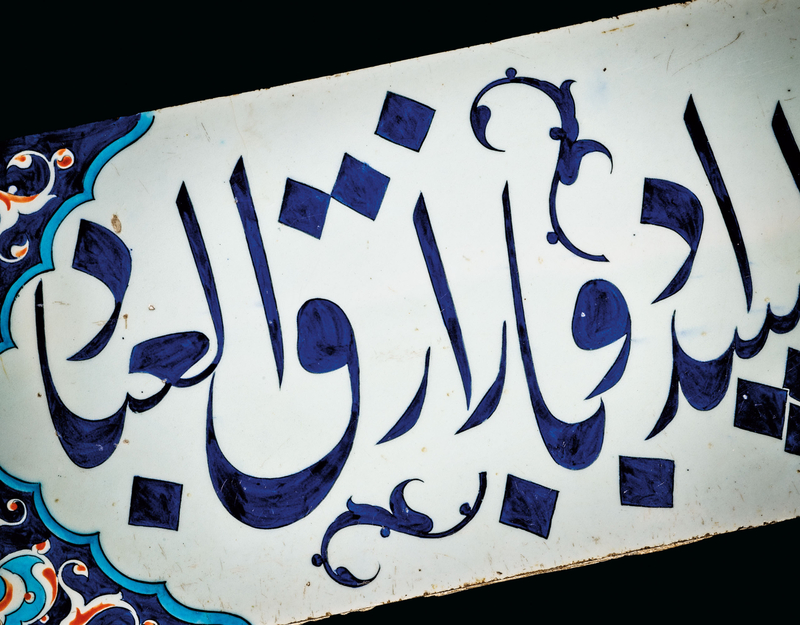 Lot 84. A monumental calligraphic Iznik tile, Ottoman Turkey, circa 1565; 12 3/8 x 21 5/8in. (31.4 x 55cm.). Estimate GBP 150,000 - GBP 200,000. Price realised GBP 325,000 / USD 446,550 / EUR 380,900. © Christie's Images Ltd 2021.
Forming part of a large inscription panel, the white ground decorated in cobalt-blue, bole-red and turquoise, with a flowing nasta'liq inscription surrounded by arabesque flourishes, one side with two cobalt-ground spandrels decorated with red arabesque, intact.
Provenance: Boghos Ispenian family collection, since at least early 1930s.
Note: This magnificent Iznik tile is striking for its monumental size, clarity of colour and for the elegant and free use of the nasta'liq inscription that decorates it. It would originally have adjoined another in order to form a complete cartouche containing a verse from the Qur'an. This pair would then have abutted as many other pairs of related tiles as was necessary to cover the perimeter of the room that they adorned.
The use of nasta'liq script on this tile is notable. Although predominantly associated with the Persian world, nasta'liq was also used in the Ottoman empire for monumental inscriptions, though largely in a secular context. The Topkapi Palace in Istanbul, as well as many public monuments, are decorated with many inscriptions in the script often carved into stone. More often than not however nasta'liq was reserved for poetic inscriptions rather than religious ones as we have on this tile. Walter Denny writes that the inscriptions on Iznik tiles that grace the mosques and religious buildings of Ottoman sovereigns and their highest court officials followed one strict standard of propriety for public religious inscriptions – the use of stately 'monumental thuluth' (celli sülus) script (Walter Denny, Gardens of Paradise, Istanbul, 1998, p.130). Indeed Iznik tiles with thuluth inscriptions have appeared at auction, see for instance two sold at Christie's, Paris, 8-9 June 2016, lots 169 and 170 or more recently, one sold in these Rooms, 25 June 2020, lot 132.
Denny mentions one exception to this standard – the mosque constructed outside the Istanbul walls in 1590 by Takieci Ibrahim Aga, a businessman whose name indicates that he made his fortune in the hat business. Surmounting the mihrab is a panel of Iznik tiles that form a cartouche containing a Qur'anic inscription in blue nasta'liq on white ground. He states that it would certainly have raised eyebrows at the time (Denny, op.cit., p.130). It is not a singular example however - two panels of Iznik tiles also decorated with similar nasta'liq inscriptions are in the Hünkâr mahfili, the mosque of Selim II (published in Denny, op.cit., pp.98-99, pl.52b). Like ours the inscriptions on those panels are also embellished with small foliate flourishes. Although rare, religious objects are also known with nasta'liq inscriptions. An Iznik mosque lamp in the Gezira Museum in Cairo bears a pious inscription in nasta'liq (inv.no.64/275; published Nurhan Atasoy and Julian Raby, Iznik, the Pottery of Ottoman Turkey, London, 1989, p.262, no.568).
The only known companion piece to this tile is in the collection of the Benaki Museum in Athens (illustrated here but also published in A. Ballian and M. Moraitou (eds.), Benaki Museum. A Guide to the Museum of Islamic Art, Athens, 2006, p.156, fig.210). The Benaki tile was bought by the Greek collector Anthony Benaki from Boghos Ispenian, the Cairo-based Armenian antiquities dealer, in 1930. Our tile has exactly the same early provenance, indicating that these two spectacular tiles from the same original commission remained together until at least the early 20th century.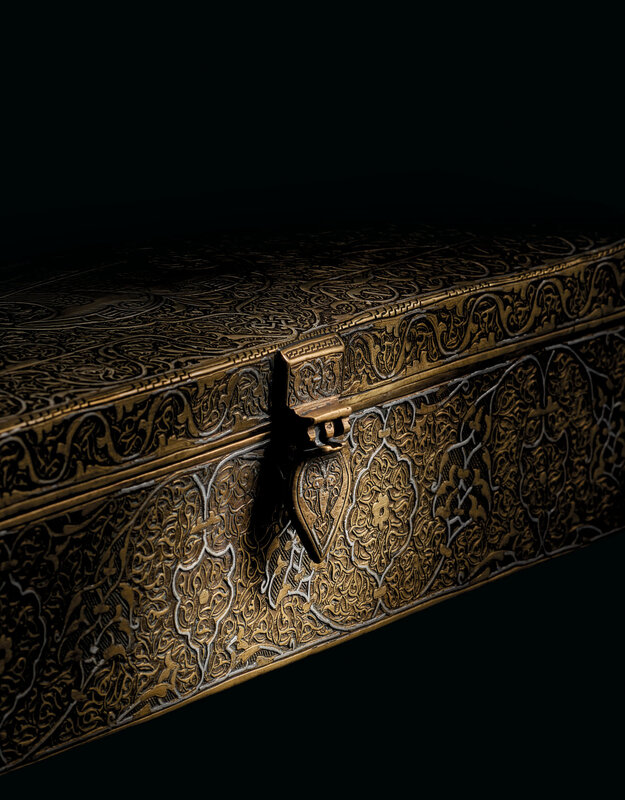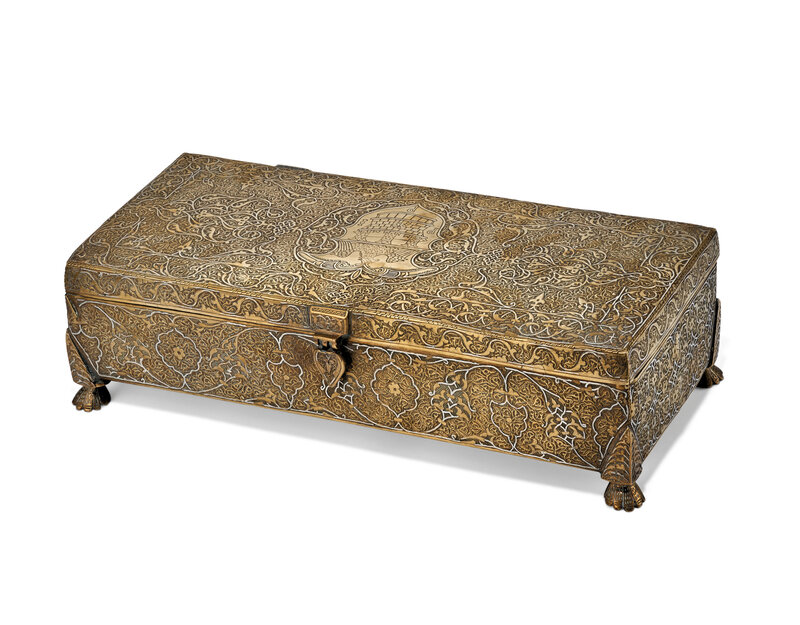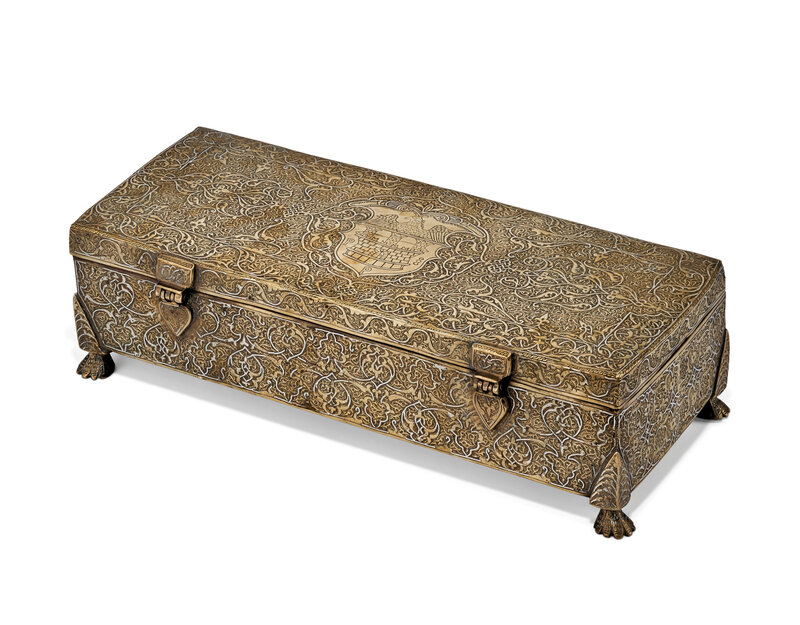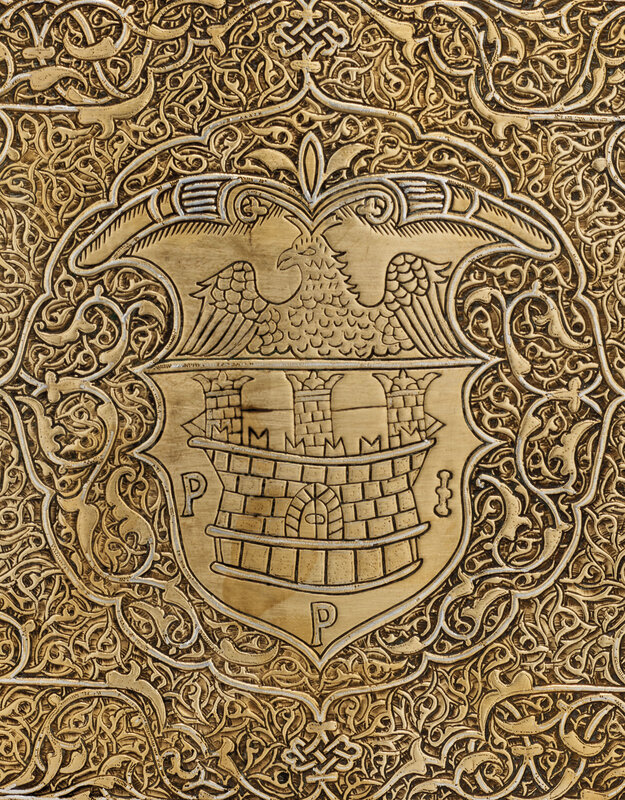 Lot 11. A silver overlaid brass pen-case with the coat of arms of the Giustiniani family, Venice, mid-16th century; 13 ½ x 5 ½ x 3 ¾in. (34.6 x 14 x 9.5cm.). Estimate GBP 50,000 - GBP 80,000. Price realised GBP 150,000 / USD 206,100 / EUR 175,800. © Christie's Images Ltd 2021.
The surfaces finely worked with intricate interlaced geometric and arabesque designs, the coat of arms of the Giustiniani family on the cover, remains of silver inlay, very slightly rubbed, otherwise good condition.

Provenance: The surfaces finely worked with intricate interlaced geometric and arabesque designs, the coat of arms of the Giustiniani family on the cover, remains of silver inlay, very slightly rubbed, otherwise good condition.
Note: This appears to be a unique object, a silver inlaid brass penbox, a form that it quintessentially Islamic, but produced in Venice for a member of one of the leading families of the Serenissima. It makes a very interesting comparison to the previous lot, indubitably made by a Muslim craftsman, but for the Western market. There are various features, apart form the prominent central armorial, which make it clear that this penbox is part of the group of inlaid brass vessels that are attributed with relatively little controversy to European craftsmen working in Venice, working in the idiom that had been imported from the Islamic world.

The surface is divided up into panels by raised bands onto which have been hammered silver wire which at times expand and split in the form of arabesques, which were also silver overlaid, but using sheet metal keyed in around the edges with an engraved band, and further encouraged by pouncing through the silver to the brass body. Much of the wire remains; the sheet has however mostly disappeared over time. The designs are very similar to those produced in the Islamic World, but denser, using more complex knot-motifs, and are more exuberantly curvilinear in feel. Similar work is seen on a number of dishes, for example a spectacular example in the Victoria and Albert Museum, also with central Italian armorial, bought at Christie's from the Bernal collection in 1855 (inv.no.2061.1855; Sylvia Auld, Renaissance Venice, Islam, and Mahmud the Kurd – a Metalworking Enigma, London, 2004, no5.27, pp.235-6). The same publication illustrates further closely related examples.

The interior shows clear traces of its original divisions into compartments. At the front is one long compartment, for pens. The back half is divided into three compartments, with two squares flanking a central rectangle. This is the arrangement one would expect for a square, probably glass, inkwell and a matching sand shaker. One sees this format later, but it is very rare in the renaissance period. On the other hand, for a trader who was dealing extensively with trade with the East, where a pencase is known as a prominent symbol of power, it would have been instantly recognised by the merchants he encountered. And, just as with today's computer logos, the direction of the armorial in relation to the hinges is such that it is intended to be seen by the observer, not the owner. The same orientation, as well as interior divided for pens, inkwell, and sand pot is demonstrated in an unusual almost contemporaneous penbox now in the Metropolitan Museum now attributed to early 16th century Iran, signed by the engraver Hassan Ramadan Shahi and the manufacturer and calligrapher Mawla Yusuf Naqqash Farisi (inv.no.1975.350.1a–c; "Masterpieces from The Metropolitan Museum of Art New York" in The Arts of Islam, Berlin, 1981. no. 58, pp. 150–51, ill. p. 151). The links of the Venetian versions of "Veneto-Saracenic" metalwork with contemporaneous Iranian metalwork, proposed as a mainstay theory in her book on Mahmud al-Kurdi by Sylvia Auld (op.cit.) are clearly reinforced in the current penbox. Certain elements in our penbox show a clear knowledge and understanding of Persianate source material – the border design used in the upper left and lower right quadrants for example has a very similar structure to that of Tabriz medallion carpets, especially the way the terminal leaves lie across the meandering vine stems – see for example lot 128 in this sale.

The arms are almost certainly those of the Giustiniani family, a very prominent family in 14th-17th century Venice who also had bases in Genoa and elsewhere. Five of their palazzi survive in the city of Venice, four of which overlook the grand canal. Interestingly they were also the owners of the island of Chios with its monopoly on the production of mastic, that rare substance highly prized by the Romans, the Byzantines, and subsequently the Ottomans under whom it was worth its weight in gold. The initial I can, and frequently did stand for Giustiniani, in its Latin form Iustiniani; some members of the family claimed direct descent from the Roman Emperor Justinian. It has not however been possible to identify a member of the family with double P first names. This highly prestigious penbox would have been an appropriate and immediately recognisable demonstration of importance within the Islamic world for a member of such a prominent family.
The selection of oriental rugs & carpets in the auction was highlighted by an important Safavid silk Polonaise carpet, made in the 17th century in Central Persia, which achieved £2,062,500 / $2,833,875 / €2,417,250.
Louise Broadhurst, Head of the Oriental Carpet Department, commented: "Presented for the first time at auction since it was woven over four hundred years ago, this Safavid silk Polonaise carpet, made in the 17th century in Central Persia, was formerly part of the noble collection of the Italian Pio Falcò family, its identical pair remains within the prestigious Doria Pamphilj collection displayed in the Palazzo del Principe in Genoa. Retaining an astonishing amount of its silk pile and gold and silver-thread, it exemplifies the golden age of Safavid weaving under Shah 'Abbas the Great. An additional auction highlight included a previously unpublished and unrecorded Safavid fragment from a once truly magnificent Kirman 'Vase' carpet woven in the first half of the 17th century, which sold for £562,500 / $772,875 / €659,250."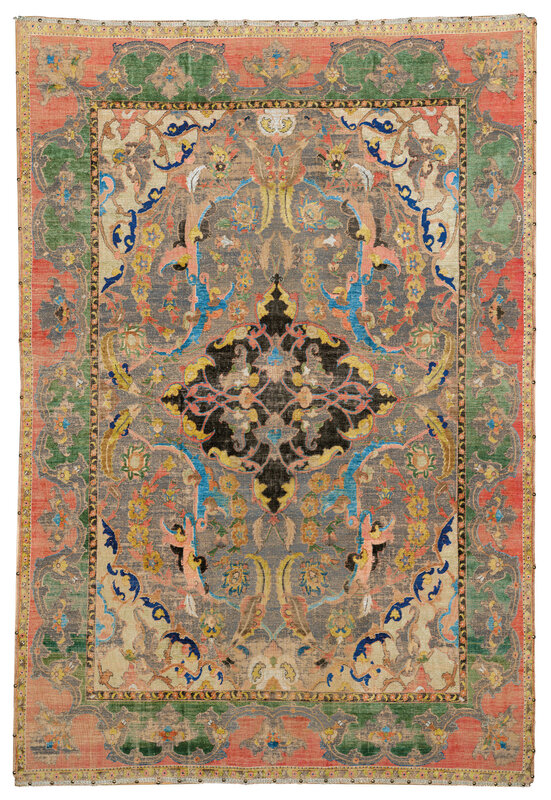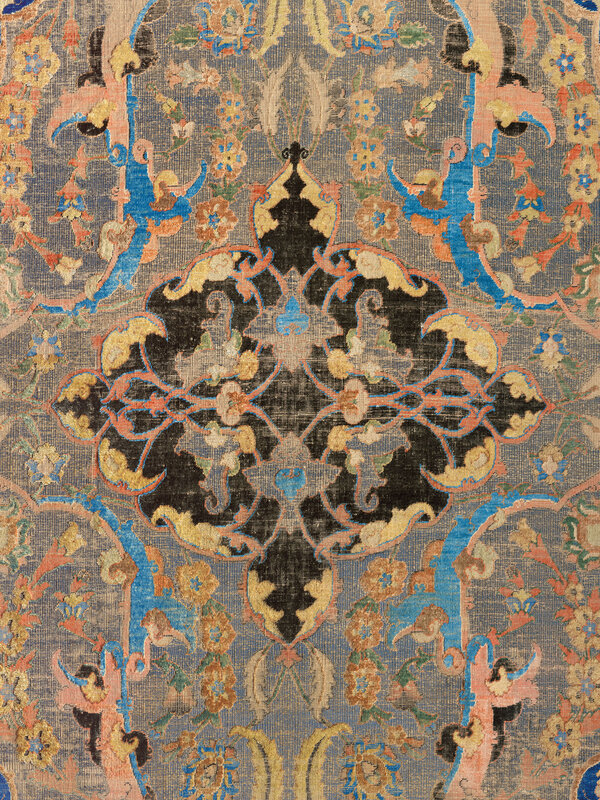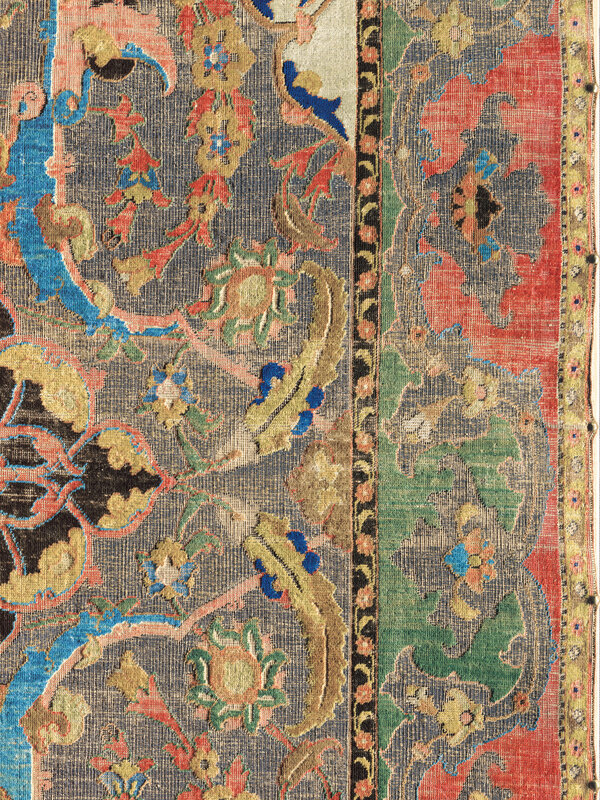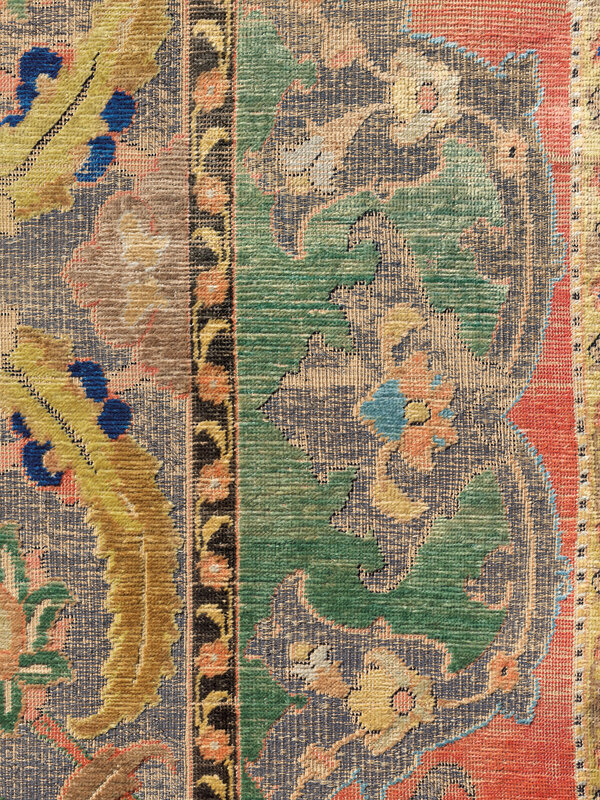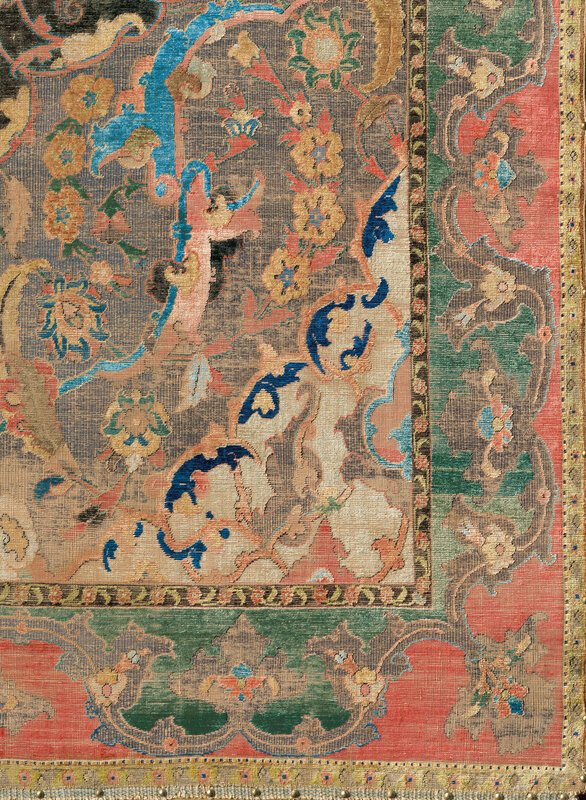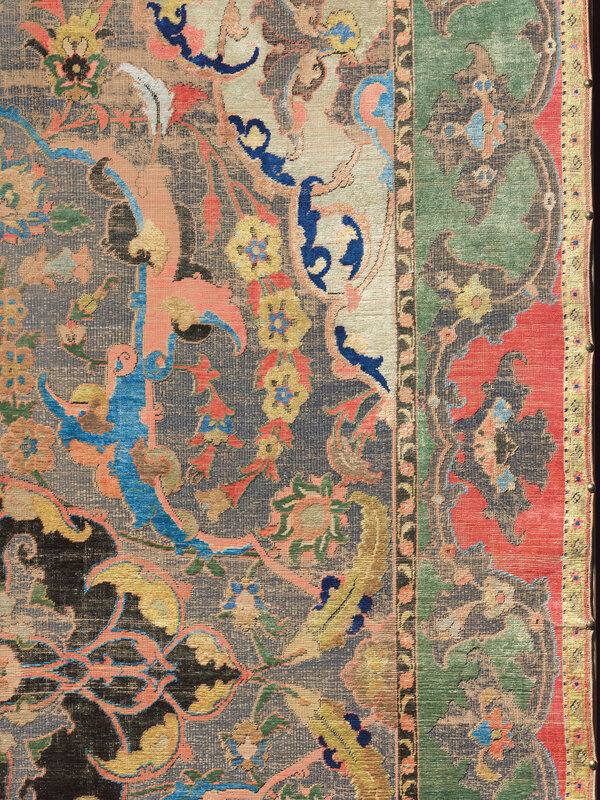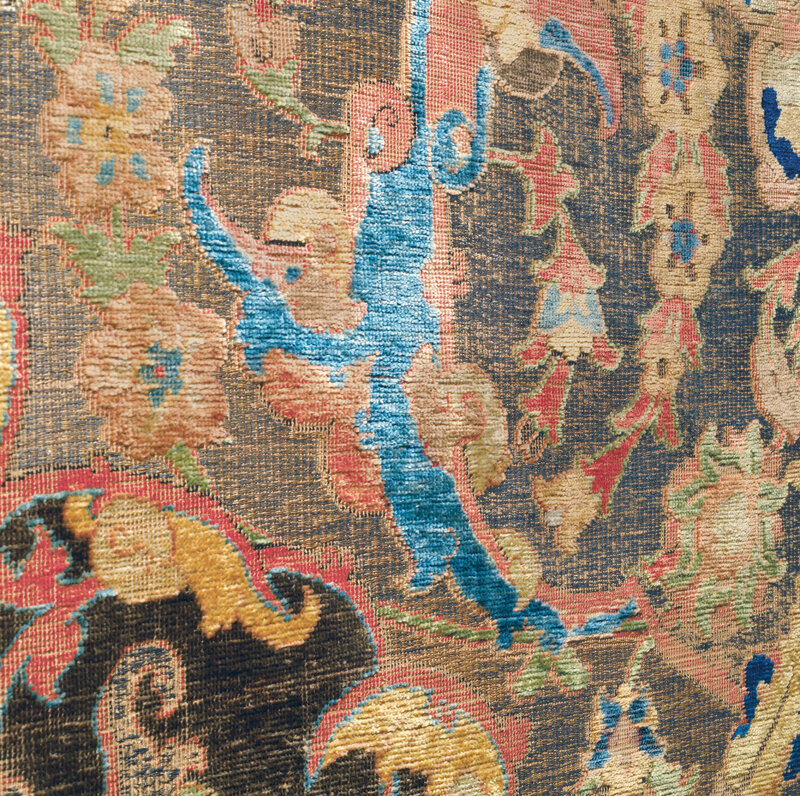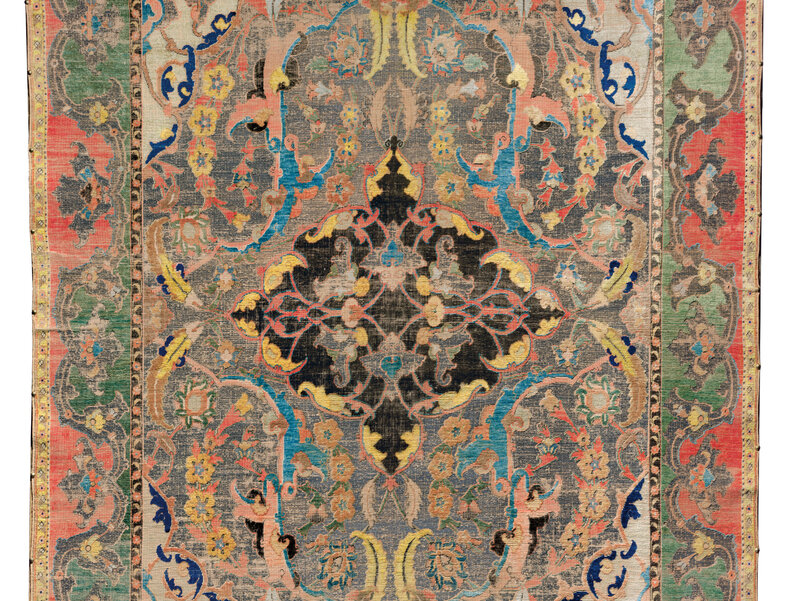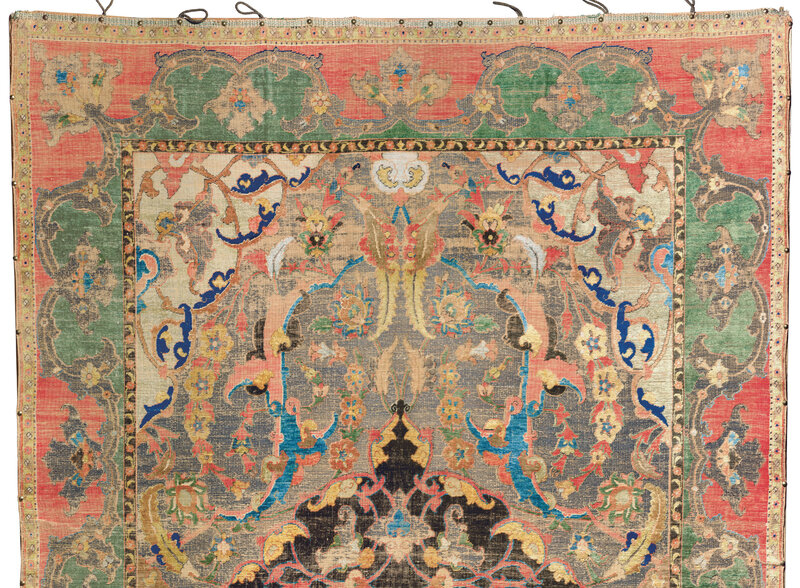 Lot 129. A highly important Safavid silk and metal-thread 'Polonaise' carpet, Central Persia, early 17th century; 6ft.9in. x 4ft.5in. (211cm. x 140cm.). Estimate: GBP 1,500,000 - GBP 2,000,000. Sold for: GBP 2,062,500 / USD 2,833,875 / EUR 2,417,250. © Christie's Images Ltd 2021.
Considerable silk pile, corroded and oxidised silver and gold metal-thread, no restoration, original selvages, each end with complete braided and metal embroidered kilims, stretchered on a frame, overall very good condition.
Provenance: Collection of Prince Pio Falcó, Rome
1973, acquired by the renowned art dealer Pietro Accorsi, Turin
Purchased that same year by the present owner.
Literature: Ian Bennett, 'Due Importanti tappeti "Polonaise" del XVII secolo, Battilossi, Tappeti d'antiquariato, Turin 1988, pp.30-33
L. E. Brancati, I gemelli polonaise, Il Giornale Dell'Arte N.170, October 1998, p .XIV
'Polonaise Carpets in Baroque Rome', Irene Sabatini, Oriental Carpet & Textile Studies VII, ICOC, 2011, pp.99-103, fig.4 (inaccurately noted as fig.5).
Exhibited: Galleria Battilossi, Turin, 1988.
Note: The identical pair to the present carpet is in the collection of the princely Doria Pamphilj family where it remains on public display at the Palazzo del Principe in Genoa, built for Andrea Doria in 1521. Once led by Pope Innocent X, Giovanni Battista Pamphilj (1644-1655), the Doria Pamphilj, a Roman family of Genoese extraction, were strongly tied to the Catholic church and became heavily involved with Roman and wider Italian politics of the 16th and 17th centuries. The family commissioned the construction of the imposing Palazzo Doria-Pamphilj in Rome in the 17th century, which continues to house one of the most valuable private collections of paintings in the world.
While there are no records confirming the precise chain of provenance for our rug until the 1970s, there is a highly probable line of descent from the Doria Pamphilj family, since it is certain that originally these two rugs would have been presented or purchased together. In a significant Italian aristocratic marriage of 1878, Olimpia Doria Pamphilj Landi (1854-1929) married Fabrizio Colonna, part of an important noble family that could number one pope, twenty-two cardinals and numerous dignitaries. The Colonna also owned a substantial art collection, that is displayed in the impressive Palazzo Colonna in Rome. It was common following such marital alliances that one frequently saw the exchange of works of art between collections, clearly evident today as certain suites of furniture remain separated between the two families in question. It is highly probable that the present 'Polonaise' carpet was separated from its twin upon this martial allegiance.
In 1932 Princess Donna Sveva Colonna (1912-1999), grand-daughter of Olimpia, married Prince Don Alfonso Pio Falcò, (1903-1967) from one of the most distinguished Spanish noble families. In 1973, the present rug was sold by Princess Donna Pio Falcò to the renowned Torinese collector and antiquarian dealer, Pietro Accorsi, from whom the present owner promptly purchased it that same year. Our carpet has remained in that same private collection for nearly fifty years.
In his thesis on the subject pf 'Polonaise' carpets, Friedrich Spuhler documents around 230 complete and fragmentary examples, from which he draws the conclusion that many of the rugs either show identical designs, or take sections of endless repeat patterns and which are either then displaced by one width or are increased on a larger scale. The field designs, with few exceptions, are based on thirteen different patterns and stylistically almost all the carpets seem to belong to the same period. The present carpet falls under the XII classification, F.Spuhler, Seidene Repräsentationsteppiche der mittleren bis späten Safawidenzeit - Die sog. Polenteppiche, dissertation, Berlin, 1968, pp.223-4.
Of the 230 that are preserved today, twenty nine of these have a matching twin, identical in field and border design as well as in colour and are therefore considered to have been woven as pairs, and would likely have been displayed together on ceremonial occasions, (F.Spuhler, Islamic Carpets and Textiles in the Keir Collection, London, 1978, pp.108-9). One such pair can be found in the collection at Skokloster Slott, Sweden, (Inv.no.1723:2) the former residence of Count Carl Gustaf Wrangel (1613-1676), where they have remained ever since. Their field design consists of an overall repeat pattern of Chinese 'Bat' motifs alternating with pomegranates. A previously unpublished pair with eight-pointed central medallions within a reciprocal 'trefoil' border, were sold in these Rooms, 14 April 1988, lot 83 and 84. Remarkably the Doria Pamphilj family had originally been in possession of a second pair of 'Polonaise' carpets, larger in proportion than the single medallion format of the present example. The present carpet and its twin bear a striking similarity to that pair, in that they were both woven with the same vivid green and orange colour palette within their borders. It is tempting to consider that both pairs were woven contemporaneously and gifted to the family to be displayed en-suite. While that pair no longer remains with the family, both are now part of prominent institutional collections. One was sold by Sir Joseph Duveen, London, to John D. Rockefeller, who by 1930–50 had gifted it to the Metropolitan Museum of Art, New York, while its pair was sold on the European market in 1976 to the Shah of Iran for a rumoured record price and which is now on permanent display in the Carpet Museum of Tehran, Iran, as a national treasure.

THE ROYAL COURT OF SHAH 'ABBAS THE GREAT

The present carpet is typical of the elegant designs produced in the weaving ateliers of Isfahan during the reign of Shah' Abbas I (1587-1629). At this time, Isfahan was a thriving city, the court of a monarch who had completely changed Persia, having moved his capital there in 1598 from Qazvin. In contrast to the previous Shah of note, Shah Tahmasp, he welcomed foreigners with their trade and innovations in all fields. He even appointed an Englishman, Sir Robert Shirley, as his ambassador, to visit the courts of Europe and establish relations with Persia. He was a great patron of the arts. Isfahan today owes her fame as one of the most beautiful cities in the world more to his embellishments than those of any other period. The school of painting in the capital developed a new style, principally through the work of Reza 'Abbasi. This flowering in the arts was all the more notable since the latter years of Shah Tahmasp had been strongly influenced by his deep religious fervour which had resulted in his virtually closing the royal workshops. The contrast between the new Shah and his recent predecessor could not have been more marked.
Shah' Abbas had a great appreciation for sumptuous textiles, silks and woven carpets, and production in Isfahan rapidly grew under his patronage with a number of workshops weaving simultaneously during the 17th century. A number of these would have been working directly for the shah, producing carpets which were specifically commissioned to be appreciated locally. Two carpets of this group are known to have been given in royal waqf to the great Shiite shrine of the Imam 'Ali at Najaf. European visitors travelling to Persia at the time, commented specifically on the richness of the silk textiles and carpets that they saw. John Fryer in 1676 notes that Isfahan had special bazaars handling the sale of rugs "both woolen and silk, intermixed with Gold and Silver, very costly, which are the peculiar manufacture of this country (quoted by M.S. Dimand, and Jean Mailey, Oriental Rugs in the Metropolitan Museum of Art, New York, 1973, p.59). Other travellers who commented on the silk weavings in both Kashan and Isfahan, include Pater Florentino de Niño Jesus in 1607-08, Thomas Herbert in 1627-08 and Jean-Baptiste Tavernier in 1676. Sir John Chardin, who visited Persia between 1666 and 1672, also noted that the workshops were allowed, when they had time, to work for other clients as well as the Shah.
A large proportion of 'Polonaise' carpets made at the time found their way to Europe having been given as ambassadorial gifts to royal families, religious figures and deserving high-ranking officials and they found great favour with the Baroque nobility of the 17th century courts. (see, Portrait of Louis XV en costume de sacre, by Hyacinthe Rigaud, painted 1715, Musée Saint Remi, France).

WEAVING CHARACTERISTICS

The term, 'Polonaise' was first coined at the Paris Universal Exhibition in 1878 where, in the Polish section of one of the pavilions, examples of this group of carpets belonging to the Princes Czartoryski, some bearing his recently added personal coat of arms, were exhibited publicly for the first time (Kurt Erdmann, Europa und der Orientteppich, Mainz, 1962, pl.36, pp.84-5). Visitors and journalists mistakenly concluded that these carpets had been made in Poland and it wasn't until shortly after the exhibition had closed, that the true country of origin was discovered. The Polish attribution however, persisted, and these carpets still bear the name 'Polonaise' today.
One of the main characteristics of the group were their brightly coloured palettes of silk woven on a cotton warp and silk weft foundation. The addition of brocaded gold and, or silvered metal-thread would have made their appearance both dazzling and brilliant. The absence of distinct lines, the lack of figural representations and an overtly baroque treatment of the individual details are other defining characteristics of the group, (Friedrich Spuhler, Preben Mellbye-Hansen & Majken Thorvildsen, Denmark's Coronation Carpets, Copenhagen, 1987, p.32).
The absence of a single ground colour is replaced by curvaceous planes defined by scrolling stems in-filled with different coloured silks and gold and silver coloured metals. These harmonious and balanced compositions of design and colour, although Persian inspired, were not however typical of Persian tastes but clearly corresponded to those of the West. There are two references in1599 and 1601 that indicate that Polonaise carpets were being produced in the last quarter of the 16th century but individual examples can only be dated on stylistic grounds. While it is generally accepted that the very best pieces were produced over a period of forty to fifty years starting from the first quarter of the 17th century, by the third, and particularly in the fourth quarter, 'Polonaise' carpets show an obvious degeneration and by around 1700, had widely lost their importance, ('Entwurfspraktiken safawidischer Hofmanufakturen am Beispiel der sog. Polenteppiche', Friedrich Spuhler, HALI, Autumn, 1978, pp.244-47).
Not including the present carpet, which retains an astonishing amount of silk pile and a significant proportion of silver and gold metal brocade, the vast majority of surviving examples seen today are now faded in colour as the dyes were fugitive and survive very worn and low in pile, due to the fragile nature of the silk, making this lot particularly rare and attractive. Woven during the golden age of Safavid art, it is only befitting that 'Polonaise' rugs with their silk, gold and silver-thread epitomize this era to many scholars and collectors today, who view these rugs with an appreciation equal to that of the European travellers visiting the Persian court during the first half of the seventeenth century. It is indeed a rare opportunity to see an example that has remained hidden for the past half a century and remains so well preserved.
Calligraphy: Art in Writing

Please note that the online sale Calligraphy: Art in Writing will conclude on 7 April at 3.00pm CET. The sale celebrates over a thousand years of the tradition of calligraphy from writers, artists and practitioners from the classical Islamic period to today, ranging from classical manuscripts and objects to modern and Contemporary sculpture and paintings spanning the Middle East, Egypt, India, Pakistan, China and Europe. The sale is led by Pakistani modern master, Ismail Gulgee's monumental abstract gestural canvas from 1966, inspired by traditional Islamic calligraphy. Other highlights include paintings by contemporary artist's Mohammed Ali Talpur and Dia Azzawi and two sculptures by Dr. Nassar Mansour.