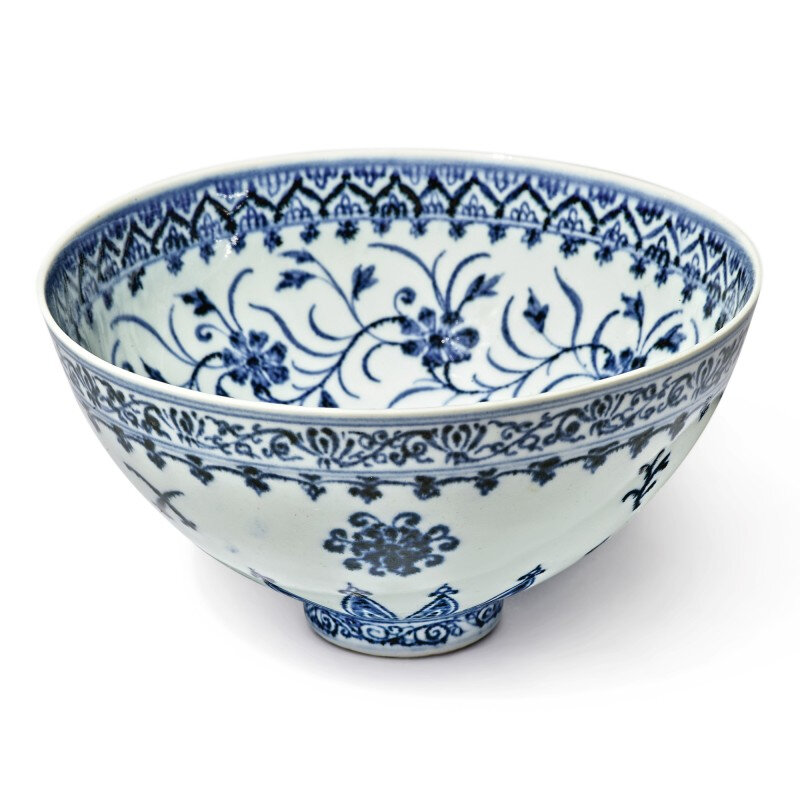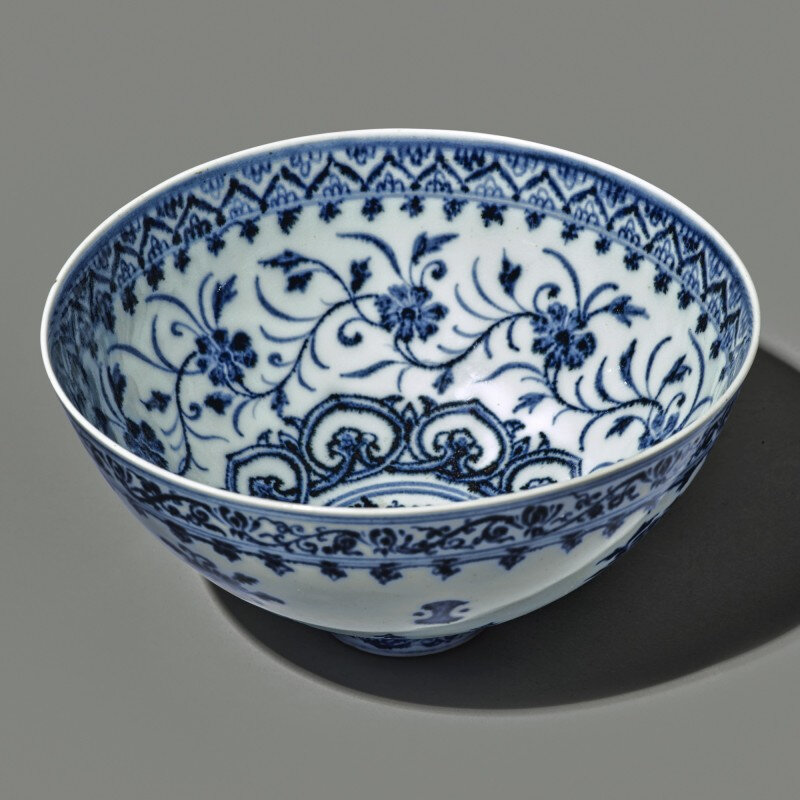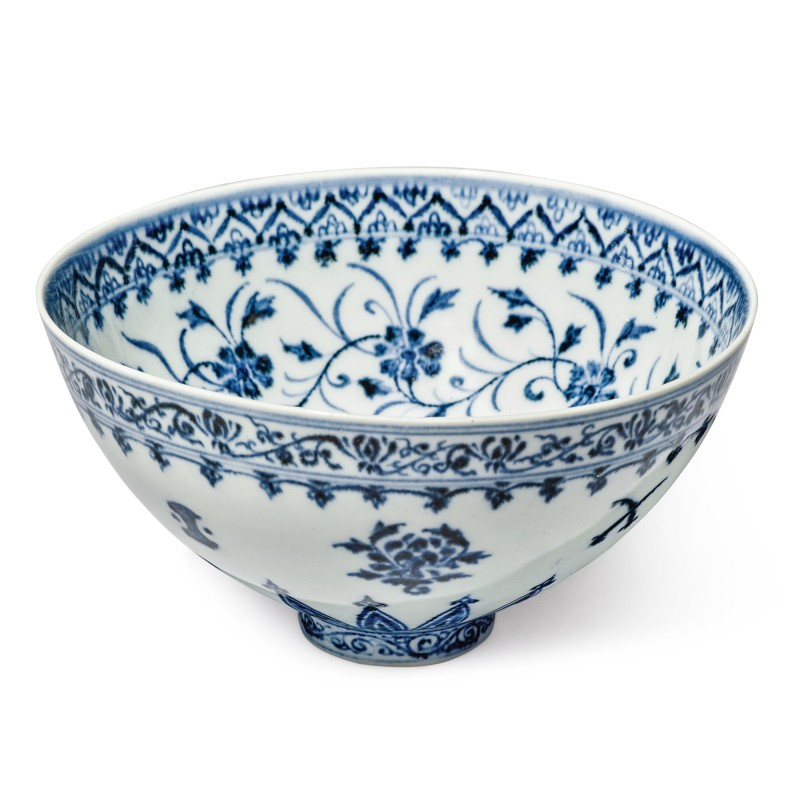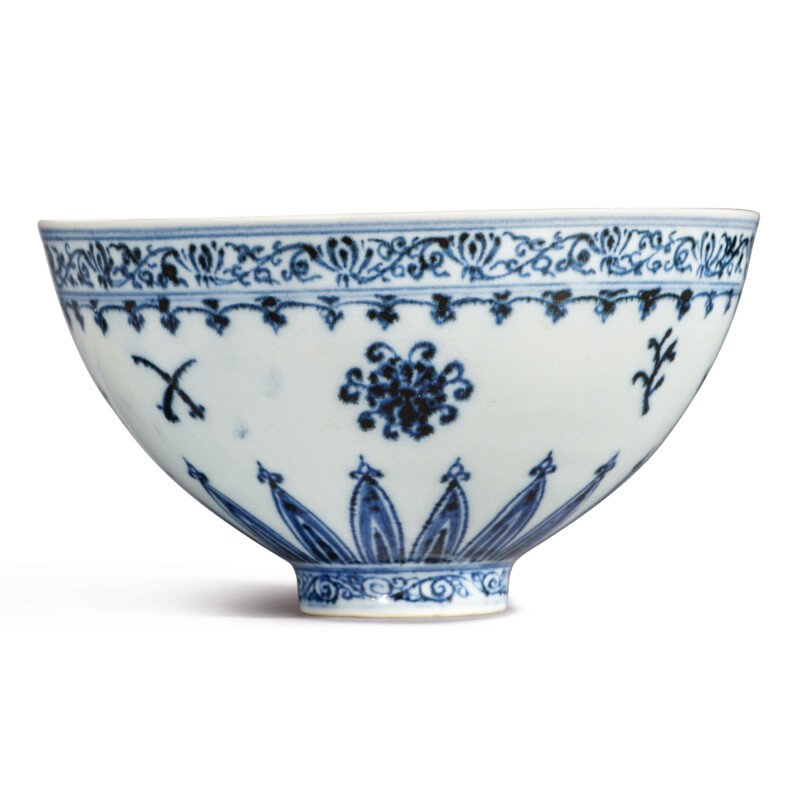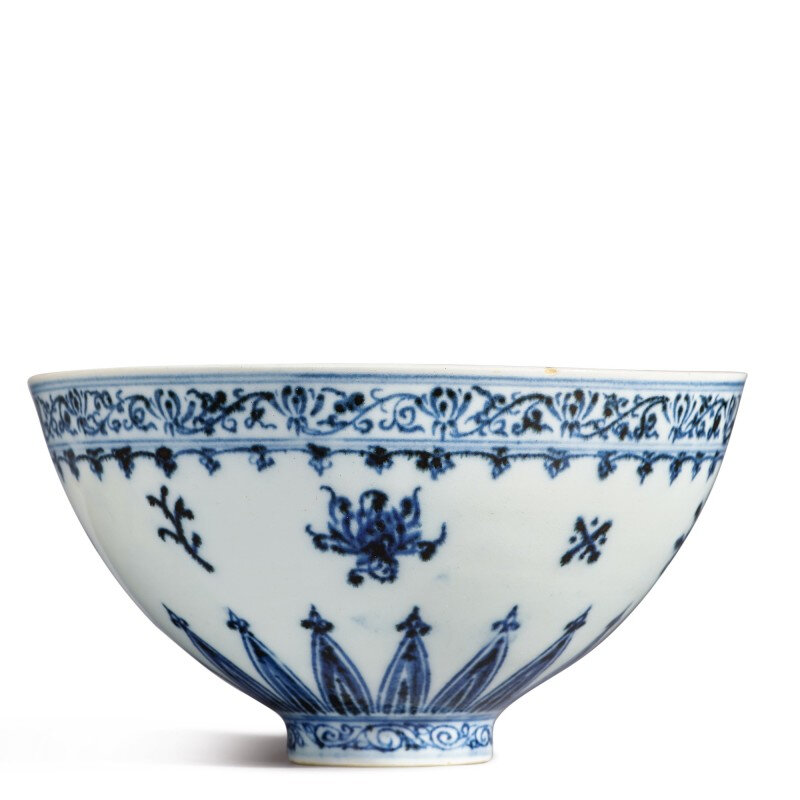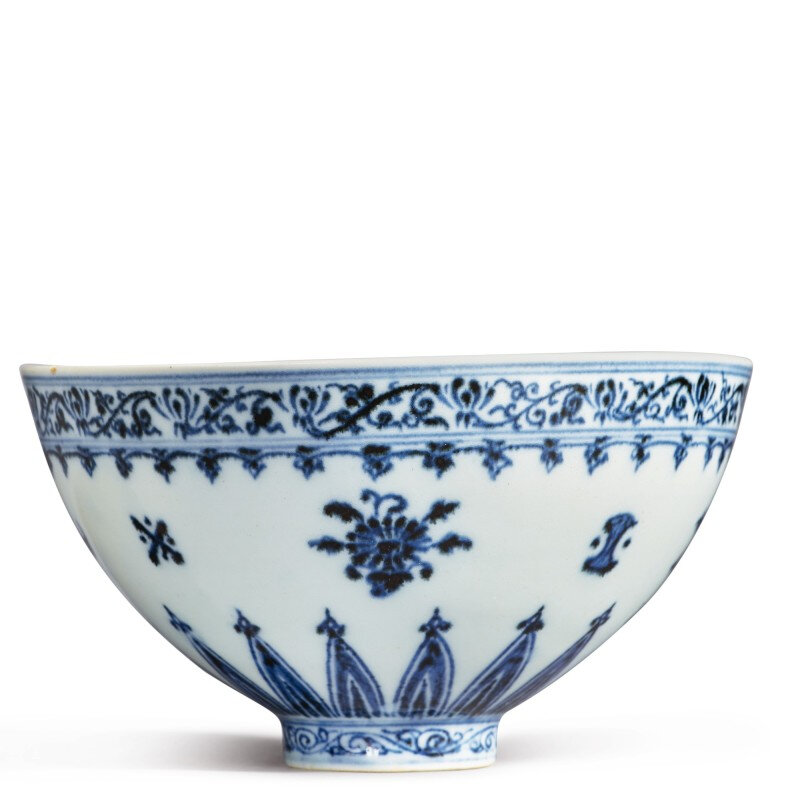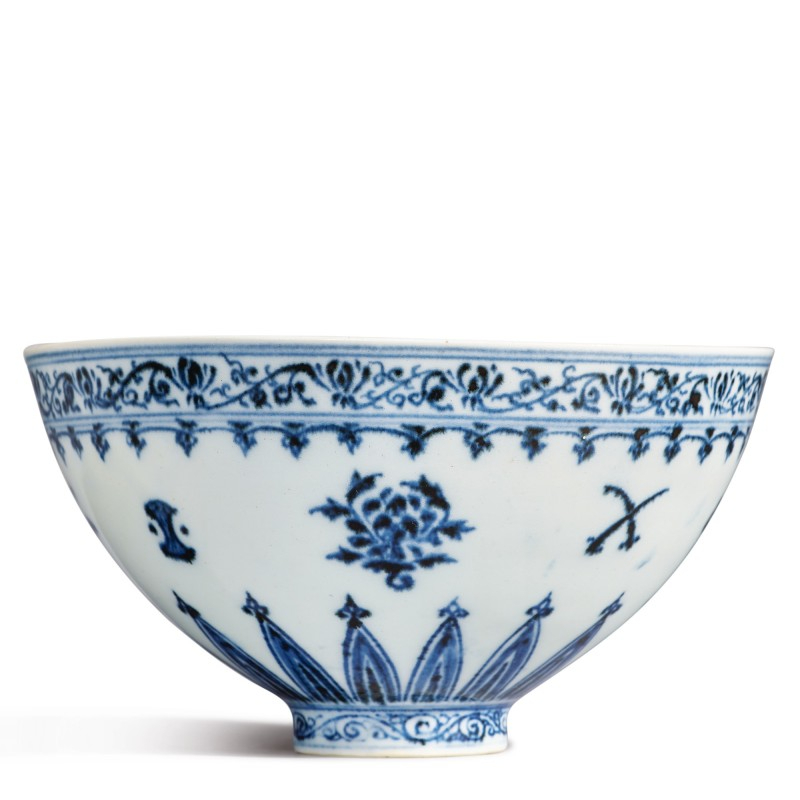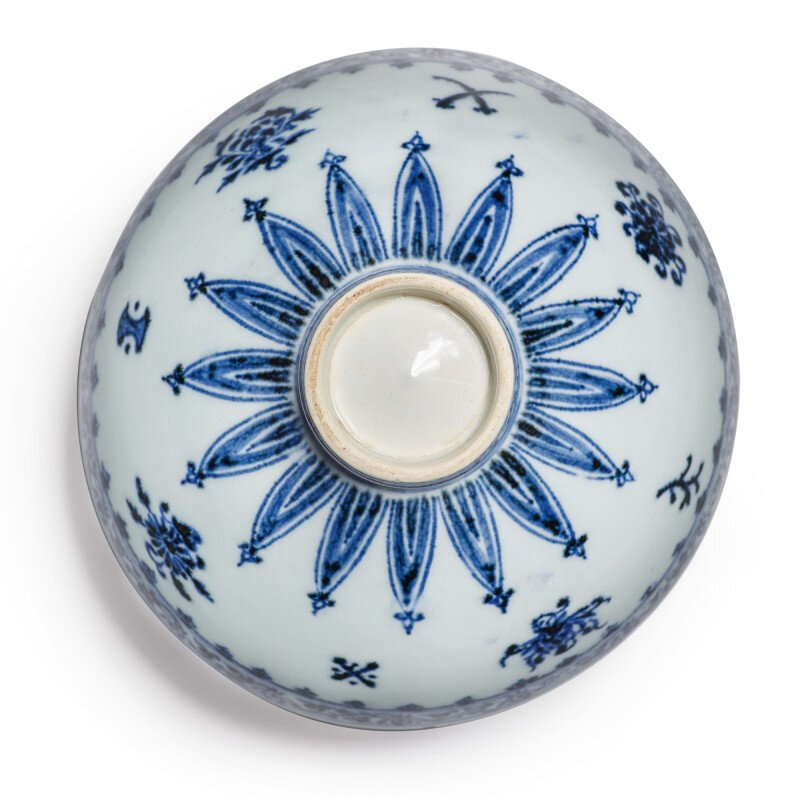 Lot 130. An exceptional and rare blue and white 'floral' bowl, Ming dynasty, Yongle period (1403-1424). Diameter 6 ¼ in., 16 cm. Estimate: 300,000 - 500,000 USD. Lot sold: 721,800 USD. Courtesy Sotheby's.
delicately potted in the shape of a lotus bud (lianzi) or chicken heart (jixin), with deep rounded sides and a pointed base resting on a short, narrow foot, finely painted in rich tones of cobalt blue accented with characteristic 'heaping and piling', the interior decorated with a central medallion enclosing a formalized quatrefoil motif encircled by a narrow band of alternating stylized florets formed of dots and leaves, and further wreathed by elaborate interlocking strapwork forming heart-shaped petals enclosing trefoils, the cavetto with eight dianthus blossoms borne on undulating leafy foliate scrolls, all below a row of pendent trefoils and a band of zigzag lines and clusters of circles around the rim, the exterior painted with four blossoms of lotus, peony, chrysanthemum, and pomegranate flower, alternating with four emblems of zabao (miscellaneous treasures) including the ingot, double horns, coral branch, and yinyang castanets, between interlinked pendent trefoils and upright slender petals surmounted by trefoils, all bordered by a band of lotus scrolls around the rim and classic scrolls encircling the foot.
Provenance: American Private Collection, acquired in Connecticut.

Imperial

Porcelain

with an Exotic Touch
he Yongle court (1403 – 1424) brought a very distinctive new style to the porcelain kilns of Jingdezhen in Jiangxi, a style immediately recognizable, never surpassed, and defining the craft still in the eighteenth century. In every respect, this delicate bowl is a quintessential Yongle product, made for the court, showing the striking combination of superb material and painting with a slightly exotic design that characterizes imperial porcelain of this period.
Yongle was the period when the Ming (1368-1644) came into its own. The Emperor was ambitious, reaching out to foreign countries, determined to use the country's assets not only for his own delectation but also to showcase China's superiority abroad. He had court officials take over not only the production of porcelains at Jingdezhen and of celadons at Longquan, but also of Buddhist bronze sculptures, carved lacquerware, probably textile weaving, book printing and other crafts. In all these media, fine products had been created since the Yuan dynasty (1279 – 1368) or longer; patronage and pilotage by the Yongle court lifted them to completely new levels.
The exact date of the official establishment of an Imperial Porcelain Factory in Jingdezhen is a matter of debate, but in the Hongwu period (1368 – 1398) already, the court had commissioned porcelains and sent officials to Jingdezhen to supervise the firing. For the Yongle reign, there are records of a successfully completed imperial order of 300,000 pieces. While from the Xuande reign (1426 – 1435) onwards, eunuchs were often sent to the Jingdezhen kilns from far-away Beijing to control an industry they did not understand – positions prone to abuse – the earlier supervisors were officials directed from one local post to another, and some seem to have been well suited to the task; in the Yongle period, one of them even got a shrine erected in his memory (see Peter Y.K. Lam, Dawentang cang ci/Chinese Ceramics from the Dawentang Collection, Hong Kong, 2019, pp. 16-31, Chinese, and 35-59, English).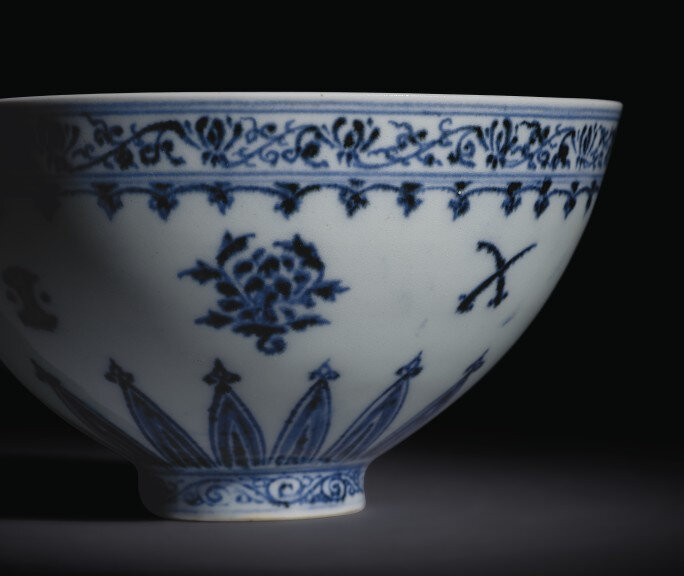 The excellence of Yongle porcelain was unquestionably boosted through this direct imperial involvement. The court patronized the production through large orders, employed specialists to do the designs, and selected supervisors to oversee the whole organization. The manufacture of imperial wares was now approached with a new professionalism. After the often disappointing appearance of blue-and-white porcelain in the Hongwu period, the potters did active research rather than relying on trial and error to achieve a satisfactory outcome. The waste heaps of the Jingdezhen kilns have brought to light a sample dish painted with flower sprays in different cobalt solutions, identified by different numbers, that indeed yielded very different results; although that dish was discovered in the Xuande stratum, such pointed experiments were undoubtedly undertaken since the Yongle period, as the cobalt recipe used from that period onwards was of reliable quality. Even the many pieces rejected by Yongle quality control, discarded, broken and buried, which have now been recovered from the kiln sites, are overwhelmingly of a beautiful bright blue.
Besides this improvement of the materials, the imperial organization of the designs resulted in much greater variety and refinement of shapes and decorative motifs. The shape of our bowl, called a 'lotus bowl' because it is shaped like a lotus bud, would seem to be purely Chinese in origin. It is elegantly tapering to a pointed bottom, that is clearly visible not only in the center inside but also on the underside, where the ring-shaped foot provides a support. This shape, which in China is known as jixin, 'chicken heart' shape, is only known from the early Ming and does not seem to have been exported. Smaller bowls of this form are 'lotus bowls' also in decoration, being painted with slender lotus petals, which on the present piece have been alienated by being capped with small trefoil motifs, that give them a very different appeal.
These trefoil, or fleur-de-lys motifs, here also used topping lambrequin borders around the center and on either side of the rim, seem to have been inspired by metalwork. Related borders are characteristic of somewhat earlier Khorasan vessels of bronze, brass and other metals; they appear, for example, on the inside of a bowl in the Victoria and Albert Museum, London, and on dishes and trays in various collections, illustrated in Assadullah Souren Melikian-Chirvani, Islamic Metalwork from the Iranian World. 8th – 18th Centuries, London, 1982, pls 26B, 26a (fig. 1) , 27b, 27c, or 36. It is not only the basic form of the design, but particularly one detail in the representation that appears regularly on the Khorasan metal vessels and is repeated inside our bowl: the careful enlacement of loops to pass alternately under and over each other, when crossing.
fig. 1 Bronze silver-inlay dish with engraved decoration, Khorasan, Iran. © Victoria and Albert Museum, London
A border not unlike that seen here on the inside rim can also be found on Khorasan metalwork, e.g. on two brass bucklers illustrated ibid., pls 57 and 57a, described by the author (p. 129), as "lotus-buds, their lateral petals joining together to form pointed arches over pyramids of three pierced beads". While the petal arches and beads are also seen here, the buds themselves have been lost.
Direct Chinese exchanges with Khorasan happened at least six times during the Yongle reign. The Chinese official Chen Cheng (1365-1457), who acted as imperial envoy for the Yongle Emperor to undertake diplomatic voyages overland – like Zheng He (1371-1433) did by sea – travelled to Central Asia and Western Iran in 1414, 1417 and 1420, each time visiting important Khorasan cities such as Herat, one of the centers of metalwork production. All three voyages were undertaken in direct response to prior embassies received from envoys of various Central Asian and Iranian regions, also including Herat, which had submitted tribute gifts to the court.
We do not know how the design office worked, but a whole new repertory of motifs had to be developed for blue-and-white and it is likely that designers charged with inventing large numbers of patterns sought inspiration wherever they could find it, including from foreign goods. A prohibition to depict living beings in Muslim societies, however loosely enforced, made Middle Eastern artists extremely inventive in coming up with formal, non-representational motifs. That no exact prototypes can be identified for the exotic motifs on our bowl and other Yongle porcelains is most likely due to the fact that exact copying was never the intention.
This bowl shows a distinct Middle Eastern touch even in its floral designs, which seem formalized rather than fitting in with the rules of depiction Chinese artists usually observed. In the composite flower scrolls so characteristic of the Yongle period, the species generally are clearly identifiable since every bloom, or pair of blooms, is distinctive and shown with matching buds, fruits and leaves. The small blossoms of the flower scroll inside the present bowl are here depicted as distinctly seven-petalled, but on companion bowls, like one in the National Palace Museum, Taipei, they can have eight petals. They are not shown in various stages, but only fully opened and in frontal view, without buds or fruits, and their foliage represents a combination of undulating grass-like stems and occasional trefoil leaves. Just like the small dotted flower-heads around the center, this seem like an idealistic representation of flowers, as it is common in the Middle East. Only the four flowering sprigs on the outside, which are all different, are clearly intended to represent seasonal flowers, but even they have been stylized. The delicacy of the frilly brushwork may have been dictated by the tendency of the blue to 'heap and pile'.
In the Yongle reign, the imperial court controlled not only the design and production of the wares from the imperial kilns, but also their distribution. Yongle porcelain was not available through the usual trading channels, which had brought Yuan porcelains to the lands of the Near and Middle East and to East Africa. They were made and distributed under strict court supervision, with seconds being destroyed and buried so that they could not be copied, which clearly increased value and demand. While pieces of larger size were much exported, fine porcelains in small sizes such as this bowl were mostly sent to the court and can be found in the palace collections of Beijing and Taipei, and are rarely found abroad.
Only very few companion bowls appear to be recorded: two in the National Palace Museum, Taipei, one illustrated in Ming ci mingpin tulu. Hongwu yao Yongle yao Xuande Yao [Illustrated catalogue of important pieces of Ming porcelain, Hongwu ware, Yongle ware, Xuande ware], Tokyo, 1977, pl. 21; the other included in the exhibition Mingdai chunian ciqi tezhan mulu/Catalogue of a Special Exhibition of Early Ming Period Porcelain, National Palace Museum, Taipei, 1982, no. 24 (fig. 2); one from the Ardabil Shrine, now in the National Museum of Iran, Tehran, illustrated in Takatoshi Misugi, Chinese Porcelain Collections in the Near East. Topkapi and Ardebil, Hong Kong, 1981, vol. 3, no. A.53; one, from the collections of George Eumorfopoulos and Mrs. Walter Sedgwick, sold in our London rooms, 29th May 1940, lot 220, and now in the British Museum, in Jessica Harrison-Hall, Ming Ceramics in the British Museum, London, 2001, no. 3: 28 (fig. 3); one from the collection of A.D. Brankston and Mrs W. Roberts, now in the Victoria & Albert Museum, London, illustrated in John Ayers, Far Eastern Ceramics in the Victoria and Albert Museum, London, 1980, pl. 46; and another sold at Christie's Hong Kong, 29th May 2007, lot 1452.
Fig. 2 Blue and white 'Eight Treasures' bowl, Ming Dynasty, Yongle Period. The Collection of National Palace Museum. ©National Palace Museum, Taipei.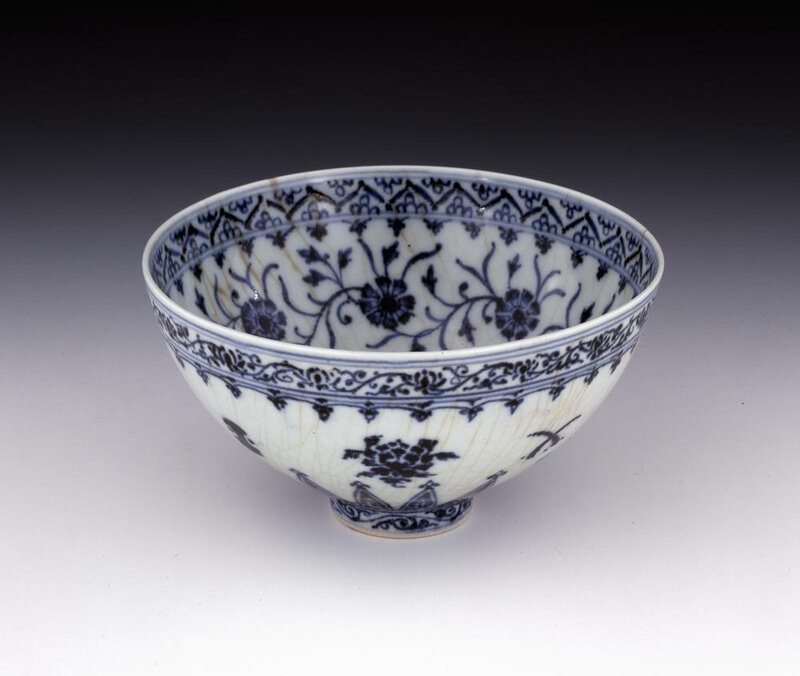 Fig.3 Lianzi [lotus-seed] bowl, Ming dynasty, Yongle period (1403-1424), Jingdezhen, porcelain with underglaze blue decoration. Diameter: 14 cm, Height: 7 cm. Bequeathed by Mrs. Walter Sedgwick, 1968,0422.28 © 2017 Trustees of the British Museum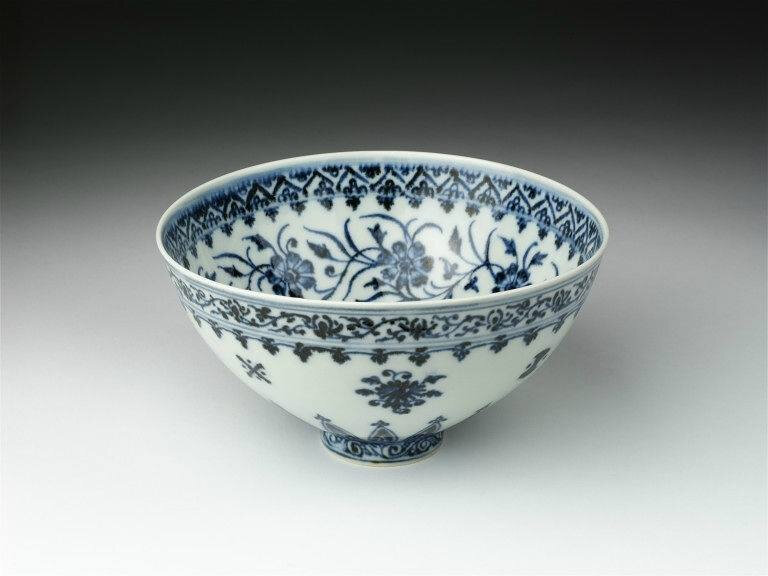 Bowl, Ming dynasty, Yongle period (1403-24), China (Jingdezhen), porcelain painted in underglaze blue. Diameter: 15.9 cm, Height: 8.1 cm. Given by Mrs W. Roberts in memory of A.D. Brankston, C.15-1952 © Victoria and Albert Museum, London.
A very rare early Ming blue and white bowl, Yongle period (1403-1424), 6 1/4 in. (15.8 cm.) diam. Sold HKD 840,000 at Christie's Hong Kong, 29 May 2007, lot 1452 © Christie's Images Ltd 2007
The National Palace Museum also owns a version of Xuande mark and period, included in the exhibition Mingdai Xuande guanyao jinghua tezhan tulu/Catalogue of the Special Exhibition of Selected Hsüan-te Imperial Porcelains of the Ming Dynasty, National Palace Museum, Taipei, 1998, no. 158; and Brankston illustrated his Yongle bowl together with a Xuande version also in his and later the Riesco Collection, in A. D. Brankston, Early Ming Wares of Chingtechen, Beijing, 1938, pls 5 and 6. The design of both versions is remarkably similar, but the Yongle version shows the stronger painting.
In the Yongle period, four related designs are known from smaller bowls: two of shallow mantouxin shape with quatrefoil and lambrequin motifs and only a narrow floral border on the inside, and two of lotus-bud shape, with formal designs only and no floral motifs at all; examples of all four designs are in the Palace Museum, Beijing, illustrated in Mingdai Hongwu Yongle yuyao ciqi/Imperial Porcelains from the Reigns of the Hongwu and Yongle in the Ming Dynasty, Beijing, 2015, pls 64-67.
A lambrequin design topped by trefoil motifs, "ultimately a stylization of lotus-buds" according to Melikian-Chirvani (op. cit., p. 96), appears, together with precious emblems, also on the damascene decoration of an early Ming iron helmet in the Metropolitan Museum of Art, New York, see Craig Clunas and Jessica Harrison-Hall, eds, Ming. Fifty Years that Changed China, The British Museum, London, 2014, p. 151.
Sotheby's. Important Chinese Art, New York, 17 march 2021