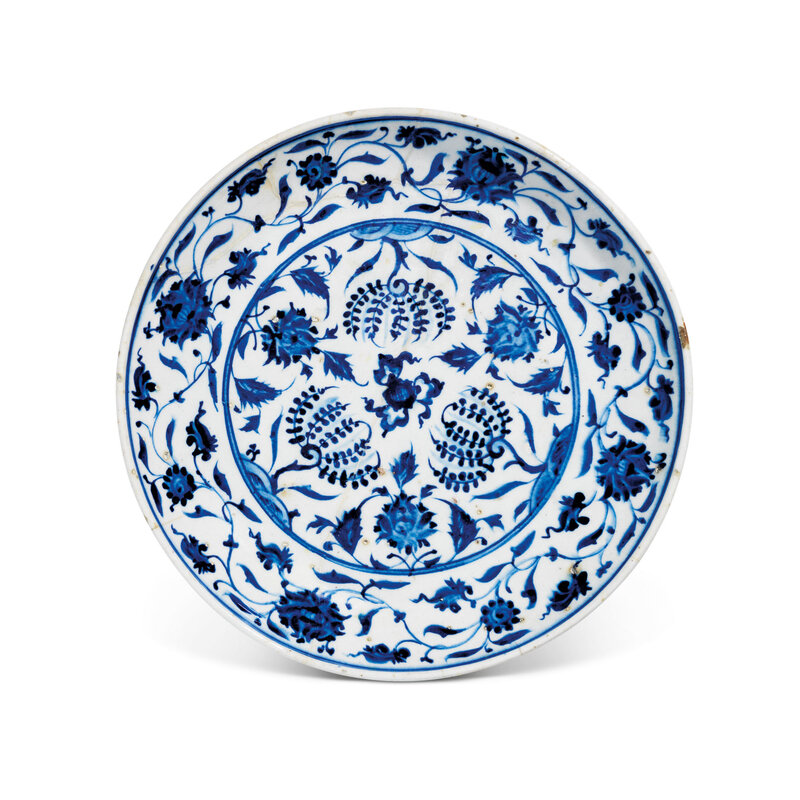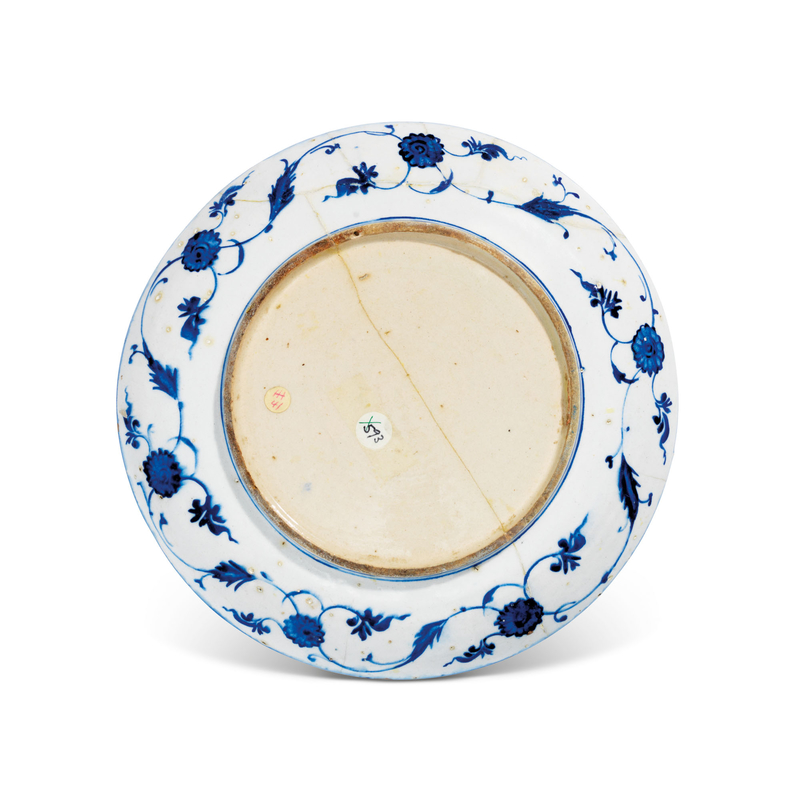 Lot 77. A rimless Iznik pottery dish, Ottoman Turkey, circa 1530; 11 1/8in. (28.3cm.) diam. Estimate: GBP 15,000 - GBP 20,000. Sold for: GBP 18,500. © Christie's Images Ltd 2021.
The white ground decorated in different shades of cobalt-blue with three flowering trees divided by stylised flowerheads, within an elegant meandering floral border, the exterior with a similar floral meander, repaired breaks.
Note: This highly unusual rimless dish has a number of technical features that suggest it is part of an early, experimental, phase of Iznik. The first is the use of three, or just possibly four, shades of cobalt blue – there is a dark, almost black-blue, a classic cobalt-blue, a slightly lighter blue and then another, seemingly lighter still, that is used between the branches of the idiosyncratic trees that decorate the central roundel. The potter here is really playing with the blue and white aesthetic – in a way that was typical of the 1530s. Here they are doing so through the use of different shades of blue. Another rimless dish in the Metropolitan Museum of Art, New York, attributed to circa 1530 (inv.no.14.40.727), also demonstrates this sense playful experimentation with the cobalt-blue, without the use of turquoise which was soon to become so popular. Another technical feature that places our dish in this period is the underside of the foot, which is painted in a non-white glaze. This is a feature of the so-called Abraham of Kutahya wares but rarely seen from the 1550s. A final feature is that the white glaze has bubbled slightly in places.
Dish, mid-16th century, Turkey, Iznik. Stonepaste; painted in turquoise and two hues of blue under transparent glaze. H. 3 in. (7.62 cm), Diam. 15 1/2 in. (39.4 cm). Bequest of Benjamin Altman, 1913. Accession Number: 14.40.727. © 2000–2021 The Metropolitan Museum of Art.
This was also found on a large blue and white Iznik pottery dish, formerly in the collection of Edward James at West Dean Park which sold in these Rooms, 26 April 2005, lot 10. That dish, dated to circa 1535, had similar bubbles in the glaze – as does a related and similarly dated example in the Museum of Fine Arts Boston (inv.no.19.1196; published Nurhan Atasoy and Julian Raby, Iznik, the Pottery of Ottoman Turkey, London, 1989, p.122, pl.199).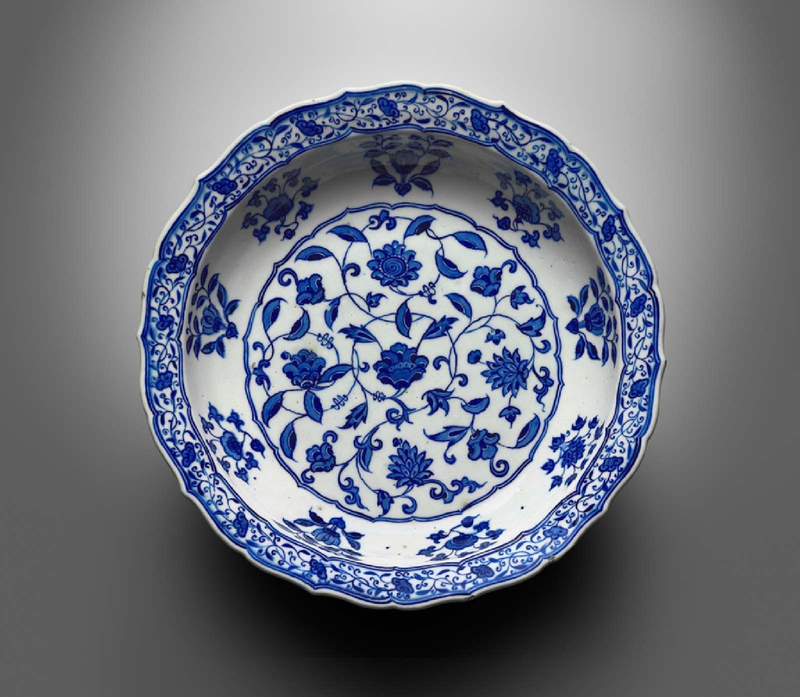 Dish in Chinese Style,

Ottoman, about 1525,
Iznik, Turkey.
Fritware, blue decoration under clear glaze.
Height x diameter: 7.5 x 39.5 cm (2 15/16 x 15 9/16 in.).
The John Pickering Lyman Collection—Gift of Miss Theodora Lyman.

Accession Number:

19.1196.
©

Museum of Fine Arts Boston.
The drawing of this dish is wonderfully free. It has some of the freedom and fluidity of the flask, formerly in the Homaizi Collection, that is now in the Museum of Islamic Art, Doha (John Carswell, Iznik Pottery for the Ottoman Empire, Doha, 2003, pp.26-27, no.2) or the wonderful early Iznik bowl, sold in these Rooms, 10 April 2014, lot 188 and now in the collection of Ömer Koç (Hülya Bilgi, The Ömer Koç Iznik Collection, Istanbul, 2015, pp.80-81, no.1). These are attributed to 1520 and 1510 respectively.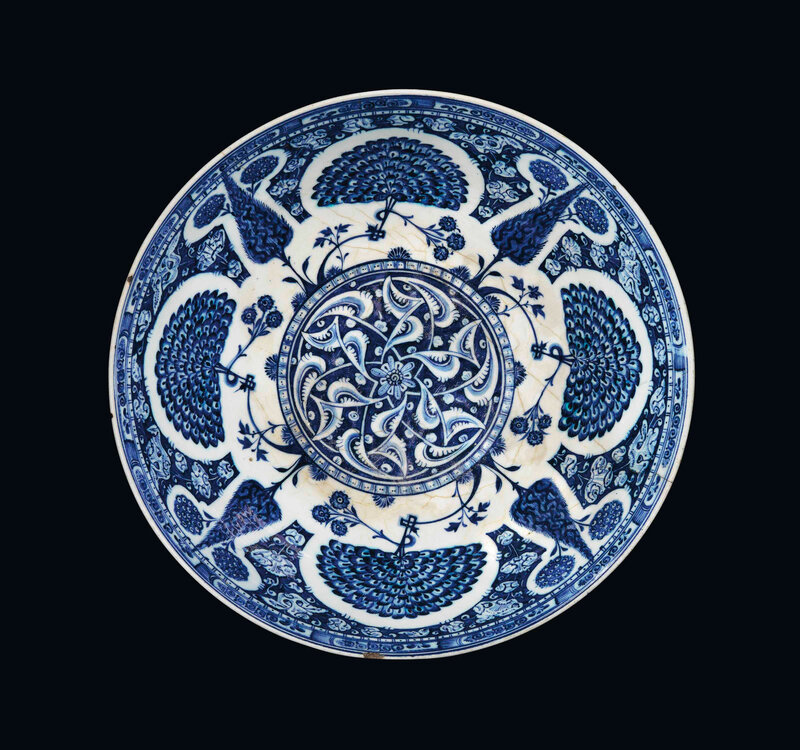 A rare and important early Iznik pottery bowl, Ottoman Turkey, circa 1510; 13¼ in. (33.8cm.) diam.; 6 1/8in. (15.8cm.) high. Estimate GBP 300,000 - GBP 500,000. Price realised GBP 1,426,500 at Christie's London, 10 April 2014, lot 188. © Christie's Images Ltd 2021.
Our dish probably owes some of the inspiration for it's decoration to a Chinese protype. Yuan and Ming porcelains were exported into the Islamic World in quantity and provided some of the strongest inspiration for the early Iznik potters. A Yuan dish sold by Lyon and Turnbull on 31 May 2016, lot 83, had a similarly frenzied design, with a very similar border.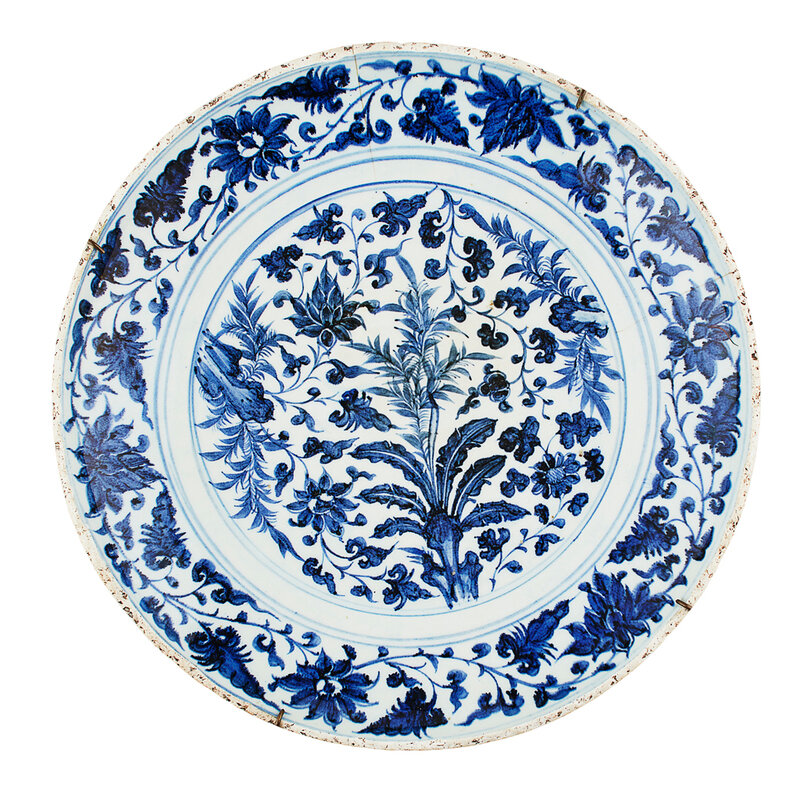 An extremely rare blue and white charger, Yuan dynasty (1279-1368); 39.2cm diam. Sold for £102,966 at Lyon and Turnbull, 31 May 2016, lot 83. © 2019 Lyon & Turnbull.
Christie's. Art of the Islamic and Indian Worlds including Oriental Rugs and Carpets, 1 april 2021.