NEW YORK, NY.- Christie's announces that Classic Week, a marquee series of seven live and online auctions that feature pieces from antiquity to the 20th century. Sales will be held from 8-23 April and include Old Master paintings and sculpture, European Art, Antiquities, Books and Manuscripts and two single-owner auctions, The Kagan Collection and The Elaine and Alexandre Rosenberg Collection of illuminated manuscripts and early printed books. The exhibition at Christie's Rockefeller Center will be by appointment only starting 17 April.
Old Masters
22 April 10AM
The Old Masters sale is highlighted by a group of recently rediscovered works led by an exceptional canvas by Dosso Dossi which is one of the most important commissions of the Italian Renaissance: the painting program for Alfonso d' Este's Camerino in the Castello Estense at Ferrara. Dosso Dossi's The Trojans building the Temple to Venus at Eryx and making offerings at Anchises' grave depicts events recounted in Virgil's epic poem, The Aeneid, and corresponds to the right section of a painting now in the National Gallery of Art (estimate: $400,000-600,000).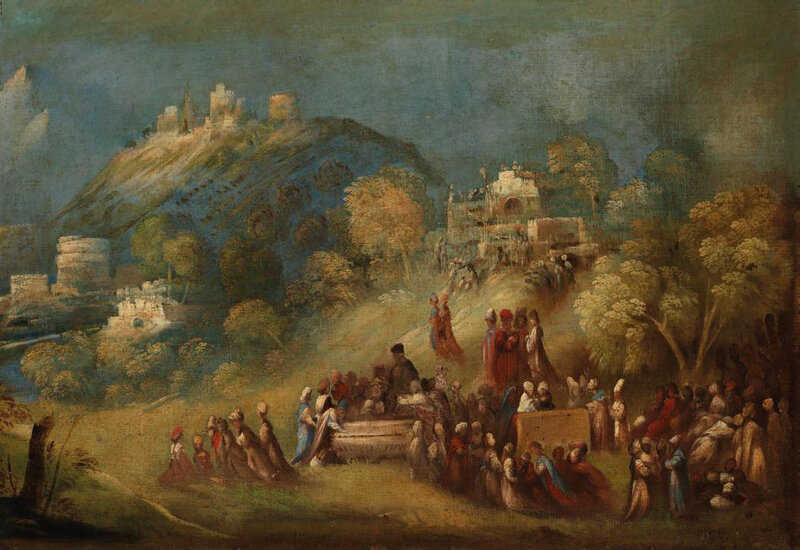 Lot 22. Giovanni Francesco di Niccolò di Luteri, called Dosso Dossi (Tramuschino [Mirandola] c.1486-1541/2 Ferrara), The Trojans building the Temple to Venus at Eryx and making offerings at Anchises' grave, oil and distemper on canvas, unframed, 23 3 / 8 x 33 5/8 in. (59.4 x 85.6 cm.) Estimate USD 400,000 - USD 600,000. © Christie's Images Ltd 2021.
Provenance: Commissioned by Alfonso I d'Este (1476-1534), Duke of Ferrara, Modena and Reggio, Castello Estense, Ferrara (in the Camerino dell'Alabastro), by circa 1521, and by descent to his son
Ercole II d'Este ( 1508-1559), son of Alfonso I d'Este and Lucrezia Borgia (1480-1519), and by descent to his son
Alfonso II d'Este (1533-1597), the 5th and last Duke of Ferrara, and by inheritance to
Cesare d'Este (1562-1628), Duke of Modena (fourth son of Alfonso I d'Este and cousin of Alfonso II d'Este) until 1608 when appropriated by
Cardinal Scipione Borghese (1577-1633), in the Camera dei Bronzi at the Palazzo Borghese on the Campo Marzio, and by inheritance to his cousin
Marcantonio II Borghese (1601-1658), 1st Prince of Sulmona, and by inheritance to his nephew
Giovanni Battista Borghese (1639-1717), 2nd Prince of Sulmona, Prince of Rossano, in whose inventory of 7 April 1693 (probably) descrubed under no. 192 (since mistakenly associated with a painting by Niccolo dell'Abatte at the Villa Borghese) as' f. 452 2 Below the aforementioned a long painting with villages and marines with figures and vessel of No 2 of the Dosi de ferrara with a golden frame ' (Vatican Secret Archives, Vatican City, / Fondo Borhese, envelope 7504)), and (probably) by inheritance to his son
Marcantonio III Borghese (1660-1729), 3rd Prince of Sulmona, and (probably) by inheritance to his son
Camillo Borghese (1693-1763), 4th Prince of Sulmona, and (probably) by inheritance to
Marcantonio IV Borghese (1730-1800), 5th Prince of Sulmona, and (probably) by inheritance to
Camillo Filippo Ludovico Borghese, 6th Prince of Sulmona (1775-1832), the husband of Napoleon's sister, Pauline Bonaparte (1780-1825), and remained in the Borghese collection, Rome, until 1803/19, when acquired by
Pascal Madrazo (see '.... Comes from the famous Galeria de la Casa Borghese en Roma '; see also, D. José Rojas, ed., Diccionari geográfico-estadistico-histórico de España y su posesiones de Ultramar por Pascual Madoz , X, Madrid, 1847, p. 860), and by inheritance to
José da Madrazo y Agudo (1781-1859), and by inheritance to
Federico Madrazo y Kuntz (1815-1894), from whom (probably) purchased in 1861 by
José de Salamanca y Mayol (1811-1883), 1st Count of los Llanos, 1st Marqués of Salamanca.
(Probably) Private collection, S. de R., south of France, circa 1900, until recently.
Literature: Catalog of the gallery de cuadros del SExc.mo Sr. D. José Madrazo, Primer Pintor de Cámara de SMC Director of the Real Museo de Pintura y Escultura, individual of the Academias de Nobles Artes de Madrid, Rome, Dresde, S. Petersburgo y Nápoles, etc., etc., etc., Madrid, 1856, p. 25, no. 77, as ' reparan los Troyanos sus naves en la ribera del mar junto á un grupo de árboles .... prosternada ante el sepulcro de Anchises. A la orilla de mar se part de la nueva población. '. (En.:lib. 5). High, 0 met. 56; ancho 1 met. 83. G. Borghese.
R. Berzaghi, 'A report for the "Stories of Aeneas" by Dosso Dossi', Perspective, CXXXIX / CXL, July-October 2010, p. 135, no. 77.
P. Humfrey, 'More on Dosso's Aeneas frieze', Artibus et Historiae , no. 81, XLI, 2020, pp. 137-156, fig. 8.
Note: Recently rediscovered, this exceptional canvas by Dosso Dossi constitutes an essential contribution to our understanding of one of the most important commissions of the Italian Renaissance: the painting program for Alfonso d 'Este's Camerino in the Castello Estense at Ferrara. The composition depicts events recounted in Virgil's epic poem, The Aeneid, specifically Book V, which takes the Trojans to Sicily. Swayed by Juno, the women burn much of the Trojan fleet in protest of not yet having a permanent home. Following Nautes' advice, Aeneas decides to forge ahead to Italy with those who are fit, but only after founding a city to be ruled by Ascetes for those Trojans who will remain. Prior to Aeneas' departure, offerings are made at the tomb of his father Anchises, which is portrayed in the foreground of our painting, and a temple to Venus is dedicated at Eryx, of which Dosso shows the construction in the distance. The artist's talent for creating scenes that have a downy, dream-like quality shines through here, as evidenced by the softly-contoured figures nestled in a lush, delicately-lit landscape. In fact,Aeneas and Achates on the Libyan Coast (Book III), but may now be recognized as representing the Trojans building a ship in anticipation of their departure from Sicily.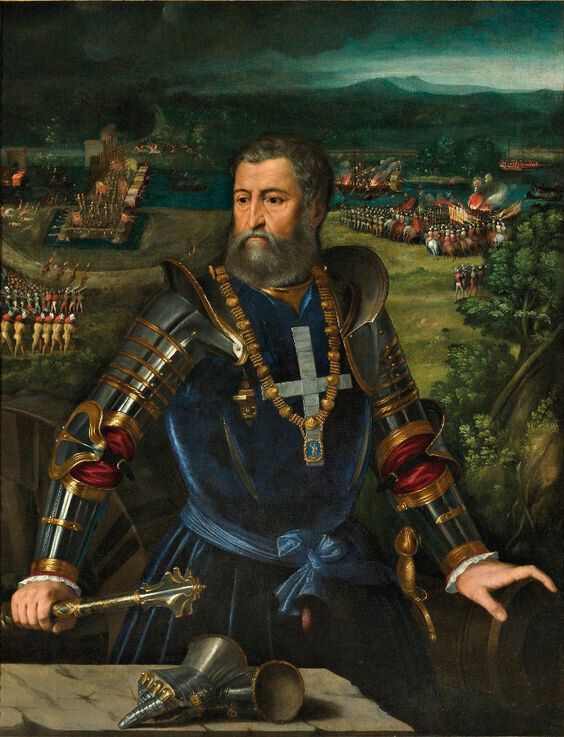 fig. 1 Dosso Dossi, Portrait of Alfonso I d'Este, Galleria e Museo Estense, Modena.
Together, the canvases formed one of ten large-scale paintings portraying scenes from The Aeneid commissioned by Alfonso d 'Este for his famed Camerino (fig. 1), a private study in the ducal apartments, later known as the Camerino d'Alabastro on account of the room's fine marble decorations. The poem, a celebration of Aeneas as determined leader and founder of Rome, was no doubt selected as a source because of its capacity to mirror the Duke's own accomplishments. Dosso's paintings created a frieze that encircled the Camerino, beneath which were hung five bacchanals. The latter constitute some of the most significant and treasured works in the history of art, namely: Giovanni Bellini's Feast of the Gods of 1514 (fig. 2; National Gallery of Art, Washington), Titian's The Worship of Venus of 1519 (fig. 3; Museo del Prado, Madrid), Titian's Bacchus and Aradne of 1520-23 (fig. 4; National Gallery, London), Titian's The Andrians of circa 1523-24 (fig. 5; Museo del Prado, Madrid) and Dosso Dossi's Bacchanal Rout of Men (untraced). On 4 March 1521, Dosso received payment for painting moldings for the Camerino, possibly indicating when the Aeneas frieze was installed. This hypothesis would support a dating of 1519-20 for execution of the ten canvases, which Amalia Mezzetti ('Le "Storie di Enea" del Dosso nel "camerino d'alabaster" by Alfonso d'Este', Paragone , XVI, no. 189, 1965, p. 82), Alessandro Ballarin ( Dosso Dossi: Painting in Ferrara during the years of the duchy of Alfonsi I, Cittadella, 1994-95), and more recently, Peter Humfrey (in P. Humfrey and M. Lucco, Dosso Dossi, Court Painter in Renaissance Ferrara , A. Bayer, ed., Exhibition catalog, New York, 1998, p. 151) have suggested for other works in the cycle.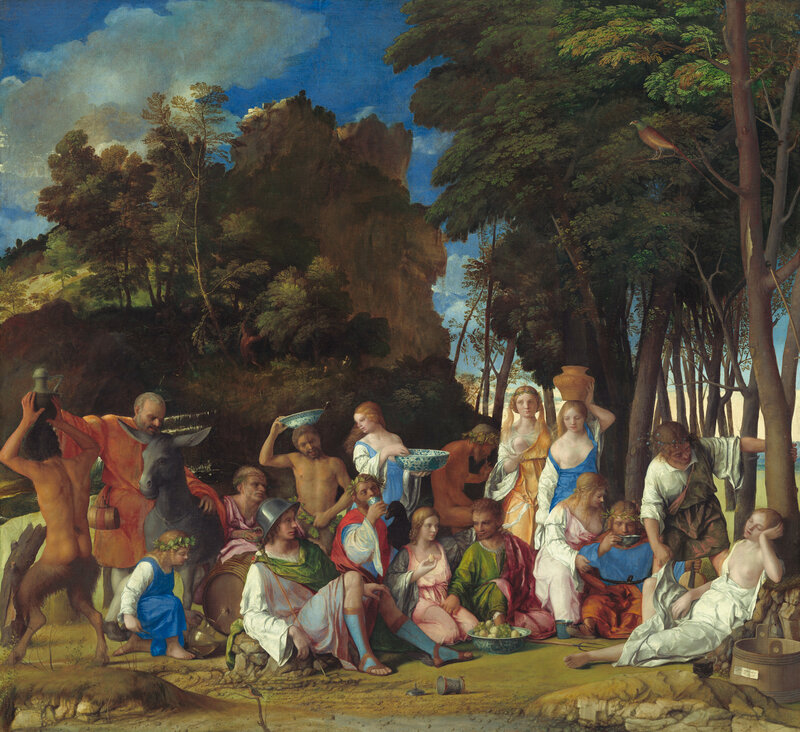 fig. 2 Giovanni Bellini, Feast of the Gods, National Gallery of Art, Washington, D.C.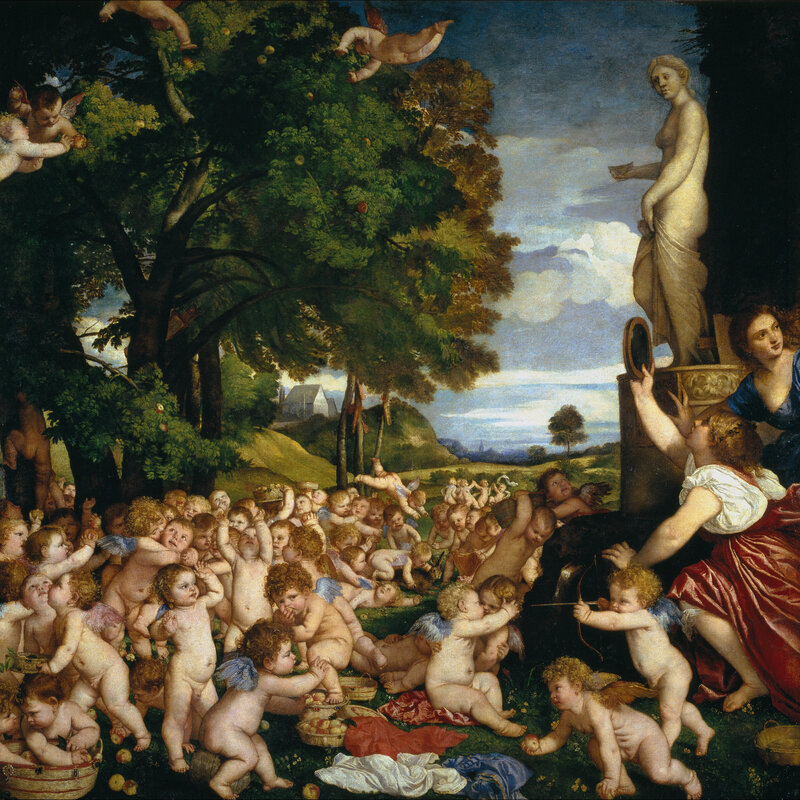 fig. 3 Tiziano Vecellio, called Titian, The Worship of Venus, Museo del Prado, Madrid.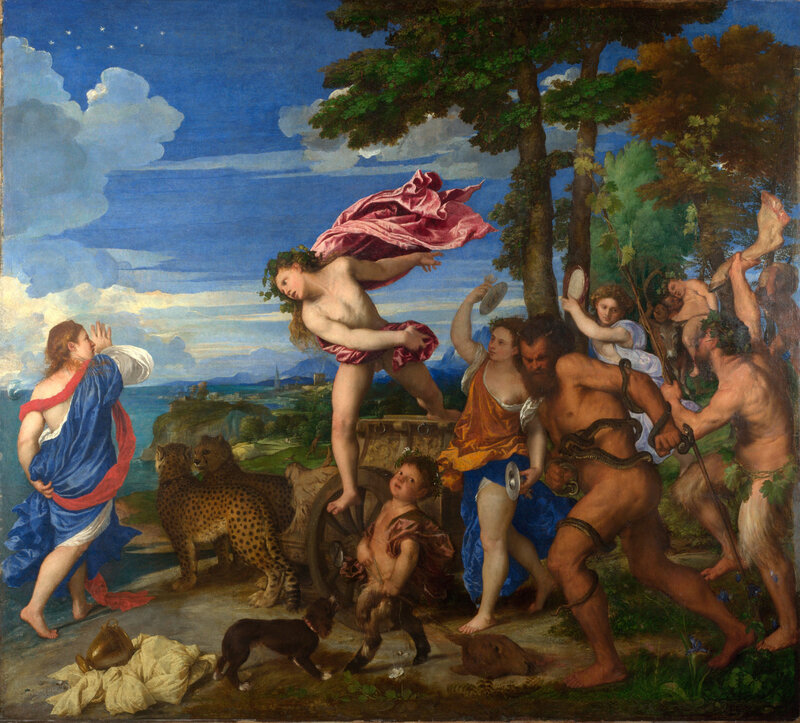 fig. 4 Tiziano Vecellio, called Titian, Bacchus and Ariadne, National Gallery, London.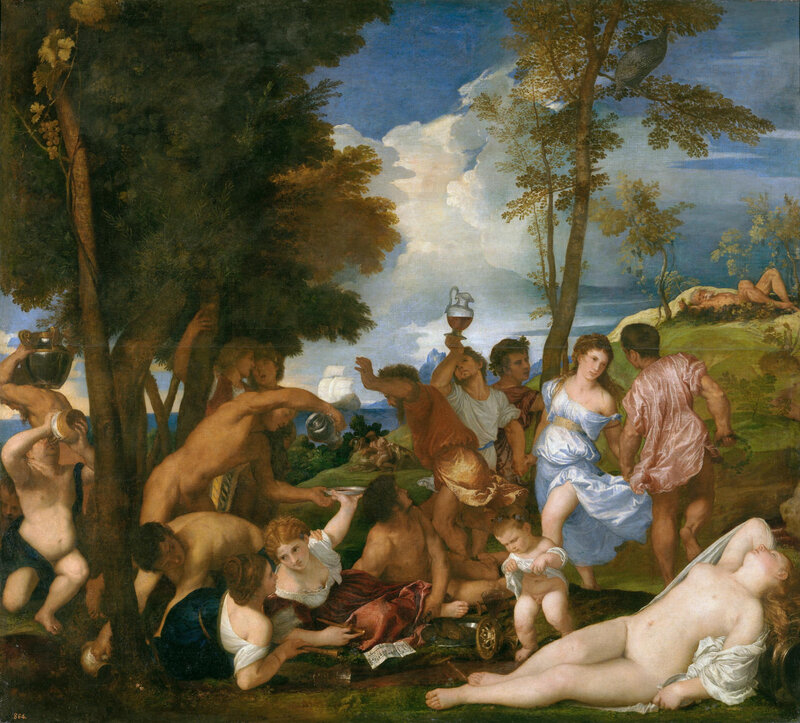 fig. 5 Tiziano Vecellio, called Titian, The Andrians, Museo del Prado, Madrid.
The decorations were dismantled at the end of the sixteenth century. Following the death of Alfonso's heirless grandson Alfonso II d'Este (1533-1597), the duchy devolved to the papacy and the bacchanals were removed from the Camerino and taken to Rome in 1598 by Pope Clement VIII's nephew Pietro Aldobrandini. Dosso's frieze remained in situ for another ten years until Cardinal Scipione Borghese, nephew to Clement VIII's successor, Pope Paul V, was able to acquire the canvases, possibly with the intention of using them to decorate a camerino of his own in the Villa Borghese in Rome. The pictures were later listed in the 1693 inventory of Prince Giovanni Battista Borghese's collection, when they were recorded as hanging in four separate rooms in the Borghese Palace in Campo Marzio.
Recent research by Renato Berzaghi has filled in the gaps in our knowledge of the fate of Dosso's Aeneid frieze. The scholar has demonstrated that the cycle was preserved through 1856, when they were recorded among the possessions of José de Madrazo y Agudo (1781-1859), former court painter and one of the early directors of the Prado, Madrid, who had purchased them directly from the Borghese, probably sometime between 1803 and 1819. The frieze was subsequently acquired by José de Salamanca y Mayol (1811-1883), 1st Count of los Llanos, 1st Marqués of Salamanca (see Provenance). Critically, the paintings were meticulously described in the catalog of Madrazo's collection, thus providing crucial details about the frieze's content and dimensions, and rectifying our understanding of the program as a whole. In light of this, the paintings may be described as follows: 1. Neptune calming the storm raised by Aeolus(Book I), untraced; 2. The Trojans on the African coast prepare to feast on the deer slain by Aeneas (Book I), Barber Institute, Birmingham. 3. Aeneas and his family escaping the burning of Troy (Book II), untraced; 4. The plague at Pergamea on Crete (Book III), sold, Sotheby's, New York, 29 January 2021, lot 116; 5. Aeneas and the Harpies on Strophades (Book IV), recently acquired by the Museo del Prado, Madrid (fig. 2); 6. The Sicilian games (Book V), sold, Sotheby's, New York, 29 January 2021, lot 116; 7. The Trojans preparing to leave Sicily (Book V), National Gallery of Art, Washington, and the present canvas; 8.Aeneas and the Cumaean Sibyl enter the Underworld (Book VI), Private collection, Rome; 9. Aeneas meets Tityos in the Underworld (Book VI), untraced; 10. Aeneas and the Cumaean Sibyl enter the Elysian Fields (Book VI), National Gallery of Canada, Ottawa.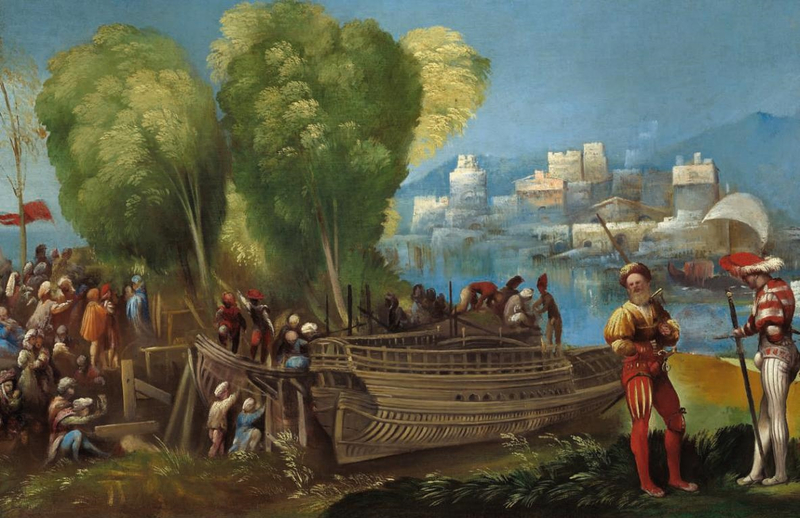 fig. 6 Composite image of The Trojans preparing to leave Sicily, National Gallery of Art, Washington D.C., and the present lot.
fig. 7 Dosso Dossi, Aeneas at the Entrance to the Elysian Fields, National Gallery of Canada, Ottawa.

fig. 8 Dosso Dossi, The Sicillian Games, oil on canvas, each: 23 by 66 in.; 58.5 by 167.5 cm, sold Sotheby's, New York, 29 January 2021, lot 116.

fig. 9 Dosso Dossi, The Plague at Pergamea, oil on canvas, each: 23 by 66 in.; 58.5 by 167.5 cm, sold Sotheby's, New York, 29 January 2021, lot 116.

fig. 10 Dosso Dossi, Aneas and the Harpies, Museo del Prado, Madrid.
We are grateful to Dr. Peter Humfrey for generously sharing his research with us for this catalog note.
Other Italian discoveries include The Vision of Saint Anthony Abbot by Sebastiano Del Piombo, a rare masterpiece that is the prime version of this composition by one of the great artists of the High Renaissance who was a friend of Michelangelo; as well as an early Roman School circa 1275-1300 entitled Eight Scenes from the Life of Christ which is an incredibly rare survival for works of this period painted outside of Florence. Also newly discovered is Saint Francis embracing Christ on the cross by Bartolomé Esteban Murillo that is a ricordo of a work commissioned for the Capuchin convent in Seville in 1665. The painting is in fantastic condition and curiously for a ricordo, x-ray examination reveals numerous alterations to the composition, which offer glimpses into the artist's working practice and are evidence that Murillo continued to change his mind as he rethought the composition of the finished painting.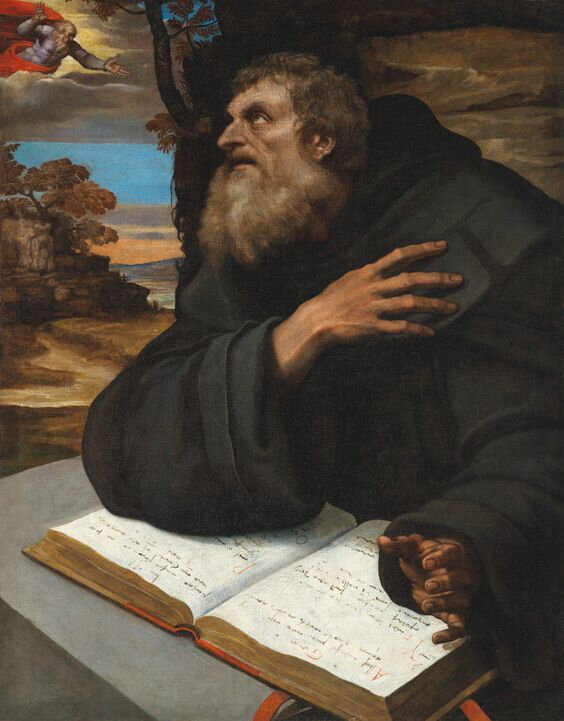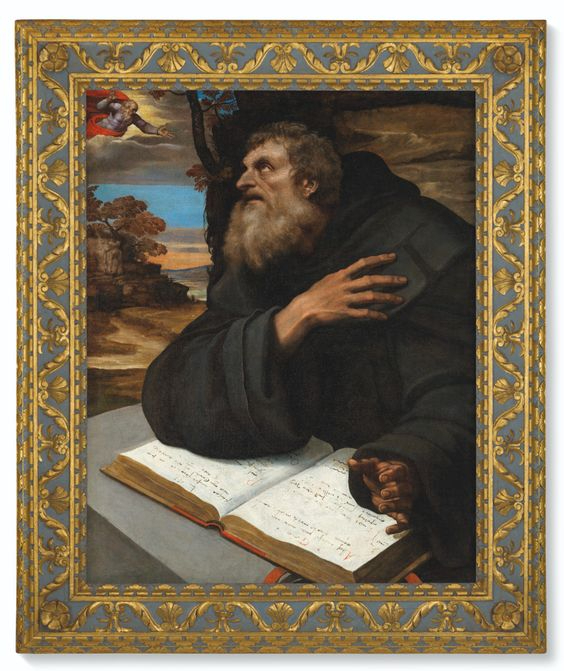 Lot 23. Sebastiano Luciani, called Sebastiano del Piombo (Venice circa 1485-1547 Rome), The Vision of Saint Anthony Abbot, oil on canvas, 44¼ x 34 7/8 in. (112.5 x 88.7 cm.). Estimate 3,000,000 - USD 5,000,000. © Christie's Images Ltd 2021.
Provenance: Private collection, UK.
Literature: P. Baker-Bates, 'Copies and Versions in Sebastiano's Art? The Christ Carrying the Cross' in M. Wivel (ed.), The Mirror and the Compass – Michelangelo and Sebastiano, Turnhout, forthcoming.
Note: A masterpiece by one of the great artists of the High Renaissance, this picture is one of the most remarkable discoveries of recent times. A contemporary and rival of Raphael, and famously a close friend of Michelangelo, Sebastiano was a central figure in Rome in the early sixteenth century, celebrated in his lifetime as an extraordinary portraitist and an artist of unique innovation.

Since Michael Hirst's monograph on the artist in 1981, two major exhibitions have been held: one, which travelled from Palazzo Venezia, Rome to the Gemäldegalerie, Berlin in 2008, surveyed his entire career, from his beginnings as the pupil of Giorgione to his rise to the unrivalled position of privilege as the keeper of the papal seal in Rome. In 2017 an exhibition at the National Gallery, London, took the relationship between Sebastiano and Michelangelo as its focus. The discovery of this picture comes at a timely moment, when studies on the artist have, in recent years, drawn out more information on his life and work and in so doing restored his reputation as a titanic figure of Renaissance art.

What little is known of Sebastiano's early career in Venice comes from Vasari, when he is believed to have worked in the studio of Bellini and then with Giorgione. In Rome, where he lived for the rest of his life from 1511, he quickly moved to become the pre-eminent painter during one of the most fertile periods of cultural activity that the city had witnessed. He was patronised by Agostino Chigi, the Papal banker, and became the most trusted painter of Pope Clement VII, excelling as he produced religious paintings and portraits for the Roman elite. In 1531, he was given the title of piombatore, which allowed him to use the lead papal seal, or piombo, an office that confirmed his integral position in Vatican court circles; he took vows in the process as a friar for the remainder of his life, and thereafter his output diminished.

It was in Rome that he developed a close friendship with Michelangelo. The latter became a mentor and an advisor, and the two engaged in artistic exchanges that would redefine the path of Sebastiano's career: his style was markedly influenced by Michelangelo's use of form and sense of grandeur, so much so that the latter provided drawings for figures and compositional studies that Sebastiano would use in his finished pictures. It is, indeed, Michelangelo's decisive influence that is evident in this picture, the Vision of Saint Anthony Abbot, which brings together a new found sense of monumentality with the colouring and sensitivity of touch of his Venetian schooling. It is a picture that shows Sebastiano at the peak of his creativity.

Even though no record of its early history has to date been found, this was evidently a significant commission, to judge by the number of early copies of that have survived. Together with the newly discovered canvas presented here, there is one other variant of the composition that is currently still considered to be an autograph work by Sebastiano, the panel held at the chapel in Musée National du Château de Compiègne (inv. 841; fig. 1), outside Paris. The latter differs in three significant respects: it is on panel, rather than canvas; it is of larger dimensions, measuring 137 x 109.5 cm.; and the inscription on the book differs markedly, in both the text itself and the lettering, with block capitals used instead of cursive handwriting. It was accepted as an autograph picture by Hirst when he saw it in the department of restoration at the Louvre in 1977, although he sounded a note of caution in that judgement, not least for its relatively poor state. He compared it with the Visitation (fig. 2) in the Louvre, with the similarity between the foreshortened left hand of the saint and that of Saint Elisabeth in the Paris picture. The larger dimensions and panel support are not though an indication that this was a primary version of the composition; indeed, as Piers Baker-Bates has discovered, there are examples of copies being made of Sebastiano's pictures in his lifetime (or shortly thereafter) that are of greater size than original pictures, and even on different supports.
fig. 1 Italie, Ecole de Sebastiano del Piombo dit aussi Sebastianio Luciani (Venise, vers 1485 - Rome, 1547), Saint Antoine Ermite, XVIe siècle. En dépôt : Musée national du Château de Compiègne, Compiègne. © RMN-Grand Palais (musée du Louvre) / Michel Urtado.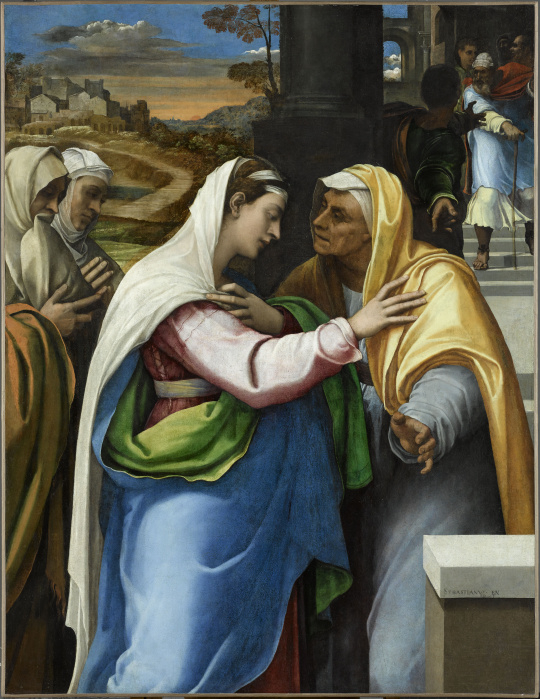 fig.2 Sebastiano del Piombo, La Visitation, 1521, Musée du Louvre, Paris. Photo (C) RMN-Grand Palais (musée du Louvre) / Franck Raux
Whilst it has not proved possible for the compiler of this entry to see the Compiègne picture first hand, nor for the two pictures themselves to be compared side by side, a highly convincing case can be made for the newly discovered canvas to be the first, and superior, picture, given its remarkably accomplished execution and the presence of decisive pentiments on the right edge of the open book and the trees upper left. The more delicate handling of the glazes, the greater subtlety in the definition of forms and the highly characterful, detailed portrait of the saint all speak strongly for its primacy. Indeed, Dr Baker-Bates, who has seen both pictures, believes this to be the case, as does Mauro Lucco, the latter judging from photographs alone (and reserving the right to confirm his view on seeing the picture in person, which has not yet proved possible). The cursive writing of the text also speaks in favour of this being the prime version: the font is highly analogous to Sebastiano's own handwriting, as it appears, famously, in his letters to Michelangelo (fig. 3).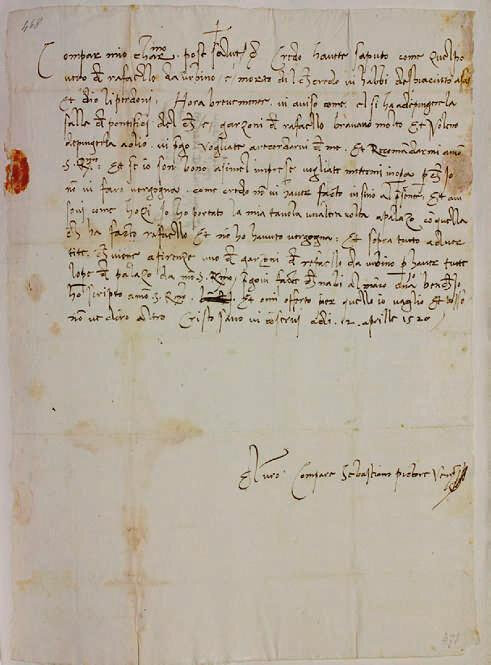 fig. 3 Sebastiano del Piombo to Michelangelo, 12 April 1520, Fondazione Casa Buonarroti, Florence
Another version in the Philadelphia Museum of Art (cat. 193; fig. 4), formerly in the John G. Johnson Collection, which is on canvas and whose script closely matches that of the picture discussed here, was for some time given to Sebastiano, the attribution initially supported by Bernard Berenson who erroneously identified the subject as the Vision of Saint Augustine. While others published the picture as by Sebastiano, Berenson would row back on the idea, and Federico Zeri determined it to be a studio work. Currently it is given tentatively to Girolamo Muziano, a prolific Mannerist artist known to have copied Sebastiano, presumably to commission, on several occasions. There also is a reduced copy, on panel, showing the upper half only, in Staatliche Kunsthalle in Karlsruhe (inv. 420), and another full scale copy recently found in Spain.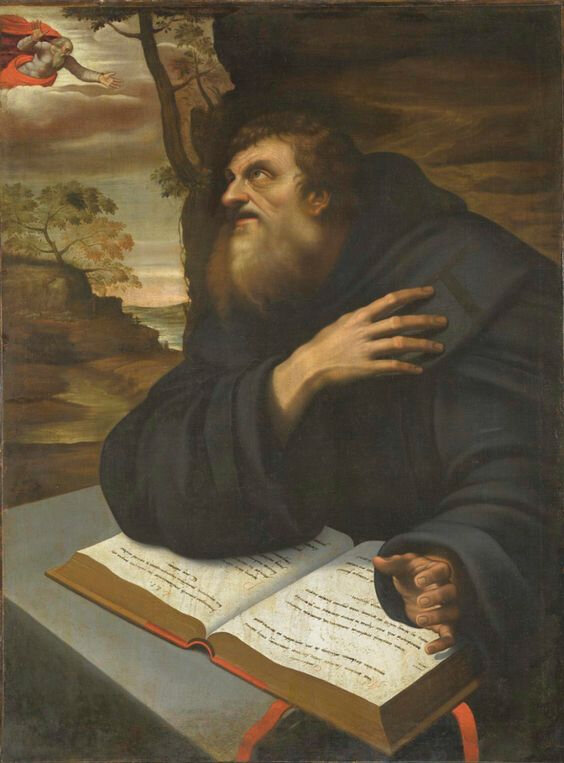 fig. 4 Attributed to Girolamo Muziano, Saint Anthony Abbot, Philadelphia Museum of Art.
It is worth pausing to draw attention to two further features of the picture under discussion. First, the splendidly executed landscape background seen through a lateral, vertical 'window' to the left. Highly characteristic, this type of landscape device features elsewhere in Sebastiano's oeuvre, notably in his Portrait of Ferry Carondelet, painted circa 1510-12 (fig. 5; Madrid, Museo Nacional Thyssen Bornemisza). The handling and atmosphere of the two landscapes, both seen at sunset with beautifully drawn autumnal trees, is remarkably similar; it might suggest a close date of execution for the two works, or that the Saint Anthony revisits this earlier, successful compositional device at a later time. The general consensus is that the picture here likely dates to circa 1515-1520. Second, the wonderful naturalistic rendering of the head and the hands is entirely in tune with his revelatory role as a portraitist: Sebastiano played a key part in developing the genre in the early sixteenth century, and Vasari himself acknowledged that the artist possessed special talent in this regard: 'era veramente Sebastiano nel fare i ritratti di tutta finezza e bontà a tutti gli altri superiore […] nella testa e nelle mani, nelle quali parti era Bastiano veramente eccellentissimo' ('Sebastiano was truly superior to all others in making the finest portraits […] the head and the hands [were] parts in which Sebastiano was most truly excellent') (G. Vasari, Le vite de' piu eccellenti pittori, scultori et architettori, III.I, Florence, 1568, pp. 344-345). This all points towards the special attention Sebastiano dedicated to what was a relatively unusual sacred subject, showing God the Father appearing to Saint Anthony. Born in Egypt in the third century, Saint Anthony became one of the fathers of Christian monasticism. He gave away all his worldly possessions to devote himself to a life of solitude and spiritual reflection. He lived a strict, ascetic life in a small cave in the Eastern Desert of Egypt, the setting it would seem for this picture, with the rock of the cave seen in the upper right. There he endured a series of supernatural temptations, episodes which have been more frequently represented in the visual arts.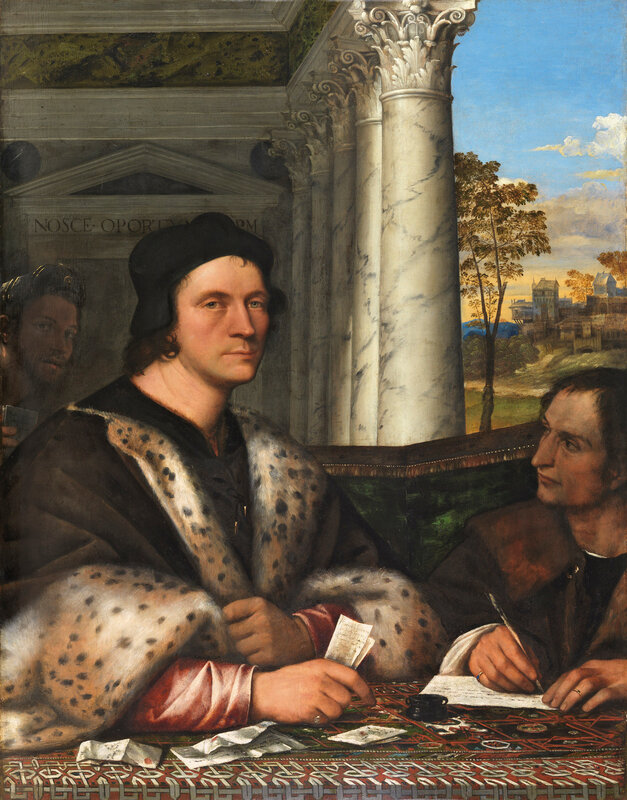 fig. 5 Sebastiano del Piombo, Portrait of Ferry Carondelet with his secretaries, Museo Nacional Thyssen-Bornemisza, Madrid
PROVENANCE

It is remarkable that a picture of such calibre should surface with little provenance to its name, although two old collectors' labels on the reverse of the stretcher offer tentative clues as to the picture's history, yet to be uncovered. The labels appear to date from the nineteenth century; one bears the name Titian, presumably an erroneous attribution applied to the picture, and the other the initials 'SP' above the number 353. It may well be that the 'SP' stands for name of the artist, unless it were, by coincidence, the initials of the then owner of the work. The identity of the saint has not always been obvious, and it is possible the picture may have been identified as a different saint, as Berenson had done with the Philadelphia copy.

It may also have been, where the present canvas in concerned, that the layers of dirt, overpaint and old varnish covering the picture obscured its subject. Certainly, the 'T', or tau cross, which is now visible on the saint's left shoulder and identifies him as Anthony Abbot, was hidden from view previously. The careful cleaning and restoration of the picture was revelatory, bringing back to life the picture's vibrant colours and uncovering the exceptional brushwork beneath. The initial cleaning carried out by Hamish Dewar Ltd., and the subsequent restoration overseen by Marie Louise Sauerberg.

The circumstances of the commission of the Saint Anthony remain elusive. The existence of just such a composition by Sebastiano is confirmed however by the official act of donation to the Ambrosiana of the collection of Cardinal Federico Borromeo on 28 April 1618, where a copy is listed. Amongst the 'copie fatte con diligenza' is 'Un S. Benedetto con un gran libro avanti, e che fiso riguarda il cielo, con una cornice di noce, e con profili d'oro, alto due braccia, e largo un'e mezzo. Et è copia del Muziano cavata diligentemente dall'originale di Fra Sebastiano del Piombo' ('A St. Benedict with a large book in front of him, looking up toward the sky, with a walnut frame with a gold border, two braccia high, and one and a half wide') (P.M. Jones, Federico Borromeo and the Ambrosiana Art Patronage and Reform in Seventeenth-Century Milan, Cambridge University Press, 1993, p. 353). The picture is mentioned again in Borromeo's Musaeum, of 1625 (F. Borromeo, Musaeum, Milan, 1625, p. 32) before leaving the Ambrosiana at an uncertain date between the taking of the inventories of 1685 and 1798. Despite the incorrect identification of the saint, it is unquestionably the same composition as the Saint Anthony. It is not known yet where Muziano would have seen the original in Rome.

Despite the lack of provenance, it is not surprising that such a picture should have found its way to the UK, especially during the nineteenth century when the reputation of Sebastiano was burgeoning, and he was recognised as one of the pillars of Renaissance Rome in the early sixteenth century. Famously, one of the first pictures to enter the National Gallery in London at its creation was Sebastiano's monumental Raising of Lazarus (inv. NG1; fig. 6), formerly part of John Julius Angerstein's collection in Pall Mall. Indeed, by the mid-eighteenth century, a remarkable number of pictures by him were in English collections. Those works include the Dorotea, formerly in the collection of the Dukes of Marlborough, now Gemäldegalerie, Berlin; Portrait of Ferry Carondelet, formerly Dukes of Grafton, now Thyssen-Bornemisza, Madrid; the Portrait of a Humanist, formerly Marquesses of Lansdowne, now National Gallery of Art, Washington; the Man in Armour, formerly Sebright baronets, now Wadsworth Atheneum, amongst others, some of which were confused with the work of Raphael. Arguably the most comparable discovery of a picture by Sebastiano in recent decades also happened in the UK, when the magnificent portrait on slate of Pope Clement VII (fig. 7) surfaced in a regional Sotheby's auction in 1987, before being acquired by the Getty in 1992.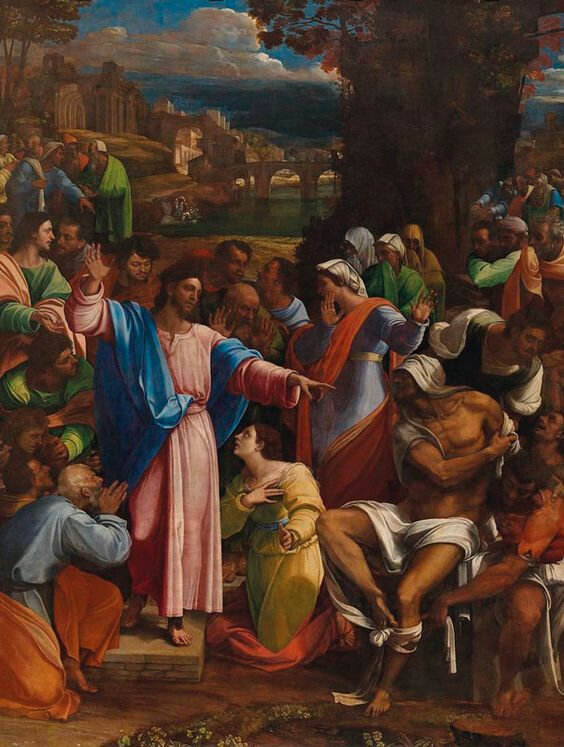 fig. 6 Sebastiano del Piombo, Raising of Lazarus, National Gallery, London.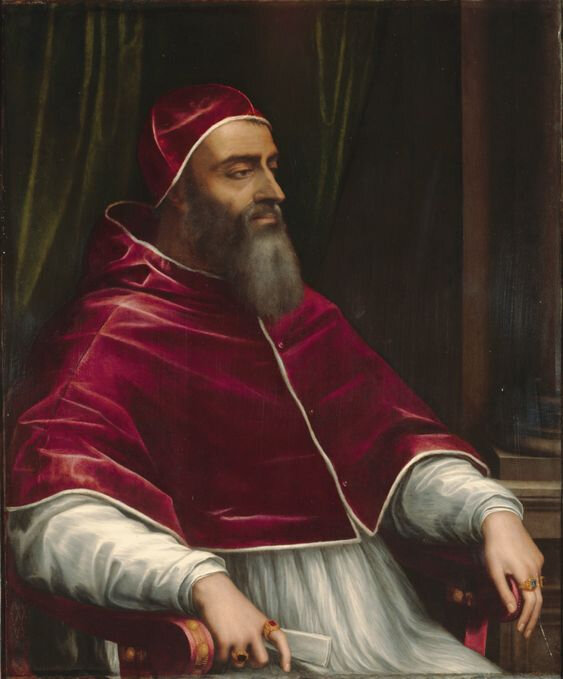 fig. 7 Sebastiano del Piombo, Portrait of Pope Clement VII, J. Paul Getty Museum, Los Angeles
We are grateful to Nicholas Penny, Keith Christiansen, Paul Joannides, David Ekserdjian, Antonio Mazzotta, Matthias Wivel and Piers Baker-Bates who have all confirmed the attribution to Sebastiano after first-hand inspection of the picture. I am indebted to Dr Baker-Bates for sharing the manuscript of his forthcoming publication on the picture.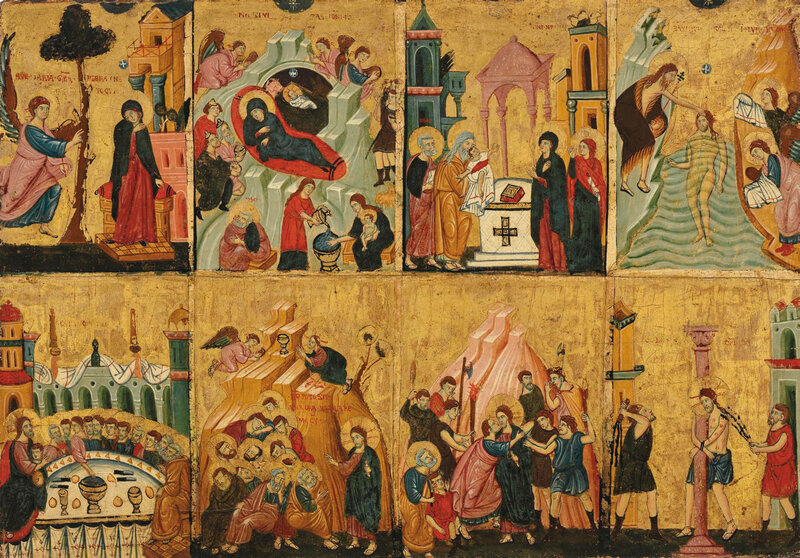 Lot 8. Roman School, c. 1275-1300, Eight Scenes from the Life of Christ, inscribed 'AVE [M]ARIA GRI. / PLENE ONE / TE CUM' (above the Angel of the Annunciation and the Virgin); 'NATIVI / TAS TONI MR' and 'JOSEP' (upper center, to the left of the seated Joseph figure); 'ONI NP' and 'JOSEP' (upper left, above the leftmost figure in the scene); 'BATINUN [...] IUM IOI OAN' (upper center); 'CENA [...] MAI' (upper center); 'NO POTESTIS / UNA ORA VIGILARE / ME CU.' (on the rock between Christ and his disciples), tempera and gold on panel, 21 ¾ x 31 1/8 in. (55.3 x 79 cm.) Estimate USD 1,500,000 - USD 2,500,000. © Christie's Images Ltd 2021.
Provenance: Charles Butler (1815-1911), Warren Wood and London.
Charles Fairfax Murray (1848-1919), London.
Robert Langton Douglas (1864-1951), Dublin.
Adolphe Stoclet (1871-1949), Brussels, by 1923, by whom bequeathed to his daughter
Raymonde Feron-Stoclet (1897-1963), until at least 1956, and by whom passed to her son
Denis Lucien Emile Feron (1928-2015), Beerse, Belgium, by 1998.
with Artemide S.A., Lugano, until July 2002, where acquired by the present owner.
Literature: P. Bautier, 'I primitivi italiani della collezione Stoclet a Bruxelles', Cronache d'Arte, V, 1927, p. 1, as Pisan School, circa 1300.
R. van Marle, 'Italian paintings of the Thirteenth Century in the collection of Monsieur Adolphe Stoclet in Brussels', Pantheon, IV, 1929, pp. 318, 320.
E. Sandberg Vavalà, La croce dipinta italiana e l'iconografia della Passione, Rome, 1929, pp. 430, 450.
R. van Marle, Le scuole della pittura italiana, A. Buitoni, ed., I, The Hague, 1932, p. 563.
E.B. Garrison, Italian Romanesque Panel Painting. An illustrated index, New York, 1949, p. 146, no. 382, as Umbro-Marchigian or Abruzzo School, 1315-1325.
D. Lion-Goldschmidt, Collection Adolphe Stoclet, Brussels, 1956, pp. 15-21.
L.C. Marquez, La peinture du Duecento en Italie centrale, Paris, 1987, pp. 84, 208, 291-292, as Circle of Salerno di Coppa.
A. Tartuferi, 'Un libro e alcune considerazione sulla pittura del Duecento in Italia centrale', Arte Cristiana, LXXVI, 1988, p. 442, as Umbro-Marchigian School.
D. Rigaux, A table du Seigneur. L'Eucharistie chez les Primitifs Italiens 1250-1497, Paris, 1989, p. 38.
A. Tambini, 'In margine alla pittura riminese del Trecento', Studi romagnoli, XLVII, 1996 (published 1999), pp. 448, 451-452, as Circle of Salerno di Coppa.
M. Boskovits, ed., The Alana Collection: Italian paintings from the 13th to 15th century, Florence, 2009, pp. 176-182, no. 31, illustrated (cat. by A. Labriola).
Exhibited: Paris, Musée Jacquemart-André, La collection Alana: Chefs-d'oeuvre de la peinture italienne, 13 September 2019-20 January 2020, no. 1 (cat. by A. Carelli).
Note: Dating between 1270 and 1300, this sublime painting of Scenes from the Life of Christ constitutes a precious and exceptionally rare example of thirteenth-century panel painting. While Tuscan examples from this period exist today in greater numbers, such panel paintings appear to have been in less demand in Rome, where frescoes were preferred, making the survival of this panel all the more extraordinary.

The panel would originally have formed part of a much larger, elongated dossal, with the present scenes forming the left side, perhaps with a Madonna and Child or Crucifixion at the center, flanked at right by eight further scenes, most likely from the Passion and Resurrection of Christ. A similar dossal with twelve Scenes from the Life of Christ surrounding a Madonna and Child, produced a little later than the present painting and by two Florentines, the Master of the Magdalen and Grifo di Tancredi, can be found in the Timken Museum of Art, San Diego, and gives an idea of what the present panel would have looked like when intact (fig. 1). In 1949 Edward B. Garrison recognized a Dormition of the Virgin, at that time in a Roman private collection, as having formed part of the missing right-hand section of the present complex (loc. cit.). Garrison did not publish an image, however, and the Dormition has sadly not been identified or located since. The scenes in this Roman example are arranged in two rows of four and incisions in the preparatory ground and traces of color suggest that fine strips of wood originally divided the episodes one from the next. The left side of the panel has been cut slightly but at the right side a slender strip of black paint has been preserved which would at one time have outlined all eight scenes.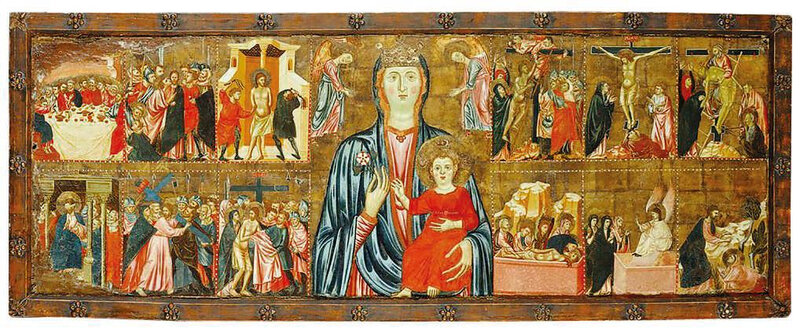 fig. 1 The Magdalene Master and an Unknown Florentine Painter, Madonna and Child and Two Angels, with Twelve Scenes from the Passion, circa 1310, Timken Museum of Art, San Diego.
The painted episodes are beautifully preserved and, despite their Byzantinesque style, have a lively quality of immediacy. A charming detail is the inclusion of inscriptions captioning each scene: AVE MARIA GR[ATI]A PLENA D[OMI]N[V]S TECUM for the Annunciation; NATIVITAS D[OMI]NI I[ESU] C[H]RI[STI] for the Nativity and Adoration of the Magi; T[EMPLUM?] D[OMI]NI N[OST]R[I] / IOSEP[H] for the Presentation in the Temple; BA[P]TI[SM]V[S] D[OMI]NI N[OSTRI] I[N] FLVM[INE] IORDAN for the Baptism; CENA D[OMI]N[I] N[OST]RI for the Last Supper; and NO[N] POTESTIS VNA ORA VIGILARE MECV[M] for the Agony in the Garden. The lettering in the two final scenes is now lost. As Ada Labriola notes, these inscriptions, along with the archaicizing iconography 'suggests that the anonymous artist had a cultural background influenced by Byzantine art.' (loc. cit., p. 178). She cites, among others, details such as the Virgin's side-lying position in the Nativity as evidence of Byzantine influence and compares her shrinking gesture in the Annunciation to that produced by an anonymous Byzantine illuminator in the mid-thirteenth century in the Monastery of Iviron, Mount Athos (Cod. 5, fol. 222v). She also finds parallels in the white cloth winding through the pinnacles of the portico in the background of the Last Supper with similar elements in the illuminations of the Paleologian Gospels of the period produced in Constantinople (Gospel gr. 54, Bibliotèque Nationale, Paris).
The painting's exact date and location of execution has been the subject of much scholarly debate since its first publication in 1927 by Pierre Bautier (loc. cit.). Bautier considered it to be the work of a Pisan painter active around 1300 but, two years later, Robert van Marle countered that the artist was in fact Roman (loc. cit.), an opinion more recently shared by Ada Labriola (2009) and Fabiana Carrelli (2019). Evelyn Sandberg Vavalà, who published the panel in 1929, did not venture an opinion on the artist's origin, but in 1949, Edward B. Garrison proposed the painter to have been Umbro-Marchigian or perhaps from the Abruzzi, and dated it a little later, between 1315 and 1325 (loc. cit.). In her catalogue of the Feron-Stoclet collection, Daisy Lion-Goldschmidt returned to the Roman classification and placed the panel once more in the thirteenth century (loc. cit.), as did Dominique Rigaux in 1989. IN 1987 Luis C. Marques specified a date of 1270-80 and considered the painter to have been Florentine, from the circle of Salerno di Coppo, a view shared by Anna Tambini (1996). Angelo Tartuferi disputed this hypothesis in 1988, however, aligning himself instead with the Umbro-Marchigian proposal made by Garrison, followed also by Pia Palladino (loc. cit.).
At the time of the painting's first publication in 1927, it was in the renowned collection of the Belgian engineer and financier Adolphe Stoclet. Stoclet worked on the development of the European railroads and owned dozens of companies, including factories, banks and also mines in the Belgian colonies. He inherited a vast fortune upon the death of his father in 1904. In 1907 he commissioned the celebrated Viennese architect Josef Hoffmann to design a villa for him in Brussels. Given carte blanche and an unlimited budget, Hoffmann produced the lavish Stoclet Palace in Brussels (fig. 2) and entrusted the decoration of its interior to Fernand Khnopff and Gustav Klimt, whose exquisite, monumental mural remains intact in the palace's dining room (fig. 3). The central motif of the golden frieze is the stylized Tree of Life, with its sprawling branches peppered with symbolism inspired by the Ancient Egyptian, Classical and Byzantine works (such as the present painting) in Stoclet's own collection. Stoclet had amassed a sensational art collection comprising Medieval metalwork, enamels, Pre-Columbian and Asian works of art, Egyptian sculpture and Byzantine and late-Medieval Italian paintings. Among the most notable early Italian paintings owned by Stoclet is Duccio di Buoninsegna's Madonna and Child of circa 1290-1300, sold in these Rooms in 2004 and now in the Metropolitan Museum of Art, New York (fig. 4).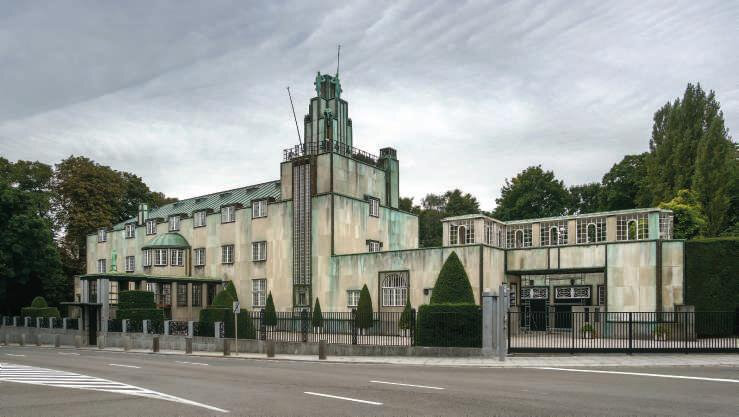 fig. 2 Stoclet Palace, Brussels.
Lot 44. Bartolomé Esteban Murillo (Seville 1618-1682), Saint Francis embracing Christ on the cross, inscribed 'OVI NON / RENVNTIAT / OMNIBUS / QVE POSSI / DET / NON POTES / MEUS / ESSEDIgI / PULUS' (on the book) and ' JESVS NAZARENUS REX / JUDEORUM' (on the cross), oil on canvas, 49 ½ x 33 1/8 in. (125.7 x 84.1 cm.) Estimate USD 1,200,000 - USD 1,800,000. © Christie's Images Ltd 2021.
Provenance: (Possibly) Alfredo Luis Eusebio Telesforo José Escobar y Ramírez (1857-1949), Marqués de Valdeiglesias, Madrid (his initials inscribed on the reverse of the frame).
Private collection, Madrid, by 1988, and from whom acquired by the present owner.
Note: In 1665, Bartolomé Esteban Murillo was hired by the Capuchin monks to design and execute an extensive decorative cycle for the Capuchin convent of Seville. From the last months of that year and well into the next, Murillo lived on site at the convent. The project, comprising some eighteen canvases, was the most ambitious of the artist's career and resulted in one of the greatest pictorial cycles of seventeenth-century Spain. The Napoleonic invasion led to the dispersal of the cycle in 1835, but in 2017 it was finally reunited for an exhibition at the Museo de Bellas Artes, Seville, which is now home to the majority of the Capuchin canvases (for more on the cycle as a whole, see V. Marque´s Ferrer et al., Murillo y los capuchinos de Sevilla, Seville, 2017).

Published here for the first time, this superb Saint Francis Embracing Christ on the Cross is an autograph version of the celebrated, largescale canvas from the Capuchin cycle (fig. 1), now in the Seville museum, which originally hung in a chapel to the right of the church's nave. Enrique Valdivieso González, who has examined this painting firsthand, believes it to be a ricordo painted by Murillo and remarked on its excellent quality, stating that patrons requesting versions of such a high profile painting would desire it to be of a quality as high as the original (letter of expertise, dated 3 August 2020, a copy of which is available upon request). The paint surface is beautifully preserved, allowing a full appreciation of Murillo's fluid, confident brushwork and masterful portrayal of human anatomy.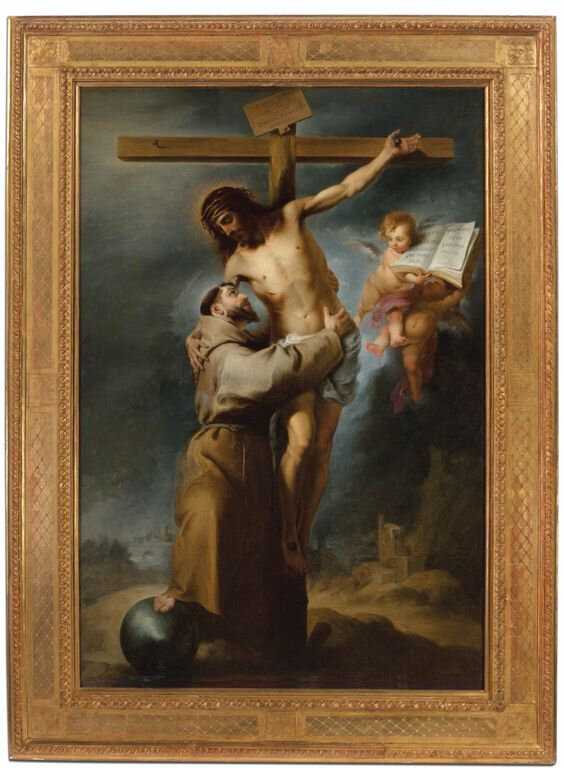 fig. 1 Bartolomé Esteban Murillo, St. Francis Embracing Christ on the Cross, Museo de Bellas Artes, Seville. Photo: René-Gabriel Ojéda Location:Museo de Bellas Artes, Seville, Spain. Photo Credit:© RMN-Grand Palais / Art Resource, NY.
Curiously for a ricordo, x-ray examination revealed numerous alterations to the composition, evidence that the artist continued to change his mind as he rethought the composition of the finished painting. Murillo appears to have modified the position of Saint Francis' hands, initially having them grip tighter around Christ's waist before loosening them. He reworked the angle of the putto's face, lifting the chin and making it less elongated, and altered the fold of the pages in the book. The heads of three further putti, which were painted over and omitted from the finished work, appear in the x-ray by Christ's waist. Most interesting though, is the appearance of a hand with closed fingers on the lateral beam of the cross. The artist seems to have initially depicted Christ's fingers clenched around the nail, before changing his mind and relaxing the hand open. Why Murillo might rethink and rework a composition already so familiar to him, only to come to the same conclusions seen in the prime Capuchin painting is not clear. Such experimentation might be expected in a preliminary work, or even in the finished prime, but is unusual in a later version. It is tempting to believe, then, that this autograph canvas might perhaps represent a highly refined modello, executed for the Capuchin monks in advance to illustrate Murillo's intention for the finished work. Without further in-depth study, however, such a theory must for the moment remain hypothetical.

An initial idea for Saint Francis Embracing Christ on the Cross survives today in the form of a freely expressed black chalk drawing in the Courtauld Institute, London (fig. 2). The drawing's unfinished nature is rare for the artist and shows him thinking through the composition. He worked through two options for the position of the globe beneath the saint's feet, pressed his face against Christ's torso and changed the arrangement of the putti. Most interesting, perhaps, is that close inspection of the drawing appears to show Christ's proper left hand closed, as it appears in the x-ray of the present painting. No intermediate drawings that may have led Murillo from the Courtauld sketch to his finished painting are known.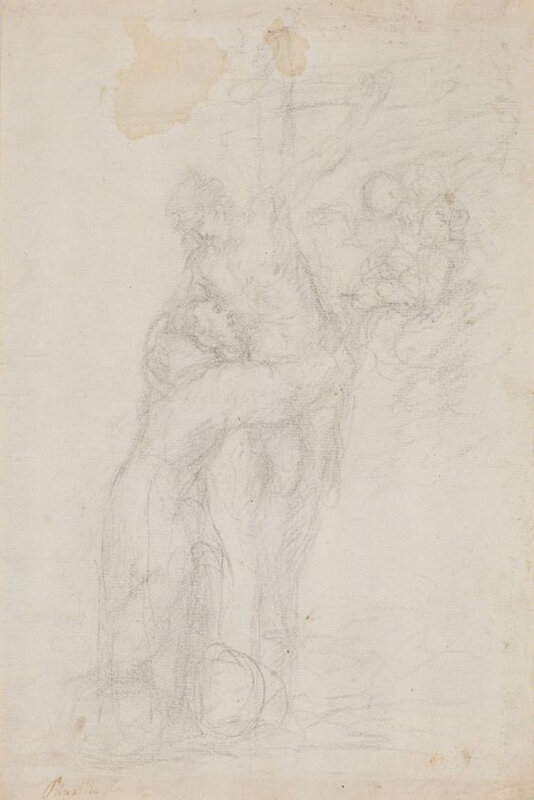 fig. 2 Bartolomé Esteban Murillo, Saint Francis embracing the Crucified Christ (recto), The Courtauld Gallery, London. Copyright: © The Samuel Courtauld Trust, The Courtauld Gallery, London.
For his composition, Murillo took inspiration from a variety of sources. The overall arrangement appears to derive from an earlier print of the same subject by Johannes Wierix (fig. 3). It is possible that the Capuchin monks possessed a copy of the print and requested Murillo use it as the basis for his treatment of the subject. Wierix's composition similarly shows Saint Francis with his arms clasped around Christ, who reaches down to embrace him in return. The print includes an inscription, Sic capit et capitur repetiti fervor amoris atque duplex uno sanguine gaudet amor, which translates roughly as 'Thus, the ardor of shared love seduces and merges into a single blood'. It is this sentiment, perhaps more than the composition itself, that Murillo appears to have absorbed and conveyed so successfully through his choice of iconography. The subject relates to a legendary moment in the life of Saint Francis as recounted by Saint Bernard, in which Francis encountered Christ on the cross during a mission to Calvary. Saint Francis was compelled to embrace Christ, who, anticipating Francis' intention, reached down from the cross to return his embrace.
fig. 3 Johannes Wierix, Saint Francis of Assisi embracing Christ on the Cross, Rijksmuseum, Amsterdam.
The intimacy of the gestures and the reciprocity of touch between the human and the divine underlines the message of 'shared love' conveyed in the inscription to Wierix's print. It was precisely this divine reciprocation that led to the painting's success. The intimacy and familiarity of the subject diverged from the overt drama invoked by most contemporary Sevillian painters. Viewers were struck by the humanity of the scene which lent itself perfectly for domestic contemplation. This, matched with the city of Seville's devotion to Saint Francis, led to numerous requests from Murillo's private patrons for autograph versions and copies on a smaller scale.

Saint Francis rejected all material possessions to dedicate himself entirely to God and thus is depicted barefoot, in his signature rough habit, and rests his foot on a globe, in an expression of disdain for earthly goods. The saint's renunciation of all things material is validated in the words of Christ from the Gospel of Saint Luke, presented on the pages of a book held aloft by two putti at right: Qui non renuntiat omnibus quae possidet non potest meus esse discipulus ('…those of you who do not give up everything you have cannot be my disciples'). Christ's wounded hand lies on the coarse fabric of the habit, while the monk's own hands press against Christ's luminous flesh. Through his expert handling of textures, Murillo signals their fraternal love while retaining the divide between the humble human and the divine.

Murillo's position as one of the foundering members of the Academia de Bellas Artes brought certain privileges. He was exempt from laws prohibiting the study of anatomy and was permitted to work using live models for his nudes. As Peter Cherry asserts, however, by this point in his career Murillo would likely not have felt constrained to draw the figure of Christ from life but would instead have improvised. Of the Seville painting Cherry writes, 'This figure was probably drawn directly from Murillo's imagination and it abides by the convention of weightless elegance for this subject, without the stresses of a realistic depiction of action. Once again, the anatomical information necessary for such a familiar image as this would have been so well known to Murillo that he could recall it at will." (P. Cherry, 'The Murillo Drawing Academy,' in Bartolomé Esteban Murillo (1617-1682): Paintings from American Collections, exhibition catalogue, Fort Worth, 2002, p. 60.)

This lot is accompanied by a letter of expertise by Enrique Valdivieso González, dated 3 August 2020, a copy of which is available upon request.
Other top lots include The Resurrection by Lucas Cranach I, and a dramatic painting of Christ expelling the money lenders from the temple by Dirck van Baburen. A strong group of Baroque works feature artists such as Jusepe de Ribera, Pietro Paolini and Giovanni Battista Caracciolo, and paintings by notable women artists Artemisia Gentileschi and Clara Peeters are also included.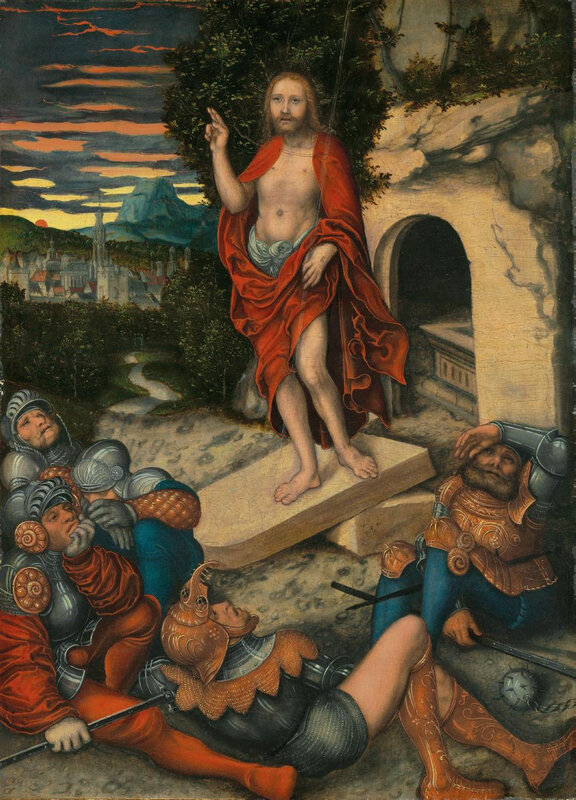 Lot 12. Lucas Cranach I, The Resurrection, signed with the serpent device and dated '1530' (center, on the side of the stone slab), oil on panel, 21 3/8 x 15 1/8 in. (54.2 x 38.3 cm.). Estimate USD 800,000 - USD 1,200,000. © Christie's Images Ltd 2021.
Provenance: with Rudolf Weigel, Leipzig.
(Possibly) Hofrath Keil, Leipzig.
Raphael Eisenmann (c. 1821-?), Berlin, and by descent to
Margarete Eisenmann (1868-1942), Berlin, by whom sold under duress to the Reichskanzlei, Berlin, as partial payment of discriminatory taxes, after November 1938.
H. W. Lange; Sotheby's, London, 23 March 1949, lot 102 (£700 to Drown).
with Hugo Perls, New York.
with Knoedler, New York, acquired from the above, 5 May 1954 (inv. no. A5708) and jointly owned with Rudolf Heinemann, New York.
with Rudolf Heinemann, New York, acquired from the above, 28 November 1968, and from whom acquired by the present owner.
Literature: C. Schuchardt, Lucas Cranach des Aeltern: Leben und Werke, II, Leipzig, 1851, p. 89, no. 342, where the dimensions are given as '2 Fuß hoch und 1 Fuß 6 Zoll breit.'
M.J. Friedländer and J. Rosenberg, Die Gemälde von Lucas Cranach, Berlin, 1932, p. 63, no. 179b, where the dimensions are given as '0,70 x 0,55 m.'
M.J. Friedländer and J. Rosenberg, The Paintings of Lucas Cranach, Ithaca, 1978, p. 112, no. 217E, where the dimensions are given as '70 x 55 cm (27 1/2 x 21 3/4 inches).'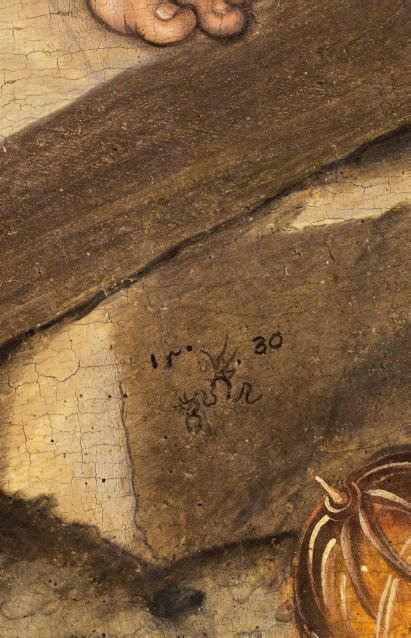 Detail of the signature on the present lot.
Note: Executed on an intimate scale in 1530, when Lucas Cranach was well-established at the court of the Elector of Saxony in Wittenberg, this panel represents Christ's Resurrection, the climax of the Crucifixion narrative. Cranach portrays this critical event with intense drama: beneath the stone slab on which the newly risen Christ stands in triumph, a jumble of sleeping soldiers appear as if scattered by the explosive impact of Jesus's return to the living world. Notably, the moment of Christ's reappearance is not specifically described in the Gospels. Instead, they only recount the events directly preceding and following it. After the Crucifixion, Joseph of Arimathea, assisted by Nicodemus, brought Jesus's body to his own, unused tomb, which had been carved into a rock, and sealed the entrance with a large stone slab. As relayed in the Gospel of Matthew (28:1-9), when dawn broke on Sunday morning, the third day following Jesus's death, the Virgin and 'the other Mary' went to the tomb, 'And behold, there was a great earthquake, for an angel of the Lord descended from heaven and came and rolled back the stone and sat on it.' While the guards trembled in fear, the angel directed the holy women to return to Galilee, for Christ had risen and was no longer there. Lacking a primary source to guide them, it accordingly fell to artists to develop their own imagery for the Resurrection, which began to appear in the late Middle Ages.

The closest model for Cranach's treatment of the theme, as Dieter Koepplin has observed, was Albrecht Dürer's celebrated woodcut from his Small Passion series of circa 1510 (fig.1; D. Koepplin, 'Das Sonnengestirn der Donaumeister: Zur Herkunft und Bedeutung eines Leitmotivs', in K. Holter and O. Wutzel, eds., Werden und Wandlung. Studien zur Kunst der Donauschule, Linz, 1967, pp. 78-114). Of particular importance for Cranach here was Dürer's inclusion of the rising sun, whose beams radiate across the sky from upper left. Cranach borrows this pictorial device and makes it his own, with a series of horizontal strips of color progressing from yellow to deep red in a linear pattern reminiscent of those seen in woodcuts. Also likely inspired by Dürer's print is the inclusion of the three minute figures at the end of the winding path leading from the city. These are Mary Magdalene, Mary of Clopas and Mary Salome, who according to the Gospels of Mark (16:1-6) and Luke (24:1-6) went early on Sunday morning to Christ's tomb with spices and ointments, only to find the Sepulcher empty.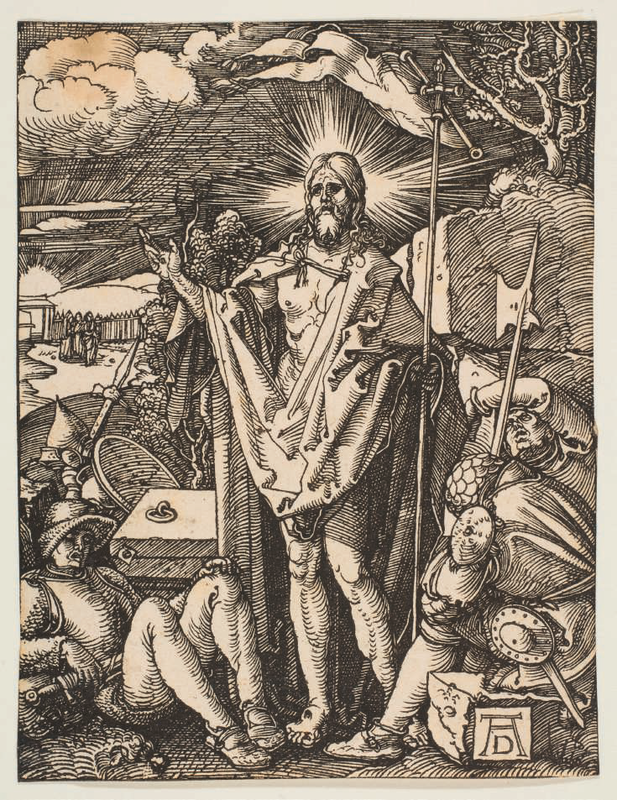 fig. 1 Albrecht Dürer, The Resurrection from the Small Passion series, woodcut, c. 1510.
Infrared reflectography does not reveal any significant changes in the composition (fig. 2). The figures of Christ and the soldiers appear to have been established with fluid lines corresponding mostly to volumes rather than contours. More precise lines were used to draw the facial features and architectural details of the cityscape.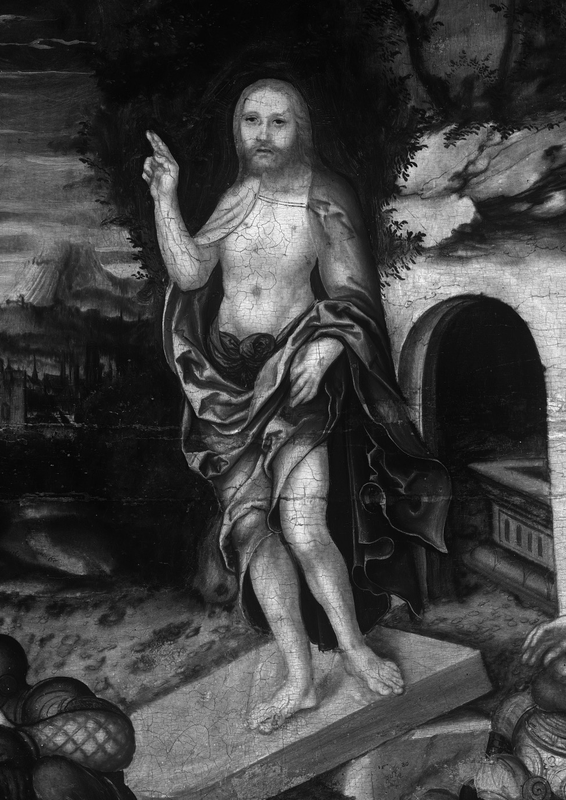 fig. 2 Infrared reflectogram of the present lot.
A member of the so-called Danube School during his formative years, Cranach, along with Albrecht Altdorfer and Wolfgang Huber, developed a novel approach to landscape painting. Instead of creating purely naturalistic renditions, these artists sought to emphasize nature's mystery and inherent expressive possibilities. More than serving merely as attractive backgrounds, dense forests and craggy mountains often take center stage and heighten the narrative impact of their compositions. Here, Cranach's reverence for the natural world is evidenced by the dense foliage that springs up behind Christ, almost doubling as a halo. Additional patches of dark green leaves cling to and sprout from the cracks of the tomb's irregular stone wall, creating tension between civilization and nature.
Lucas Cranach and his workshop addressed the theme of the Resurrection on numerous occasions. Often, these images incorporate portraits of patrons or other narrative elements—works exclusively dedicated to the subject are rarer. In addition to Cranach's widely-circulated Resurrection woodcut of circa 1509, the subject appears in the central panel of the Portable Altarpiece made for Landgrave Wilhelm II. of Hesse and Anna of Mecklenburg around 1509 (Gemäldegalerie Alte Meister, Kassel). Although the present work is slightly larger than the Kassel panel, it is certainly plausible that it too once formed the central panel of a triptych.

We are grateful to Dr. Dieter Koepplin for endorsing the attribution to Lucas Cranach I on the basis of firsthand inspection (7 July 2018).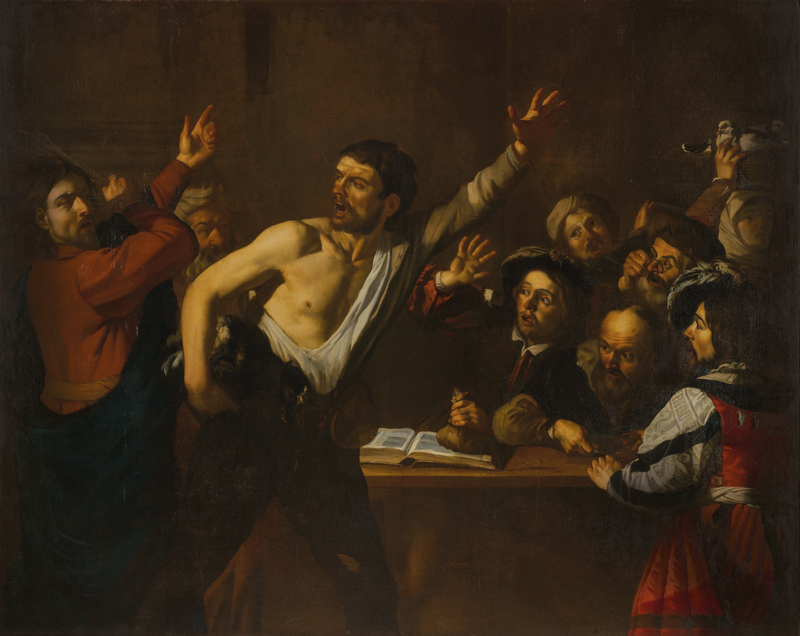 Lot 16. Dirck van Baburen (Wijk-bij-Duurstede nearUtrecht c. 1592/3 - Utrecht 1624), Christ Driving the Money Changers from the Temple, oil on canvas, 68 5/8 x 86 3/8 in. Estimate USD 1,000,000 - USD 1,500,000. © Christie's Images Ltd 2021.
Provenance: (Possibly) Manzitti collection, Genoa.
Anonymous sale; Christie's, Rome, 7 April 1987, lot 130, as Nicolas Tournier.
Art market, Spoleto, 1987.
Private collection, Turin, where acquired by the present owner.
Literature: M. Bonzi, 'Un quadro del Palazzo Mari', [?], 30 April 1934, p. 1, illustrated, as possibly by Valentin de Boulogne (according to Franits 2013).
B. Nicolson, Caravaggism in Europe, Turin, 1989, 2nd ed., revised and enlarged by L. Vertova, I, p. 93; III, fig. 1029, as 'Caravaggesque Unknown, South Netherlandish (between Rombouts and Baburen)'.
L.J. Slatkes, 'Bringing Ter Brugghen and Baburen Up-To-Date', Bulletin du Musée National de Varsovie, XXXVII, 1996, pp. 204-205, note 29.
N. Hartje, Bartolomeo Manfredi (1582-1622): Ein Nachfolger Caravaggios und seine europäische Wirkung: Monographie und Werkverzeichnis, Weimar, 2004, p. 153, note 582.
L.J. Slatkes and W. Franits, The Paintings of Hendrick ter Brugghen (1588-1629), Philadelphia, 2007, p. 165, under no. A53.
W. Franits, The Paintings of Dirck van Baburen, ca. 1592/93-1624: Catalogue Raisonné, Philadelphia, 2013, pp. 95-96, 276, no. A5, plate 5.
G. Capitelli, 'Dutch Caravaggists in Rome', in Caravaggio and the Painters of the North, exhibition catalogue, Madrid, 2016, p. 37, as possibly a 'mélange' drawn from the oeuvre of Baburen and Ribera.
Utrecht, Caravaggism and Europe, B. Ebert and L.M. Helmus, eds., exhibition catalogue, Utrecht and Munich, 2018-2019, p. 184.
Note: Though Dutch by birth, Dirck van Baburen spent the majority of his short but productive career south of the Alps. He is recorded as a pupil of the Utrecht portrait and history painter Paulus Moreelse in 1611 and likely departed for Italy shortly thereafter. While it is not known if he arrived in Italy around 1612/13 or a year later, he was certainly resident in Parma by 1615, as attested by documentary evidence relating to a signed and dated altarpiece depicting the Martyrdom of Saint Sebastian (lost) from that year. Later that year he settled in Rome, where he would curry the favor of patrons like Vincenzo Giustiniani and Cardinal Scipione Borghese, and began a collaboration with the Amsterdam-born artist David de Haen for the decoration of the Pietà Chapel of San Pietro in Montorio, Rome. The two artists were evidently close, for in 1619 and the spring of 1620 they were recorded as living together in the Roman parish of Sant' Andrea delle Fratte.

It is not altogether clear when van Baburen returned to his native Utrecht, though all evidence suggests he probably left Italy at some point in the summer of 1620. The style and cool colors of the artist's Youth playing a small whistle of 1621 (Centraal Museum, Utrecht) strongly suggest it was painted in Utrecht; moreover, the inquiry following de Haen's death in the Palazzo Giustiniani in Rome in August 1622 made no mention of his compatriot and former roommate. Upon his return to his native Utrecht, van Baburen rapidly became one of the most influential members of the so-called Utrecht Caravaggisti, though his brilliant career was prematurely cut short by his untimely death in late February 1624.

Seldom encountered in works of art before the Counter-Reformation, the biblical drama in which Christ drove the money changers from the temple gained increased currency in post-Tridentine Europe. The story, recounted at the end of each of the Synoptic Gospels (Matthew 21:12-17; Mark 11:15-19; and Luke 19:45-48) and the beginning of the Gospel of John (John 2:13-16), relays how Christ, who had recently arrived in Jerusalem to celebrate Passover, went to the temple and cast out those who were engaging in commercial activity. Having made a 'scourge of small cords', he 'overthrew the tables of the money-changers, and the seats of them that sold doves'. His point to the merchants was clear: 'My house shall be called the house of prayer; but ye have made it a den of thieves' (Matthew 21:11-13 and John 2:14-16).

This dramatic confrontation between Christ and the sinning masses proved enduringly popular with Caravaggio's followers in the early decades of the seventeenth century, having been treated by, among others, the Italians Bartolomeo Manfredi and the anonymous Cecco del Caravaggio; the Frenchman Valentin de Boulogne, who painted it on at least three occasions; and the northerners Matthias Stom and Dirck van Baburen. As Annick Lemoine pointed out in her recent entry on Valentin's earliest depiction of this subject, the starting point for many of these compositions was Caravaggio's Martyrdom of Saint Matthew in San Luigi dei Francesi, Rome (fig. 1; see A. Lemoine in A. Lemoine and K. Christiansen, Valentin de Boulogne: Beyond Caravaggio, exhibition catalogue, New York and Paris, 2016-2017, p. 126, no. 17).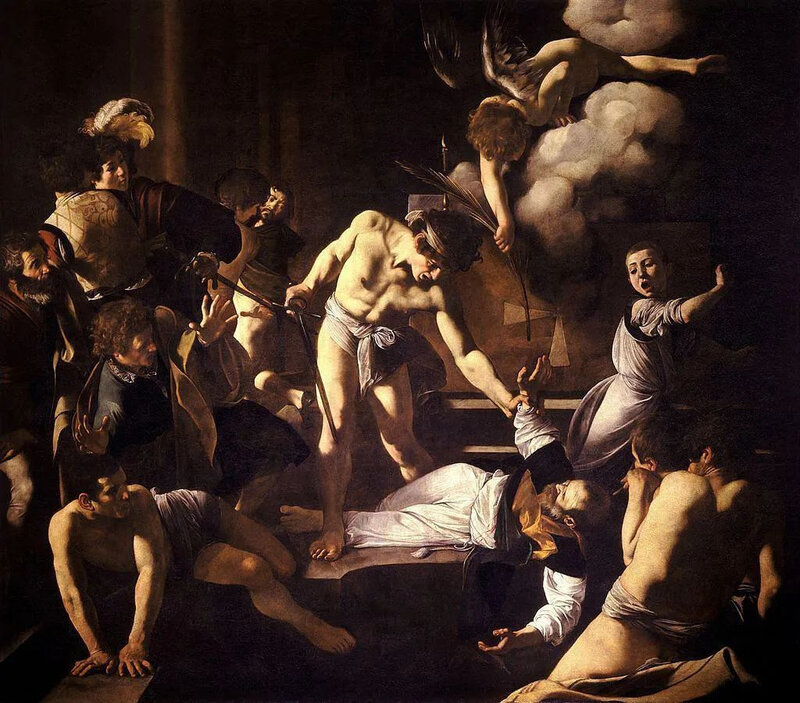 fig. 1 Michelangelo Merisi da Caravaggio, The Martyrdom of Saint Matthew, San Luigi dei Francesi, Rome.
This powerful composition is a relatively recent addition to van Baburen's corpus and one of only half a dozen paintings from the artist's Italian period in private hands. When the painting came to public attention in 1987, it bore an attribution to the French Caravaggesque painter Nicolas Tournier. Less than a decade later Leonard J. Slatkes, the eminent scholar of Dutch Caravaggism, recognized in it the hand of van Baburen, dating it to circa 1617-18 (loc. cit.). Slatkes further associated this painting with Manfredi's painting of the same subject (fig. 2; Musée des Beaux-Arts, Libourne). The date of Manfredi's painting has been the source of some debate. Nicole Hartje proposed a comparatively early date of circa 1610-12 (op. cit., p. 135-137, 304-308, no. 8), while Rossella Vodret more recently proposed a somewhat later dating of circa 1616-17 (R. Vodret, 'Bartolomeo Manfredi (Ostiano 1582-Roma 1622)', in I Caravaggeschi; percorsi e protagonisti, A. Zuccari, ed., II, Milan, 2010, p. 525). In any event, Manfredi's painting was presumably well on its way, if not completed, by the time van Baburen set brush to canvas.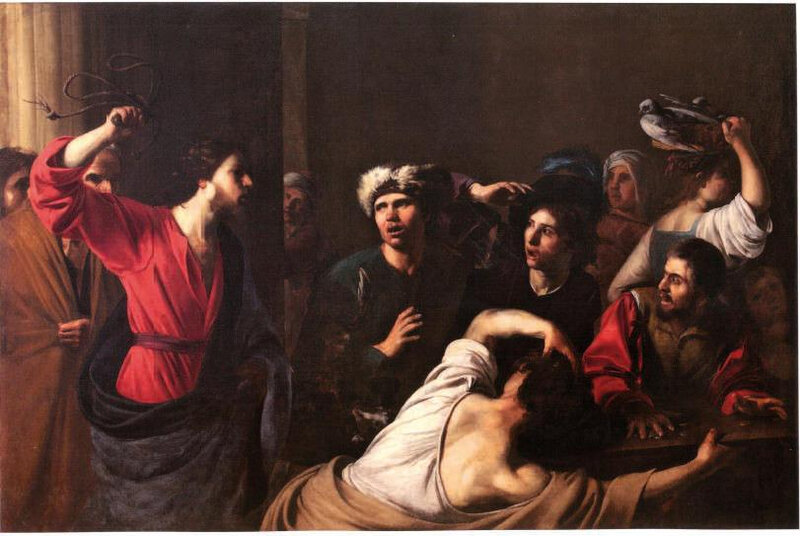 fig. 2 Bartolomeo Manfredi, Christ Driving the Money Changers from the Temple, Musée des Beaux-Arts, Libourne
On account of the Italian biographer Giovanni Pietro Bellori, we know something about the early provenance of Manfredi's painting. In 1672, Bellori recorded having seen the work in the Palazzo Verospi (G.P. Bellori, Le vite de' pittori scultori e architetti moderni, I, ed. E. Borea, Torino, 2009, p. 234). The painting had probably been acquired several decades earlier by Cardinal Fabrizio Verospi (1571-1639), who had it installed in his palace, which was located on the Via del Corso, only about three blocks from that of van Baburen's patron, the Spanish diplomat Pietro Cussida (d. 1622).

In light of the geographic proximity of Manfredi's painting, it would seem all but assured that the young Dutch artist closely studied the Italian painter's work. He may even have personally known Manfredi, who was resident in the same Roman parish as van Baburen from at least 1619. Manfredi's continued influence on van Baburen can likewise be seen in the Dutch painter's two depictions of Christ Crowned with Thorns, datable to circa 1621-22 (Catharijneconvent, Utrecht and Nelson-Atkins Museum of Art, Kansas City), which also show a clear debt to Manfredi's interpretation of Caravaggio's style and subject matter. In the present painting, van Baburen has adapted Manfredi's basic compositional schema and light effects. As in Manfredi's painting, Christ stands at left dressed in a crimson red shirt and blue mantle while the money changers recoil around a table at right, vainly attempting to avoid his wrath. While the disposition of the figures around the table differs slightly in the two works, both include the biblical detail of the woman with a basket of birds atop her head, visible at far right. However, van Baburen created a heightened sense of animation by torqueing the figure of Christ, who wields his lash with increased fury, and adding the disheveled male figure, who almost jumps out of his clothes as he flees the scene.

Valentin's earliest depiction of this subject further attests to the rich artistic dialogue then taking place among Caravaggio's diverse group of followers in Rome (fig. 3; Galleria Nazionale d'Arte Antica, Palazzo Barberini, Rome). Traditionally dated to circa 1618 or a few years later, the painting suggests an awareness not only of Manfredi's composition but, in all likelihood, van Baburen's as well (for the dating of the painting, see M. Mojana, Valentin de Boulogne, Milan, 1989, pp. 68-69, no. 8, where dated to circa 1618; see also A. Lemoine, ibid., who proposed a slightly later date of circa 1618-22). Valentin's Christ, like that of the Dutch master, conveys a stronger sense of dynamic movement than is evident in the Italian painter's work. Moreover, the Frenchman, like van Baburen, depicts the woman with a basket of birds frontally, as if she's looking out at the painting's viewer, while she appears in profile in Manfredi's work. So close is Valentin's painting to van Baburen's that in the first half of the twentieth century Mario Bonzi attributed the present painting to Velentin (loc. cit.).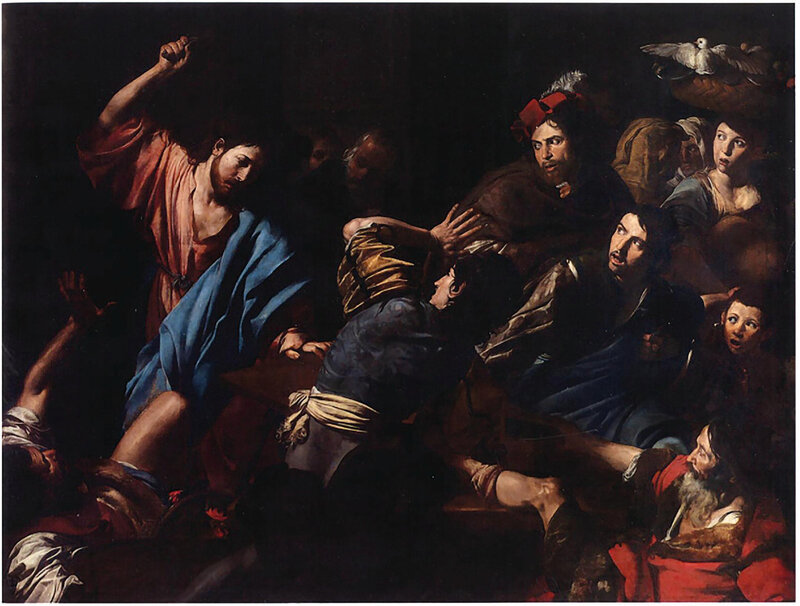 fig. 3 Valentin de Boulogne, Christ Driving the Money Changers from the Temple, Galleria Nazionale d'Arte Antica, Palazzo Barberini, Rome.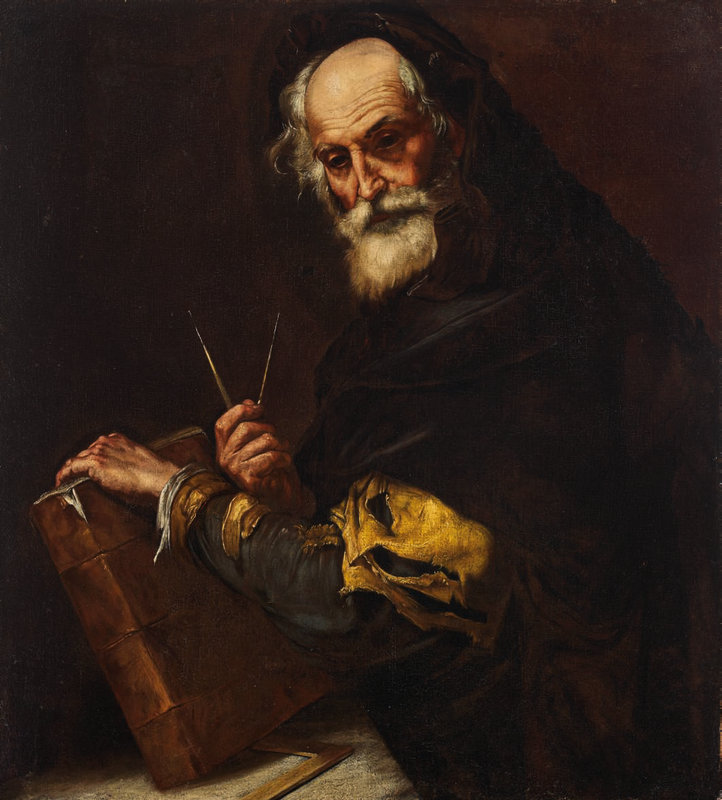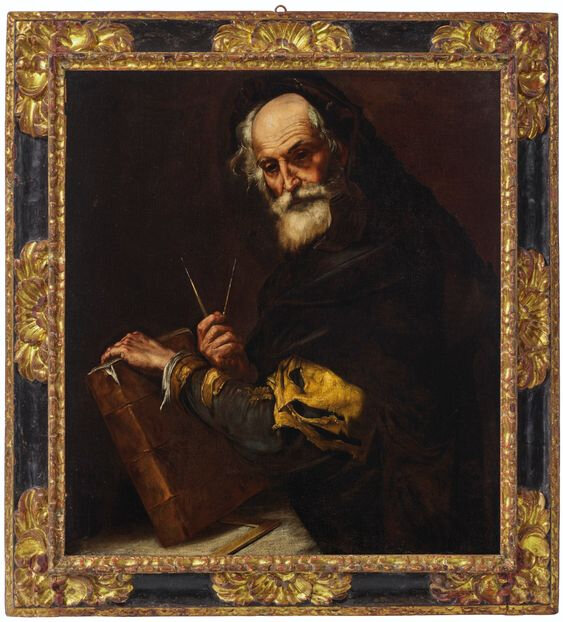 Lot 36. Jusepe de Ribera, called Lo Spagnoletto (Játiva 1591 - 1652 Naples), A philosopher (Archimedes?), indistinctly signed 'Gius[...] de R[...] / C. [...]' (lower left), oil on canvas, 38 1/8 x 34 ¼ in. (96.8 x 87 cm.). Estimate USD 100,000 - USD 150,000. © Christie's Images Ltd 2021.
Provenance: Anonymous sale [From a Private Collection]; Christie's, New York, 6 April 1989, lot 77, as 'School of Ribera'.
Note: This painting probably represents Archimedes, arguably the greatest scientist and mathematician of ancient history. A number of further versions by Ribera and his studio are known, including one of somewhat larger size formerly on the Madrid art market (see N. Spinosa, Ribera: L'opera complete, Naples, 2006, p. 297, no. A90; Madrid, 2008, p. 370, no. A110). Nicola Spinosa has suggested a date of circa 1630 or shortly thereafter for this painting, which is fully signed at lower left. Ribera was at this time engaged in the production of a series of philosophers, geographers and scientists from Classical antiquity for the viceroy of Naples, Fernando Enriquez Afán de Ribera, 3rd Duke of Alcalá. Though the extent of the series is not known, it is presumed to be recorded in its entirety in a series of six copies previously in the Matarrazzo di Licosa collection, which included a painting of this composition (sold Christie's, London, 17 November 1972, lot 45). On account of the success of this series, Ribera and his studio produced replicas to meet market demand in the years that followed. That the present painting is an autograph work is evidenced by its superior quality when compared with works by studio hands and anonymous seventeenth-century copyists.

It was in the early 1630s that Ribera was at the height of his career. By this time he had become the leading painter in Naples, a city that was then at the peak of its power, the second largest urban center in Europe, alive with artistic creativity and a destination for painters from the rest of the Continent. In addition to commissions from local Neapolitan patrons, Ribera provided pictures for a burgeoning market of foreign clients who were drawn to his dramatic, magnetic naturalism executed with startling originality and virtuosity. The intense lighting and focused gaze in the present painting brings an immediacy to the composition that is at once arresting and engaging. Close parallels can be drawn with Ribera's many depictions of apostles and saints from the end of the 1620s and early 1630s and equally his more humble, somewhat grotesque subjects like the portrait of Magdalena Ventura with her husband and son, known as The Bearded Lady, of 1631 (Fundación Casa Ducal de Medinaceli, on loan to the Museo Fundación Lerma, Toledo).

We are grateful to Professor Nicola Spinosa for his kind assistance in cataloguing this picture. A copy of his expertise dated 22 November 2020 is available upon request.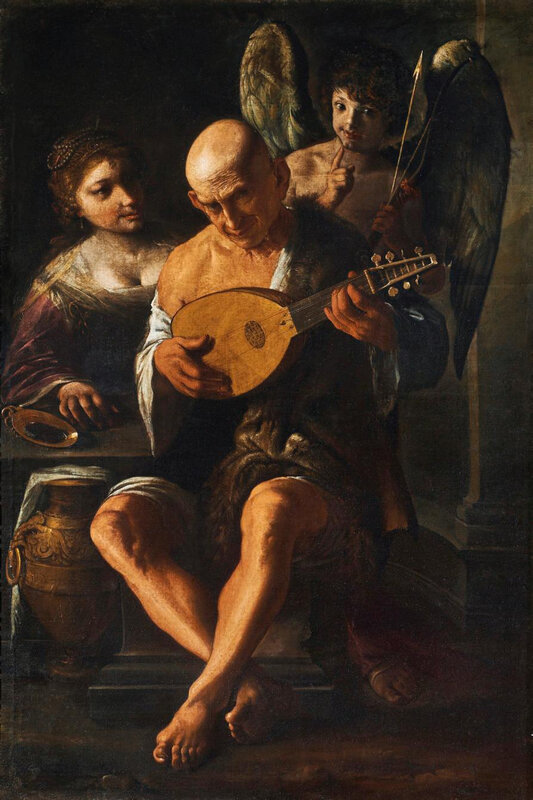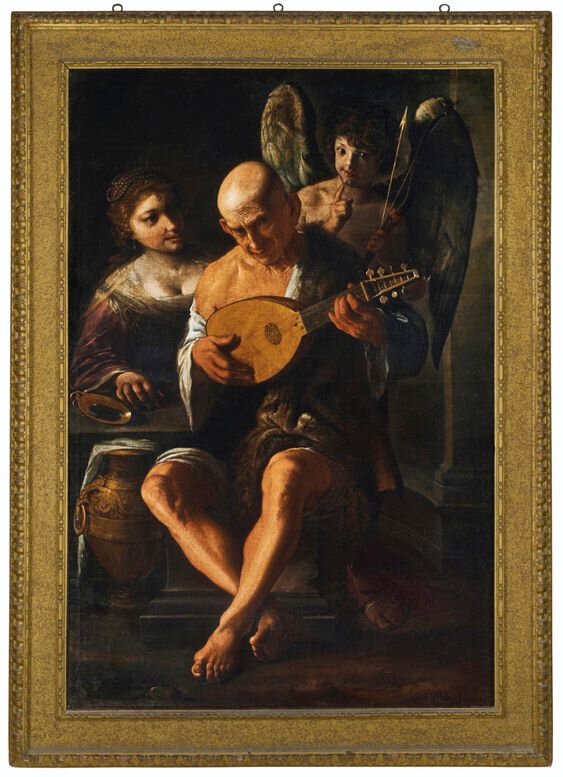 Lot 40. Pietro Paolini, called Il Lucchese (Lucca 1603-1683), An elderly man playing the guitar with a woman and a putto in attendance, oil on canvas, unlined, 71 1/8 x 47 5/8 in. (180.6 x 120.9 cm.). Estimate USD 300,000 - USD 500,000. © Christie's Images Ltd 2021.
Provenance: (Possibly) Alessandro Monsoni, from whom acquired in 1708 by,
(Possibly) Stefano Conti (1654-1739), Lucca.
(Possibly) Mansi family, Lucca, after 1750.
Private collection, Europe, by the early twentieth century, until acquired by the present owner.
Literature: P. Giusti Maccari, Pietro Paolini pittore lucchese, Lucca, 1987, pp. 174-175.
Note: This striking canvas, still to this day unlined, has recently been restored to Pietro Paolini's exceptional oeuvre. Although there are differing opinions, the canvas might to some be identifiable as the missing picture that once formed part of the renowned collection of Stefano Conti in Lucca. A painting of the same subject appears, in fact, in an archival description that records the purchase of a canvas by Conti in 1708 from Alessandro Monsoni, which is described as 'Un mondone che suona la chitarra con una donna a mano dritta e un cupido addietro'. The composition is as unusual as it is intriguing, a typically idiosyncratic idea from an artist whose reputation as one of the most individual and inventive painters of his time is well established. The compelling gaze of the guitar player and the playful look of Cupid beyond show that uncanny sense of realism which characterizes his work. This strain of realism can be traced back to his early development which saw him absorb the influence of Caravaggio, having been sent to Rome by his father at sixteen, where he worked closely with Angelo Caroselli.

The depiction of the central figure playing a stringed instrument is not coincidental: music was clearly a subject of enduring appeal and intrigue for Paolini, with music-making and instruments frequently playing key roles in his pictures. He shows craftsmen making violins and tuning instruments, he stages concerts peopled with numerous figures and paints individuals playing to no audience except the viewer of the picture. The repeated treatment of musical subjects was in part a reflection of the greater demand for, and production of, stringed instruments in the seventeenth century, especially in Tuscany, and in part an exploration of the fertile relationship between the visual and musical arts.

Conti was a wealthy wool and silk merchant, from an important family in Lucca, who began collecting pictures in 1704. His collection was well documented at the time, becoming a key patron of many artists of the era. He was the subject of a study by Francis Haskell, who reconstructed much of the collection, documenting some of his most important commissions, including a set of four Canalettos painted for Conti between 1725 and 1726, noted in the correspondence between Conti and the artist Alessandro Marchesini, who acted as his agent in acquiring Venetian pictures. It is possible that the present canvas moved to the prestigious Mansi collection after 1750, as a picture of the same subject is identified as being with the latter family by Nicolao Cerù in his Belle Arti in Lucca dal 1753 al presente, before disappearing for over two centuries until its recent rediscovery.

We are grateful to Patrizia Giusti Maccari for endorsing the attribution on the basis of photograph and proposing a date of 1635-40.
Lot 37. Giovanni Battista Caracciolo, called Battistello (Naples 1578-1635), The Holy Family with the infant Saint John the Baptist, oil on canvas, 37 ½ x 49 ¾ in. (95.5 x 126.5 cm.). Estimate USD 300,000 - USD 500,000. © Christie's Images Ltd 2021.
Provenance: BTG Stiftung, Liechtenstein, by 1991.
with Apollo Art Galleries, Vienna, 1992.
Acquired by the present owners in 1996.
Literature: F. Bologna, Batistello Caracciolo e il primo naturalismo a Napoli, exhibition catalogue, Naples, 1991, p. 248, no. 1.33.
F. Bologna, 'Il primo tempo della pittura caravaggesca a Napoli: Battistello e gli altri,' Storia e civiltà, 1994, p. 245.
S. Causa, Battistello Caracciolo, Naples, 2000, pp. 202, 306, no. A107, fig. 308, where the location is erroneously given as Liechtenstein.
Note: Giovanni Battista Caracciolo, called Battistello, was the foremost painter in early seventeenth-century Naples and was celebrated far beyond his native city as one of the most important proponents of European Caravaggism. Caracciolo trained under the late-Mannerist painter, Belisario Corenzio but from early on was influenced by the tenebrism and stark naturalism of Caravaggio. Caravaggio worked in Naples in 1606-7 and again in 1609-10, shortly before his death. Caracciolo would certainly have seen Caravaggio's Neapolitan canvases but was possibly exposed to his work at an earlier stage, as he may have accompanied Corenzio, on a trip to Rome around 1600. In the Eternal City, Corenzio sketched Caravaggio's Calling of Saint Matthew in the church of San Luigi dei Francesi, which was only partially finished at the time. Caravaggio's bold Roman and Neapolitan canvases had a profound impact on the young Caracciolo and shaped his artistic language for the rest of his career.

This beautifully preserved Holy Family with the Infant Saint John the Baptist was painted late in the artist's life, around 1630, and represents an important example of his mature work. The figures, with their voluminous drapery and sculptural form, have a monumental quality and are shown three-quarter-length, with the picture plain cropped closely around them. These factors, combined with the lowered viewpoint, cause the protagonists to dominate and define the space with their own physicality. Imposing as they are, the figures have a softness and sensitivity and the delicate gestures of the Madonna and direct gaze of the Christ Child lend an intimacy to the scene as a whole.

Stefano Causa and Ferdinando Bologna before him compare this Holy Family to the artist's Madonna and Child with Saint Anne, similarly dated to around 1630, in the Kunsthistorisches Museum, Vienna (fig. 1; loc. cit.). The poses of the Madonna figures are very similar—forward leaning, her left knee raised, head tilted at the same angle and her face shown in three-quarter view—but in the present composition she holds the bouncing, slightly younger Christ Child securely with both hands rather than gesturing with her right. Though both figures have comparably strong features with an almost identical nose and mouth, the shadow across the left side of the present Madonna's face renders her jaw less broad and rounded than that of the Vienna Madonna. Her eyes are also different, rounder and closer set, giving a countenance that is less stern.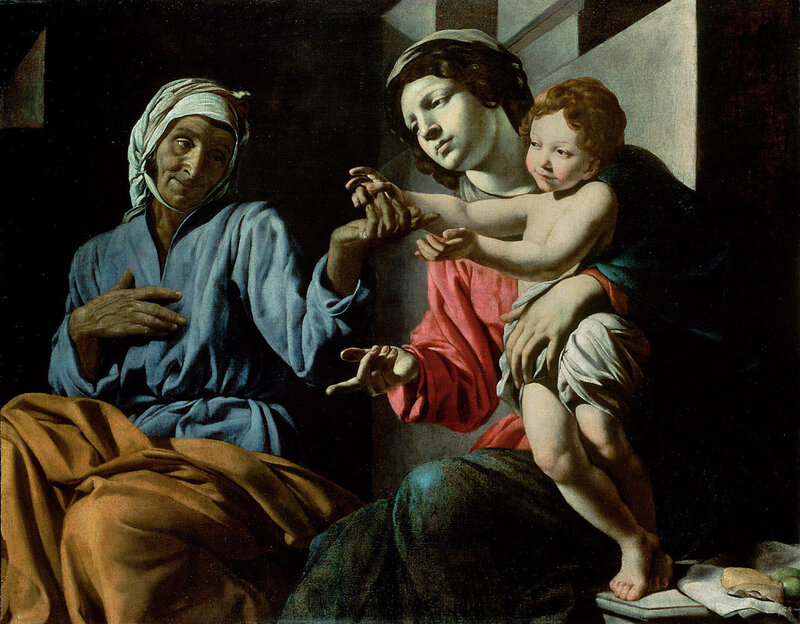 fig. 1 Giovanni Battista Caracciolo, called Battistello, The Madonna and Child with Saint Anne, Kunsthistorisches Museum, Vienna.
An otherwise unidentified canvas of the same subject once formed part of the collection of the Neapolitan nobleman, Carlo de Cardenas, Conte di Acerra and Marchese di Laino. A 1699 inventory, compiled four years after the death of the count, describes as item number fifty-four, 'Un quadro di palmi 6 e 6 con cornice indorata entrovi Giesù, la Vergine, S. Giuseppe et S. Giovanni mano di Gio. Battistiello Caraccioli' ('A painting of 6 by 6 palmi with gilt frame with Jesus, the Virgin, Saint Joseph and Saint John hand of Gio. Battistiello Caraccioli'; see G. Labrot, Italian Inventories: Collections of Painting in Naples 1600-1780, Munich, 1992, pp. 202-213). While seventeenth-century inventories are of course prone to inaccuracies and measurements are not necessarily faithfully transcribed, the de Cardenas painting is described as '6 e 6 palmi', suggesting it was square in format. Six Neapolitan palmi is equal to approximately 62 1/8 in. (158 cm.) and so, if the dimensions were listed correctly, it would have been significantly larger than the present Holy Family. In 1840, Bernardo De Dominici mentioned another Holy Family with Saint John the Baptist, at that time in the collection of the Valletta family, Naples (B. De Dominici, Vite dei pittori, scultori ed architetti napoletani, Naples, 1840, III, no. 60). Though De Dominici did not provide measurements for the Valletta canvas, he described it as a 'quadretto con piccole figure' ('small painting with little figures') which would seem unlikely to correspond with the present, largescale canvas.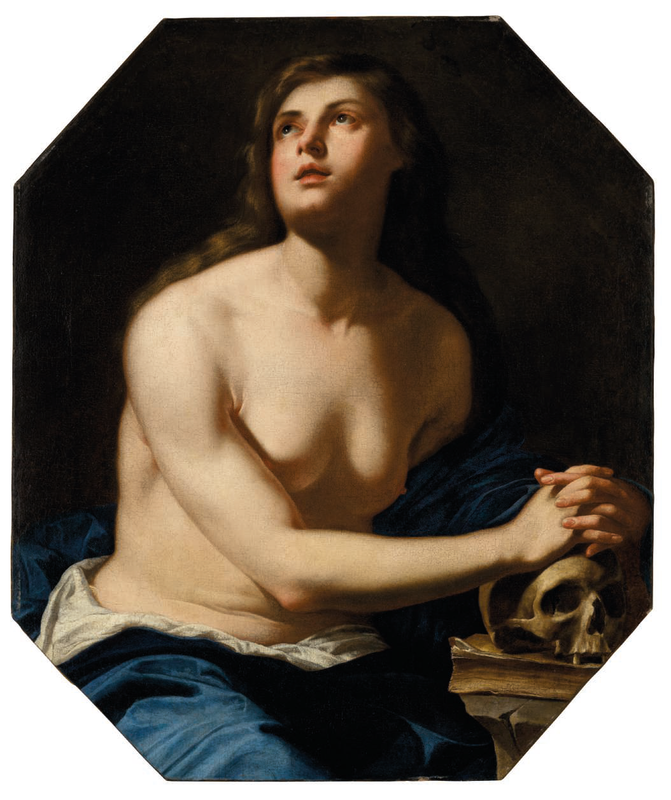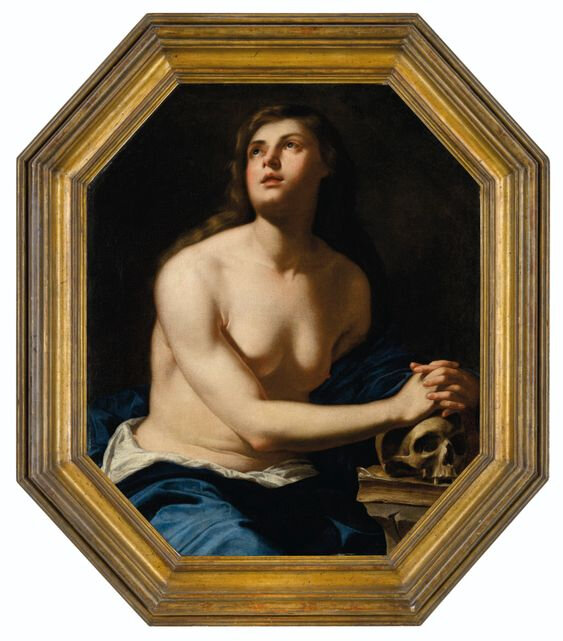 Lot 39. Artemisia Gentileschi (Rome 1593-1653 Naples), The Penitent Magdalene, oil on canvas, octagonal, 32 ¾ x 27 ½ in. (83.2 x 69.8 cm.). Estimate USD 300,000 - USD 500,000. © Christie's Images Ltd 2021.
Provenance: Private collection, United Kingdom.
Private collection, Germany, where acquired by the present owner
Note: This Penitent Magdalene has recently been added to Artemisia Gentileschi's oeuvre, which is replete with depictions of tragic heroines and rebellious women. Artemisia's own life story – not unlike her subjects – has been too often framed in terms of its tragedy and not its triumphs. The dialogue surrounding Artemisia's mature period in Naples, when the present painting was completed, has shifted to focus on her independence and self-reliance, as new research has revealed more of Artemisia's own voice.

By the time Artemisia settled in Naples around 1641, she had already overcome the damage caused to her reputation caused by the scandal of her rape and the subsequent trial, which ordered Agostino Tassi jailed for his crimes. Her marriage to Pierantonio Stiattesi and the favor of the House of Medici in Florence helped to rebuild her reputation and she gained new patrons during stays in Rome and Venice. When she arrived in Naples, she was separated from her husband, financially independent and a commercial success in her own right. She set up a successful workshop with her only surviving child, Prudenzia, where gifted artists including Bernardo Cavallino, Domenico Gargiulo, and Onofrio Palumbo became her assistants and collaborators. The collaborative activity in her workshop, the incredible demand for her works and Artemisia's insistence on invention - claiming in a letter to her most important patron of the period, Don Antonio Ruffino, 'in none of my pictures has an element ever been found to be repeated, not even a hand' - has made it difficult for art historians to identify the nature of her production in this period.

The paintings produced in Naples, however complex, bear a strong editorial line. Artemisia focused on the subjects which made her famous, capitalizing on the market's desire for a female painter's version of Judith, Lucretia, Bathsheba, Susannah or, in the present case, Mary Magdalene. The present Penitent Magdalene bears a strong resemblance to a figure type used in Artemisia's atelier in the 1640s, as evidenced by a similar model used for a Lucretia recently sold in Vienna (fig. 1, sold Dorotheum, 23 October 2018, lot 56). The allure of Artemisia's Madgalenes is in their inversion of the stereotypical depiction of the biblical figure. In her works the usually saintly woman is given a new vitality, and the Magdalene in particular became a space for invention for Artemisia throughout her career. Earlier examples from her oeuvre transform the Saint into an allegory of Melancholy and explore the emotional experience of religious ecstasy rather than penance. The present Penitent Magdalene continues this tradition of inversion and invention. While some of the traditional attributes of the Saint are included, she is not depicted as suffering for her penance, but rather caught in a moment of hopeful prayer. Artemisia's unique approach to her female subjects is what made her a commercial success in her own time and what continues to appeal to contemporary viewers.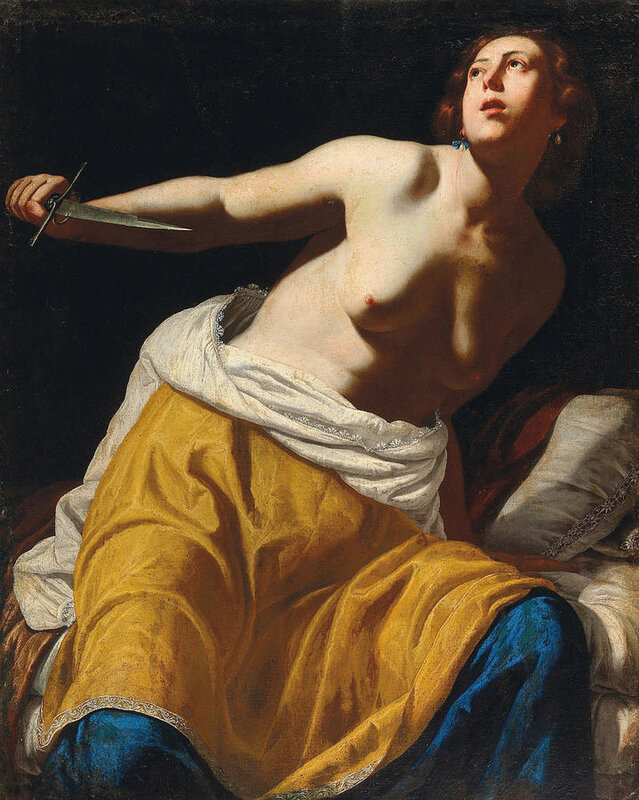 fig. 1 Artemisia Gentileschi, Lucretia, sold Dorotheum, Vienna, 23 October 2018, lot 56.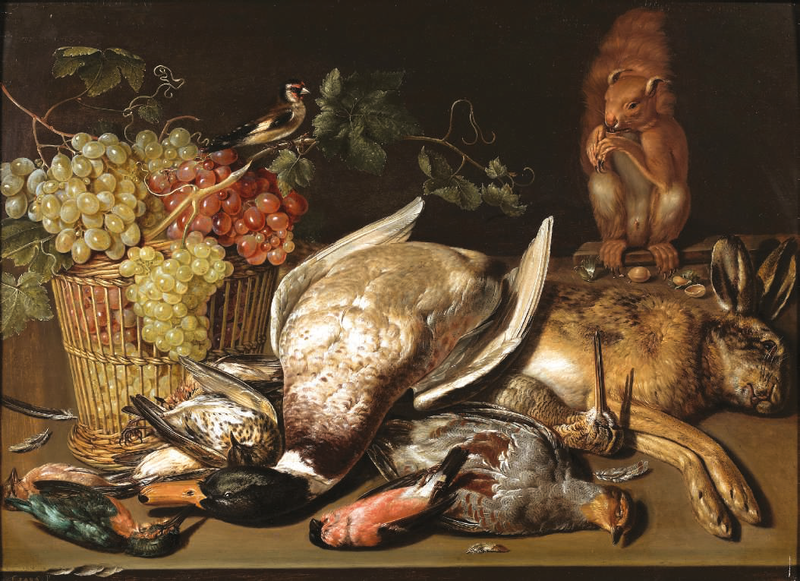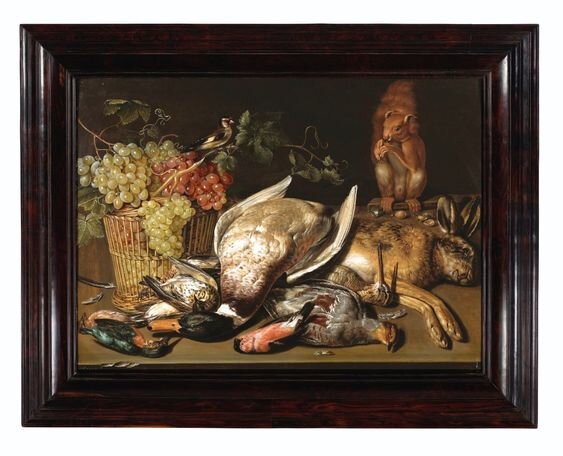 Lot 15. Clara Peeters (Antwerp 1589?-after 1657), A basket of red and green grapes, a goldfinch, game and a squirrel on a wooden table, signed 'CLARA P.' (lower left), oil on panel, 20 x 29 3/8 in. (50.8 x 74.6 cm.). Estimate USD 150,000 - USD 250,000. © Christie's Images Ltd 2021.
Provenance: with Galerie de Jonckheere, Paris, where acquired by the present owner in 1998.
Note: Clara Peeters was among the earliest and most original still life painters in the seventeenth-century Lowlands. Her earliest painting dates to within six years of the first known food and flower still life paintings in northern Europe. Likewise, she was among the first group of artists to treat fish and game subjects and may have inaugurated the tradition of self-advertising by discreetly including her portrait reflected in the displayed objects (P. Hibbs Decoteau, Clara Peeters, 1594-ca. 1640, and the Development of Still-Life Painting in Northern Europe, Lingen, 1992, p. 7).

Despite her import to the development of northern still life painting, biographical details remain scarce and fewer than forty signed paintings are known today. Her place and date of birth are unknown, but she was certainly active in Antwerp by 1607, the year of her earliest dated painting (private collection). Perhaps on account of the limitations placed on her as a female artist, she appears to have been almost exclusively engaged in the production of still lifes, works for which she enjoyed a degree of international acclaim. Documents indicate that, in her lifetime, Peeters' works were to be found in eminent collections as far afield as Rotterdam (1627), Amsterdam (1635) and Madrid (1637). No dated paintings are known by her after 1621, the year in which she may have given up painting.

Like many of her contemporaries, Peeters' still lifes exhibit a gradual transition from the birds-eye view seen in her earliest paintings to a more head-on perspective in those painted in the years leading up to 1620. The elevated vantage point of this painting is consistent with Peeters' earliest dated works from 1607 and 1608 (both private collection), but the overlapping game – a wild duck, a woodcock, a partridge, a thrush, bullfinches and a rabbit – creates a more complex compositional arrangement, suggesting it postdates these paintings by a few years. Peeters included the squirrel in the upper right background in at least two additional paintings, both of which are datable to circa 1612-15 on stylistic grounds (Palazzo Pitti, Florence and Koller, Zurich, 14-17 September 2010, lot 3036). On account of its elevated vantage point, the present painting likely dates to a few years earlier.

Peeters' compositions were deeply influenced by those of her Antwerp contemporary Frans Snyders, the most successful animal painter in Antwerp in the first half of the seventeenth century. Squirrels first appear in Snyders' work around 1610-12 (see, for example, H. Robels, Frans Snyders: Stilleben- und Tiermaler, 1579-1657, Munich, 1989, pp. 246-247, no. 98, illustrated), around the time Peeters executed the present painting. As is typical of their disparate approach to the depiction of live animals, Snyders' squirrels stealthily swipe nuts or fruit from a bowl or basket, while Peeters' have a staid, almost statuesque appearance.
Sculpture highlights include a relief of Cosimo de'Medici by Baccio Bandinelli and a marble pair of busts by Lorenzo Bartolini depicting his patron, the Grand Duchess of Tuscany, Elisa Bonaparte and her husband Felix.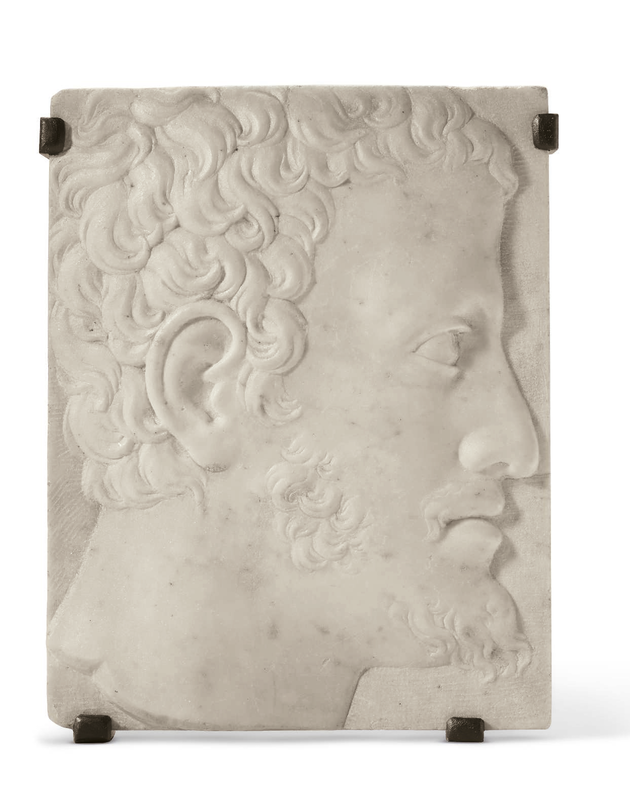 Lot 19. An Italian Marble Relief Portrait of Duke Cosimo I de' Medici, Attributed to Baccio Bandinelli (1493-1560), 1537-1545 8 ¾ in. (22.2 cm.) high; 6 7/8 in. (17.5 cm.) wide. . Estimate USD 100,000 - USD 150,000. © Christie's Images Ltd 2021.
Provenance: Giorgio Uzielli, Florence and New York (1903-1984) and Monique de Gunzberg Uzielli, New York (1913-2011); sale, Sotheby's, New York, 26 January 2012, lot 303.
Literature: A. Venturi, Storia dell' Arte Italiana, X-ii, Milan, 1936 (reprinted in New York, 1983), pp. 187-240.
K. Langedijk, The Portraits of the Medici, 15th-18th centuries, I, Florence, 1981-87, pp. 91, 105, fig. 27; 407-530.
I. Galicka and H. Sygietynska, 'A Newly Discovered Self-Portrait by Baccio Bandinelli,' The Burlington Magazine, vol. CXXXIV, 1992, pp. 805-8090.
Note: This marble profile portrait of the young Cosimo I de' Medici (1519-1574), likely made soon after he was named duke of Florence in 1537 at the age of seventeen, is attributed here to the Florentine sculptor Baccio Bandinelli, who began working with Cosimo shortly after his accession, and who quickly became the duke's preferred sculptor, a relationship that lasted until the end of the artist's life in 1560.

The earliest images of Cosimo made around the time of his accession show him in profile view. For example, Jacopo da Pontormo's black chalk drawing in the Uffizi records a young, lean and unbearded Cosimo in profile facing left. Despite its simplicity, the image captures the sitter's essential features, including his intense gaze and strong jawline. Although Cosimo's appearance in the present relief is quite similar to that in the Pontormo drawing, the relief was clearly made some time later, as the duke appears to be older: his face is fuller and he has begun to grow a beard. Cosimo is represented in a similar fashion in two marble reliefs from the workshop of Bandinelli, formerly in the grand-ducal collections and now in the Museo Nazionale del Bargello in Florence.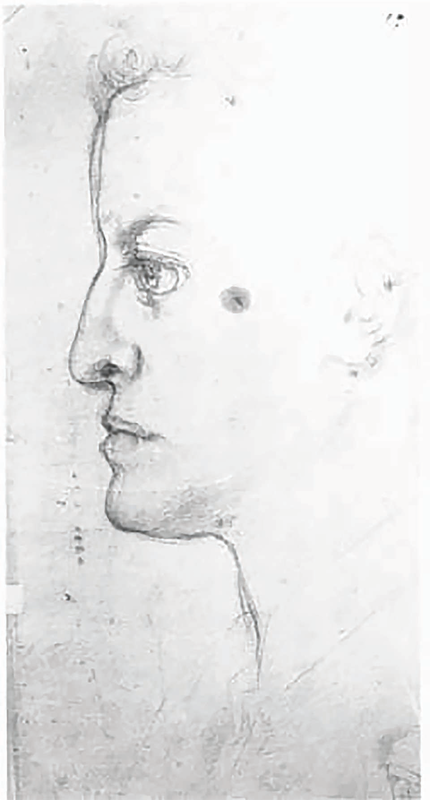 Jacopo da Pontormo (Italian, 1494-1557), Study for a Portrait of Cosimo I de' Medici, 1537, Florence, Galleria degli Uffizi (6528 verso).
The current lot is further animated by the indication of the iris and pupil of the eye, creating the illusion that Cosimo is looking upward. In the present relief, the iris and pupil appear as a single unit, created by scooping away the marble. The unusually close cropping of the present relief, which cuts the portrait off at the top, left, and bottom, and the smooth, polished edges of the marble slab, suggest that the work was cut down at some point in its history. It is possible that the relief might once have included a frame, and that the portions of the portrait that overlapped the frame were removed when the frame was cut away.

The likelihood that the present relief was cut down suggests a larger original context for the work, an idea that is supported by the lively appearance of Cosimo, as well as by the comparatively small dimensions of the relief. While the format of the profile portrait recalls timeless images of emperors on coins and cameos, the animation of Cosimo's hair and beard and his upward glance suggest that he is interacting with someone or something. It is possible that, like the profile portraits of Bandinelli and his wife on the artist's tomb, the present relief was once paired with a pendant relief of Cosimo's wife, Eleonora of Toledo (1522-1562), perhaps within an ensemble created to commemorate their marriage in 1539, although no such relief of Eleonora is known.

We are grateful to Dr. Eike Schmidt and Jeanette Sisk for their significant contributions to this essay.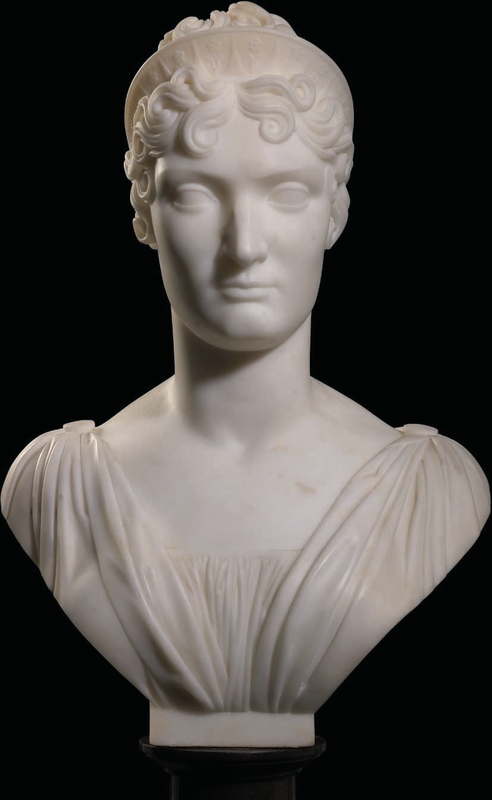 Lot 29. A Marble Bust of Elisa Bonaparte Baciocchi Levoy (1777-1820), Princesse Francaise, Princess of Piombino and Lucca, Grand Duchess of Tuscany, Countess of Compignano, by Lorenzo Bartolini (Vernio, 1777 – Florence 1850), circa 1809. On a later turned marble socle, 29 ½ in. (75 cm.) high, overall. Estimate USD 70,000 - USD 100,000. © Christie's Images Ltd 2021.
Provenance: with Galerie de Jonckheere, Paris, where acquired by the present owner in 1998By repute, Elisa Bonaparte (1777-1820), Villa Ciardi a Villa Vicentina.
Joseph Bonaparte (1768–1844), by descent from the above.
Zenaide Letizia Bonaparte (1801–54), by descent from the above.
Julia Charlotte Bonaparte (1830–1900), by descent from the above.
Marchese Alberto del Gallo di Roccagiovine (1854–1947), Villa Ciardi from 1913-1919 (erroneously attributed to Antonio Canova), by descent from the above.
Marchesa Matilde del Gallo di Roccagiovine (1888-1977), by descent from the above.
Oliviero Bucci Casari, Conte degli Atti di Sassoferrato, by descent from the above.
Nobildonna Lorenza Bucci Casari, Contessa degli Atti di Sassoferrat, by descent from the above.
Acquired from the above by the present owner, 2017.
Exhibited: (Possibly) Lucca, Esposizione di Belle Arti, August 1809.
The sale ends with a selection of paintings from The Kagan Collection, including a Thomas Lawrence portrait of the abolitionist Jean Babington; a sketch by Guillaume Guillon-Lethière; a Johan Christian Claussen Dahl and a Jacques Sablet. Sculpture from the collection includes a bust of Emperor Commodus attributed to Bartolomo Cavaceppi, and a self-portrait by Antonio D'Este.