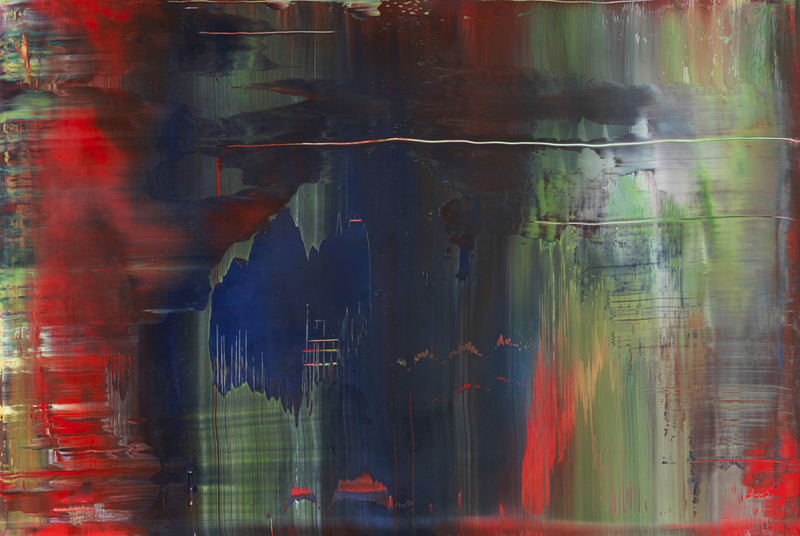 Gerhard Richter, Abstraktes Bild, 2001. Oil on Dibond. 50 x 72 cm / 19.1 x 28.3 inches. Estimate: € 600.000-800.000 / US$ 690,000-920,000. Courtesy Ketterer Kunst
MUNICH.- Mission accomplished. Gerhard Richter has completed his pictorial œuvre at the age of 89. His paintings made in squeegee technique mark the peak of his creation. A particularly fine example of these internationally sought-after works will be called up in the Ketterer Kunst auction in Munich on June 18/19 with an estimate of € 600,000-800,000.

Gerhard Richter is more than the superstar of the German art scene. His name is of global significance, as grand exhibitions and retrospectives, at, among others, the Metropolitan Museum of Art and the Museum of Modern Art in New York as well as Tate Modern in London, show. Accordingly, the art world was all the more shocked when the artist unpretentiously announced "Things come to an end at some point" last fall. So this is it then; at least as far as his impressive squeegee works are concerned

"In this context I regard it as a great honor," says Robert Ketterer, auctioneer and owner of Ketterer Kunst, "that we are able to offer one of Gerhard Richter's highly sought-after, almost legendary works in our current auction. The powerful picture 'Abstraktes Bild' from 2001 is just convincing in every aspect."

Indeed, with its strong coloring and enormous density, the work is particularly impressive for its clearly visible squeegee traces and the gently superimposing colors and motions. What is even more striking is the constant interplay of construction and deconstruction. In an interview with the Swiss curator Hans Ulrich Obrist, the artist describes this process as follows: "Well, to work like this surely is fascinating, to destroy and reconstruct and destroy again and so forth – that's a necessary premise, otherwise nothing at all would come into existance. […]"
Additionally, "Abstraktes Bild" demonstrates the highly concentrated artistic process of creation, in which Gerhard Richter combines calculated and random elements to form a work characterized by an inimitable engrossed aesthetic. Each work step is meticulously thought-out, delivering proof of the artist's demand for perfection, even though the final result remains unpredictable owing to the individual color streaks caused by the squeegee. Richter unites artistic calculation and chance in a perfect and ever new fascinating balance, thus adding his one-of-a-kind signature style to each work.

It remains to be seen if well-calculated acquisition budgets will meet off-the-cuff purchase decisions in the auction, as the attractive squeegee picture could expand into new price realms and perhaps even cross the million euro line.

Those who do not want to dig that deep into their pockets but still would like to call a work by the humble genius their own, should check the range of around half a dozen more works by Gerhard Richter on offer: While the three mixed media works "Ohne Titel (11.05.2008)", "Abdallah" and "Warcut II (Buchdeckel die mit Ölfarbe überrakelt)" from 2004 to 2010 will enter the race with estimates between € 70,000-120,000, one or the other graphic work may already be available for less.

Next to Gerhard Richter, the section of Modern, Post War and Contemporary Art features works by likewise big names, among them Katharina Grosse, Hans Hartung, Alexej von Jawlensky, Julian Opie, Oskar Schlemmer and Fritz Winter, while the department of 19th Century Art has fascinating works by renowned artists such as Edward Theodore Compton, Johann Jakob Frey, Karl Hagemeister and Franz von Stuck to offer.

Additionally, a range of select works from the Deutsche Bank Collection and a suite of works by Joseph Beuys will be called up.