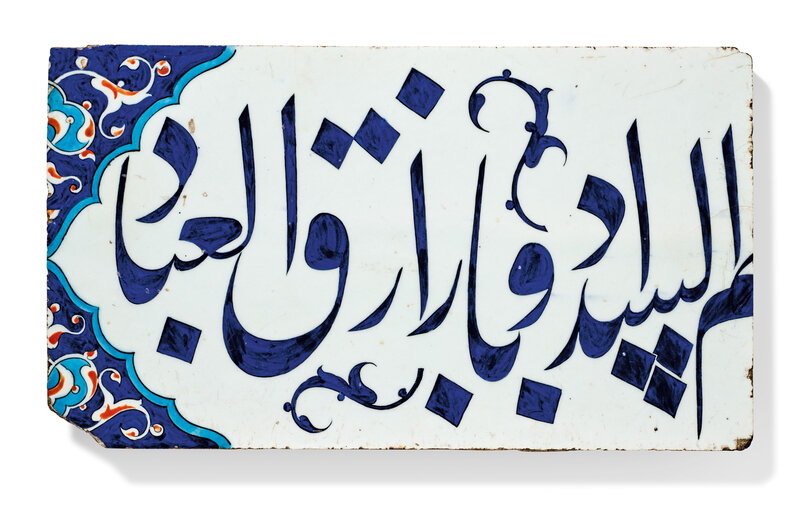 Lot 80. A monumental Iznik calligraphic tile, Ottoman Turkey, circa 1565; 12 3/8 x 21 5/8in. (31.4 x 55cm.). Estimate: GBP 150,000 - GBP 200,000. Sold for: GBP 325,000. © Christie's Images Ltd 2021.
Forming part of a large inscription panel, the white ground decorated in cobalt-blue, bole-red and turquoise, with a flowing nasta'liq inscription surrounded by arabesque flourishes, one side with two cobalt-ground spandrels decorated with red arabesque, intact.
Provenance: Boghos Ispenian family collection, since at least early 1930s.
Note: This magnificent Iznik tile is striking for its monumental size, clarity of colour and for the elegant and free use of the nasta'liq inscription that decorates it. It would originally have adjoined another in order to form a complete cartouche containing a verse from the Qur'an. This pair would then have abutted as many other pairs of related tiles as was necessary to cover the perimeter of the room that they adorned.
The use of nasta'liq script on this tile is notable. Although predominantly associated with the Persian world, nasta'liq was also used in the Ottoman empire for monumental inscriptions, though largely in a secular context. The Topkapi Palace in Istanbul, as well as many public monuments, are decorated with many inscriptions in the script often carved into stone. More often than not however nasta'liq was reserved for poetic inscriptions rather than religious ones as we have on this tile. Walter Denny writes that the inscriptions on Iznik tiles that grace the mosques and religious buildings of Ottoman sovereigns and their highest court officials followed one strict standard of propriety for public religious inscriptions – the use of stately 'monumental thuluth' (celli sülus) script (Walter Denny, Gardens of Paradise, Istanbul, 1998, p.130). Indeed Iznik tiles with thuluth inscriptions have appeared at auction, see for instance two sold at Christie's, Paris, 8-9 June 2016, lots 169 and 170 or more recently, one sold in these Rooms, 25 June 2020, lot 132.
Denny mentions one exception to this standard – the mosque constructed outside the Istanbul walls in 1590 by Takieci Ibrahim Aga, a businessman whose name indicates that he made his fortune in the hat business. Surmounting the mihrab is a panel of Iznik tiles that form a cartouche containing a Qur'anic inscription in blue nasta'liq on white ground. He states that it would certainly have raised eyebrows at the time (Denny, op.cit., p.130). It is not a singular example however - two panels of Iznik tiles also decorated with similar nasta'liq inscriptions are in the Hünkâr mahfili, the mosque of Selim II (published in Denny, op.cit., pp.98-99, pl.52b). Like ours the inscriptions on those panels are also embellished with small foliate flourishes. Although rare, religious objects are also known with nasta'liq inscriptions. An Iznik mosque lamp in the Gezira Museum in Cairo bears a pious inscription in nasta'liq (inv.no.64/275; published Nurhan Atasoy and Julian Raby, Iznik, the Pottery of Ottoman Turkey, London, 1989, p.262, no.568).
The only known companion piece to this tile is in the collection of the Benaki Museum in Athens (illustrated here but also published in A. Ballian and M. Moraitou (eds.), Benaki Museum. A Guide to the Museum of Islamic Art, Athens, 2006, p.156, fig.210). The Benaki tile was bought by the Greek collector Anthony Benaki from Boghos Ispenian, the Cairo-based Armenian antiquities dealer, in 1930. Our tile has exactly the same early provenance, indicating that these two spectacular tiles from the same original commission remained together until at least the early 20th century.
Christie's. Art of the Islamic and Indian Worlds including Oriental Rugs and Carpets, 1 april 2021